Tim Tebow Net Worth is

$3 Million
Tim Tebow Biography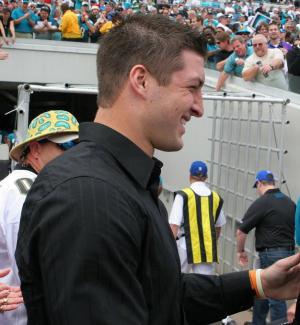 Timothy Richard Tebow, known simply as Tim Tebow, is a famous American football player, as well as an athlete. Throughout his career, Tebow has been playing in the position of quarterback. Even though Tebow is currently a free agent, meaning that he is not under contract with any team, he used to represent the Denver "Broncos", New York "Jets" and New England "Patriots". As a quarterback, Tim Tebow won numerous awards and accolades, including Davey O'Brien Award, Maxwell Award, which he received in 2007 and 2008, Heisman Trophy and Manning Award among many others. In 2007, Tebow became a BSC National Champion, was named AP Player of the year and Quarterback of the Year, and made it to the First-Team All-America. Tebow began his professional American football career in 2010, when he participated in the NFL Draft, during which he was chosen as the 25th pick by the "Broncos" team. Tebow spent a year with the "Broncos", then joined the "Jets" for one season, and eventually landed in the "Patriots" team in 2013. However, Tebow failed to secure a spot on the team, and was released from his contract 2 months later. That same year, Tim Tebow became a college football analyst for "ESPN" channel.
Tim Tebow Net Worth $3 Million
A well-known American football player, how rich is Tim Tebow? According to sources, in 2013, his annual salary with the "Jets" amounted to $2.5 million, while that same year he collected $3 million from various endorsements for "Nike", "EA Sports" and other companies. Meanwhile, in 2014 Tebow's salary with the team diminished to $895,000. In regards to his total wealth, Tim Tebow's net worth is estimated to be $3 million, most of which he has accumulated due to his football career, as well as endorsements.
Tim Tebow was born in 1987 in Makati, Philippines. Just as his siblings, Tebow was home-schooled, yet this did not prevent him from taking part in various school competitions. This was mostly due to a law passed in Florida, which stated that students who were home-schooled were allowed to partake in high school events. As a result of that, Tebow started to play football for Allen D. Nease High School, where he made a name for himself as a skilled player. Tebow proved himself once again when he led his high school team called the "Panthers" to win the state championship. Tebow became known and respected in Florida, and was even named Florida's Player of the Year. Tebow continued his career at the University of Florida, where he represented the "Gators" team. Even though initially Tebow was picked as a backup for the team, he managed to excel in 2007, as he won numerous awards, among them the Heisman Trophy, and helped his team make it to the BCS Championship. Tebow's successful football career at the University of Florida helped him attract the attention of football scouts, and gained him an opportunity to join the NFL Draft in 2010.
A famous American football player, as well as an athlete, Tim Tebow has an estimated net worth of $3 million.
Known for movies
Quick Facts
| | |
| --- | --- |
| Full Name | Tim Tebow |
| Net Worth | $3 Million |
| Date Of Birth | August 14, 1987 |
| Place Of Birth | Makati, Philippines |
| Height | 6 ft 3 in (1.91 m) |
| Weight | 236 lbs (107 kg) |
| Profession | American football player, Athlete |
| Education | University of Florida (2006–2009), Allen D. Nease High School (2006) |
| Nationality | United States of America |
| Parents | Pamela Elaine Tebow, Robert Ramsey Tebow II |
| Siblings | Robby Tebow, Peter Tebow, Christy Tebow Allen, Katie Tebow Shepherd, Robby Tebow, Peter Tebow, Christy Tebow Allen, Katie Tebow Shepherd |
| Nicknames | Timothy Richard Tebow , Timmy Tebow |
| Facebook | http://www.facebook.com/TimTebowFoundation |
| Twitter | http://www.twitter.com/timtebow |
| Instagram | http://www.instagram.com/timtebow |
| Wikipedia | https://en.wikipedia.org/wiki/Tim_Tebow |
| Awards | Manning Award, Wuerffel Trophy, Maxwell Award (2008), Quarterback of the Year, AP Player of the Year (2007), James E. Sullivan Award (2007), Heisman Trophy (2007) |
| Nominations | SEC champion (2006, 2008), BCS National champion (2007, 2009), SEC Player of the Year (2008, 2009), First-team All-SEC (2007, 2008, 2009), First-team All-American (2007, 2008) |
| TV Shows | SEC Nation, Home Free, SEC Nation, Home Free |

Pictures
Nominated Awards
Nominated awards
| Year | Award | Ceremony | Nomination | Movie | Award shared with |
| --- | --- | --- | --- | --- | --- |
| 2013 | Blimp Award | Kids' Choice Awards, USA | Favorite Male Athlete | | |

Filmography
Miscellaneous
| Title | Year | Status | Character |
| --- | --- | --- | --- |
| The Ben Shapiro Show | 2017 | TV Series referenced in speech or dialogue - 1 episode | |
Self
| Title | Year | Status | Character |
| --- | --- | --- | --- |
| SEC Nation | 2017 | TV Series | Himself - Analyst |
| Today | 2017 | TV Series | Himself |
| The Tonight Show Starring Jimmy Fallon | 2017 | TV Series | Himself |
| Harry | 2016-2017 | TV Series | Himself |
| Boomer & Carton | 2017 | TV Series | Himself |
| Entertainment Tonight | 2017 | TV Series | Himself |
| The Ryen Russillo Show | 2017 | TV Series | Himself |
| The Dr. Oz Show | 2016 | TV Series | Himself |
| Rachael Ray | 2016 | TV Series | Himself |
| Live with Kelly and Ryan | 2016 | TV Series | Himself - Guest |
| The View | 2016 | TV Series | Himself - Author, Shaken |
| Fox and Friends | 2016 | TV Series | Himself - Author, Shaken |
| Good Morning America | 2012-2016 | TV Series | Himself / Himself - Contributor / Himself - Guest |
| Larry King Now | 2016 | TV Series | Himself - Guest |
| Extra | 2016 | TV Series | Himself |
| Home Free | 2016 | TV Series | Himself - Co-Host |
| The Talk | 2016 | TV Series | Himself - Guest |
| Lip Sync Battle | 2016 | TV Series | Himself - Competitor |
| Garbage Time with Katie Nolan | 2016 | TV Series | Himself |
| The Ellen DeGeneres Show | 2016 | TV Series | Himself |
| Hitting the Breaks | 2016 | TV Series | Himself |
| 2014 Chick-fil-A Peach Bowl | 2014 | TV Movie | Himself - Color Commentator |
| Disney Parks Frozen Christmas Celebration | 2014 | TV Movie | Himself - Walt Disney World Host |
| The (206) | 2014 | TV Series | Himself |
| Denver Broncos Greatest Moments | 2013 | Video | Himself |
| The Apprentice | 2013 | TV Series | Himself |
| Tim Tebow: On a Mission | 2012 | TV Movie documentary | |
| Nickelodeon Kids' Choice Awards 2012 | 2012 | TV Special | Himself - Nominee:Favorite Male Athlete |
| Feherty | 2012 | TV Series | Himself |
| National Football League Honors | 2012 | TV Movie | Himself |
| Late Night with Jimmy Fallon | 2012 | TV Series | Himself - Guest |
| Piers Morgan Tonight | 2011 | TV Series | Himself |
| The Biggest Loser | 2011 | TV Series | Himself |
| Jimmy Kimmel Live! | 2011 | TV Series | Himself |
| The Daily Show | 2011 | TV Series | Himself |
| Year of the Quarterback | 2011 | TV Series documentary | Himself |
| ESPN Road Trip | 2009 | TV Series | Himself |
| 2009 FedEx BCS National Championship Game | 2009 | TV Movie | Himself - Florida Gators Quarterback |
| 2008 Capital One Bowl | 2008 | TV Movie | Himself - Florida Gators Quarterback |
| ESPN Outside the Lines | 2005 | TV Series | Himself |
Archive Footage
| Title | Year | Status | Character |
| --- | --- | --- | --- |
| Mike & Mike | 2013-2016 | TV Series | Himself - Philadelphia Eagles Quarterback / Himself - ESPN College Football Analyst / Himself - Professional Baseball Player / ... |
| Extra | 2015 | TV Series | Himself |
| Tebow Time: After the Clock Ran Out | 2015 | | Himself |
| The O'Reilly Factor | 2012 | TV Series | Himself |
| A Football Life | 2012 | TV Series | Himself |
| Tim Tebow's Wild Rise | 2012 | TV Movie documentary | Himself |
| The Tonight Show with Jay Leno | 2012 | TV Series | Himself |
| Rome Is Burning | 2009-2010 | TV Series | Himself |