Melanie Brown Net Worth is

$33 Million
Melanie Brown Biography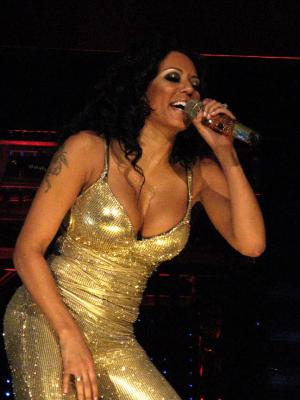 Melanie Janine Brown was born on 29 May 1975 in the city of Leeds, England, to an English mother and father from St Kitts and Nevis. She is a singer, songwriter, recording artist and television personality, better known by her stage name Mel B – the "Scary Spice" of the world-famous pop group "Spice Girls" – and one of the world's more successful entertainers.
So just how rich is Mel B? Authoritative sources estimate that she has a net worth of over $33 million, accumulated from her various persona during a career in the entertainment industry which began in the early '90s.
Melanie Brown Net Worth $33 Million
Melanie Brown had her eyes set on the show business for as long as any of her family can remember. Melanie showed an early talent for performing, studying the performing arts during her high school years, and for a time working as a dancer in the famous holiday resort of Blackpool – before seeing, in 1994, the newspaper ad that would change her life. "Heart Management" posted the call for an audition, looking for "streetwise, outgoing, ambitious and dedicated" girls to form a new girl pop group. Melanie Brown – soon known as Mel B to set her apart from her co-member, Melanie Chisholm – was just that kind of person. Making the cut, Brown soon joined Chisholm and fellow future "Spice Girls" – Emma Bunton, Geri Halliwell and Victoria Beckham (then Victoria Adams) – in forming the predecessor of the "Spice Girls", a group initially titled "Touch".
In but a few years' time, the "Spice Girls" had broken through to become world-famous celebrities, and Melanie Brown was now part of a phenomenon that some likened to the incredible popularity of "The Beatles". By the time the "Spice Girls" went their separate ways in 2000, the group had won multiple awards and now held the record for the highest ever annual earnings by an all-female group, with roughly $49 million in 1998 – a huge commercial success that has certainly gone a long way in boosting Melanie Brown's own net worth. Since then, Brown has focused on her solo career, shifting her attention largely to non-musical projects in recent years. To date, Brown has appeared as one of the judges on the Australian reality competition show "The X Factor", and has been a competitor in the popular US reality show "Dancing with the Stars", performing alongside dance partner Maksim Chmerkovskiy. Apart from that, Melanie is also a well-known television personality through featuring in a number of reality television shows like "America's Got Talent" and guest starring as a judge in "The X Factor UK".
In her personal life, Today, Melanie Brown lives together with her husband, film producer Stephen Belafonte in Los Angeles. Brown has one daughter with Belafonte, and she is also raising two children from her previous relationships – one with Dutch professional dancer Jimmy Gulzar, and one with the American actor Eddie Murphy.
Known for movies
Quick Facts
| | |
| --- | --- |
| Full Name | Mel B |
| Net Worth | $33 Million |
| Date Of Birth | May 29, 1975 |
| Place Of Birth | Harehills, United Kingdom |
| Height | 5 ft 4 in (1.651 m) |
| Profession | Singer, Author, Presenter, Songwriter, Actor, Singer-songwriter, Television producer, Music artist, Dancer, Model |
| Education | Leeds West Academy, Leeds West Academy, Leeds West Academy |
| Nationality | British |
| Spouse | Stephen Belafonte (m. 2007), Jimmy Gulzar (m. 1998–2000) |
| Children | Angel Iris Murphy Brown, Madison Brown Belafonte, Phoenix Chi Gulzar |
| Parents | Andrea Brown, Martin Brown, Andrea Brown, Martin Brown, Andrea Brown, Martin Brown |
| Siblings | Danielle Brown, Danielle Brown, Danielle Brown |
| Nicknames | Melanie Janine Brown , Melanie B , Mel B , Mel B. , Melanie G. , Melanie G , Mel G , Brown, Melanie , Melanie Gulzar , Mel Gulzar, Scary Spice |
| Facebook | http://www.facebook.com/MelBOfficial |
| Twitter | http://www.twitter.com/officialmelb |
| Google+ | http://plus.google.com/+MelBOfficial |
| Instagram | http://www.instagram.com/officialmelbhttp://www.instagram.com/officialmelb |
| MySpace | http://www.myspace.com/officialmelb |
| ImDB | http://www.imdb.com/name/nm0114256 |
| Music Groups | Spice Girls, Spice Girls, Spice Girls |
| Nominations | Brit Award for British Video, Brit Award for British Video, Brit Award for British Video |
| Movies | Spice World, LD 50 Lethal Dose, Telling Lies, The Seat Filler, Raw Spice, South Africa Freedom Day: Concert on the Square, Trouble Don't Last Always, Chocolate City: Vegas, Spice World, LD 50 Lethal Dose, Telling Lies, The Seat Filler, Raw Spice, South Africa Freedom Day: Concert on the Square, Trouble Don't Last Always, Chocolate City: Vegas, Spice World, LD 50 Lethal Dose, Telling Lies, The Seat Filler, Raw Spice, South Africa Freedom Day: Concert on the Square, Trouble Don't Last Always, Chocolate City: Vegas |
| TV Shows | Dancing with the Stars, The X Factor |

Interesting Facts
| # | Fact |
| --- | --- |
| 1 | In 2016 Mel B, Emma Bunton, and Geri Halliwell reunited as The Spice Girls for the 20th anniversary of "Wannabe". They are recording new music. A new album and tour are expected in 2017. Former Spice Girls members Victoria Beckham and Mel C opted to not take part in the reunion to focus on their own careers. |
| 2 | Gave birth to her 2nd child at age 31, a daughter named Angel Iris Murphy-Brown on April 3, 2007. Child's father is her ex-boyfriend, Eddie Murphy. |
| 3 | Gave birth to her 3rd child at age 36, a daughter named Madison Brown-Belafonte on September 1, 2011. Child's father is her 2nd husband, Stephen Belafonte. |
| 4 | (June 6, 2007) Married for the 2nd time her boyfriend of 4 months Stephen Belafonte in Las Vegas, Nevada. |
| 5 | Shortly dated Eddie Murphy in 2006. They have a daughter together. |
| 6 | Gave birth to her 3rd child at age 36, a daughter Madison Brown-Belafonte on September 1, 2011. Child's father is her now estranged 2nd husband, Stephen Belafonte. |
| 7 | Dated Eddie Murphy in 2006. They have a daughter together. |
| 8 | Gave birth to her 1st child at age 23, a daughter named Phoenix Chi Gulzar on February 19, 1999. Child's father is her now ex-1st husband, Jimmy Gulzar. |
| 9 | Replaces fellow Brit and girl band-member Sarah Harding as the face and body of underwear label Ultimo. The contract earns her £100,000. [April 2008] |
| 10 | Made a return to the music scene with the release of her first single in four years, "Today", released on 13th June, followed by the release of her second album, "L.A. State Of Mind", on 27th June. [June 2005] |
| 11 | She's enjoying her succesful debut on Broadway with the lead role of Mimi in the world famous musical, "Rent". [June 2004] |
| 12 | On 16th April 2004, she will officially join the cast of "Rent" at Broadway in New York. She will play the main role Mimi, until September 2004. [April 2004] |
| 13 | Signed on for the 5th season of Dancing with the Stars (2004). [June 2007] |
| 14 | Following the low-key release of her second album "L.A. State Of Mind" in June 2005, Melanie returned to the US where she continued her acting career, famously turning down Live 8 for "acting commitments". Melanie has been busy writing a sitcom based on her life in LA, of which the scripts have now been delivered to the BBC, and is also planning a return to the music scene, following recent meetings with an A-list urban producer [August 2006] |
| 15 | Daughter of Andrea Brown. |
| 16 | Winner of a special award at Brit Awards in 1998. |
| 17 | Chosen by "People" magazine as one of the 50 Most Beautiful People in the World in 1997, along with the four other Spice Girls. |
| 18 | Winner of three American Music Awards in 1998 with the Spice Girls. |
| 19 | Winner of two awards at the Billboard Awards in 1997 with the Spice Girls. |
| 20 | A former member of Spice Girls along with Victoria Beckham, Emma Bunton, Melanie C, and Geri Horner. |
| 21 | Former pupil of Intake High School (Leeds, West Yorkshire, England, UK). |
| 22 | She was born to an English mother and a Nevisian father. |
| 23 | Has a bestselling autobiography called "Catch A Fire". |
| 24 | Also had four other solo UK top 20 hits: "Tell Me" (#4), "Feels So Good" (#5), "Lullaby" (#13) & "Word Up" (#14). |
| 25 | Has had a solo number one single: "I Want You Back" featuring 'Missy "Misdemeanor' Elliott'. |
| 26 | Has had 9 UK number one singles as part of Spice Girls. |
| 27 | Her younger sister is Danielle Brown |
| 28 | Made her London West End theatre debut in Eve Ensler's "The Vagina Monologues" in February 2002. |
| 29 | After a struggling solo career, Virgin Records and Melanie B parted company in July 2001. The Spice Girl says she wants to concentrate on her television career |
| 30 | Winner of the 1997 MTV Europe Music Award for Best Group. |
| 31 | Winner of the 1997 MTV Video Music Award for Best Dance Video, "Wannabe". |

Trademarks
| # | Trademark |
| --- | --- |
| 1 | Yorkshire accent |
| 2 | Frequently appears wearing halfshirts or corsets during her times with the Spice Girls. |

Quotes
| # | Quote |
| --- | --- |
| 1 | [About being bi sexual] "I had a great five year relationship with a lovely lady who I still talk to to this day, and that's that. I mean, if it happened yesterday I would probably be saying something different. But I've been happily married to my husband for seven years." |
| 2 | I live on my gut instinct. |
| 3 | If my senses don't feel right then I don't do it. |
| 4 | I live my life on self-belief and I live it partly on going with the flow. |
| 5 | Whether I was dancing around the house with headphones on or on stage with the Spice Girls... I learned firsthand that dancing was the key to shedding off the pounds and keeping them off. |
| 6 | I collect art. I just recently bought two gorgeous photographs of Marilyn Monroe by international photographer Eve Arnold and I know it sounds horrible but when she dies all her pictures are going to be worth triple. But I won't tell you how much I got them for - let's just say it was a lot. |
| 7 | I know about investment. It's really obvious - you buy property, let it sit for a couple of years and then sell it and reinvest. |
| 8 | Look, everything that you experience as a kid is the foundation of how you are today. I was brought up in a working class family in Leeds and when it comes to money both my parents worked hard and instilled the same attitude into me. |
| 9 | I've always said that kids should enhance your life, not hinder your life, so I just try to make the most out of being with my kids. You have to have a life for yourself somewhere in the mix of being a wife and mum. |
| 10 | Hopefully, next year if we can get everything sorted out and together. |
| 11 | I'm well-travelled so I can see places coming up. I went to St. Croix in the West Indies at Christmas and it had been hit by a really bad tornado. Values there have gone down but I guarantee they will be up again in eight years. So I'll get in now while it's cheap as chips. |
| 12 | The way that I live my life is on spontaneity. |
| 13 | Sometimes I can be tactful and sometimes not. It all depends on the mood I'm in. |
| 14 | I'm always down for a Spice Girls reunion. I love the Scary hair and platforms. Any time of day or night I'll be there. |
| 15 | I'm overly excited to finally announce this amazing global partnership deal back home with EMI Music. I know I have mentioned doing music in the past but for legal reasons I was not in a position to release any new music. |
| 16 | Love me or hate me, Scary Spice is back. |
| 17 | I would love to have twins. I think there's something nice about having two babies, and they're there for each other their whole entire life. |

Pictures
Won Awards
Nominated Awards

Filmography
Soundtrack
| Title | Year | Status | Character |
| --- | --- | --- | --- |
| Strictly Come Dancing | 2016 | TV Series writer - 1 episode | |
| Who's Doing the Dishes? | 2016 | TV Series writer - 3 episodes | |
| Central Intelligence | 2016 | writer: "Wannabe" | |
| The Voice | 2016 | TV Series writer - 1 episode | |
| The Tonight Show Starring Jimmy Fallon | 2016 | TV Series writer - 1 episode | |
| Lip Sync Battle Philippines | 2016 | TV Series writer - 1 episode | |
| Fuller House | 2016 | TV Series writer - 1 episode | |
| Tu cara me suena - Argentina | 2015 | TV Series writer - 1 episode | |
| Casualty | | TV Series performer - 1 episode, 2015 writer - 1 episode, 2015 | |
| Coronation Street | | TV Series performer - 1 episode, 2015 writer - 1 episode, 2015 | |
| Modern Drug | 2015 | Short writer: "Wannabe" | |
| The Voice Kids | 2014 | TV Series writer - 2 episodes | |
| The X Factor | 2004-2012 | TV Series writer - 2 episodes | |
| Madagascar 3: Europe's Most Wanted | 2012 | writer: "Wannabe" | |
| American Reunion | 2012 | writer: "Wannabe" | |
| 20 to 1 | 2011 | TV Series documentary writer - 2 episodes | |
| Live from Studio Five | | TV Series performer - 1 episode, 2009 writer - 1 episode, 2009 | |
| Loose Women | 2009 | TV Series writer - 1 episode | |
| Nick and Norah's Infinite Playlist | 2008 | writer: "Wannabe" | |
| The Heartbreak Kid | 2007 | writer: "Wannabe" | |
| Chicken Little | 2005 | writer: "Wannabe" | |
| Sleepover | 2004 | writer: "Wannabe" | |
| EastEnders | | TV Series performer - 7 episodes, 2001 - 2003 writer - 7 episodes, 2001 - 2003 | |
| Top of the Pops | | TV Series writer - 4 episodes, 1999 - 2000 performer - 1 episode, 2000 | |
| Spice Girls: The Live One | 1999 | TV Special writer: "Right Back at Ya", "W.O.M.A.N.", "Holler", "Goodbye" | |
| Austin Powers: The Spy Who Shagged Me | 1999 | performer: "Word Up" - as Melanie G | |
| Flava | | TV Series performer - 2 episodes, 1999 writer - 1 episode, 1999 | |
| Eva & Adam | | TV Series lyrics - 1 episode, 1999 music - 1 episode, 1999 | |
| Stars in Their Eyes | 1998 | TV Series writer - 1 episode | |
| Spice Girls Live at Wembley Stadium | 1998 | Video performer: "Sisters Are Doin' It for Themselves" | |
| Spice Girls: Live in Your Living Room | 1998 | TV Special performer: "Sisters Are Doin' It for Themselves" | |
| The O-Zone | | TV Series performer - 1 episode, 1998 writer - 1 episode, 1998 | |
| Here and Now | 1997 | TV Series documentary writer - 1 episode | |
| Red Nose Awards | 1997 | TV Special writer: "Wannabe" | |
| Sexton | | TV Mini-Series lyrics - 1 episode, 1997 music - 1 episode, 1997 | |
| The End of the Year Show | 1996 | TV Series writer - 1 episode | |
Actress
| Title | Year | Status | Character |
| --- | --- | --- | --- |
| Blazing Samurai | 2017 | filming voice | |
| Chocolate City: Vegas | 2016 | post-production | Brandy |
| The Pro | 2014 | TV Movie | Mel B |
| Text Santa 2014 | 2014 | TV Movie | Santa's Body Guard |
| Tinker Bell and the Legend of the NeverBeast | 2014 | Video | Fury (UK) (voice) |
| Black Dynamite | 2014 | TV Series | |
| The Twelve Trees of Christmas | 2013 | TV Movie | Cordelia |
| Secret Diary of a Call Girl | 2011 | TV Series | Sylvia Burke |
| Telling Lies | 2008 | | Maggie Thomas |
| Spice Girls: Headlines (Friendship Never Ends) | 2007 | Video short | Melanie B (uncredited) |
| Love Thy Neighbor | 2006/I | Short | Lonnie |
| The Seat Filler | 2004 | | Sandie |
| LD 50 Lethal Dose | 2003 | | Louise |
| Burn It | 2003 | TV Series | Claire |
| Fish | 2000/II | Short | Angela |
| Spice Girls: Holler | 2000 | Video short | Melanie B (uncredited) |
| Spice Girls: Let Love Lead the Way | 2000 | Video short | Melanie B (uncredited) |
| Creche Landing | 1998 | TV Movie voice | |
| Spice Girls: Goodbye | 1998 | Video short | Melanie B (uncredited) |
| Spice Girls: Stop | 1998 | Video short | Melanie B (uncredited) |
| Spice Girls: Viva Forever | 1998 | Video short | Melanie B (voice, uncredited) |
| Spice World | 1997 | | Scary Spice |
| Spice Girls: Mama | 1997 | Video short | Melanie B (uncredited) |
| Spice Girls: Spice Up Your Life | 1997 | Video short | Melanie B (uncredited) |
| Spice Girls: Too Much | 1997 | Video short | Melanie B (uncredited) |
| Spice Girls: Who Do You Think You Are | 1997 | Video short | Melanie B (uncredited) |
| Spice Girls: 2 Become 1 | 1996 | Video short | Melanie B (uncredited) |
| Spice Girls: Say You'll Be There | 1996 | Video short | Blazin' Bad Zula (as Melanie B) |
| Spice Girls: Wannabe | 1996 | Video short | Melanie B (as Melanie B) |
| Coronation Street | 1993 | TV Series | Bettabuys Worker / Amy Nelson |
Producer
| Title | Year | Status | Character |
| --- | --- | --- | --- |
| Mel B: It's a Scary World | 2010 | TV Series executive producer - 2 episodes | |
| Singing Office | 2008 | TV Series producer - 2008 | |
Self
| Title | Year | Status | Character |
| --- | --- | --- | --- |
| Spice Girls: Live in Istanbul | 1997 | Video documentary | Herself (as Mel B) |
| Spice Up Your Christmas | 1997 | TV Movie | Herself |
| Wetten, dass..? | 1997 | TV Series | Herself |
| The 1997 Billboard Music Awards | 1997 | TV Special | Herself - Performer |
| Spice Girls: Too Much Is Never Enough | 1997 | TV Movie documentary | Herself |
| Film '72 | 1997 | TV Series | Herself |
| An Audience with the Spice Girls | 1997 | TV Special | Herself |
| Premios Amigo 97 | 1997 | TV Movie | Herself (as Spice Girls) |
| MTV Europe Music Awards 1997 | 1997 | TV Special | Herself (as Spice Girls) |
| An Audience with Elton John | 1997 | TV Special | Herself (as Spice Girls) |
| Laf lafi açiyor | 1997 | TV Series | Herself |
| Here and Now | 1997 | TV Series documentary | Herself |
| Red Nose Awards | 1997 | TV Special | Herself |
| Hoy es posible | 1997 | TV Series | Herself |
| Comic Relief | 1997 | TV Special | Herself |
| Noel's House Party | 1997 | TV Series | Herself |
| 44º edición de los premios Ondas | 1997 | TV Special | Herself (as Spice Girls) |
| MTV Video Music Awards 1997 | 1997 | TV Special | Herself - Performer (as Spice Girls) |
| The Girlie Show | 1997 | TV Series documentary | Herself |
| The End of the Year Show | 1996 | TV Series | Herself |
| Smash Hits Poll Winners Party 1996 | 1996 | TV Special | Herself |
| Die Harald Schmidt Show | 1996 | TV Series | Herself |
| Wiese | 1996 | TV Series | |
| The Clothes Show | 1996 | TV Series documentary | Herself |
| The Noise | 1996 | TV Series | Herself |
| The Disney Club | 1996 | TV Series | Herself |
| Fully Booked | 1996 | TV Series | Herself |
| Hotel Babylon | 1996 | TV Series | Herself |
| Surprise Surprise! | 1996 | TV Series | Herself - Performer |
| Killing Hasselhoff | 2016 | completed | Herself |
| The X Factor | 2010-2016 | TV Series | Herself - Judge / Herself - Guest Mentor / Herself - The X Factor Judge |
| The Insider | 2016 | TV Series | Herself |
| The X Factor | 2012-2016 | TV Series | Herself - Judge / Herself - Guest Judge / Herself - Guest Mentor / ... |
| America's Got Talent | 2013-2016 | TV Series | Herself - Judge |
| Extra | 2014-2016 | TV Series | Herself |
| Steve Harvey | 2016 | TV Series | Herself |
| Stand Up to Cancer | 2016 | TV Special | Herself |
| The Late Late Show with James Corden | 2016 | TV Series | Herself |
| Running Wild with Bear Grylls | 2016 | TV Series | Herself |
| Gylne tider | 2016 | TV Series documentary | Herself - Interviewee |
| Entertainment Tonight | 2007-2016 | TV Series | Herself |
| Access Hollywood | 2008-2016 | TV Series | Herself |
| Access Hollywood Live | 2014-2016 | TV Series | Herself / Herself - Guest |
| Cocktails & Classics | 2016 | TV Series | Herself |
| Live with Kelly and Michael | 2008-2016 | TV Series | Herself - Guest / Herself / Herself - Guest Co-Hostess |
| The Chew | 2016 | TV Series | Herself - Guest |
| The Talk | 2016 | TV Series | Herself - Guest Co-Hostess |
| Today | 2013-2016 | TV Series | Herself / Herself - Guest / Herself - Guest 3rd Hour Co-Anchor |
| The Tonight Show Starring Jimmy Fallon | 2014-2016 | TV Series | Herself |
| Talk Stoop with Cat Greenleaf | 2015-2016 | TV Series | Herself |
| Up Late with Rylan | 2016 | TV Series | Herself - Guest |
| Lorraine | 2016 | TV Series | Herself |
| Cupcake Wars | 2016 | TV Series | Herself - Contestant |
| Ant & Dec's Saturday Night Takeaway | 2016 | TV Series | Herself |
| Fameless | 2016 | TV Series | Herself |
| Lip Sync Battle UK | 2016 | TV Series | Herself - Host |
| The Real | 2015-2016 | TV Series | Herself - Guest Co-Hostess / Herself |
| Alan Carr's New Year Specstacular | 2015 | TV Special | Herself (as Mel B) |
| VH1 Big Music in 2015: You Oughta Know | 2015 | TV Movie | Herself - Hostess |
| Project Runway | 2015 | TV Series | Herself - Guest Judge |
| Mat Franco's Got Magic | 2015 | TV Movie | Herself |
| The Meredith Vieira Show | 2015 | TV Series | Herself |
| Hollywood Game Night | 2014-2015 | TV Series | Herself - Celebrity Player |
| Keeping Up with the Kardashians | 2009-2015 | TV Series | Herself / Herself - Spice Girls |
| RuPaul's Drag Race | 2015 | TV Series | Herself - Guest Judge |
| Celebrity Name Game | 2014-2015 | TV Series | Herself / Herself - Celebrity Player |
| Rachael Ray | 2014-2015 | TV Series | Herself |
| National Television Awards | 2015 | TV Special | Herself |
| The Big Fat Quiz of the Year | 2014 | TV Movie | Herself - Contestant (as Mel B) |
| Gogglebox | 2014 | TV Series | Herself on X Factor |
| MOBO Awards | 2014 | TV Special | Herself - Presenter |
| Celebrity Juice | 2012-2014 | TV Series | Herself / Herself - Special Guest |
| The Late Late Show with Craig Ferguson | 2014 | TV Series | Herself |
| Larry King Now | 2014 | TV Series | Herself - Guest |
| The Voice Kids | 2014 | TV Series | Herself - Coach |
| Whose Line Is It Anyway? | 2014 | TV Series | Herself - Guest |
| Oprah: Where Are They Now? | 2014 | TV Series | Herself |
| The Queen Latifah Show | 2014 | TV Series | Herself |
| IHeartRadio Music Awards | 2014 | TV Special | Herself (as Mel B) |
| Big Morning Buzz Live | 2013 | TV Series | Herself |
| I'm a Celebrity, Get Me Out of Here! | 2013 | TV Series | Herself |
| The Eric Andre Show | 2013 | TV Series | Herself - Special Guest |
| Hello Ross! | 2013 | TV Series | Herself - Guest |
| Miss Universe 2013 | 2013 | TV Special | Herself - Host (as Mel B.) |
| Stepping Out | 2013 | TV Series | Herself - The Front Row Judge |
| Through the Keyhole | 2013 | TV Series | Herself |
| Bethenny | 2013 | TV Series | Herself - Guest |
| Ellen: The Ellen DeGeneres Show | 2007-2013 | TV Series | Herself ( / Herself |
| The Colbert Report | 2013 | TV Series | Herself |
| The Tonight Show with Jay Leno | 2013 | TV Series | Herself - Guest |
| The Spice Girls Story: Viva Forever! | 2012 | Documentary | Herself |
| The Xtra Factor | 2009-2012 | TV Series | Herself |
| Britain's Next Top Model | 2012 | TV Series | Herself - Guest Judge |
| London 2012 Olympic Closing Ceremony: A Symphony of British Music | 2012 | TV Movie | Herself |
| Dancing with the Stars | 2012 | TV Series | Herself - Co-Host |
| Daybreak | 2012 | TV Series | Herself |
| Loose Women | 2009-2012 | TV Series | Herself - Presenter / Herself |
| Sky News: Sunrise | 2012 | TV Series | Herself |
| Tori & Dean: Inn Love | 2012 | TV Series | Herself |
| Fashion Police | 2011 | TV Series | Herself - Guest |
| Nickelodeon's Kids Choice Awards 2011 | 2011 | TV Special | Herself |
| Love Lust | 2011 | TV Series documentary | Herself |
| Never Mind the Buzzcocks | 2000-2010 | TV Series | Herself |
| Dancing with the Stars | 2007-2010 | TV Series | Herself / Herself - Guest Appearance |
| Mel B: It's a Scary World | 2010 | TV Series | Herself |
| Breakfast | 2010 | TV Series | Herself - Singer & TV Presenter |
| The Mo'Nique Show | 2010 | TV Series | Herself |
| Rob Dyrdek's Fantasy Factory | 2010 | TV Series | Herself |
| The Soup | 2010 | TV Series | Herself |
| The Wendy Williams Show | 2010 | TV Series | Herself |
| Chelsea Lately | 2010 | TV Series | Herself - Guest |
| Dance Your Ass Off | 2010 | TV Series | Herself - Host |
| Piers Morgan's Life Stories | 2010 | TV Series | Herself |
| Chris Moyles Quiz Night | 2009-2010 | TV Series | Herself |
| Brit Awards 2010 | 2010 | TV Special | Herself - Presenter |
| The BRITs Encore | 2010 | TV Movie | Herself (as Mel B) |
| This Morning | 2010 | TV Series | Herself |
| The Brits Hits 30 | 2010 | TV Movie | Herself - Presenter (as Mel B) |
| Stars on the Street | 2009 | TV Movie documentary | Herself |
| T4 | 2009 | TV Series | Herself |
| Pride of Britain Awards 2009 | 2009 | TV Special | Herself - Presenter (as Mel B) |
| The Bonnie Hunt Show | 2009 | TV Series | Herself |
| Xposé | 2009 | TV Series | Herself |
| Piers Morgan On... | 2009 | TV Series | Herself |
| The One Show | 2009 | TV Series | Herself |
| Saturday Kitchen | 2009 | TV Series | Herself |
| Mel B: Totally Fit | 2008 | Video | Herself |
| MOBO Awards 2008 | 2008 | TV Special | Herself (as Mel B) |
| Jimmy Kimmel Live! | 2007-2008 | TV Series | Herself |
| Singing Office | 2008 | TV Series | Herself - Host |
| Miss Universe Pageant | 2008 | TV Special | Herself - Presenter |
| BET Awards 2008 | 2008 | TV Special | Herself - Presenter |
| Spike Guys Choice | 2008 | TV Movie | Herself (as Mel B) |
| GMTV | 1996-2008 | TV Series | Herself |
| Step It Up and Dance | 2008 | TV Series | Herself - Guest Judge |
| Keith Lemon's Very Brilliant World Tour | 2008 | TV Series | Herself |
| Happy Birthday Brucie! | 2008 | TV Movie documentary | Herself (as The Spice Girls) |
| Strictly Come Dancing | 2007 | TV Series | Herself - Performer |
| Spice Girls: Giving You Everything | 2007 | TV Movie documentary | Herself |
| The Victoria's Secret Fashion Show | 2007 | TV Special | Herself - Performer |
| 2007 American Music Awards | 2007 | TV Special | Herself |
| Children in Need | 2007 | TV Series | Herself - Performer |
| What Perez Sez | 2007 | TV Series | Herself |
| Larry King Live | 2007 | TV Series | Herself |
| Inside Edition | 2006 | TV Series documentary | Herself |
| Be My Baby: The Girl Group Story | 2006 | TV Movie documentary | Herself (as Mel B) |
| The 100 Greatest Pop Videos | 2005 | TV Movie | Herself (as Mel B) |
| Avid Merrion's XXXmas Special | 2005 | TV Movie | Herself |
| Girls and Boys: Sex and British Pop | 2005 | TV Mini-Series documentary | Herself - Spice Girls / Herself |
| Fashion News Live | 2005 | TV Series | Herself |
| CD:UK | 2005 | TV Series | Herself |
| Richard & Judy | 2005 | TV Series | Herself |
| Total Request Live | 2005 | TV Series | Herself |
| Happy Birthday Oscar Wilde | 2004 | TV Movie documentary | Herself |
| SingStar Party | 2004 | Video Game | Herself (as Spice Girls) |
| Bo' Selecta! | 2004 | TV Series | Herself |
| V Graham Norton | 2002 | TV Series | Herself |
| Bubblegum Babylon | 2002 | TV Movie documentary | Herself |
| Party in the Park 2002 | 2002 | TV Special | Presenter |
| South Africa Freedom Day: Concert on the Square | 2002 | Video | Herself |
| Friday Night with Jonathan Ross | 2002 | TV Series | Herself |
| Mel B: Voodoo Princess | 2002 | TV Movie documentary | Herself |
| Solo Spice | 2001 | TV Movie documentary | Herself |
| The Kumars at No. 42 | 2001 | TV Series | Herself |
| The British Comedy Awards 2001 | 2001 | TV Special | Herself |
| 2001 Top of the Pops Awards | 2001 | TV Special | Herself - Award Presenter |
| This Is My Moment | 2001 | TV Series | Herself - Presenter |
| Snurre Snups søndagsklub | 2001 | TV Series | Herself - Singer |
| Mgp 2001 - de unges melodi grand prix | 2001 | TV Special | Herself - Performer |
| TV total | 2001 | TV Series | Herself |
| Raw Spice | 2001 | TV Movie documentary | Herself |
| Top of the Pops | 1996-2001 | TV Series | Herself / Guest Presenter |
| Wax Museum: History of Madame Tussaud's | 2001 | TV Movie documentary | Herself |
| So Graham Norton | 2001 | TV Series | Herself |
| Behind the Music | 2001 | TV Series documentary | Herself |
| 80 Years: A Royal Celebration | 2001 | TV Movie | Herself - Performer |
| Spice Girls in Concert! | 2000 | TV Special | Herself |
| Mundo VIP | 2000 | TV Series | Herself |
| TFI Friday | 1998-2000 | TV Series | Guest Host / Herself |
| MTV Europe Music Awards 2000 | 2000 | TV Special | Herself - Performer (as Spice Girls) |
| Lamarr's Attacks | 2000 | TV Series | Herself |
| The Richard Blackwood Show | 1999-2000 | TV Series | Herself - Interviewee / Herself |
| Brit Awards 2000 | 2000 | TV Special | Herself - Performer (as Spice Girls) |
| The Spice Girls in America: A Tour Story | 1999 | | Herself |
| Spice Girls: The Live One | 1999 | TV Special | Herself (as Melanie Gulzar) |
| The 1999 Malibu MOBO Awards | 1999 | TV Special | Herself - Host (as Melanie G) |
| Pure Naughty | 1999 | TV Series | Herself (as Melanie Gulzar) |
| Flava | 1999 | TV Series | Herself - Interviewee |
| Power Vision - Pop Galerie | 1999 | TV Series documentary | Herself |
| Spice World: The Game | 1998 | Video Game | Herself - Scary Spice (voice) |
| French and Saunders | 1998 | TV Series | Herself |
| Des O'Connor Tonight | 1998 | TV Series | Herself |
| Great Performances | 1998 | TV Series | Herself |
| Spice Girls Live at Wembley Stadium | 1998 | Video | Herself |
| The 1998 MOBO Awards | 1998 | TV Special | Herself - Presenter |
| Live & Kicking | 1996-1998 | TV Series | Herself |
| Jo Whiley | 1998 | TV Series | Herself - Special Guest |
| Spice Girls: Live in Your Living Room | 1998 | TV Special | Herself |
| The O-Zone | 1996-1998 | TV Series | Herself |
| The National Lottery | 1996-1998 | TV Series | Herself |
| Spice Girls in Concert: Wild! | 1998 | Documentary | Herself |
| Club Disney | 1998 | TV Series | Herself |
| Ruby Wax Meets... | 1998 | TV Series documentary | Herself |
| Spice Girls - puoli tuntia pikasilmänruokaa | 1998 | TV Movie documentary | Herself |
| Brit Awards 1997 | 1997 | TV Special | Herself (as Spice Girls) |
| Krede møder Spice Girls | 1997 | TV Special documentary | Herself (as Spice Girls) |
| Spice: The Official Video Volume 1 - One Hour of Girl Power! | 1997 | Video documentary | Herself (as Scary Spice) |
Archive Footage
| Title | Year | Status | Character |
| --- | --- | --- | --- |
| The Insider | 2014-2016 | TV Series | Herself |
| Live with Kelly and Michael | 2016 | TV Series | Herself |
| Entertainment Tonight | 2015-2016 | TV Series | Herself |
| Extra | 2015-2016 | TV Series | Herself |
| Inside Edition | 2015-2016 | TV Series documentary | Herself |
| Tu cara me suena - Argentina | 2015 | TV Series | Herself |
| TFI Friday | 2015 | TV Series | Herself |
| Pop Gold | 2015 | TV Mini-Series | Herself |
| Peter Andre's 90 Party Hits of the 90s | 2014 | TV Movie | Herself (as Spice Girls) |
| The Nation's Favourite Number 1 Single | 2012 | TV Mini-Series documentary | Herself |
| Never Mind the Buzzcocks | 2011 | TV Series | Herself |
| Late Night with the Loose Women | 2009 | Video | Herself (as Mel B) |
| The Queen: A Life in Film | 2008 | Video documentary | Herself (uncredited) |
| Shownieuws | 2008 | TV Series | Herself |
| E! True Hollywood Story | 2008 | TV Series documentary | Herself |
| CD:UK | 2006 | TV Series | Herself |
| Top of the Pops | 1999-2006 | TV Series | Herself |
| 8 Out of 10 Cats | 2005 | TV Series | Herself |
| 25 Years of Smash Hits | 2003 | TV Movie documentary | Herself |
| Seven Days That Shook the Spice Girls | 2002 | TV Movie documentary | Herself - Scary Spice |
| The New Royals | 2001 | TV Movie documentary | Herself (as Spice Girls) |
| Prince of Wales: Kings in Waiting | 2000 | TV Movie documentary | Herself |
| Spice Girls: Forever More | 2000 | Video short | Melanie B |
| Top of the Pops 2 | 1999 | TV Series | Herself |
| SNL: 25 Years of Music | 1999 | TV Movie | Herself (as The Spice Girls) |
| The Video Pool | 1998 | TV Series | Herself |
| Spice Exposed | 1998 | Video documentary | Herself |
| Spice Power | 1997 | Video | Herself |