Mike Rowe Net Worth is

$45 Million
Mike Rowe Biography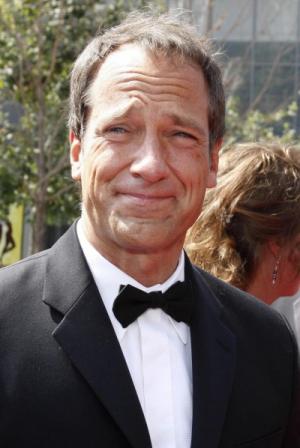 Michael Gregory Rowe was born on 18 March 1962, in Baltimore, Maryland USA, and is a television presenter and producer,  actor and voice actor, as well as a comedian. To the public, Mike Rowe is perhaps best known for hosting the television program called "Dirty Jobs" on the Discovery Channel, which first aired in 2003.
A noted presenter and a narrator, just how rich is Mike Rowe, as of late 2017? According to sources, Mike's net worth is estimated to be over $45 million, with most of his wealth coming from his on-screen appearances.
divider]
Mike Rowe Net Worth $45 Million
Rowe studied at Overlea High School in Baltimore,where he showcased his talent for singing and theatrical performances. Rowe continued his studies at the Community College of Baltimore County, and sang with the Baltimore Opera Company.In his youth, Mike Rowe served in the Boy Scouts program as an Eagle Scout, which is the highest rank in Scouting.
Rowe debuted in the entertainment industry as a host, when he received an offer to work for the QVC network. After that, he began hosting such series as "Worst Case Scenarios", "New York Expeditions", and "The Most", before finally moving on to host "Dirty Jobs". Shortly afterwards, Rowe started his career as a narrator, as well as making other on screen appearances. Rowe was featured on an episode of "Sesame Street", appeared in a television sitcom with Tim Allen and Nancy Travis called "Last Man Standing", and took part as a speaker in a National Scout Jamboree in 2010 and 2013.
With a focus on Mike Rowe performing various messy and dirty duties, "Dirty Jobs" debuted on television screens in 2003, when it aired three pilot episodes. After a two year break, it returned to screens in 2005 and aired a total of eight seasons, finishing its run in 2012. A spin-off series of a "Somebody's Gotta Do It" segment, which was presented on "Evening Magazine", "Dirty Jobs" managed to attract large audiences, and even inspired the creation of a European version of the show.
In addition to being a television presenter, Mike Rowe is also well-known as a narrator. Among the many television shows that Rowe has narrated over the years are "How the Universe Works", "Ghost Hunters" with Jason Hawes and Grant Wilson, "Deadliest Catch" created by Thom Beers, "American Hot Rod" with Boyd Coddington, and "Southern Steel" to name a few.
To add to his work as a narrator and host, Mike Rowe has managed to significantly increase his net worth through various promotions. Rowe became a spokesman for "Epic Pharmacy" in 1998, and later became a partner with such companies as "Lee Premium Select Jeans", "Caterpillar", which manufactures machinery and engines, as well as "Novartis", a pharmaceutical company located in Switzerland.
In addition, Mike Rowe has created a website called "mikeroweWORKS.com", the main focus of which is the trades between the blue-collar and middle- and upper-class workers. He has stated that he feels alienated from the current US political system, given that both business owners and regular workers receive, in his opinion, unfair criticism, with issues such as geographical mismatching and a lack of job training causing unemployment, noting that overall the current employment situation in the US is much better than in most other western, first-world countries.
In his personal life, Mike was in a relationship with actress and stunt-woman Danielle Burgio, but remains single. Any current love life he keeps persistently private. He currently lives in San Francisco, California.
Known for movies
Quick Facts
| | |
| --- | --- |
| Full Name | Mike Rowe |
| Net Worth | $45 Million |
| Salary | $35 million |
| Date Of Birth | March 18, 1962 |
| Place Of Birth | Baltimore, Maryland, United States |
| Height | 6 ft (1.83 m) |
| Profession | Presenter, Actor, Television producer, Voice Actor, Activist |
| Education | Overlea High School, Community College of Baltimore County, Towson University |
| Nationality | American |
| Parents | John Rowe, Peggy Rowe |
| Nicknames | Michael Gregory Rowe , Michael Gregory "Mike" Rowe |
| Facebook | http://www.facebook.com/TheRealMikeRowe |
| Twitter | http://www.twitter.com/mikeroweworks |
| Instagram | http://www.instagram.com/mikerowe |
| Wikipedia | https://en.wikipedia.org/wiki/Mike_Rowe |
| Awards | BMI TV Music Award (2009), Critics Choice Television Awards - Best Reality Show Host (2011) |
| Music Groups | Noel Gallagher's High Flying Birds |
| Nominations | Primetime Emmy Award for Outstanding Reality Program (2007-2010), Gold Derby TV Award - Reality Program/Cpecial Class Program (2011, 2008) |
| Movies | "How the Universe Works", "Ghost Hunters", "Deadliest Catch", "American Hot Rod", "Southern Steel" |
| TV Shows | "Worst Case Scenarios", "New York Expeditions", "The Most", "Dirty Jobs", "Sesame Street", "Last Man Standing", "Somebody's Gotta Do It" |

Interesting Facts
| # | Fact |
| --- | --- |
| 1 | Does commercials for Ford Motor Company and Viva paper towels. [February 2012] |
| 2 | Currently resides in San Francisco with his longtime girlfriend. [February 2011] |
| 3 | CEO, "Mike Rowe Work Foundation". |
| 4 | Credits Fred King, his choir teacher, for introducing him to S.P.E.B.S.Q.S.A. (now the Barbershop Harmony Society) which introduced Mike to selling karaoke machines on QVC. |
| 5 | Worked as a host selling over $100 million of "simulated" diamonds on QVC. (From 1990-1993.). |
| 6 | Mike Rowe sang professionally with the Baltimore Opera. |
| 7 | He appeared in several dozen Tylenol commercials. |
| 8 | Attended Towson State University in Maryland. |

Trademarks
| # | Trademark |
| --- | --- |
| 1 | Narrating various TV Shows and Specials |
| 2 | Smooth deep ominous narrating voice |

Pictures
Nominated Awards

Filmography
Actor
| Title | Year | Status | Character |
| --- | --- | --- | --- |
| Bering Sea Gold | 2013-2017 | TV Series | Narrator |
| Deadliest Catch: Dungeon Cove | 2016 | TV Series | Narrator |
| Deadliest Catch: The Bait | 2013-2016 | TV Series | Narrator |
| Deadliest Catch: A Season in Hell | 2016 | TV Movie | Narrator (voice) |
| Gold Fever | 2013 | TV Mini-Series documentary | Narrator |
| Airplane Repo | 2013 | TV Series | Narrator |
| Deadliest Catch: Legend of the Time Bandit | 2013 | TV Movie | Narrator (voice) |
| Deadliest Catch: An Epic Season | 2013 | TV Movie | Narrator (voice) |
| Deadliest Catch: Best of Season 8 | 2013 | TV Movie | Narrator |
| Wicked Tuna | 2012 | TV Series | Narrator |
| Deadliest Catch: Best of Season 7 | 2012 | TV Movie | Narrator (voice) |
| Last Man Standing | 2012 | TV Series | Jim |
| Deadliest Catch: Greenhorns | 2011 | TV Movie | Narrator (voice) |
| The Ultimate Fighter | 2005-2010 | TV Series | Narrator |
| Ghost Hunters Academy | 2009-2010 | TV Series | Narrator |
| Deadliest Catch: Scariest Moments at Sea | 2010 | TV Movie | Narrator (voice) |
| Down and Dirty | 2008 | TV Series | Mike |
| American Dad! | 2007 | TV Series | Meter Maid |
| Deadliest Catch: Best of Season 2 | 2007 | TV Movie | |
| American Chopper: The Series | 2002-2007 | TV Series | Announcer / Narrator / Announcer (intro only) |
| The Most | 2002 | TV Series | Narrator / Comentator |
| Worst Case Scenarios | 2002 | TV Series | Host |
| The Most | 2001 | TV Mini-Series | Host |
Producer
| Title | Year | Status | Character |
| --- | --- | --- | --- |
| Somebody's Gotta Do It | 2014-2015 | TV Series documentary executive producer - 14 episodes | |
| How Booze Built America | 2012 | TV Series documentary executive producer - 3 episodes | |
| Dirty Jobs | | TV Series executive producer - 75 episodes, 2008 - 2012 co-producer - 52 episodes, 2005 - 2007 producer - 35 episodes, 2007 - 2009 | |
| You Spoof Discovery | 2007 | TV Movie co-producer | |
| Dirty Jobs | 2003 | TV Mini-Series documentary co-executive producer - 3 episodes | |
Miscellaneous
| Title | Year | Status | Character |
| --- | --- | --- | --- |
| Dirty Jobs | 2007-2012 | TV Series original concept by - 116 episodes | |
| Shark Attack Survivors | 2006 | TV Movie documentary narrator | |
| Kevin and Drew Unleashed | 2004 | TV Series documentary announcer | |
Writer
| Title | Year | Status | Character |
| --- | --- | --- | --- |
| Somebody's Gotta Do It | | TV Series documentary writer - 14 episodes, 2014 - 2015 concept - 1 episode, 2014 | |
Soundtrack
| Title | Year | Status | Character |
| --- | --- | --- | --- |
| Somebody's Gotta Do It | 2015 | TV Series documentary performer - 1 episode | |
| Dirty Jobs: Down Under | 2012 | TV Series performer - 1 episode | |
| Dirty Jobs | 2012 | TV Series performer - 1 episode | |
Self
| Title | Year | Status | Character |
| --- | --- | --- | --- |
| Meet the Press | 2016 | TV Series | Himself |
| American Valor: A Salute to Our Heroes | 2016 | TV Movie documentary | Himself |
| Ghost Hunters | 2004-2016 | TV Series documentary | Narrator / Announcer / Himself - Narrator / ... |
| Deadliest Catch: Sig Hansen Legacy | 2016 | TV Movie documentary | Narrator (voice) |
| Jupiter's Dangerous Secrets | 2016 | TV Movie documentary | Narrator |
| Deadliest Catch | 2005-2016 | TV Series documentary | Narrator / Himself - Narrator |
| Deadliest Catch: Legend of the Wizard | 2016 | TV Movie documentary | Narrator (voice) |
| Somebody's Gotta Do It | 2014-2015 | TV Series documentary | Himself - Host |
| Last Call with Carson Daly | 2015 | TV Series | Himself |
| Mike & Mike | 2015 | TV Series | Himself - Actor |
| The CNN Quiz Show: TV Edition | 2015 | TV Movie | Himself - Contestant |
| How the Universe Works | 2010-2015 | TV Series documentary | Himself - Narrator / Himself - Narrator (voice) / Narrator |
| Deadliest Catch: Legend of the Cornelia Marie | 2015 | TV Movie documentary | Narrator (voice) |
| The Apprentice | 2015 | TV Series | Himself - Voice Over Announcer for Commercial |
| The Queen Latifah Show | 2014 | TV Series | Himself |
| Bering Sea Gold: Under the Ice | 2013-2014 | TV Series documentary | Narrator |
| Deadliest Catch: Legend of the Northwestern | 2014 | TV Movie documentary | Narrator (voice) |
| Deadliest Catch: Behind the Lens | 2014 | TV Movie documentary | Narrator (voice) |
| Deadliest Catch: Season 9 Revealed | 2014 | TV Movie documentary | Narrator (voice) |
| Alien Planet Earths | 2014 | TV Movie documentary | Narrator |
| The Independents | 2014 | TV Series | Himself |
| American Graduate Day | 2013 | TV Movie | Himself |
| Huckabee | 2013 | TV Series | Himself |
| Deadliest Catch: The Bait | 2013 | TV Series | Himself / Narrator / Himself - Narrator |
| Real Time with Bill Maher | 2013 | TV Series | Himself - Guest |
| Airplane Repo | 2013 | TV Series | Himself - Narrator |
| Red Eye w/Tom Shillue | 2013 | TV Series | Himself - Guest Panelist |
| Deadliest Catch: The Beginning | 2013 | TV Movie | Himself - Narrator (uncredited) |
| Harvesting the High Plains | 2012 | Documentary | Narrator |
| How Booze Built America | 2012 | TV Series documentary | Himself - Host |
| Rachael Ray | 2008-2012 | TV Series | Himself |
| The Jeff Probst Show | 2012 | TV Series | Himself |
| Dirty Jobs: Down Under | 2012 | TV Series | Himself - Host |
| Larry King Now | 2012 | TV Series | Himself - Guest |
| Deadliest Catch: Behind the Scenes | 2012 | TV Movie documentary | Narrator (voice) |
| After the Catch | 2007-2012 | TV Series documentary | Himself - Host |
| Deadliest Catch: Inside the Catch | 2012 | TV Series documentary | Narrator |
| Dirty Jobs | 2005-2012 | TV Series | Himself - Host |
| The Tradesmen | 2011 | Documentary | Himself |
| Curiosity | 2011 | TV Series documentary | Himself - Host |
| Jaws Comes Home | 2011 | TV Movie documentary | Narrator |
| Deadliest Catch: Behind the Scenes - Season 7 | 2011 | TV Movie documentary | Narrator (voice) |
| Ghost Lab | 2009-2011 | TV Series documentary | Narrator / Himself - Narrator |
| Ghost Hunters International | 2008-2010 | TV Series documentary | Narrator / Himself - Narrator |
| Deadliest Catch: Behind the Scenes - Season 6 | 2010 | TV Movie documentary | Narrator (voice) |
| American Chopper: The Series | 2009-2010 | TV Series | Himself |
| The Bonnie Hunt Show | 2009 | TV Series | Himself |
| Larry King Live | 2007-2009 | TV Series | Himself |
| The Ultimate Fighter | 2009 | TV Series | Himself - Narrator |
| Deadliest Catch: Behind the Scenes - Season 5 | 2009 | TV Movie documentary | Himself - Narrator (voice) |
| Wild Pacific | 2009 | TV Mini-Series documentary | Himself / Narrator |
| Lost in the Fog | 2008 | Documentary voice | |
| The O'Reilly Factor | 2008 | TV Series | Himself - Host of 'Dirty Jobs' |
| Jimmy Kimmel Live! | 2008 | TV Series | Himself |
| The Tonight Show with Jay Leno | 2007-2008 | TV Series | Himself |
| 100 Greatest Songs of the 90s | 2007 | TV Mini-Series documentary | Himself |
| The Big Story | 2007 | TV Series | Himself - Guest |
| 40 Greatest Reality TV Moments 2 | 2007 | TV Movie documentary | Himself |
| The Late Late Show with Craig Ferguson | 2007 | TV Series | Himself |
| Deadliest Catch: Behind the Scenes | 2007 | TV Movie documentary | Himself - Narrator |
| You Spoof Discovery | 2007 | TV Movie | Himself - Host |
| The Daily Show | 2007 | TV Series | Himself |
| The View | 2005-2006 | TV Series | Himself |
| The Oprah Winfrey Show | 2006 | TV Series | Himself |
| The Tony Danza Show | 2006 | TV Series | Himself |
| 101 Craziest TV Moments | 2005 | TV Movie documentary | Himself |
| Evening Magazine | 2004-2005 | TV Series | Himself - Host |
| Egypt Week Live | 2004 | TV Series | Himself - Host |
| American Hot Rod | 2004 | TV Series documentary | Announcer |
| Dirty Jobs | 2003 | TV Mini-Series documentary | Himself - Host |
| Prevention's Bodysense | 1996 | TV Series | Himself - Host |
| Just What I Wanted | 1995 | TV Movie | Himself |
Archive Footage
| Title | Year | Status | Character |
| --- | --- | --- | --- |
| The O'Reilly Factor | 2008 | TV Series | Himself - Host of 'Dirty Jobs' |