Bruno Sammartino Net Worth
Bruno Sammartino Net Worth is

$4 Million
Bruno Sammartino Biography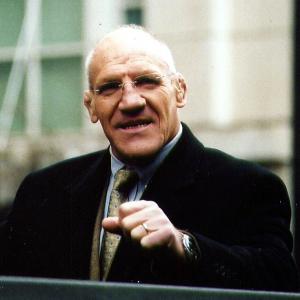 Bruno Leopoldo Francesco Sammartino is a retired professional wrestler, born on the 6th October 1935 in Pizzoferrato, Italy, and is probably best known for his work with the World Wide Wrestling Federation, today known as WWE, where he held the WWWF World Heavyweight Championship for over eleven years. He is considered to be one of the greatest professional wrestlers of all time.
Have you ever wondered how rich Bruno Sammartino is? According to sources it has been estimated that Bruno Sammartino's overall net worth is $4 million, accumulated during his three decade –long career, during which he gained numerous accolades and awards. His success and accomplishments made him one of the most successful wrestlers ever, and significantly increased his net worth.
Bruno Sammartino Net Worth $4 Million
Bruno was born the youngest of seven children. During World War II, while still very young, he hid with his family in the mountains while trying to escape German soldiers. At the age of 15, Bruno moved to the US to join his father who had been living there for several years. Since his knowledge of English was poor, and he was a sickly child due to previous war experiences, he was bullied in school, which instigated Sammartino to devote himself to weight training. While attending Schenley High School, he worked out with the University of Pittsburgh wrestling team and became known in the Pittsburgh area for performing strongman stunts.
After appearing on a TV show, he was identified by promoter Rudy Miller, and was then recruited into professional wrestling. Bruno's professional debut came in 1959, and within the next six months he was headlining at Madison Square Garden, and soon became the only man to lift the 640lb wrestler Haystacks Calhoun. In May 1963, he won the WWWF World Championship in just 48 seconds. He kept his title for seven years, eight months and one day which is still the longest world title reign in the history of wrestling. In January 1971, Sammartino lost the Madison Square Garden championship to Ivan Koloff, leaving the public in a state of shock. However, Bruno regained the WWWF Championship, this time keeping his title for three years, four months and twenty days.
His last major series of matches happened in the mid-'80s against "Macho Man" Randy Savage and The Honky Tonk Man. After retiring in 1987, Sammartino continued to do commentary for the WWF during the following year.
Due to his outstanding achievements and lucrative career, he has been named "Living Legend" and is highly respected in his profession. On the 6th April 2013, after having declined this invitation several times before, Bruno finally accepted induction into the WWE Hall of Fame.
When it comes to his personal life, Bruno has been married to Carol since 1959, and the couple has three sons and four grandchildren. Today, he and his wife reside in Pittsburgh, Pennsylvania.
Known for movies
Quick Facts
| | |
| --- | --- |
| Full Name | Bruno Sammartino |
| Net Worth | $4 Million |
| Date Of Birth | October 6, 1935 |
| Place Of Birth | Pizzoferrato, Abruzzo, Italy |
| Height | 1.78 m |
| Weight | 120.2 kg |
| Profession | Professional Wrestler |
| Education | Schenley High School |
| Nationality | American, Italian |
| Children | David Sammartino |
| Parents | Alfonso Sammartino, Emilia Sammartino |
| Twitter | https://twitter.com/sammartinobruno |
| IMDB | http://www.imdb.com/name/nm0759890/ |
| Movies | Legends Never Die, Saloonatics, Legends Never Die, Saloonatics |

Filmography
Actor
| Title | Year | Status | Character |
| --- | --- | --- | --- |
| WrestleMania XXX | 2014 | TV Movie | Bruno Sammartino |
| Saloonatics | 2002 | Video | Vito Farrelli |
| Tribeca | 1993 | TV Series | Pizza Man |
| Clash of the Champions XX: 20th Anniversary | 1992 | TV Movie | Bruno Sammartino |
| UWF Fury Hour | 1990 | TV Series | Bruno Sammartino - Commentator |
| Best of the WWF Volume 15 | 1988 | Video | Bruno Sammartino |
| WWF Superstars | 1986-1988 | TV Series | Bruno Sammartino |
| Best of the WWF Volume 13 | 1987 | Video | Bruno Sammartino |
| Best of the WWF Volume 14 | 1987 | Video | Bruno Sammartino |
| George the Animal Steele | 1987 | Video | Bruno Sammartino |
| The WWF's Even More Unusual Matches | 1987 | Video | Bruno Sammartino |
| Wrestling's Most Embarrassing Moments | 1987 | Video | Bruno Sammartino |
| WWF Championship Wrestling | 1972-1986 | TV Series | Bruno Sammartino |
| Best of the WWF Volume 5 | 1986 | Video | Bruno Sammartino |
| Ricky the Dragon Steamboat | 1986 | Video | Bruno Sammartino |
| Tag Team Champions | 1986 | Video | Bruno Sammartino |
| The Macho Man Randy Savage & Elizabeth | 1986 | Video | Bruno Sammartino |
| The WWF's Grand Slams | 1986 | Video | Bruno Sammartino |
| Wrestling's Living Legend Bruno Sammartino | 1986 | Video | Bruno Sammartino |
| WWF's Inside the Steel Cage | 1986 | Video | Bruno Sammartino |
| WWF Grudge Matches | 1986 | Video | Bruno Sammartino |
| Best of the WWF Volume 1 | 1985 | Video | Bruno Sammartino |
| Best of the WWF Volume 3 | 1985 | Video | Bruno Sammartino |
| Biggest, Smallest, Strangest, Strongest! | 1985 | Video | Bruno Sammartino |
| The WWF's Amazing Managers | 1985 | Video | Bruno Sammartino |
| World Wrestling Federation | 1974-1979 | TV Series | Bruno Sammartino |
| Spectrum Wrestling | 1977-1978 | TV Series | Bruno Sammartino |
Thanks
| Title | Year | Status | Character |
| --- | --- | --- | --- |
| Card Subject to Change | 2010 | Documentary special thanks | |
Self
| Title | Year | Status | Character |
| --- | --- | --- | --- |
| Sweet Daddy | 2016 | Documentary post-production | Himself |
| Legends with JBL | 2016 | TV Series | Himself |
| WWE Hall of Fame | 2016 | | Himself |
| Ivan Koloff the Russian Bear | 2015 | Documentary | Himself |
| WWE Smackdown! | 2014 | TV Series | Bruno Sammartino |
| The History of WWE: 50 Years of Sports Entertainment | 2013 | Video documentary | Himself |
| WWE 2k14 | 2013 | Video Game | Himself (voice) |
| WWE Raw | 2013 | TV Series | Bruno Sammartino |
| WWE: Best of WWE at Madison Square Garden | 2013 | Video | Himself |
| WrestleMania 29 | 2013 | TV Special | Bruno Sammartino |
| WWE Hall of Fame 2013 | 2013 | TV Special | Himself |
| The Bob Show | 2008 | TV Series | Himself |
| Legends Never Die | 2006 | Video | Himself |
| Luscious Johnny: The Wrestler | 2005 | Documentary | |
| Ivan Koloff the Most Hated Man in America | 2003 | Video documentary | Himself |
| Legends of Wrestling 2 | 2002 | Video Game | Himself |
| UWF Beach Brawl | 1991 | TV Special | Bruno Sammartino |
| UWF Fury Hour | 1990 | TV Series | Himself |
| Halloween Havoc | 1989 | TV Special | Bruno Sammartino |
| Body Slam | 1986 | | Himself |
| WrestleMania 2 | 1986 | TV Special | Bruno Sammartino |
| WrestleMania | 1985 | TV Special | Bruno Sammartino |
| The War to Settle the Score | 1985 | TV Movie | Himself |
| Greatest Sports Legends | 1979 | TV Series | Himself |
| Tomorrow Coast to Coast | 1976 | TV Series | Himself |
| Ringside Wrestling | 1973 | TV Series | Himself |
| The Winners | 1973 | TV Series documentary | |
Archive Footage
| Title | Year | Status | Character |
| --- | --- | --- | --- |
| WWE Hall of Fame | 2015 | TV Special | Himself |
| True Giants | 2014 | | Bruno Sammartino |
| Macho Man: The Randy Savage Story | 2014 | Video documentary | Himself |
| Ladies and Gentlemen, My Name is Paul Heyman | 2014 | Video | Bruno Sammartino |
| Ultimate Warrior: The Ultimate Collection | 2014 | Video | Bruno Sammartino |
| WWE Raw | 1997-2013 | TV Series | Bruno Sammartino |
| WWE for All Mankind: Life & Career of Mick Foley | 2013 | Video | Bruno Sammartino |
| The 50 Greatest Finishing Moves in WWE History | 2012 | Video | Bruno Sammartino |
| WWE: Best Cage Matches | 2011 | Video | Bruno Sammartino |
| WWE: Top 50 Superstars of All Time | 2010 | Video | Bruno Sammartino |
| Hulk Hogan's Unreleased Collector's Series | 2009 | Video | Bruno Sammartino |
| WWE: Macho Madness - The Randy Savage Ultimate Collection | 2009 | Video | Bruno Sammartino |
| WWE Hall of Fame 2009 | 2009 | TV Special | Himself |
| The Most Powerful Families in Wrestling | 2007 | Video | Bruno Sammartino |
| WWE: The History of the WWE Championship | 2006 | Video | Bruno Sammartino |
| Born to Controversy: The Roddy Piper Story | 2006 | Video documentary | Bruno Sammartino |
| 20 Years Too Soon: Superstar Billy Graham | 2006 | Video | Himself |
| WWE Hall of Fame 2004 | 2004 | TV Special | Himself |
| WWE Bloodbath: Wrestling's Most Incredible Steel Cage Matches | 2003 | Video | Bruno Sammartino |
| Wrestling Gold Vol. 2: The Maim Event | 2001 | Video | Bruno Sammartino |
| Biography | 1999 | TV Series documentary | Himself |