Aretha Franklin Net Worth
Aretha Franklin Net Worth is

$60 Million
Aretha Franklin Biography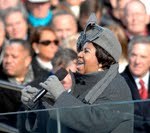 Aretha Louise Franklin, commonly known as Aretha Franklin, is a famous American musician, actress, singer, as well as a songwriter. Considered to be "The Queen of Soul", Aretha Franklin rose to prominence in 1968, when she released two commercially profitable albums, namely "Lady Soul" and "Aretha Now". "Lady Soul" came out in January of 1968 and upon its release became a huge success in the United States, topping the Billboard Pop Albums, Jazz Albums and Black Albums charts. In addition to spawning such singles as "Chain of Fools" and "(You Make Me Feel Like) A Natural Woman", "Lady Soul" was featured in the list of "The 500 Greatest Albums of All Time", compiled by "Rolling Stone" magazine, and is also considered to be among the greatest albums as featured on the VH1 network. Franklin followed the success of "Lady Soul" with "Aretha Now", her fifteenth studio album, which was released in June of 1968. Featuring such popular singles as "I Say a Little Prayer" and "Think/You Send Me", "Aretha Now" peaked at #5 on the Billboard chart and since its release has been given a gold certification from the RIAA. Up to date, Aretha Franklin has released 112 singles that have made it to the Billboard music charts and sold more than 75 million records all around the world. Franklin's contributions to the music industry have been acknowledged with 18 Grammy Awards, as well as an induction into the GMA Gospel Music Hall of Fame, Rock and Roll Hall of Fame and UK Music Hall of Fame.
Aretha Franklin Net Worth $60 Million
A famous singer and musician, how rich is Aretha Franklin? The sources state that Aretha Franklin's net worth is estimated to be $60 million, undoubtedly accumulated mostly due to her singing career.
Aretha Franklin was born in 1942, in Memphis, Tennessee, to C. L. Franklin, a Baptist preacher known as "the man with the million-dollar voice", and a singer, Barbara Siggers. Aretha Franklin's professional career began at the age of 14, when she started performing at various churches under her father's management. When she was 18 years old, Franklin attracted the attention of the well-known "Columbia Records" label, with which she released her first single entitled "Today I Sing the Blues", which was featured on the R&B chart. Shortly afterwards, Franklin made her debut with "Aretha: With The Ray Bryant Combo", her first studio album which was released in 1961, which was well-received by critics, despite the fact that her label could not attribute her to any particular music style. Aretha Franklin reached commercial success several years later, when she released a single called "I Never Loved a Man (The Way I Love You)" in 1967 from the album of the same name. The song topped both the Billboard Hot 100 and R&B Singles charts, and since then has featured in such films as "This Christmas" with Loretta Devina, Idris Elba and Chris Brown, and "The Commitments" directed by Alan Parker.
Known for movies
Quick Facts
| | |
| --- | --- |
| Full Name | Aretha Franklin |
| Net Worth | $60 Million |
| Date Of Birth | March 25, 1942 |
| Place Of Birth | Memphis, Tennessee, United States |
| Height | 5 ft 4 in (1.65 m) |
| Profession | Singer, Songwriter, Actor, Artist, Singer-songwriter, Musician, Music artist |
| Education | Juilliard School, Northern High School, Natural Woman, I Say a Little Prayer, I Knew You Were Waiting, Poughkeepsie, NY, United States, Connecticut, United States, Chicago, IL, USA |
| Nationality | United States of America |
| Spouse | Glynn Turman (m. 1978–1984), Ted White (m. 1961–1969) |
| Children | Ted White Jr., Kecalf Cunningham, Edward Franklin, Clarence Franklin |
| Parents | Barbara Siggers Franklin, C. L. Franklin |
| Siblings | Natural Woman, I Say a Little Prayer, I Knew You Were Waiting, Erma Franklin, Carolyn Franklin, Carl Ellan Kelley, Rev. Cecil Franklin, Vaughn Franklin |
| Nicknames | Aretha Franklyn , Franklin, Aretha , Arthaa Franklin , Aretja Franklin , Aretha Fanklin , Aretha Louise Franklin , aretha_franklin , The Queen of Soul |
| Facebook | http://www.facebook.com/arethafranklin |
| Twitter | http://www.twitter.com/arethafranklin |
| Instagram | http://www.instagram.com/arethasings |
| MySpace | http://www.myspace.com/arethafranklin |
| Wikipedia | https://en.wikipedia.org/wiki/Aretha_Franklin |
| Awards | Kennedy Center Honors, Grammy Lifetime Achievement Award, Grammy Award for Best Female R&B Vocal Performance, Grammy Hall of Fame, Grammy Legend Award, Grammy Award for Best R&B Performance by a Duo or Group with Vocals, Grammy Award for Best R&B Performance, Grammy Award for Best Traditional R&B Performance, Grammy Award for Best Gospel/Contemporary Christian Music Performance, American Music Award for Favorite Soul/R&B Album, American Music Award for Favorite Soul/R&B Female Artist, Grammy Award for Best Soul Gospel Performance, NAACP Image Award for Outstanding Album, NAACP Image Award – Hall of Fame Award, Grammy Award for Best Soul Gospel Performance, Female, NAACP Image Award – Vanguard Award, TV Land Icon Award, American Music Award for Favorite Soul/R&B Female Video Artist, Rhythm and Blues Foundation Pioneer Award, The BET Honors Award for Musical Arts, Natural Woman, I Say a Little Prayer, I Knew You Were Waiting, Poughkeepsie, NY, United States, Connecticut, United States, Chicago, IL, USA |
| Nominations | Grammy Award for Best Female Pop Vocal Performance, Grammy Award for Best R&B Album, Golden Globe Award for Best Original Song, MTV Video Music Award for Best Female Video, NAACP Image Award for Outstanding Female Artist, NAACP Image Award for Outstanding Duo or Group, American Music Award for Favorite Soul/R&B Single, American Music Award for Favorite Soul/R&B Video, Critics' Choice Movie Award for Best Song, Soul Train Music Award for Best R&B/Soul Album – Female, MTV Video Music Award for Best Video from a Film, American Music Award for Favorite Pop/Rock Female Video Artist, NAACP Image Awards for Outstanding Performance in a Variety Series/Special, Soul Train Music Award for Best Gospel Album – Group or Band, Soul Train Music Award for Best Gospel Album – Solo, Natural Woman, I Say a Little Prayer, I Knew You Were Waiting, Poughkeepsie, NY, United States, Connecticut, United States, Chicago, IL, USA |
| Movies | The Blues Brothers, Blues Brothers 2000, The Scrambled States of America, Poughkeepsie, NY, United States, Connecticut, United States, Chicago, IL, USA |

Interesting Facts
| # | Fact |
| --- | --- |
| 1 | Was named for two of her father's sisters, Aretha and Louise. |
| 2 | Gave birth to her 2nd child at age 15, a son Edward Franklin on January 5, 1957. Child's father is her now ex-boyfriend. |
| 3 | Gave birth to her 1st child at age 14, a son Clarence Franklin on March 28, 1956. Child's father is her now ex-boyfriend. |
| 4 | Gave birth to her 3rd child, a son, Ted White, Jr., in 1964. She was 22. The child's father is her now ex-husband Ted White. |
| 5 | Gave birth to her 4th child at age 28, a son Kecalf Cunningham on March 28, 1970. Child's father is her now ex-boyfriend, Ken Cunningham. |
| 6 | Had known Whitney Houston, since Whitney was age 5, and was her godmother. |
| 7 | Engaged to longtime friend, William "Willie" Wilkerson [January 3, 2012]. |
| 8 | Was reported that she has pancreatic cancer. (8 Dec 2010). |
| 9 | She and Smokey Robinson grew up together. |
| 10 | The lavish hat she wore when she performed at Barack Obama's presidential inauguration was supplied by Detroit's Mr. Song Millinery. It created such a sensation that designer Luke Song sold out of the style shortly after. |
| 11 | She was awarded a Star on the Hollywood Walk of Fame for Recording at 6920 Hollywood Boulevard in Hollywood, California. |
| 12 | Aretha sang "God Bless America" at the inauguration of Barack Obama on January 20, 2009. |
| 13 | Voted the greatest singer of the rock era in a Rolling Stone magazine poll in 2008. |
| 14 | She can't read music. |
| 15 | 11/16/05: Inducted into the UK Music Hall of Fame for her outstanding contribution to British music and integral part of British music culture. |
| 16 | Freddie Mercury, lead singer of Queen, was an avid fan of her work. |
| 17 | She has won 16 Grammy Awards. |
| 18 | 1999: She was awarded the American National Medal of the Arts by the National Endowment of the Arts in Washington, DC. |
| 19 | Mentioned in the song "Life Is a Rock But the Radio Rolled Me" by Reunion. |
| 20 | 11/9/05: Awarded the Presidential Medal of Freedom by President George W. Bush. Other recipients were Frank Robinson, Muhammad Ali, Gen. Richard Myers, Paul Rusesabagina, Carol Burnett, Andy Griffith, Vint Cerf and his Internet co-developer Robert Kahn, Jack Nicklaus, Alan Greenspan and former congressman G.V. "Sonny" Montgomery. |
| 21 | She was voted the 9th Greatest Rock 'n' Roll Artist of all time by Rolling Stone. |
| 22 | Ranked #1 on VH1's Greatest Women of Rock N Roll |
| 23 | Won 15 Grammy Awards; Grammy Legend Award; Kennedy Center Honor. |
| 24 | 1987: Her duet with George Michael, "I Knew You Were Waiting (For Me)", was a UK #1 single. |
| 25 | Is a member of Delta Sigma Theta Sorority, Inc. |
| 26 | Her voice was designated a "Natural Resource" by the State of Michigan. |
| 27 | 1984: Her father, the Rev. C.L. Franklin, died after having been shot by a burglar. |
| 28 | 1992: Performed at President Bill Clinton's presidential inauguration. |
| 29 | Suffers from a fear of flying that affects her schedule--she declined attending her Rock 'n' Roll Hall of Fame induction because of it. |
| 30 | Younger sister of vocalist Erma Franklin, who originally recorded the song "Piece of My Heart," later a hit for Big Brother and the Holding Company with Janis Joplin. Older sister of singer/songwriter Carolyn Franklin, who wrote Aretha's hit "Ain't No Way." Daughter of the Rev. C.L. Franklin. |
| 31 | First woman to be admitted to the Rock and Roll Hall Of Fame. |
| 32 | Her favorite film as a child was The Private Lives of Elizabeth and Essex (1939) |

Trademarks
| # | Trademark |
| --- | --- |
| 1 | Her powerful vocals |

Quotes
| # | Quote |
| --- | --- |
| 1 | Trying to grow up is hurting, you know. You make mistakes. You try to learn from them, and when you don't it hurts even more. |

Pictures
Won Awards
Won awards
| Year | Award | Ceremony | Nomination | Movie | Award shared with |
| --- | --- | --- | --- | --- | --- |
| 2016 | Dorian Award | Gay and Lesbian Entertainment Critics Association (GALECA) | TV Musical Moment of the Year | 38th Annual Kennedy Center Honors (2015) | |
| 2015 | Image Award | Image Awards | Outstanding Album | Album: "Aretha Franklin Sings the Great Diva Classics" | |
| 2008 | Chairman's Award | Image Awards | | | |
| 2006 | Grammy | Grammy Awards | Best Traditional R&B Vocal Performance | For the song "A House Is Not a Home." | |
| 1997 | Hall of Fame | Image Awards | | | George Clinton |
| 1979 | Star on the Walk of Fame | Walk of Fame | Recording | Awarded on August 29, 1979 at 6920 Hollywood Blvd. | |
Nominated Awards
Nominated awards
Year
Award
Ceremony
Nomination
Movie
Award shared with
2007
Critics Choice Award
Broadcast Film Critics Association Awards
Best Song
Bobby (2006)
Mary J. Blige
2007
OFTA Film Award
Online Film & Television Association
Best Music, Original Song
Bobby (2006)
Bryan Adams (music and lyrics by)

Eliot Kennedy (music and lyrics by)

Andrea Remanda (music and lyrics by)

Mary J. Blige (performed by)
1999
Grammy
Grammy Awards
Best R&B Vocal Performance - Female
For the song "A Rose Is Still a Rose."
1999
Grammy
Grammy Awards
Best R&B Album
For the album "A Rose Is Still a Rose."
1999
Image Award
Image Awards
Outstanding Performance in a Variety Series/Special
The 40th Annual Grammy Awards (1998)
1996
Image Award
Image Awards
Outstanding Performance in a Variety Series/Special

Filmography
Soundtrack
| Title | Year | Status | Character |
| --- | --- | --- | --- |
| Ray Donovan | 2013 | TV Series performer - 1 episode | |
| Britain's Got Talent | 2013 | TV Series performer - 2 episodes | |
| Grey's Anatomy | 2013 | TV Series performer - 1 episode | |
| Dancing with the Stars | | TV Series 6 episodes, 2005 - 2013 performer - 1 episode, 2008 writer - 1 episode, 2006 | |
| Muscle Shoals | 2013 | Documentary performer: "One Step Ahead", "I Never Loved a Man The Way I Love You", "Respect" | |
| Parenthood | 2012 | TV Series performer - 1 episode | |
| Un plan parfait | 2012 | performer: "You're All I Need to Get By" | |
| Enie backt | 2012 | TV Series performer - 1 episode | |
| The Secret Disco Revolution | 2012 | Documentary performer: "Respect", "You Make Me Feel Like A Natural Woman" | |
| Inspector George Gently | | TV Series performer - 1 episode, 2012 writer - 1 episode, 2012 | |
| Sparkle | 2012/I | performer: "Night Life" | |
| The Tonight Show with Jay Leno | 2012 | TV Series performer - 1 episode | |
| The Voice UK | 2012 | TV Series performer - 1 episode | |
| American Idol | | TV Series writer - 4 episodes, 2004 - 2012 performer - 1 episode, 2011 | |
| EastEnders | 2001-2011 | TV Series performer - 3 episodes | |
| Jumping the Broom | 2011 | performer: "Bridge over Troubled Water" | |
| Late Night with Jimmy Fallon | 2011 | TV Series performer - 1 episode | |
| 20 to 1 | 2006-2011 | TV Series documentary performer - 4 episodes | |
| The 53rd Annual Grammy Awards | 2011 | TV Special writer: "Think", "Spirit in the Dark" | |
| Magic Trip: Ken Kesey's Search for a Kool Place | 2011 | Documentary performer: "Precious Lord Take My Hand" | |
| Detroit 1-8-7 | 2010 | TV Series performer - 1 episode | |
| X Factor | 2010 | TV Series writer - 1 episode | |
| Love Ranch | 2010 | performer: "Hold On I'm Comin'" | |
| Nurse Jackie | 2010 | TV Series performer - 1 episode | |
| Casino Jack and the United States of Money | 2010 | Documentary performer: "THE HOUSE THAT JACK BUILT" | |
| I Can Do Bad All by Myself | 2009 | writer: "Rock Steady" | |
| Diverso da chi? | 2009 | performer: "Don't Play This Song" | |
| Free Agents | 2009 | TV Series performer - 1 episode | |
| President Obama: The Inauguration | 2009 | TV Movie performer: "My Country 'Tis of Thee" | |
| So You Think You Can Dance Canada | 2008 | TV Series performer - 1 episode | |
| It Takes Two | 2008 | TV Series writer - 1 episode | |
| Everybody Hates Chris | 2007 | TV Series performer - 1 episode | |
| This Christmas | 2007 | performer: "Never Loved a Man The Way That I Love You" | |
| Hack! | 2007 | performer: "Oh No Not My Baby" - uncredited | |
| Eye See Me | 2007 | performer: "Giving Him Something He Can Feel" | |
| Ugly Betty | 2007 | TV Series performer - 1 episode | |
| Gracie | 2007 | performer: "Rock Steady" / writer: "Rock Steady" | |
| Esti showder | 2006-2007 | TV Series writer - 2 episodes | |
| The Holiday | 2006 | performer: "You Send Me" 1957 | |
| Deck the Halls | 2006 | performer: "Joy to the World" | |
| How Music Works | 2006 | TV Series documentary performer - 1 episode | |
| Zwei Engel für Amor | 2006 | TV Series performer - 1 episode | |
| Les ambitieux | 2006 | performer: "Baby I Love You" | |
| Bobby | 2006 | performer: "Never Gonna Break My Faith", "Baby, I Love You" | |
| The Last King of Scotland | 2006 | performer: "Save Me" / writer: "Save Me" | |
| Canadian Idol | 2006 | TV Series writer - 1 episode | |
| SingStar Rocks! | 2006 | Video Game performer: "Respect" | |
| Phat Girlz | 2006 | performer: " You Make Me Feel Like A Natural Woman" | |
| Larry the Cable Guy: Health Inspector | 2006 | performer: "Chain of Fools" | |
| Akeelah and the Bee | 2006 | performer: "Respect" 1965 | |
| Idols! | 2006 | TV Series writer - 1 episode | |
| Entourage | 2005 | TV Series performer - 1 episode | |
| The 59th Annual Tony Awards | 2005 | TV Special performer: "Somewhere" | |
| Cold Case | 2005 | TV Series performer - 1 episode | |
| In Good Company | 2004 | performer: "Chain of Fools" 1967 | |
| Bridget Jones: The Edge of Reason | 2004 | performer: "Think" / writer: "Think" - as Franklin | |
| The Last Shot | 2004 | performer: "Ac-cent-tchu-ate the Positive" 1944 | |
| Idol - Jakten på en superstjerne | 2003-2004 | TV Series writer - 2 episodes | |
| Legally Blonde 2: Red, White & Blonde | 2003 | performer: "Sisters are Doin' It for Themselves" | |
| Idool 2003 | 2003 | TV Series writer - 2 episodes | |
| Confidence | 2003 | performer: "Respect" One Rascal Mix | |
| Two Weeks Notice | 2002 | performer: "Respect" | |
| La bande du drugstore | 2002 | performer: "Chain of fools", "Never let me go", "Prove it" | |
| Ali | 2001 | performer: "Ain't No Way" | |
| Rat Race | 2001 | performer: "Chain of Fools" | |
| High Heels and Low Lifes | 2001 | performer: "Sisters Are Doin' It for Themselves" | |
| Bridget Jones's Diary | 2001 | performer: "Respect" | |
| The Lone Gunmen | 2001 | TV Series performer - 1 episode | |
| Boston Public | 2001 | TV Series writer - 1 episode | |
| The '70s | 2000 | TV Movie performer: "Think", "Border Song Holy Moses" - uncredited / writer: "Think" - uncredited | |
| High Fidelity | 2000 | performer: "Rock Steady" / writer: "Rock Steady" | |
| Steal This Movie | 2000 | performer: "I Never Loved a Man The Way I Love You" | |
| Bicentennial Man | 1999 | performer: "Respect", "Sweet Sweet Baby Since You've Been Gone" / writer: "Sweet Sweet Baby Since You've Been Gone" | |
| Girl, Interrupted | 1999 | performer: "The Right Time" | |
| Black & White | 1999/I | performer: "Urban Life" | |
| Mon père, ma mère, mes frères et mes soeurs | 1999 | lyrics: "Think" / music: "Think" / performer: "Think" / writer: "Think" | |
| The King of Queens | 1999 | TV Series performer - 1 episode | |
| Tuftsablanca | 1999 | performer: "You Make Me Feel Like A Natural Woman," | |
| Dance with Me | 1998 | performer: "A Deeper Love" | |
| Get Real | 1998 | performer: "Respect", "Think" / writer: "Think" | |
| Sex and the City | 1998 | TV Series performer - 1 episode | |
| La vida en el aire | 1998 | TV Series performer - 1 episode | |
| Doctor Dolittle | 1998 | writer: "Rock Steady" | |
| El grito en el cielo | 1998 | performer: "I Say a Little Prayer" | |
| Divas Live: An Honors Concert for VH1 Save the Music | 1998 | TV Special documentary performer: "Chain Of Fools" | |
| Always Outnumbered | 1998 | TV Movie performer: "Chain of Fools" | |
| Trial and Error | 1997 | performer: "Respect" | |
| Sprung | 1997 | performer: "I'm in Love" | |
| ...First Do No Harm | 1997 | TV Movie performer: "Over the Rainbow" | |
| That Darn Cat | 1997 | performer: "Respect" | |
| Blues Brothers 2000 | 1997 | performer: "Respect" | |
| Michael | 1996 | performer: "Chain of Fools" 1967 | |
| The Powder Room | 1996 | Documentary performer: "RESPECT" | |
| The First Wives Club | 1996 | performer: "Sisters Are Doin' It for Themselves" | |
| Bound | 1996 | performer: "I Never Loved A Man The Way I Love You" | |
| A Family Thing | 1996 | performer: "Spirit In The Dark" / writer: "Spirit In The Dark" | |
| Dad, the Angel & Me | 1995 | TV Movie "RESPECT" | |
| Waiting to Exhale | 1995 | performer: "It Hurts Like Hell", "Try Matty's" / writer: "Try Matty's" | |
| Dead Presidents | 1995 | performer: "Do Right Woman, Do Right Man" | |
| Operation Dumbo Drop | 1995 | performer: "THINK" / writer: "THINK" | |
| Jack & Sarah | 1995 | performer: "Look for the Silver Lining" | |
| Major Payne | 1995 | performer: "I Never Loved A Man The Way I Love You", "Respect" | |
| Tales from the Crypt: Demon Knight | 1995 | performer: "BABY, I LOVE YOU" | |
| Higher Learning | 1995 | performer: "TO BE YOUNG GIFTED AND BLACK" | |
| Chicago Hope | | TV Series performer - 1 episode, 1995 writer - 1 episode, 1995 | |
| Mixed Nuts | 1994 | performer: "O Christmas Tree" | |
| Miracle on 34th Street | 1994 | performer: "Joy to the World" | |
| The War | 1994 | performer: "Think" / writer: "Think" | |
| Blown Away | 1994 | performer: "You'll Lose A Good Thing", "All Night Long" | |
| Forrest Gump | 1994 | performer: "Respect" 1967 | |
| Crooklyn | 1994 | performer: "Rock Steady" / writer: "Rock Steady" | |
| Saturday Night Live | 1980-1994 | TV Series performer - 2 episodes | |
| The Pelican Brief | 1993 | performer: "Chain Of Fools" | |
| Sister Act 2: Back in the Habit | 1993 | performer: "A Deeper Love" | |
| Grace Under Fire | 1993 | TV Series performer: "Lady Madonna" | |
| Aretha Franklin: Duets | 1993 | TV Special performer: "Chain of Fools", "Spirit in the Dark", "Since You've Been Gone", "People Get Ready", "Just to See Her", "Coming Out of the Dark" | |
| That Night | 1992 | performer: "TRY A LITTLE TENDERNESS" | |
| The Wonder Years | 1989-1992 | TV Series performer - 3 episodes | |
| Malcolm X | 1992 | performer: "Someday We'll All Be Free" | |
| Love Potion No. 9 | 1992 | performer: "I NEVER LOVED A MAN THE WAY I LOVE YOU" | |
| Night and the City | 1992 | performer: "I Never Loved A Man The Way I Love You" | |
| Sneakers | 1992 | performer: "Chain Of Fools" | |
| Bébé's Kids | 1992 | performer: "Standing on the Rock of Love" | |
| White Men Can't Jump | 1992 | performer: "IF I LOSE" | |
| Der Hausgeist | 1991 | TV Series performer - 1 episode | |
| Cape Fear | 1991 | performer: "Do Right Woman--Do Right Man" | |
| Rover Dangerfield | 1991 | performer: "Respect" | |
| Eurythmics: Greatest Hits | 1991 | Video documentary performer: "Sisters are Doin' It for Themselves" | |
| Tiny Toon Adventures | 1991 | TV Series performer - 1 episode | |
| Midnight Caller | 1990 | TV Series performer - 1 episode | |
| The Fresh Prince of Bel-Air | 1990 | TV Series performer - 1 episode | |
| Paris Is Burning | 1990 | Documentary performer: "Who's Zoomin' Who" / writer: "Who's Zoomin' Who" | |
| Goodfellas | 1990 | performer: "Baby I Love You" | |
| Second Sight | 1989 | performer: "FREEWAY OF LOVE" | |
| The Preppie Murder | 1989 | TV Movie performer: "Baby I Love You", "Chain of Fools" | |
| Married with Children | 1989 | TV Series performer - 1 episode | |
| I'm Gonna Git You Sucka | 1988 | performer: "If Ever a Love There Was" | |
| Fresh Horses | 1988 | performer: "Think" / writer: "Think" | |
| Mystic Pizza | 1988 | performer: "RESPECT" | |
| Maximum Potential | 1987 | Video performer: "Who's Zoomin Who" / writer: "Who's Zoomin Who" | |
| The Allnighter | 1987 | performer: "RESPECT" | |
| Making Mr. Right | 1987 | performer: "Rock Steady" / writer: "Rock Steady" | |
| WrestleMania III | 1987 | TV Special performer: "America The Beautiful", "Who's Zoomin' Who" / writer: "Who's Zoomin' Who" | |
| Street Smart | 1987 | performer: "You Make Me Feel Like A Natural Woman" | |
| The Magic of David Copperfield IX: The Escape from Alcatraz | 1987 | TV Special performer: "Think" / writer: "Think" | |
| Top of the Pops | 1987 | TV Series performer - 1 episode | |
| Women in Rock | 1986 | Video documentary performer: "Sisters Are Doin' It for Themselves", "Respect" uncredited | |
| Fame | | TV Series writer - 1 episode, 1986 performer - 1 episode, 1985 | |
| Streets of Gold | 1986 | performer: "RESPECT" | |
| Jumpin' Jack Flash | 1986 | performer: "Jumpin' Jack Flash" | |
| Nothing in Common | 1986 | performer: "Until you say you love me" | |
| Back to School | 1986 | performer: "Respect" | |
| Miami Vice | | TV Series performer - 1 episode, 1986 writer - 1 episode, 1986 | |
| St. Elmo's Fire | 1985 | performer: "RESPECT" | |
| Desperately Seeking Susan | 1985 | performer: "RESPECT" | |
| Moonlighting | 1985 | TV Series performer - 1 episode | |
| The Big Chill | 1983 | performer: "You Make Me Feel Like A Natural Woman" | |
| The Rodney Dangerfield Show: It's Not Easy Bein' Me | 1982 | TV Movie performer: "Respect" - uncredited | |
| The Blues Brothers | 1980 | performer: "THINK", "JAILHOUSE ROCK" - uncredited / writer: "THINK" - uncredited | |
| More American Graffiti | 1979 | performer: "Respect" | |
| The 50th Annual Academy Awards | 1978 | TV Special performer: "Nobody Does It Better". | |
| Coming Home | 1978 | performer: "Save Me" 1967 / writer: "Save Me" 1967 | |
| Jimmy Carter's Inaugural Gala | 1977 | TV Movie performer: "God Bless America" | |
| The 47th Annual Academy Awards | 1975 | TV Special performer: "Benji's Theme I Feel Love", "We May Never Love Like This Again", "Wherever Love Takes Me" | |
| Duke Ellington... We Love You Madly | 1973 | TV Special performer: "Mood Indigo" | |
| The 41st Annual Academy Awards | 1969 | TV Special performer: "Funny Girl" | |
| The Kraft Music Hall | 1967 | TV Series performer - 1 episode | |
| Shindig! | 1964-1965 | TV Series performer - 4 episodes | |
| Hollywood a Go Go | 1965 | TV Series performer - 1 episode | |
| Mafia III | 2016 | Video Game performer: "Chain of Fools", "Respect" - uncredited | |
| Who's Doing the Dishes? | 2016 | TV Series performer - 1 episode | |
| Moonlight | 2016/I | performer: "ONE STEP AHEAD" | |
| Wimbledon | 2016 | TV Series performer - 3 episodes | |
| Yu-Gi-Oh! The Abridged Series | 2016 | TV Series performer - 1 episode | |
| Match of the Day: Euro 2016 | 2016 | TV Mini-Series performer - 1 episode | |
| Live Another Day | 2016 | Documentary performer: "Freeway Of Love" | |
| Vinyl | 2016 | TV Series performer - 1 episode | |
| Morfi, todos a la mesa | 2016 | TV Series performer - 1 episode | |
| The Mavericks | 2016 | TV Mini-Series documentary performer - 1 episode | |
| Scandal | | TV Series performer - 10 episodes, 2014 - 2016 writer - 2 episodes, 2015 | |
| Ochéntame... otra vez | 2016 | TV Series documentary performer - 1 episode | |
| Late Night with Seth Meyers | 2015 | TV Series performer - 1 episode | |
| Tu cara me suena - Argentina | 2015 | TV Series writer - 1 episode | |
| The X Factor | | TV Series 1 episode, 2015 performer - 1 episode, 2012 | |
| The Voice | 2015 | TV Series writer - 1 episode | |
| She's Beautiful When She's Angry | 2014 | Documentary performer: "Save Me" / writer: "Save Me" | |
| Forever | 2014 | TV Series performer - 1 episode | |
| Die Schlikkerfrauen | 2014 | performer: "Respect" - uncredited | |
| So You Think You Can Dance | 2009-2014 | TV Series performer - 6 episodes | |
| Independent Lens | 2014 | TV Series documentary performer - 1 episode | |
| RuPaul's Drag Race | | TV Series performer - 1 episode, 2014 writer - 1 episode, 2014 | |
| RuPaul's Drag Race: Untucked! | | TV Series performer - 1 episode, 2014 writer - 1 episode, 2014 | |
| Dancing on Ice | | TV Series performer - 4 episodes, 2010 - 2014 writer - 2 episodes, 2014 | |
| Honeyballers | 2013 | TV Movie documentary performer: "Sisters Are Doin' It for Themselves" - uncredited | |
Actress
| Title | Year | Status | Character |
| --- | --- | --- | --- |
| Blues Brothers 2000 | 1997 | | Mrs. Murphy |
| The Blues Brothers | 1980 | | Mrs. Murphy |
| Room 222 | 1972 | TV Series | Inez Jackson |
Thanks
| Title | Year | Status | Character |
| --- | --- | --- | --- |
| Bloody Cuts | 2014 | TV Series thanks - 1 episode | |
| The Making of 'Blues Brothers 2000' | 1998 | Video documentary short special thanks | |
| Malcolm X | 1992 | thank Jesus | |
Self
| Title | Year | Status | Character |
| --- | --- | --- | --- |
| ABC 2000: The Millennium | 1999 | TV Movie documentary | |
| Home for the Holidays: The Family Tree | 1999 | TV Movie | Herself - Guest |
| Ladies & Gentlemen: The Best of George Michael | 1999 | Video documentary | Herself ("I Knew You Were Waiting" video) |
| The 40th Annual Grammy Awards | 1998 | TV Special | Herself - Performer |
| The Stories Behind the Making of 'The Blues Brothers' | 1998 | Video documentary | Herself |
| Behind the Music | 1998 | TV Series documentary | Herself |
| The Making of 'Blues Brothers 2000' | 1998 | Video documentary short | Herself |
| The Rosie O'Donnell Show | 1997-1998 | TV Series | Herself |
| Divas Live: An Honors Concert for VH1 Save the Music | 1998 | TV Special documentary | Herself - Performer |
| Motown 40: The Music Is Forever | 1998 | TV Movie documentary | Herself |
| Power Vision - Pop Galerie | 1998 | TV Series documentary | Herself |
| A Celebration of America's Music | 1998 | TV Special | Herself |
| 28th NAACP Image Awards | 1997 | TV Special | Herself |
| The 39th Annual Grammy Awards | 1997 | TV Special | Herself |
| The History of Rock 'n' Roll | 1995 | TV Series documentary | Herself |
| Tapestry Revisited: A Tribute to Carole King | 1995 | TV Special documentary | Herself |
| The Concert for the Rock and Roll Hall of Fame | 1995 | TV Special documentary | Herself |
| The Kennedy Center Honors: A Celebration of the Performing Arts | 1994 | TV Special | Herself - Honoree |
| Sinatra Duets | 1994 | TV Special | Herself |
| Christmas at Home with the Stars | 1994 | TV Special | Herself |
| The Essence Awards | 1994 | TV Special | Herself |
| The Atlantic Records Story | 1994 | TV Special | Herself |
| Saturday Night Live | 1980-1994 | TV Series | Herself - Musical Guest |
| The 36th Annual Grammy Awards | 1994 | TV Special | Herself |
| The Jackson Family Honors | 1994 | TV Special documentary | Herself |
| The Kennedy Center Honors: A Celebration of the Performing Arts | 1993 | TV Special | Herself |
| 1993 Essence Awards | 1993 | TV Special | Herself - Honoree |
| Aretha Franklin: Duets | 1993 | TV Special | Herself |
| The 52nd Presidential Inaugural Gala | 1993 | TV Movie | Herself |
| An American Reunion: The People's Inaugural Celebration | 1993 | TV Movie | Herself |
| The Kennedy Center Honors: A Celebration of the Performing Arts | 1992 | TV Special | Herself |
| The 34th Annual Grammy Awards | 1992 | TV Special | Herself - Performer |
| Murphy Brown | 1991 | TV Series | Herself |
| Eurythmics: Greatest Hits | 1991 | Video documentary | Herself (segment "Sisters Are Doin' It for Themselves") |
| Golden Age of Rock'n'Roll | 1991 | TV Series documentary | Herself |
| Grammy Legends | 1990 | TV Special | Herself - Honoree |
| 78th Grey Cup | 1990 | TV Movie | Herself - Halftime Show Performer |
| Listen Up: The Lives of Quincy Jones | 1990 | Documentary | Herself |
| Jerry Lewis MDA Labor Day Telethon | 1990 | TV Series | Herself |
| Night of 100 Stars III | 1990 | TV Movie | Herself |
| The 5th Annual Stellar Gospel Music Awards | 1990 | TV Special | Herself |
| The 3rd Annual Soul Train Music Awards | 1989 | TV Special | Herself |
| 5th Annual Soap Opera Awards | 1989 | TV Special | Herself |
| James Brown & Friends: Set Fire to the Soul | 1988 | Video documentary | Herself |
| Lou Rawls Parade of Stars | 1986-1988 | TV Series | Herself |
| Ebony/Jet Showcase | 1983-1988 | TV Series | Herself |
| Cissy Houston: Sweet Inspiration | 1988 | Documentary | Herself |
| Living the Dream: A Tribute to Dr. Martin Luther King Jr. | 1988 | TV Special | Herself |
| Rolling Stone Presents Twenty Years of Rock & Roll | 1987 | TV Movie documentary | Herself |
| WrestleMania III | 1987 | TV Special | Herself |
| Women in Rock | 1986 | Video documentary | Herself |
| Fame, Fortune and Romance | 1986 | TV Series | Herself |
| Motown on Showtime: Temptations and Four Tops | 1986 | TV Movie documentary | Herself |
| The 10th Annual American Music Awards | 1983 | TV Special | Herself - Host |
| The Rodney Dangerfield Show: It's Not Easy Bein' Me | 1982 | TV Movie | Herself |
| Solid Gold | 1982 | TV Series | Herself |
| The Tonight Show Starring Johnny Carson | 1967-1981 | TV Series | Herself / Herself - Guest |
| The 23rd Annual Grammy Awards | 1981 | TV Special | Herself |
| Omnibus | 1980 | TV Series | Herself |
| The John Davidson Show | 1980 | TV Series | Herself |
| Horas doradas | 1980 | TV Series | Herself |
| Good Morning America | 1980 | TV Series | Herself |
| The 22nd Annual Grammy Awards | 1980 | TV Special | Herself |
| Soul Train | 1973-1979 | TV Series documentary | Herself / Herself - Guest |
| The Mike Douglas Show | 1964-1979 | TV Series | Herself - Vocalist / Herself |
| The Kennedy Center Honors: A Celebration of the Performing Arts | 1978 | TV Movie | Herself |
| Live Wednesday | 1978 | TV Series | Herself |
| A Salute to American Imagination | 1978 | TV Movie documentary | Herself |
| The 50th Annual Academy Awards | 1978 | TV Special | Herself - Performer |
| New American Bandstand 1965 | 1962-1978 | TV Series | Herself |
| The 5th Annual American Music Awards | 1978 | TV Special | Herself |
| The Midnight Special | 1973-1978 | TV Series | Herself / Herself - Host |
| Dinah! | 1975-1977 | TV Series | Herself / Herself - Singer |
| The All-Star Gong Show Special | 1977 | TV Movie | Herself - Singer |
| All You Need Is Love | 1977 | TV Series documentary | Herself |
| The 19th Annual Grammy Awards | 1977 | TV Special | Herself |
| Jimmy Carter's Inaugural Gala | 1977 | TV Movie | Herself |
| Bob Hope on Campus | 1975 | TV Special | Herself |
| The 47th Annual Academy Awards | 1975 | TV Special | Herself - Performer: Wherever Love Takes Me and Co-Performer: We May Never Love Like This Again & Benji's Theme (I Feel Love) |
| The 17th Annual Grammy Awards | 1975 | TV Special | Herself |
| Flip | 1971-1973 | TV Series | Herself |
| The 15th Annual Grammy Awards | 1973 | TV Special | Herself |
| Duke Ellington... We Love You Madly | 1973 | TV Special | Herself |
| Black Rodeo | 1972 | Documentary | Herself |
| The 14th Annual Grammy Awards | 1972 | TV Special | Herself |
| Sympathy for the Devil | 1972 | TV Series documentary | Herself |
| The David Frost Show | 1970 | TV Series | Herself |
| 4-3-2-1 Hot and Sweet | 1970 | TV Series | Herself - Musician |
| This Is Tom Jones | 1970 | TV Series documentary | Herself |
| It's Lulu | 1970 | TV Series | Herself |
| Top of the Pops | 1968-1970 | TV Series | Herself |
| The Andy Williams Magic Lantern Show Company | 1969 | TV Movie | Herself |
| The Joey Bishop Show | 1967-1969 | TV Series | Herself |
| The 41st Annual Academy Awards | 1969 | TV Special | Herself - Performer |
| The Hollywood Palace | 1968 | TV Series | Herself - Singer |
| Operation: Entertainment | 1968 | TV Series | Herself |
| The Jonathan Winters Show | 1968 | TV Series | Herself |
| Dream Girl of '67 | 1967 | TV Series | Herself - Fashion Hostess |
| The Kraft Music Hall | 1967 | TV Series | Herself |
| The Merv Griffin Show | 1967 | TV Series | Hersef - Vocalist |
| Where the Action Is | 1965 | TV Series | Herself |
| Shindig! | 1964-1965 | TV Series | Herself - Singer |
| Hollywood a Go Go | 1965 | TV Series | Herself - Singer |
| The New Steve Allen Show | 1964 | TV Series | Herself |
| Here Come the Girls | 1963 | TV Series | Herself |
| The Jack Paar Tonight Show | 1962 | TV Series | Herself |
| Gotta Keep Dreamin | 2016 | Documentary post-production | Herself |
| 2016 Election Night Viewing Party | 2016 | TV Movie | Herself |
| Amazing Grace | 2016 | Documentary | Herself |
| The Insider | 2016 | TV Series | Herself |
| Jazz at the White House | 2016 | TV Special | Herself - Performer |
| 38th Annual Kennedy Center Honors | 2015 | TV Special | Herself - Performer |
| The Meredith Vieira Show | 2015 | TV Series | Herself |
| Late Night with Seth Meyers | 2015 | TV Series | Herself - Musical Guest |
| PBS NewsHour | 2015 | TV Series | Herself |
| Festival of Families | 2015 | TV Movie | Herself |
| MSNBC Live | 2015 | TV Series | Herself - Guest |
| The Talk | 2013-2015 | TV Series | Herself - Musical Guest / Herself |
| The Gospel Tradition: In Performance at the White House | 2015 | TV Movie | Herself |
| Billboard's Women in Music | 2014 | Video short | Herself |
| Live with Kelly and Michael | 2008-2014 | TV Series | Herself - Musical Guest / Herself |
| Today | 2011-2014 | TV Series | Herself |
| Late Show with David Letterman | 1994-2014 | TV Series | Herself / Herself - Musical Guest |
| Politics Nation with Al Sharpton | 2014 | TV Series | Herself |
| Independent Lens | 2014 | TV Series documentary | Herself |
| In Performance at the White House: Women of Soul | 2014 | TV Movie | Herself |
| The BET Honors | 2014 | TV Movie | Herself |
| R&B Divas of All Time | 2013 | TV Movie documentary | Herself |
| Muscle Shoals | 2013 | Documentary | Herself |
| TV One Night Only: Live from the Essence Music Festival | 2012 | TV Movie | Herself - Performer |
| The Tonight Show with Jay Leno | 1998-2012 | TV Series | Herself - Musical Guest / Herself |
| 10th Annual TV Land Awards | 2012 | TV Special | Herself |
| The Zen of Bennett | 2012 | Documentary | Herself |
| 20th Annual Trumpet Awards | 2012 | TV Special | Herself |
| CBS News Sunday Morning | 2011-2012 | TV Series documentary | Herself (segment "Aretha Franklin") / Herself - Guest |
| The BET Honors | 2012 | TV Movie | Herself |
| Tony Bennett: Duets II | 2012 | TV Movie | Herself |
| Late Night with Jimmy Fallon | 2011 | TV Series | Herself / Herself - Musical Guest |
| The Oprah Winfrey Show | 2000-2011 | TV Series | Herself |
| The Wendy Williams Show | 2011 | TV Series | Herself |
| Easy Listening Hits at the BBC | 2011 | TV Movie | Herself |
| My Music: Aretha Franklin Presents Soul Rewind | 2010 | TV Movie | Herself - Host |
| Entertainment Tonight | 2006-2010 | TV Series | Herself |
| Larry King Live | 2009-2010 | TV Series | Herself / Herself - Guest |
| VH1 Rock Docs | 2010 | TV Series | Herself |
| The Kennedy Center Honors: A Celebration of the Performing Arts | 2009 | TV Special | Herself |
| Rachael Ray | 2009 | TV Series | Herself |
| Christmas in Rockefeller Center | 2009 | TV Movie | Herself |
| The 25th Anniversary Rock and Roll Hall of Fame Concert | 2009 | TV Special | Herself |
| Rock and Roll Hall of Fame Live: I'll Take You There | 2009 | Video | Herself |
| A Capitol Fourth | 2009 | TV Special | |
| President Obama: The Inauguration | 2009 | TV Movie | Herself |
| Dancing with the Stars | 2008 | TV Series | Herself |
| Deal or No Deal | 2008 | TV Series | Herself |
| TV One on One | 2008 | TV Series | Herself |
| 39th NAACP Image Awards | 2008 | TV Special | Herself |
| The 50th Annual Grammy Awards | 2008 | TV Special | Herself |
| An Evening of Stars: Tribute to Smokey Robinson | 2008 | TV Movie | Herself (pre-taped message) |
| Biography | 2007 | TV Series documentary | Herself |
| American Masters | 1988-2007 | TV Series documentary | Herself |
| WrestleMania 23 | 2007 | TV Special | Herself |
| An Evening of Stars: Tribute to Aretha Franklin | 2007 | TV Special | Honoree |
| Bobby: The Making of an American Epic | 2007 | Video documentary short | Herself |
| The Kennedy Center Honors: A Celebration of the Performing Arts | 2006 | TV Special | Herself |
| 2006 Trumpet Awards | 2006 | TV Special | Herself |
| Super Bowl XL | 2006 | TV Special | Herself - National Anthem Performer |
| 21st Annual Stellar Gospel Music Awards | 2006 | TV Special | Herself |
| The 10th Annual Soul Train Lady of Soul Awards | 2005 | TV Special | Herself - Lena Horne Award Recipient |
| The 59th Annual Tony Awards | 2005 | TV Special | Herself - Performer |
| The 32nd Annual Daytime Emmy Awards | 2005 | TV Special | Herself - Presenter: Outstanding Drama Series |
| From the Heart: The Four Tops 50th Anniversary & Celebration | 2005 | TV Special documentary | Herself |
| The Kennedy Center Honors: A Celebration of the Performing Arts | 2004 | TV Special | Herself |
| Tavis Smiley | 2004 | TV Series | Herself |
| Macy's 4th of July Fireworks Spectacular | 2004 | TV Special | Herself-Performer |
| The 9th Annual Walk of Fame Honoring Aretha Franklin | 2003 | TV Special | Honeree |
| NFL Kickoff Live 2003 Washington D.C. | 2003 | TV Movie | Herself |
| Singing in the Shadow: The Children of Rock Royalty | 2003 | Documentary | Herself |
| American Soundtrack: Rhythm, Love and Soul | 2003 | TV Special documentary | Herself - Host |
| The 45th Annual Grammy Awards | 2003 | TV Special | Herself |
| Tom Dowd & the Language of Music | 2003 | Documentary | Herself |
| Late Night with Conan O'Brien | 2002 | TV Series | Herself |
| VH1 Legends | 2001 | TV Series documentary | Herself |
| Say It Loud: A Celebration of Black Music in America | 2001 | TV Mini-Series documentary | Herself |
| VH1 Divas Live: The One and Only Aretha Franklin | 2001 | TV Special | Herself |
| An Evening of Stars: A Celebration of Educational Excellence | 2001 | TV Special documentary | Herself |
| Arista Records' 25th Anniversary Celebration | 2000 | TV Special documentary | Herself |
| Immaculate Funk | 2000 | Documentary | Herself |
Archive Footage
| Title | Year | Status | Character |
| --- | --- | --- | --- |
| Tu cara me suena - Argentina | 2014-2015 | TV Series | Herself |
| My Music: 50s & 60s Party Songs | 2014 | TV Movie | Herself |
| New Year's Rockin' Eve Presents the 30 Greatest Women in Music | 2013 | TV Movie | Herself - Performer |
| My Music: '60s Girl Grooves | 2013 | TV Movie | Herself |
| Soul Power! | 2013 | TV Series documentary | Herself |
| Too Young to Die | 2012 | TV Series documentary | Mrs. Murphy |
| Lulu: Something to Shout About | 2011 | TV Movie documentary | Herself (uncredited) |
| The Tonight Show with Jay Leno | 2010 | TV Series | Herself |
| Video Killed the Radio Star | 2010 | TV Series documentary | Herself |
| The Jay Leno Show | 2009 | TV Series | Herself |
| Pop Galerie Reloaded | 2009 | TV Series documentary | Herself |
| The 80th Annual Academy Awards | 2008 | TV Special | Herself (uncredited) |
| 20 to 1 | 2006 | TV Series documentary | Herself |
| Biography | 2005 | TV Series documentary | |
| Later... With Jools Holland | 2005 | TV Series | Herself |
| Out of Africa: Heroes and Icons | 2005 | TV Movie documentary | Herself |
| Soul Deep: The Story of Black Popular Music | 2005 | TV Mini-Series documentary | Herself |
| Impact: Songs That Changed the World | 2003 | TV Mini-Series documentary | Herself |
| 60 Minutes | 2003 | TV Series documentary | Herself - Singer |
| Top of the Pops 2 | 2003 | TV Series | Herself |
| American Bandstand's 50th Anniversary Celebration | 2002 | TV Movie | Herself |
| It's Black Entertainment | 2002 | TV Special documentary | Mrs. Murphy |
| Say It Loud: A Celebration of Black Music in America | 2001 | TV Mini-Series documentary | |
| Walk on By: The Story of Popular Song | 2001 | TV Series documentary | Herself |
| Vivement dimanche | 2001 | TV Series | Herself |
| 100 Greatest Dance Songs of Rock & Roll | 2000 | TV Mini-Series documentary | Herself |
| SNL: 25 Years of Music | 1999 | TV Movie | Herself |
| Great Performances | 1996 | TV Series | Herself |
| Rock & Roll | 1995 | TV Mini-Series documentary | Herself |
| Oscar's Greatest Moments | 1992 | Video documentary | Herself |
| Shindig! Presents Groovy Gals | 1991 | Video documentary | Herself |
| Shindig! Presents Soul | 1991 | Video documentary short | Herself |
| 60 Minutes: The Entertainers | 1991 | TV Movie documentary | Herself |
| Omnibus | 1987 | TV Series documentary | Herself |
| Top of the Pops | 1987 | TV Series | Herself |
| Brown Sugar | 1986 | TV Mini-Series documentary | Herself |
| Texaco Presents: A Quarter Century of Bob Hope on Television | 1975 | TV Special | Herself |
| Soul Train | 1973 | TV Series documentary | Herself |