Michael Rapaport Net Worth
Michael Rapaport Net Worth is

$12 Million
Michael Rapaport Biography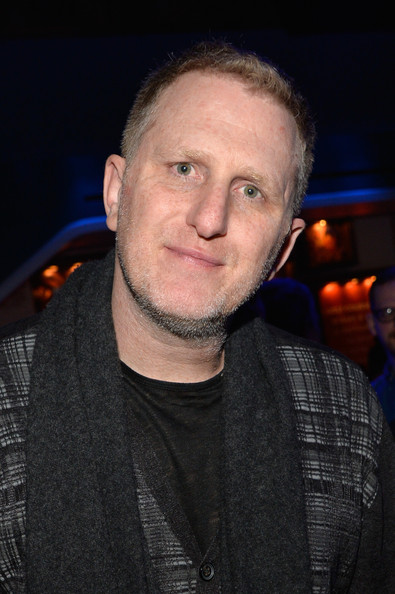 Michael David Rapaport, born on the 20th of March, 1970, is an American actor, director, and host of his own podcast show. He became famous for his performances in television shows like "Friends", "Prison Break" and "Boston Public".
So how much is Rapaport's net worth? As of early 2016 it is reported to be $12 million, gained mostly from his movie and television appearances and podcast show during a career spanning over 25 years.
Born in Manhattan, New York City, Rapaport is the son of David Rapaport and June Brody, who are both significant personalities in the world of radio. As a teenager, he grew up loving basketball and has a love for hip-hop music which later on impacted his career as a host of his own podcast show. He attended various high schools, but was expelled, after which he moved to Los Angeles, California to try performing as a stand up comedian. After a couple of years performing on stage, his career in front of the camera soon followed when he got the chance to appear in one of the episodes of the television show "China Beach" in 1990. His net worth was established.
Michael Rapaport Net Worth $12 Million
In 1992 Rapaport landed his first role in the movie entitled "Zebrahead"; his performance as a Jewish teen fighting for his life and his love for a black girl earned him positive reviews and recognition. Because of his natural talent, he immediately became one of the most sought-after character actors in Hollywood. In 1993 alone, he starred in four films, namely "True Romance", "Point of No Return", "Money for Nothing", and "Poetic Justice". He also appeared in the television show "Friends" in 1994, playing the boyfriend of Phoebe, Lisa Kudrow's character. His early appearances in movie and television shows started to build is acting career and his net worth.
For almost 20 years, Rapaport has been a constant face on both film and television, and his overall portfolio as an actor now totals over 60 movie appearances and over 30 roles in television shows, and as a guest. Some of his notable performances are in the television show "My Name is Earl" playing the character of Frank, and "Prison Break" in which he played Homeland Security Agent, Donald Self.
Aside from acting, Rapaport also has other endeavours. In 2008 he began directing, the documentary film "Beats, Rhymes & Life: The Travels of a Tribe Called Quest" which was released in 2011. He also appeared in various music videos and lends his voice to many video games. He also has his own podcast show "I am Rapaport: Stereo Podcast" with friend Gerald Moody. He makes guest appearances in other podcast shows like "The Adam Carolla Show", "Anna Faris is Unqualified", and "His & Hers Podcast" to name a few. All of his various projects have contributed to the growth of his net worth.
In terms of his personal life, Rapaport once dated actress Lili Taylor but the relationship ended badly. In 2000, he married Nicole Beatty, and they have two children.
Known for movies
Quick Facts
| | |
| --- | --- |
| Full Name | Michael Rapaport |
| Net Worth | $12 Million |
| Date Of Birth | March 20, 1970 |
| Place Of Birth | San Francisco, California, United States |
| Height | 6' 2½" (1.89 m) |
| Profession | Actor, Director, Soundtrack, podcast host, director, comedian |
| Nationality | American |
| Spouse | Nichole Beattie |
| Children | Julian Ali Rapaport, Maceo Shane Rapaport |
| Parents | June Brody, David Rapaport |
| Siblings | Claudia Lonow, Erik Rapaport |
| Facebook | www.facebook.com/MichaelRapaportOfficial |
| Twitter | https://twitter.com/michaelrapaport |
| Instagram | http://www.instagram.com/michaelrapaport |
| Wikipedia | https://en.wikipedia.org/wiki/Michael_Rapaport |
| Awards | PGA Outstanding Producer of Documentary Theatrical Motion Pictures |
| Nominations | Grammy Award for Best Music Film (2012), Independent Spirit Award for Best Male Lead (1993) |
| Movies | Higher Learning, The 6th Day, The Heat, Deep Blue Sea, Beats, Rhymes & Life: The Travels of A Tribe Called Quest, Little Boy, True Romance, Cop Land, Beautiful Girls, Hitch, Zebrahead, Small Time Crooks, Bamboozled, Mighty Aphrodite, Men of Honor, Big Fan, My Man Is a Loser, The Pallbearer, Kiss of Death, Kiss of the Damned, Poetic Justice, The Baytown Outlaws, Illtown, Chain of Fools, Assassination of a High School President, The Basketball Diaries, Dr. Dolittle 2, Lucky Numbers, The Scout, Comic Book Villains, America Brown, Kiss Toledo Goodbye, King of the Jungle, The Naked Man, A Brother's Kiss, Palmetto, Money for Nothing, Kicked in the Head, Triggermen, Point of No Return, Paper Soldiers, 29 Palms, A Stand Up Guy, A Good Night to Die, Inside Out, Once Upon a Time in Queens, A Day in the Life, Subway Stories, Hand Gun, Some Girl, Sully |
| TV Shows | "The Adam Carolla Show", "Anna Faris is Unqualified", "His & Hers Podcast", "My Name is Earl", "Prison Break" |

Interesting Facts
| # | Fact |
| --- | --- |
| 1 | Lost to Gary Dell'Abate in the final round of the Howard Stern Staff Fantasy Football League in 2014. |
| 2 | Has a son named Julian Ali, born in 2000. |
| 3 | Has a son named Maceo Shane, born in 2002. He named his son after P.A. Pacemaster Mase aka Maseo of De La Soul. |
| 4 | With his height (6' 4"), he once entertained the thought of being a basketball player. |
| 5 | As a youngster, he was a die-hard fan of Eddie Murphy and used to dress up like him in gold chains and white suits. He later got to work with his idol in the film Metro (1997) and on Dr. Dolittle 2 (2001). |
| 6 | Lives in New York. |
| 7 | Pleaded guilty to aggravated harassment of Lili Taylor. Ordered to stay away from her and get counseling for a year. [May 1998] |

Trademarks
| # | Trademark |
| --- | --- |
| 1 | Thick old-school New York accent |

Quotes
| # | Quote |
| --- | --- |
| 1 | (2011, on Death Of A Dynasty) Damon Dash, who I've known since I was a kid, called me and asked me to do the thing. This is when they started to become rich. So I was like, "Yeah I love Jay-Z. I'll do it." I was in a Jay-Z video, "The City Is Mine," 'cause I've known Damon for a long time, so I met Jay-Z early on, and I have been a fan of his. I'm that kinda guy. If you ask me to be in your movie and I know you, and I'm around, I'll be in your movie. |
| 2 | (2011, on his persona) I'm a New York person. I've never gone out of the way to speak to the press to change my persona-I probably should have. It's too late now. But when I first started I was like, "I'm gonna stay this way. I'm gonna be this way," and I continued to. I probably should have sugarcoated it like, "This is not really the way I am-I'm an actor." I see these other actors come up with this tough-guy persona's and now when they're on talk shows they're all... But that's not really the way they are. I probably could have used a little bit of that. At one point I was labeled "The King Of Dumb White Guys." I was offended by that when I was younger, but I understand what that's from, so I was like, "Only a genius can play a fool." But I'm very aware of that, and I'll play into it and use it however I need to use it. I have nothing to prove. I don't want to misrepresent who I am personally. I don't want my kids to see me on a talk show and say, "You're talking different" or "You look different, dad." I'm not gonna be an animal; I know how to conduct myself. But for me quietly, I never wanted to change-evolve and grow up, yes. If my son was an actor I would tell him, "Don't let people know as much about you as I let people know about me." Because I think professionally, it's an easier road. That would be something I would tell a young actor. But it's cool. |
| 3 | (2011, on Beautiful Girls) Great cast, Uma Thurman, Natalie Portman. Fun time. The late Ted Demme. We had a great time working with Matt Dillon, who I've respected for so long. It was just what you would think it would be. I think it's a good movie, I think it's funny, I think it has a lot of heart. It was disappointing that it didn't do as well in theaters, but people talk to me about it all the time. And Natalie Portman. So it's a lot of special things in that movie. |
| 4 | (2011, on Bamboozled) I love that movie. I love the message of the movie. I love working with Spike (Lee). I've been a big fan of his for years. He let me go off, really encouraged me to bring stuff to the character. He's an iconic New York director. We have the same birth-date. Sometimes he would cut days short to go to Knicks games or Yankees game. I remember one day they were like, "Yo we got to get this done, Spike's got to go to the game." I was like, "What the fuck is going on here? At least take me to the game if you're only gonna give me three takes!" But he was great. I would love to work with him again-similar directing style to Woody Allen. They don't talk much, but they trust you if you're bringing the goods...I could totally identify with the character. I loved the character. I knew that it was important, that it was larger than life...I was so happy they gave me the chance to do it. I had a lot of fun on that movie. I thought the character was so funny. I loved it. I love doing things that are titillating. I think race can be very funny, and I think I'm very comfortable discussing it and bringing it up. I think it's important to. I think that's why Spike let me play the part. Again, it wasn't what you would think. It's the opposite of my persona, if I have any persona, but that's why I was so wanting to do the part. A lot of people in the movie were contradictions to who they were in person, so that was fun. |
| 5 | (2011, on The Naked Man) It was written by Ethan Coen, of the Coen brothers-great, great, great script, not a great director. It was his storyboard artist. Just because it was written by the Coen brothers, doesn't make it's a Coen brothers film. That's all I can say. I busted my ass on that movie. I would have loved to have seen it turn out a little better, but I went down swinging. I could tell you that much. I gave it everything I had. It just didn't work. |
| 6 | (2011, on Cop Land) I got to work with two of my idols at once: Sylvester Stallone and Robert De Niro. I was just overwhelmed to be a part of it and to be around those guys, and to actually be doing scenes with them and sometimes be doing scenes with the both of them. As a fan of theirs, to be actually in front of them reading lines on a set, I was in awe. But I also knew that I wasn't there to be a fan, and they'd only respect me to bring it to them. And it was just great. I couldn't help myself. Me and Sylvester, I would do Rocky lines all the time, and he would do them back to me, and James Mangold got to the point where he told me, "Do not speak to him." Because I would do lines from Rocky and he'd be like, [in a Stallone accent] "You know what you're talking about." And I was like, "I know everything about Rocky. I could do every line." But he could do them too. He would do them back to me. It was surreal. |
| 7 | (2011, on competing for roles) That's one thing that's a drag. If I want to play a librarian from Texas, I'll jump through hoops. I don't think if you're looking for a librarian from Texas, the first thing that comes to mind is Michael Rapaport... or for a skinhead. You know, you don't think that. But certain things, it's like, "Really?" I just read for this big movie from this first time director in the summer. It's a New York City cop, blah blah. It was me and all these other great New York actors out there, and I'm like, "Just pick one of us! We don't give a shit who. Why do we have to jump through hoops for you?" My whole mentality now is, "Who the fuck are you? Let me see you do 30 push-ups. Why am I jumping through hoops for you? Break down and give me 30 push-ups." Because I was like, "This is a joke, man. You're making us all read here. We've all done this. Just pick one." That kind of shit is frustrating for me now because there are certain things I feel like you earn. Meeting, talking about where your head is at, that's one thing. You want me to audition, and you've never made a movie before? Get the fuck outta here. |
| 8 | (2011, on Mighty Aphrodite) I worked with Woody Allen. It was everything you'd think it would be. I remember being in Central Park the first day of working, I had on this beautiful wardrobe and it was a great fall day, and I remember just thinking, "Holy shit!" I met Woody Allen for five minutes, I got a phone call three hours later, he cast me in the movie. I didn't have to audition. I didn't have to read, or jump through hoops, which made me feel good and set the bar high. Because you'll meet directors who want you to do this, want you to do that. They're not making you jump through hoops to prove yourself. It's cause of their insecurities and what they don't know. So working with him and coming back to work with him in Small Time Crooks again... it was just everything you would think it would be. He was just great. He was funny with me. He encouraged me to do what I wanted to do, say what I wanted to say, not say what I didn't want to say. And this is from Woody Allen! He'd say, "If you don't want to say that line, say something else, but it better be better!" He'd say, "If you don't want to say that joke, say something else, but it's got to be funny." It was great...He trusted me and I would improv, and he would throw it right back at me. That's the thing about Woody Allen: If you're gonna go off the cuff and work with him, you better be ready. It's not just gonna be hit back to you, it's gonna be a volley at the net. It's coming right back quick. Because it's Woody Allen. It was beautiful...I would love to work with him again. I think it's only right that he comes back to New York. My dream would be to do a movie where I play his son, his 6-foot-3 son. But I just know what I can do with him, and I'm so comfortable working with him. That would be my dream. I want to see him do more movies in New York again so I can try and be in them. He's casting all these British and Spanish actors-there's no place for me. It's my selfishness. |
| 9 | (2011, on The Basketball Diaries) That was when Leonardo DiCaprio would need me to do a favor for him. "Yo, can you do this cameo!" Not that I'm giving him shit. I'm friendly with him. I love him and respect him, and we're buddies. He said, "Yo, there's this one scene in the movie, can you do it?" I said, "Yeah I'll do it." So I got to smack him around a little bit. But now I'm waiting for him to put me in one of his new ones! Can you put me in Inception or something like that? Why do I have to be in the only Leonardo DiCaprio movie with a $2 million budget? |
| 10 | (2011, on True Romance) It's the only movie I ever did that I knew was gonna be great. Everybody knew going into it, the script was so good, and you'd hear, "Oh Christopher Walken's gonna be in it now! Oh shit! James Gandolfini's gonna be in it!" Well James Gandolfini was a nobody. Me and him were nobodies. But like, "Gary Oldman's gonna be in it! Oh shit! Val Kilmer's gonna be in it! Oh shit!" The script was just so good, and there was such a buzz on it, and Quentin Tarantino was so hot and unique at the time, not that he's not now. But it was like, this unraveling of this special guy. I knew it was gonna be a good movie. And creatively, Tony Scott embraced me and gave me the trust for me to go forward and bring things to the character. 'Cause I would ask him, "Hey can I try this?" And he'd be like, "Yeah, that's fine." "Can I do this?" "No that sucks." But he would listen to everything that I asked, and he gave me a forum to try and create more than what was on the script. |
| 11 | (2011, on Higher Learning) Playing that part was very fulfilling, very challenging. I had my youthful character-actor aspirations. The craziest thing about playing the character of Remy is that I've been embraced more by the hip-hop community for that movie than for anything I've ever done. By far. I think because the character is so honest. I'm really proud of that performance. I felt it was a well-rounded performance, and it was obviously very different from anything I had done. It was more extreme than anything I had done. It was so by far the furthest away from me aesthetically. Emotionally I related to the character, the emotions of the character, which I think was why I was able to do it. But the nature, the disposition of the character was so far away. And I'm really proud of it. There's not one day that goes by where someone doesn't call me Remy from Higher Learning. Every day at least one person says that to me...I knew it was a great opportunity and I was coming in with guns blazing. I put my whole everything into it. I felt confident I wasn't gonna mess that up. I was a little concerned that when I walked around town people would be thinking that I was really like that. But like I said, I've been embraced by all sorts of people who I never thought would... They love that character. Love him. I don't know why. |
| 12 | (2011, on Poetic Justice) The only reason I did that movie, because it was a small part: I was a huge fan of Boyz N The Hood, but I was an enormously big fan at the time of Tupac, and I knew how special he was. I have one scene that, if you blink you'll miss me, but I wanted to meet him, and I wanted to work with John Singleton, who I worked with again on Higher Learning. And I have a Polaroid picture of me and Tupac. |
| 13 | (2011, on Zebrahead) Changed my life. Changed my life in every single way. Gave me the confidence and validation that I could be an actor. It took my virginity. |
| 14 | (2011, on being a part of Frank Zappa's Civilization, Phaze III) I used to date Moon Zappa. She's a good friend of mine still. He used to get a kick out of the way I used to speak, so he was like, "Yo, you wanna come down there and talk on this album?" We went down there and I talked on the album, and I felt like it was cool 'cause he was Frank Zappa, and I was Mike Rappa. That's what we used to joke. I used to always get a kick out of him, and I think he used to get a kick out of me. |
| 15 | I'm always very impressed and humbled that I've been able to work with the kind of people that I've been able to work with. But, when I'm working with them I leave the fan at home. I come to work as a professional. I think if you go into something looking at people as better than you, if you give people too much respect, I don't think it benefits you or them. |
| 16 | Sometimes people think I'm dumber than I am because of the characters that I play. But it takes a genius to play a fool. |
| 17 | Making a character human is important...not likable or unlikable...just well- rounded. |
| 18 | I don't think about it as being bumped up, but as being bumped forward. I'm not interested in climbing up the ladder. From 'up' you can come 'down.' I just want 'forward.' |

Pictures
Won Awards
Won awards
Year
Award
Ceremony
Nomination
Movie
Award shared with
2012
Black Reel
Black Reel Awards
Best Documentary
Beats, Rhymes & Life: The Travels of a Tribe Called Quest (2011)
2012
PGA Award
PGA Awards
Outstanding Producer of Documentary Theatrical Motion Pictures
Beats, Rhymes & Life: The Travels of a Tribe Called Quest (2011)
Edward Parks

Frank Mele

Debra Koffler
2011
Audience Award
Los Angeles Film Festival
Best Documentary Feature
Beats, Rhymes & Life: The Travels of a Tribe Called Quest (2011)
2011
Audience Award
São Paulo International Film Festival
Best Foreign Documentary
Beats, Rhymes & Life: The Travels of a Tribe Called Quest (2011)
1994
Enzian Award
Florida Film Festival
For artistic achievement.
Nominated Awards
Nominated awards
Year
Award
Ceremony
Nomination
Movie
Award shared with
2016
Jury Award
Tribeca Film Festival
Best Documentary Short
Hard Lovin' Woman (2016)
2014
BTVA Television Voice Acting Award
Behind the Voice Actors Awards
Best Vocal Ensemble in a Television Series - Children's/Educational
Pound Puppies (2010)
Eric McCormack

John DiMaggio

Alanna Ubach

Yvette Nicole Brown

Rene Auberjonois

M. Emmet Walsh
2012
Grammy
Grammy Awards
Best Long Form Music Video
Beats, Rhymes & Life: The Travels of a Tribe Called Quest (2011)
A Tribe Called Quest (Artist, Producer)

Debra Koffler (Producer)

Eric Matthies (Producer)

Frank Mele (Producer)

Robert Benavides (Producer)

Edward Parks (Producer)
2011
Sound & Vision Award
CPH:DOX
Beats, Rhymes & Life: The Travels of a Tribe Called Quest (2011)
2011
Grand Jury Prize
Sundance Film Festival
Documentary
Beats, Rhymes & Life: The Travels of a Tribe Called Quest (2011)
2011
International Jury Award
São Paulo International Film Festival
Best Documentary
Beats, Rhymes & Life: The Travels of a Tribe Called Quest (2011)
2006
Teen Choice Award
Teen Choice Awards
TV - Choice Actor: Comedy
The War at Home (2005)
2006
Teen Choice Award
Teen Choice Awards
TV - Choice Parental Unit
The War at Home (2005)
Anita Barone
1998
OFTA Television Award
Online Film & Television Association
Best Guest Actor in a Drama Series
ER (1994)
1993
Independent Spirit Award
Independent Spirit Awards
Best Male Lead
Zebrahead (1992)

Filmography
Actor
| Title | Year | Status | Character |
| --- | --- | --- | --- |
| Small Time Crooks | 2000 | | Denny |
| Next Friday | 2000 | | Mailman with Tax Notice (uncredited) |
| Kiss Toledo Goodbye | 1999 | | Kevin Gower |
| Deep Blue Sea | 1999 | | Tom Scoggins |
| Friends | 1999 | TV Series | Gary |
| Rescuers: Stories of Courage: Two Families | 1998 | TV Movie | Szarany (segment "Malka Csizmadia") |
| Rude Awakening | 1998 | TV Series | Johnny |
| The Naked Man | 1998 | | Edward Bliss Jr. |
| ER | 1998 | TV Series | Paul Canterna |
| Some Girl | 1998 | | Neal |
| Palmetto | 1998 | | Donnely |
| SUBWAYStories: Tales from the Underground | 1997 | TV Movie | Jake (segment "The Listeners") |
| Cop Land | 1997 | | Murray Babitch |
| Kicked in the Head | 1997 | | Stretch |
| A Brother's Kiss | 1997 | | Stingy |
| Metro | 1997 | | Kevin McCall |
| Don't Quit Your Day Job | 1996 | Video Game | Special Appearance #2 (as Michael Rappaport) |
| Illtown | 1996 | | Dante |
| The Pallbearer | 1996 | | Brad Schorr |
| Beautiful Girls | 1996 | | Paul Kirkwood |
| Mighty Aphrodite | 1995 | | Kevin |
| Kiss of Death | 1995 | | Ronnie Gannon |
| The Basketball Diaries | 1995 | | Skinhead |
| Higher Learning | 1995 | | Remy |
| The Foot Shooting Party | 1994 | Short | Lizard |
| Hand Gun | 1994 | | Lenny |
| The Scout | 1994 | | Tommy Lacy |
| NYPD Blue | 1993 | TV Series | Jaime DiLeo |
| The Fresh Prince of Bel-Air | 1993 | TV Series | Mike |
| True Romance | 1993 | | Dick Ritchie |
| Money for Nothing | 1993 | | Kenny Kozlowski |
| Poetic Justice | 1993 | | Dockworker |
| Point of No Return | 1993 | | Big Stan |
| Middle Ages | 1992 | TV Series | Jimmy |
| Murphy Brown | 1992 | TV Series | Robbie |
| Zebrahead | 1992 | | Zack |
| China Beach | 1990 | TV Series | Kravits |
| The New Edition Story | 2017 | TV Series post-production | Gary Evans |
| Middle School: The Worst Years of My Life | 2016 | | Animation Voice (voice) |
| Crisis in Six Scenes | 2016 | TV Series | Trooper Mike |
| Sully | 2016 | | Bartender - Pete |
| Dice | 2016 | TV Series | Bobby the Mooch |
| Law & Order: Special Victims Unit | 2016 | TV Series | Richie Caskey |
| A Stand Up Guy | 2016 | | Colin |
| The Big Bang Theory | 2015 | TV Series | Kenny Fitzgerald |
| Public Morals | 2015 | TV Series | Charlie Bullman |
| Little Boy | 2015 | | James Busbee |
| Louie | 2015 | TV Series | Lenny |
| Black-ish | 2015 | TV Series | Jay Simmons |
| My Man Is a Loser | 2014 | | Marty |
| Justified | 2014 | TV Series | Daryl Crowe Jr. |
| Raising Hope | 2014 | TV Series | Michael |
| Pound Puppies | 2010-2013 | TV Series | Squirt Squeak Plumber ... |
| The Heat | 2013/I | | Jason Mullins |
| Once Upon a Time in Queens | 2013 | | Bobby DiBianco |
| The Mob Doctor | 2012-2013 | TV Series | Paul Moretti |
| Cops Uncuffed | 2012 | TV Movie | Officer Jospeh Tata |
| Kiss of the Damned | 2012 | | Ben |
| The Baytown Outlaws | 2012 | | Lucky |
| Should've Been Romeo | 2012 | | Danny |
| 40 | 2012 | TV Movie | |
| Inside Out | 2011/I | | Jack Small |
| The Line | 2010 | TV Movie | Steve Waxman |
| Royal Pains | 2010 | TV Series | Stanley |
| Accidentally on Purpose | 2009-2010 | TV Series | Sully |
| A Day in the Life | 2009/II | | Detective Grant |
| Prison Break | 2008-2009 | TV Series | Don Self |
| Big Fan | 2009 | | Philadelphia Phil |
| Tom Cool | 2009 | | |
| Saints Row 2 | 2008 | Video Game | Troy (voice) |
| My Name Is Earl | 2007-2008 | TV Series | Frank |
| Assassination of a High School President | 2008 | | Coach Z |
| Fugly | 2007 | TV Movie | Jack |
| The War at Home | 2005-2007 | TV Series | Dave Gold |
| Scarface: The World Is Yours | 2006 | Video Game | Drug Dealer / Henchman (voice, as Michael Rappaport) |
| Saints Row | 2006 | Video Game | Troy (voice) |
| Thugaboo: Sneaker Madness | 2006 | TV Movie | DJ (voice) |
| Grilled | 2006 | | Bobby |
| Push | 2006/I | | Tommy G |
| Live Free or Die | 2006 | | Lt. Putney |
| Special | 2006 | | Les |
| MADtv | 2006 | TV Series | Abraham Lincoln |
| It Ain't Easy | 2006 | Video | |
| Hitch | 2005/I | | Ben |
| Scrambled Eggs | 2004 | Short | Drama Teacher |
| Boston Public | 2001-2004 | TV Series | Danny Hanson |
| America Brown | 2004 | | Daniel Brown |
| This Girl's Life | 2003 | | Terry (Car Salesman) |
| A Good Night to Die | 2003 | | August |
| Chappelle's Show | 2003 | TV Series | Popcopy Employee |
| Comic Book Villains | 2002 | Video | Norman Link |
| 29 Palms | 2002 | | The Cop |
| Triggermen | 2002 | | Tommy O'Brian |
| Paper Soldiers | 2002 | | Mike E. |
| Grand Theft Auto 3 | 2001 | Video Game | Joey Leone (voice) |
| Night Visions | 2001 | TV Series | Harlow Winton |
| Dr. Dolittle 2 | 2001 | | Joey the Raccoon (voice) |
| Mr. Life | 2001 | TV Movie | |
| The 6th Day | 2000 | | Hank Morgan |
| Lucky Numbers | 2000 | | Dale |
| King of the Jungle | 2000 | | Francis |
| Chain of Fools | 2000 | | Hitman |
| Bamboozled | 2000 | | Thomas Dunwitty |
| Men of Honor | 2000 | | GM1 Snowhill |
Director
| Title | Year | Status | Character |
| --- | --- | --- | --- |
| Hard Lovin' Woman | 2016 | Short | |
| 30 for 30 | 2014 | TV Series documentary 1 episode | |
| When the Garden Was Eden | 2014 | Documentary | |
| Beats, Rhymes & Life: The Travels of a Tribe Called Quest | 2011 | Documentary | |
| Boston Public | 2004 | TV Series 1 episode | |
Soundtrack
| Title | Year | Status | Character |
| --- | --- | --- | --- |
| Pound Puppies | 2012-2013 | TV Series performer - 4 episodes | |
Producer
| Title | Year | Status | Character |
| --- | --- | --- | --- |
| 30 for 30 | 2014 | TV Series documentary producer - 1 episode | |
| Alekesam | 2011 | Short producer | |
| 29 Palms | 2002 | executive producer | |
Camera Department
| Title | Year | Status | Character |
| --- | --- | --- | --- |
| Beats, Rhymes & Life: The Travels of a Tribe Called Quest | 2011 | Documentary additional camera | |
Thanks
| Title | Year | Status | Character |
| --- | --- | --- | --- |
| The 6th Day: The Future Is Coming | 2000 | Video documentary short thanks | |
Self
| Title | Year | Status | Character |
| --- | --- | --- | --- |
| Garbage Time with Katie Nolan | 2016 | TV Series | Himself |
| The Jump | 2016 | TV Series | Himself |
| Last Questions | 2016 | TV Series | Himself |
| Living the Fantasy | 2015 | Documentary | Narrator (voice) |
| The Nightly Show with Larry Wilmore | 2015 | TV Series | Himself - Panelist |
| GGN: Snoop Dogg's Double G News Network | 2015 | TV Series | Himself |
| Made in Hollywood | 2015 | TV Series | Himself |
| The Chew | 2015 | TV Series | Himself |
| Today | 2015 | TV Series | Himself |
| 2 Point Lead | 2015 | TV Series | Himself |
| Mike & Mike | 2014 | TV Series | Himself |
| Buzz: AT&T Original Documentaries | 2014 | TV Series documentary | Himself |
| The Arsenio Hall Show | 2014 | TV Series | Himself - Guest |
| The Queen Latifah Show | 2014 | TV Series | Himself - Guest |
| WWE: Triple H - Thy Kingdom Come | 2013 | Video | Himself |
| Losing It with John Stamos | 2013 | TV Mini-Series | Himself |
| Good Day L.A. | 2013 | TV Series | Himself |
| The Haunting Of | 2013 | TV Series | Himself |
| The Bracket | 2013 | TV Series | Himself |
| IC Places Hollywood | 2012 | TV Series | Himself - Interviewee |
| Master Debaters with Jay Mohr | 2011 | TV Series | Himself |
| Doc Talk | 2011 | TV Series | Himself |
| Lopez Tonight | 2011 | TV Series | Himself - Guest |
| BarFly | 2011 | TV Series | Himself |
| The Daily Habit | 2011 | TV Series | Himself |
| Tavis Smiley | 2011 | TV Series | Himself - Guest |
| Big Morning Buzz Live | 2011 | TV Series | Himself |
| Late Night with Jimmy Fallon | 2011 | TV Series | Himself - Guest |
| Last Call with Carson Daly | 2002-2011 | TV Series | Himself - Guest |
| Beats, Rhymes & Life: The Travels of a Tribe Called Quest | 2011 | Documentary | Himself / Interviewer (uncredited) |
| BPM: Beats Per Mnet | 2011 | TV Series | Himself |
| Celebrity Ghost Stories | 2010 | TV Series documentary | Himself |
| 30 for 30 | 2010 | TV Series documentary | Himself |
| The Deported | 2009 | | Himself |
| Up Close with Carrie Keagan | 2008 | TV Series | Himself - Guest |
| 5th Annual VH1 Hip Hop Honors | 2008 | TV Movie | Himself |
| The Miley and Mandy Show | 2008 | TV Series | Himself |
| Stars on Stars | 2007 | TV Series | Himself |
| Talkshow with Spike Feresten | 2007 | TV Series | Himself |
| The Bronx Bunny Show | 2007 | TV Series | Himself |
| Tom Green's House Tonight | 2007 | TV Series | Himself |
| The Late Late Show with Craig Ferguson | 2006 | TV Series | Himself - Guest |
| Martha | 2006 | TV Series | Himself - Guest |
| Jimmy Kimmel Live! | 2003-2006 | TV Series | Himself - Guest |
| The Tyra Banks Show | 2005-2006 | TV Series | Himself - Guest |
| The Tony Danza Show | 2006 | TV Series | Himself - Guest |
| Late Night with Conan O'Brien | 1996-2006 | TV Series | Himself - Guest |
| The 3rd Annual Vibe Awards | 2005 | TV Special | Himself |
| Too Late with Adam Carolla | 2005 | TV Series | Himself |
| Weekends at the DL | 2005 | TV Series | Himself |
| Ellen: The Ellen DeGeneres Show | 2005 | TV Series | Himself - Guest |
| Dinner for Five | 2002-2005 | TV Series | Himself / Himself - Special Guest |
| The N Word | 2004 | Documentary | Himself |
| Cop Land: The Making of an Urban Western | 2004 | Video short | Himself |
| The Late Late Show with Craig Kilborn | 2003 | TV Series | Himself - Guest |
| I Love the '80s | 2002 | TV Series documentary | Himself |
| Celebrity Adventures | 2001 | TV Series | Himself |
| The Rosie O'Donnell Show | 1998-2001 | TV Series | Himself - Guest |
| Weakest Link | 2001 | TV Series | Himself |
| The Daily Show | 2000-2001 | TV Series | Himself - Guest |
| HBO First Look | 2001 | TV Series documentary | Himself |
| The Making of 'Bamboozled' | 2001 | Video documentary | |
| Howard Stern | 2001 | TV Series | Himself - Guest |
| The Howard Stern Radio Show | 2001 | TV Series | Himself - Guest |
| The 6th Day: The Future Is Coming | 2000 | Video documentary short | Himself / Hank Morgan |
| When Sharks Attack! | 1999 | TV Short documentary | Himself |
| Late Show with David Letterman | 1995-1997 | TV Series | Himself - Guest / Himself |
Archive Footage
| Title | Year | Status | Character |
| --- | --- | --- | --- |
| On the 6th Day | 2001 | Video documentary | Hank Morgan |
| Venice Report | 1997 | TV Short documentary | Murray 'Superboy' Babitch |