Kellita Smith Net Worth is

$500,000
Kellita Smith Biography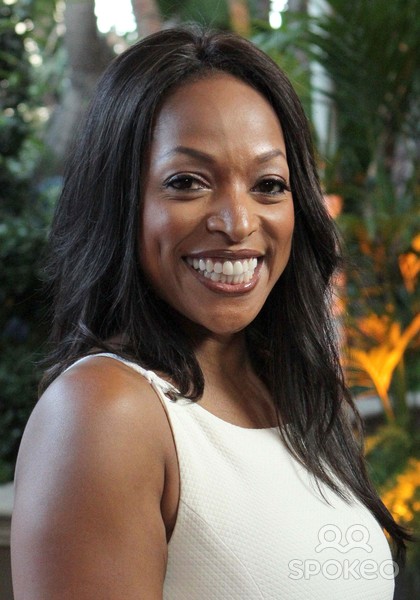 An actress, model and comedian, Kellita Smith was born on 15 January 1969. Her appearance as Wanda McCollough on 'The Bernie Mac Show' made her popular not only in the U.S., but also around the world. Her work has seen her garner three nominations for Image Award (2003, 2004 and 2005) as well as a BET nod for Outstanding Lead Actress in 2015. She is also known for her role as a model, gracing magazine pages with gorgeous photos.
So, how rich is Kellita Smith? What's her net worth? According to sources Kellita is a wealthy lady with a decent net worth of $500,000, much of this wealth coming from her acting, most particularly in 'The Bernie Mac Show.' Sources also report that she is paid a decent amount modeling for top magazines such as Savoy, Essence, Stuff, Esquire, People, TV Guide, Dysonna, Black men, Fitness, Today's Black Woman, Glamour, Vanity Fair, Cosmopolitan, Jet, Emmy, and Oil Of Olay.
Kellita Smith Net Worth $500,000
Born and raised in the city of Chicago, Illinois, Kellita Smith was the eldest of three children – her father was a military man who served in Vietnam when she was just a baby. In 1972, her parents divorced, and Kellita left for Oakland, California with her mother, Honey Smith, and brother, Eric. In 1989, she graduated and earned a political science degree from the Santa Rosa Junior College. Before getting into acting, she started working as an administrative assistant and saleswoman.
Kellita Smith started working as a supermodel in her early life. She began by acting on the stage, starting with a production known as 'Tell It Like It Tiz,' before eventually being offered other, bigger roles, including 'No Place to be Somebody;' 'Feelings' – a play that saw her win NAACP Theatre Award in 1996 – 'The Thirteenth Thorn,' and 'One Woman'.
Smith made her debut on television in a single episode of 'In Living Color'. She later guest-starred in a number of shows, such as 'NYPD Blue,' 'The Parkers,' 'Moesha,' and 'Living Single.' She also had a recurring role in 'The Jamie Fox Show' before casting alongside Bernie Mac in 'The Bernie Mac Show,' a Fox sitcom series which ran for five seasons, from 2001 to 2006.
Kellita Smith has also showcased her talent in films, co-starring alongside Mo'Nique in 'Hair Show,' a 2004 film, and later appearing in 'Three Can Play That Game' and 'Fair Game, King's Ransom, Roll Bounce.' After a string of successful films, she returned to TV as First Lady Katherine in the sitcom 'The First Family'. In 2014, she was cast alongside Robert Warren in 'Z Nation,' a Scifi post-apocalyptic series. In 2015, she made an appearance in the film 'Sharknado 3: Oh Hell No'!
Overall, in an acting career now spanning over 20 years, Kellita Smith has appeared in well over 20 films and a similar number of TV productions, indicating that she has been in constant demand by directors, and ensuring at least a steady income. Other notable works in film include 'King's Ransom,' ' Feel the Noise,' 'Conspiracy X,' 'She's Not Our Sister,' and 'The Love Section', and popular television shows include 'Hangin' with Mr. Cooper,' 'Sister, Sister,' and 'Malcolm & Eddie'.
In her personal life, Kellita Smith lives in Los Angeles, California. She is not married and spends most of her time doing rigorous exercises, such as spinning and fencing. In the future she hopes to do more action movies and of course increase her net worth.
Known for movies
Quick Facts
| | |
| --- | --- |
| Full Name | Kellita Smith |
| Net Worth | $500,000 |
| Date Of Birth | July 11, 1969 |
| Place Of Birth | Chicago, Illinois, United States |
| Profession | Actress, Model, Comedian |
| Education | Santa Rosa Junior College |
| Nationality | United States of America |
| Parents | Honey Smith |
| Siblings | Eric Smith |
| Nicknames | Смит, Келлита |
| Twitter | http://www.twitter.com/kellitasmith1 |
| Wikipedia | https://en.wikipedia.org/wiki/Kellita_Smith |
| Nominations | NAACP Image Award for Outstanding Actress in a Comedy Series, NAACP Theatre Award (1996) |
| Movies | ' Feel the Noise,' 'Conspiracy X,' 'She's Not Our Sister,' 'The Love Section', 'Sharknado 3: Oh Hell No'! |
| TV Shows | 'Hangin', ' 'Sister, Sister,' 'Malcolm & Eddie', 'The First Family', 'NYPD Blue,' 'The Parkers,' 'Moesha,' 'Living Single.' |

Quotes
| # | Quote |
| --- | --- |
| 1 | A quality aside from looks that makes a man sexy is talent. |

Pictures
Nominated Awards
Nominated awards
| Year | Award | Ceremony | Nomination | Movie | Award shared with |
| --- | --- | --- | --- | --- | --- |
| 2013 | Image Award | Image Awards | Outstanding Actress in a Comedy Series | The First Family (2012) | |
| 2006 | Image Award | Image Awards | Outstanding Supporting Actress in a Comedy Series | The Bernie Mac Show (2001) | |
| 2005 | BET Comedy Award | BET Comedy Awards | Outstanding Lead Actress in a Comedy Series | The Bernie Mac Show (2001) | |
| 2005 | Image Award | Image Awards | Outstanding Actress in a Comedy Series | The Bernie Mac Show (2001) | |
| 2004 | BET Comedy Award | BET Comedy Awards | Outstanding Lead Actress in a Comedy Series | The Bernie Mac Show (2001) | |
| 2004 | Image Award | Image Awards | Outstanding Actress in a Comedy Series | The Bernie Mac Show (2001) | |
| 2003 | Image Award | Image Awards | Outstanding Actress in a Comedy Series | The Bernie Mac Show (2001) | |

Filmography
Actress
| Title | Year | Status | Character |
| --- | --- | --- | --- |
| The Choir Director | 2017 | post-production | Anita Emerson |
| Z Nation | 2014-2017 | TV Series | Lt. Roberta Warren Warren |
| The Preacher's Son | 2017 | | Anita Emerson |
| In the Cut | 2016 | TV Series | Cheryl |
| The Secret She Kept | 2016 | TV Movie | Virginia |
| The Man in 3B | 2015 | | Det. Anderson |
| Sharknado 3: Oh Hell No! | 2015 | TV Movie | Sergeant Roberta Warren |
| A Deadly Adoption | 2015 | TV Movie | Officer Mason |
| The First Family | 2012-2015 | TV Series | First Lady Katherine Johnson |
| Imperial Dreams | 2014 | | Tanya |
| Kimmie's Kitchen | 2013 | TV Series 2013 as Kelita Smith | |
| The Love Section | 2013 | | Pat Darden |
| Sistaah Friend | 2012 | Video short | Super Shero of Truth |
| Gang of Roses 2: Next Generation | 2012 | | Madame L |
| She's Still Not Our Sister | 2011 | TV Series | Vivian (2011) |
| She's Not Our Sister | 2011 | TV Movie | Vivian |
| From Cape Town with Love | 2010 | Video short | Marsha |
| Conspiracy X | 2010 | | Justice Jackie Woods |
| Feel the Noise | 2007 | | Tanya |
| Three Can Play That Game | 2007 | | Carla |
| The Bernie Mac Show | 2001-2006 | TV Series | Wanda McCullough |
| Roll Bounce | 2005 | | Vivian |
| King's Ransom | 2005 | | Renee King |
| Fair Game | 2005 | | Cheryl |
| Hair Show | 2004 | | Angela |
| NYPD Blue | 2001 | TV Series | Mrs. Childs |
| Nash Bridges | 2001 | TV Series | Regina Adams |
| Kingdom Come | 2001 | | Bernice Talbert |
| Masquerade | 2000 | TV Movie | Monica |
| Retiring Tatiana | 2000 | | CeCe |
| For Your Love | 2000 | TV Series | Sophia |
| Q: The Movie | 1999 | | Mo Mo (as Kelita Smith) |
| The Parkers | 1999 | TV Series | Valerie Maxwell |
| The Steve Harvey Show | 1999 | TV Series | Ava Whitley |
| The Jamie Foxx Show | 1997-1999 | TV Series | Cherise |
| The Parent 'Hood | 1997 | TV Series | Sheila |
| Malcolm & Eddie | 1997 | TV Series | Danielle |
| High Incident | 1997 | TV Series | |
| Moesha | 1996 | TV Series | Melba |
| Dangerous Minds | 1996 | TV Series | Dominique |
| The Wayans Bros. | 1996 | TV Series | Claire |
| Sister, Sister | 1995 | TV Series | Tonya |
| The Crossing Guard | 1995 | | Tanya |
| Martin | 1994-1995 | TV Series | Tracy |
| Hangin' with Mr. Cooper | 1994 | TV Series | Jaclyn |
| House Party 3 | 1994 | | Girl in Yellow & Black Dress at Ras Posse Show (uncredited) |
| Living Single | 1993 | TV Series | Susan |
| In Living Color | 1993 | TV Series | |
Soundtrack
| Title | Year | Status | Character |
| --- | --- | --- | --- |
| The First Family | 2012 | TV Series performer - 1 episode | |
Self
| Title | Year | Status | Character |
| --- | --- | --- | --- |
| 37th NAACP Image Awards | 2006 | TV Special | Herself |
| Tavis Smiley | 2005 | TV Series | Herself |
| 36th NAACP Image Awards | 2005 | TV Special | Herself |
| The 6th Annual Family Television Awards | 2004 | TV Special | Herself |
| TV Guide Close Up: From Comedy Club to Primetime | 2004 | TV Movie documentary | Herself |
| BET Comedy Awards | 2004 | TV Special | Herself |
| 35th NAACP Image Awards | 2004 | TV Special | Herself |
| SoapTalk | 2003 | TV Series | Herself |
| Biography | 2003 | TV Series documentary | Herself |
| The Late Late Show with Craig Kilborn | 2003 | TV Series | Herself |
| 34th NAACP Image Awards | 2003 | TV Special | Herself |
| Pyramid | 2002 | TV Series | Herself |
| The 4th Annual Family Television Awards | 2002 | TV Special | Herself |
| 2nd Annual BET Awards | 2002 | TV Movie documentary | Herself |
| Hell's Kitchen | 2017 | TV Series | Herself - Restaurant Patron |
| Apollo Night LA | 2016 | TV Series | Herself - Celebrity Host |
| The Real | 2016 | TV Series | Herself |
| The 1st Annual Carney Awards | 2015 | | Herself - Presenter |
| Unsung Hollywood | 2015 | TV Series documentary | Herself |
| 4TH NAFCA: African Oscar | 2014 | TV Movie | Herself - Presenter |
| According to Him + Her | 2014 | TV Series | Herself |
| Kimmie's Kitchen | 2013 | TV Series | Herself |
| Life After | 2012 | TV Series | Herself |
| From the Mouths of Babes | 2012 | TV Series documentary | Herself (2016) |
| I Ain't Scared of You: A Tribute to Bernie Mac | 2011 | Documentary | Herself |
| 15 Unforgettable Hollywood Tragedies | 2009 | TV Movie documentary | Herself (as Kelita Smith) |
| Larry King Live | 2008 | TV Series | Herself |
| Baisden After Dark | 2007 | TV Series | Herself |
| 14th Annual Inner City Destiny Awards | 2006 | Video | Herself - Honoree |
Archive Footage
| Title | Year | Status | Character |
| --- | --- | --- | --- |
| The Award Show Awards Show | 2003 | TV Special documentary | Herself |