Keith David Net Worth is

$3 Million
Keith David's salary

$352,941
Keith David Biography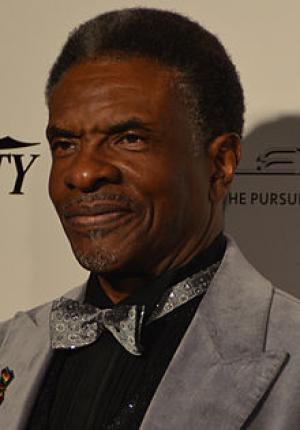 Keith David Williams was born on the 4th June 1956 in Harlem, New York City, USA. He is an actor, probably best known for his starring in a number of roles, such as Childs in the film "The Thing" (1982), playing Armitage in "They Live" (1988), and as General Kimsey in "Armageddon" (1998), etc. He is also known as a voice actor, who has provided his voice to a number of characters, such as in the film "The War". His career has been active since 1979.
So, have you ever wondered how rich Keith David is? According to authoritative sources, it has been estimated that the total size of David's net worth is $3 million, as of mid- 2016. Obviously, most of his income is the result of his successful involvement in the entertainment industry as an actor.
Keith David Net Worth $3 Million
Keith David spent his childhood in Corona, Queens, New York City, raised by his father Lester Williams, who was a director of payroll operations, and his mother, Dolores Williams, who worked as a manager at New York Telephone. From a very young age, he was interested in becoming an actor, as he was a member of school plays, so David went to the High School of the Performing Arts. Upon matriculation, he enrolled at the Juilliard School's Drama Division, from which he graduated with a BFA degree in 1979.
David was immediately thrown into the acting world, touring with the famous group "The Acting Company". After a few successful stage appearances, David was able to transfer his talents to screen, and made his debut appearance in the John Caprenter film "The Thing" (1982). Since then, his career has gone only upwards, and so has his net worth. Since the 1980s, David has appeared in more than 250 film and TV titles, and he has also done some voice-over work, lending his voice to characters from popular animated TV series, films, and video games as well.
Some of his most popular roles, are those in films and TV series such as "Platoon" (1986), "They Live" (1988), "Men At Work" (1990), "Marked For Death" (1990), "Reality Bites" (1994), "Armageddon" (1998), "Requiem For A Dream" (2000), "The Chronicles Of Riddick" (2004), "Crash" (2004), "ER" (2006-2007), "Enlisted" (2014), "Community" (2012-2015), "Greenleaf" (2016-2017), and most recently "The Gettysburg Address" (2016), "Service To Man" (2016), and "Nat Turner: Story Of A Prophet", among other projects, all of which have added a lot to the overall size of his net worth.
To speak of his voice-over credits, he lend his voice to characters from such series, films, and video games, such as "Aladdin" (1994-1995), "Gargoyles" (1994-1996), "Hercules" (1997), "Disney's Hades Challenge" (1998), "Spawn" (1997-1999), "The Proud Family Movie" (2005), "Justice League: The New Frontier" (2008), "The Princess And The Frog" (2009), "Allen Gregory" (2011), "Adventure Time" (2012-2016), and "Teenage Mutant Ninja Turtles" (2015-2016), among others, which have also contributed to his net worth.
Thanks to his skills, David has received several prestigious nominations and awards, including two Primetime Emmy Awards, both in category Outstanding Voice-Over Performance for his work as narrator for the documentary "War" (2007), and also as a narrator of the documentary "Unforgivable Blackness: The Rise And Fall Of Jack Johnson" (2004), among others.
If to talk about his personal life, Keith David has been married to singer/actress Dionne Lea Williams since April of 2001; they are the parents of two children. Previously, he was in marriage with Margit Edwards Williams during the 1990s, with whom he has a son.
Known for movies
Quick Facts
| | |
| --- | --- |
| Full Name | Keith David |
| Net Worth | $3 Million |
| Salary | $352,941 |
| Date Of Birth | June 4, 1956 |
| Place Of Birth | Harlem, New York City, New York, U.S. |
| Height | 1.88 m |
| Profession | Film actor |
| Education | Fiorello H. LaGuardia High School, Juilliard School |
| Nationality | American |
| Spouse | Dionne Lea Williams |
| Children | Maelee Williams, Ruby Williams, Owen Williams |
| Parents | Dolores Dickenson, Lester Williams |
| Facebook | https://www.facebook.com/ImKeithDavid |
| Twitter | https://twitter.com/imkeithdavid |
| Instagram | https://www.instagram.com/silverthroat/ |
| ImDB | http://www.imdb.com/name/nm0202966/ |
| Awards | Primetime Emmy Award for Outstanding Voice-Over Performance, Outer Critics Circle Special Award |
| Nominations | Critics' Choice Television Award for Best Supporting Actor in a Comedy Series, Tony Award for Best Featured Actor in a Musical, Daytime Emmy Award for Outstanding Performer In An Animated Program, Primetime Emmy Award for Outstanding Non-fiction Series, Daytime Emmy Award for Outstanding Performer In A Children/Youth/Family Special |
| Movies | They Live, The Thing, The Princess and the Frog, Pitch Black, The Nice Guys, Platoon, Dead Presidents, Cloud Atlas, There's Something About Mary, Coraline, Armageddon, The Chronicles of Riddick, Requiem for a Dream, Barbershop, Clockers, Agent Cody Banks, The Quick and the Dead, Delta Farce, Mr. & Mrs. Smith, Lottery Ticket, Marked for Death, Princess Mononoke, First Sunday, Men at Work, Crash, Death at a Funeral, Agent Cody Banks 2: Destination London, Superhero Movie, Where the Heart Is, Road House, The Puppet Masters, Transporter 2, Larger than Life, Final Fantasy: The Spirits Within, Hollywood Homicide, Head of State, Don McKay, Article 99, ATL, Meet Monica Velour, Off Limits, Reality Bites, Novocaine, Hercules, All About Steve, Final Analysis, Chain Letter, Braddock: Missing in Action III, The Replacements, The Oh in Ohio, The Sensei |
| TV Shows | Greenleaf, Gargoyles, The Cape, Mister Rogers' Neighborhood, Enlisted, Belle's, Todd McFarlane's Spawn, The Big House, The Job, City Confidential, Disney's House of Mouse, The Spectacular Spider-Man, Jazz, Loose Women, Spawn: The Animation, Mr. & Mrs. Smith, Hallelujah!, Battle Force: Andromeda, Hot Pursuit |

Interesting Facts
| # | Fact |
| --- | --- |
| 1 | He was awarded the 1991 Drama Logue Award for Outstanding Lead Performance for "Jelly's Last Jam" at the Mark Taper Forum Theatre in Los Angeles, California. |
| 2 | He was awarded the 1996 Drama Logue Award for Performance for "Seven Guitars" at the Ahmanson Theatre in Los Angeles, California. |
| 3 | Has portrayed both President and Vice President of the United States in instances of aliens threatening to destroy Earth in his voiceover work. Played himself as Vice President Keith David in the video game Saints Row 4 (2013) and played "The President" in season 2, episode 5 of Rick & Morty titled, "Get Schwifty". Mr. David's success rate stands at 50%. As President, Earth survived the "Cromulon's" test. Against the Zin in Saint's Row 4 however, the Earth did not fare quite as well, although some of humanity (those abducted by the Zin) did survive. |
| 4 | He appeared in two Best Picture Academy Award winners: Platoon (1986) and Crash (2005). |
| 5 | Parents are Lester and Dolores Williams. |
| 6 | Not to be confused with fellow actor David Keith. |
| 7 | Has three children: daughters Ruby and Maelee with his current wife and a son Owen from his previous marriage to Margit. |
| 8 | Profiled in "Character Kings: Hollywood's Familiar Faces Discuss the Art & Business of Acting" by Scott Voisin (2009). |
| 9 | In February 2010, he became the first actor to provide his voice for two films nominated for Academy Awards for Best Animated Feature. He played the role of The Cat in Coraline (2009) and the villain Dr. Facilier in The Princess and the Frog (2009). |
| 10 | Studied acting with Michael Howard in New York City. |
| 11 | His ex-wife attended Hunter College of the City University of New York (CUNY) with Lisa Nicole Carson where they both appeared (and worked backstage) in theater department productions. |
| 12 | Frequent voice collaborator with fellow voice actor Ron Perlman. Computer games: Fallout: A Post-Nuclear Role-Playing Game (1997), Lords of EverQuest (2003), Halo 2 (2004), Halo 3 (2007). Animated series: Aladdin (1994), Fantastic Four (1994), Justice League (2001), Teen Titans (2003). And they have both had a guest appearance on the television series The Outer Limits (1995). |
| 13 | Nominated for Broadway's 1992 Tony Award as Best Actor (Featured Role - Musical) for "Jelly's Last Jam". |
| 14 | Took over as narrator for the documentary series City Confidential (1998) after the death of Paul Winfield. |
| 15 | Very popular voice-over actor. |
| 16 | Following the film Platoon (1986), Charlie Sheen - who starred in the film - did a TV interview and credits David with saving his life. While shooting in an open-doored Huey gunship, the helicopter banked too hard, and Sheen was thrown towards - and would have gone through - the open door. David grabbed Sheen by the back and pulled him back in. |

Trademarks
| # | Trademark |
| --- | --- |
| 1 | The voice of Goliath on Gargoyles (1994) |
| 2 | His large smile, with a gap between his teeth |
| 3 | Often plays hot-tempered, irritable characters |
| 4 | Deep commanding voice, very reminiscent of Orson Welles |

Quotes
| # | Quote |
| --- | --- |
| 1 | I loved old movies as a kid, so I always watched old movies. |
| 2 | In fact, I have never met anyone who didn't like Gargoyles. |
| 3 | It can't hurt, publicity is publicity, controversy and all that, it's all good. |
| 4 | My whole life, I always wanted to be an actor. |
| 5 | Well, you know, I played Mufasa in the workshop of The Lion King. |
| 6 | What has been happening more lately - of course, I also put in my bio, I say I do the voice of Goliath, but some people go - you know, I say something, and it's a funny thing when you work in this business, people will talk out loud in front of you like you're not there. |
| 7 | And it has some weight, I mean, the whole history of the gargoyles, that's some wonderful stuff. |
| 8 | But Gargoyles, bar none, is the most fun I've ever had in life. |
| 9 | I am working on my nightclub act, definitely want to do more singing. |
| 10 | I came out singing, the doctor slapped me on the head, and I started singing. |
| 11 | I don't think they're going to pay me to play Mufasa. |
| 12 | You get to celebrate the content of someone's character as opposed to the color of their skin or their outward appearance. That to me is the most impressive element about Gargoyles (1994) because it forces you to deal with who they are. Not what they look like or anything external. You are dealing with internal principles about these people. |
| 13 | [on Gargoyles (1994)] I was very moved by Goliath. I was moved by playing him. They're not displaced citizens but they are citizens from another time and another place that were placed in this modern context and maintained that integrity. |
| 14 | Actually, I wanted to be an actor when I was two years old. |

Pictures
Won Awards
Nominated Awards

Filmography
Actor
| Title | Year | Status | Character |
| --- | --- | --- | --- |
| Don McKay | 2009 | | Otis Kent |
| Blue | 2009/II | | Terry Venable |
| The Hitmen Diaries: Charlie Valentine | 2009 | | Sal |
| Against the Dark | 2009 | Video | Lt. Waters |
| Coraline | 2009 | | The Cat (voice) |
| Coraline | 2009 | Video Game | The Cat (voice) |
| Behind Enemy Lines: Colombia | 2009 | Video | Cmdr. Scott Boytano |
| Dissidia: Final Fantasy | 2008 | Video Game | Chaos (English version, voice) |
| Psych | 2008 | TV Series | Mr. Guster |
| Saints Row 2 | 2008 | Video Game | Julius (voice) |
| SIS | 2008 | TV Movie | Joseph Armstrong |
| The Fifth Commandment | 2008 | | Max 'Coolbreeze' Templeton |
| No Bad Days | 2008 | | Terrence |
| The Sensei | 2008 | | The Minister |
| My Mom's New Boyfriend | 2008 | | FBI Chief Conrad |
| Canterbury's Law | 2008 | TV Series | Miles Grant |
| Superhero Movie | 2008 | | The Chief of Police |
| The Spectacular Spider-Man | 2008 | TV Series | Big Man |
| Justice League: The New Frontier | 2008 | Video | The Centre (voice) |
| First Sunday | 2008 | | Judge B. Bennet Galloway |
| Beautiful Loser | 2008 | | Morgan - Adult |
| The Candlelight Murders | 2008 | | Pastor Bob |
| Mass Effect | 2007 | Video Game | Captain David Anderson (voice) |
| Halo 3 | 2007 | Video Game | Arbiter (voice) |
| Transformers: Decepticons | 2007 | Video Game | Barricade (voice) |
| Transformers: The Game | 2007 | Video Game | Barricade (voice) |
| 7th Heaven | 2006-2007 | TV Series | Stanley Sunday |
| Delta Farce | 2007 | | Sgt. Kilgore |
| The Last Sentinel | 2007 | | Col. Norton / Gun Voice 2 |
| The Color Purple: The Color of Success | 2007 | TV Movie | Narrator (voice) |
| ER | 2006-2007 | TV Series | Pastor Watkins |
| If I Had Known I Was a Genius | 2007 | | Dad |
| Saints Row | 2006 | Video Game | Julius Little (voice) |
| All of Us | 2006 | TV Series | |
| The Oh in Ohio | 2006 | | Coach Popovitch |
| ATL | 2006 | | John Garnett |
| Behind Enemy Lines II: Axis of Evil | 2006 | Video | MCPO Scott Boytano |
| Everwood | 2005 | TV Series | Brian |
| Dirty | 2005 | | Captain Spain |
| The Proud Family Movie | 2005 | TV Movie | Bebe Clone (voice) |
| Transporter 2 | 2005 | | Stappleton |
| Mr. & Mrs. Smith | 2005 | | Father |
| Grey's Anatomy | 2005 | TV Series | Lloyd Mackie |
| Halo 2 | 2004 | Video Game | Arbiter (voice) |
| Crash | 2004/I | | Lt. Dixon |
| The Chronicles of Riddick: Dark Fury | 2004 | Video short | Abu 'Imam' al-Walid (voice) |
| The Chronicles of Riddick | 2004 | | Imam |
| The Big House | 2004 | TV Series | Clarence Cleveland |
| Agent Cody Banks 2: Destination London | 2004 | | CIA Director |
| Teen Titans | 2004 | TV Series | Atlas |
| Lords of EverQuest | 2003 | Video Game | Lord Vekk (voice) |
| Justice League | 2003 | TV Series | Despero |
| Spider-Man | 2003 | TV Series | FBI Agent Moseley Agent Mosely |
| Hollywood Homicide | 2003 | | Leon |
| Kaena: The Prophecy | 2003 | | Voxem (English version, voice) |
| Head of State | 2003 | | Bernard Cooper |
| Agent Cody Banks | 2003 | | CIA Director |
| CSI: Crime Scene Investigation | 2003 | TV Series | Matt Phelps |
| Hung-Up | 2002 | Short | Mervin |
| Miss Miami | 2002 | TV Movie | |
| Arli$$ | 2002 | TV Series | Cecil Pickett |
| Barbershop | 2002 | | Lester Wallace |
| 29 Palms | 2002 | | The Sheriff |
| The Job | 2001-2002 | TV Series | Lt. Williams |
| Pretty When You Cry | 2001 | | Detective Charles Desett |
| The Legend of Tarzan | 2001 | TV Series | Tublat |
| Novocaine | 2001 | | Detective Lunt |
| Going to California | 2001 | TV Series | Paradise |
| Home Invaders | 2001 | | Matador |
| Final Fantasy: The Spirits Within | 2001 | | Council Member #1 (voice) |
| PBS Hollywood Presents | 2001 | TV Series voice | |
| G Spots? | 2001 | Short | The King |
| Semper Fi | 2001 | TV Movie | Gunnery Sgt. Brinkloff |
| Law & Order | 2001 | TV Series | Robertson |
| House of Mouse | 2001 | TV Series | |
| The Replacements | 2000 | | Lindell |
| The Outer Limits | 2000 | TV Series | Captain Ira Merit |
| Requiem for a Dream | 2000 | | Big Tim |
| Where the Heart Is | 2000 | | Moses Whitecotten |
| Pitch Black | 2000 | | Abu 'Imam' al-Walid |
| Innocents | 2000 | | Detective Davis |
| Planescape: Torment | 1999 | Video Game | Vhailor (voice) |
| ATF | 1999 | TV Movie | F.B.I. Director Richard Long |
| Spawn | 1997-1999 | TV Series | Spawn |
| Todd McFarlane's Spawn 3: The Ultimate Battle | 1999 | | Spawn (voice) |
| Hercules | 1998 | TV Series | Apollo |
| Todd McFarlane's Spawn 2 | 1998 | | Spawn (voice) |
| There's Something About Mary | 1998 | | Mary's Dad |
| Armageddon | 1998 | | General Kimsey |
| The Tiger Woods Story | 1998 | TV Movie | Earl Woods |
| Behind the Zipper with Magda | 1998 | Video short | Charlie Jensen (uncredited) |
| Disney's Hades Challenge | 1998 | Video Game | Apollo (voice) |
| Don King: Only in America | 1997 | TV Movie | Herbert Muhammad |
| Fallout: A Post-Nuclear Role-Playing Game | 1997 | Video Game | Decker (voice) |
| Murder, She Wrote: South by Southwest | 1997 | TV Movie | Algric Bartles |
| Loose Women | 1997 | | Stylist #1 |
| Princess Mononoke | 1997 | | Okkoto / Narrator (English version, voice) |
| Executive Target | 1997 | | Lamar |
| Hercules | 1997 | | Apollo the Sun God (voice) |
| Volcano | 1997 | | Police Lieutenant Ed Fox |
| Flipping | 1997 | | Leo Richards, Gang Leader |
| Vanishing Point | 1997 | TV Movie | Warren Taft |
| Todd McFarlane's Spawn | 1997 | Video | Spawn (voice) |
| Gargoyles: The Goliath Chronicles | 1996 | TV Series | Goliath Thailog Hood 2 |
| Never Met Picasso | 1996 | | Larry |
| Johns | 1996 | | Homeless John |
| Timon & Pumbaa | 1996 | TV Series | Mr. Pig |
| New York Undercover | 1996 | TV Series | Rev. Harris |
| Larger Than Life | 1996 | | Hurst |
| Gargoyles | 1994-1996 | TV Series | Goliath Morgan Thailog ... |
| Eye for an Eye | 1996 | | Martin |
| The Grave | 1996 | | The Priest |
| The Twisted Tales of Felix the Cat | 1995-1996 | TV Series | Voices |
| Yellowstone: Realm of the Coyote | 1995 | Video | Narrator (voice) |
| Aladdin | 1994-1995 | TV Series | Minos / King Zahbar |
| Dead Presidents | 1995 | | Kirby |
| Clockers | 1995 | | André the Giant |
| Blue in the Face | 1995 | | Jackie Robinson |
| The Quick and the Dead | 1995 | | Sgt. Cantrell |
| The Puppet Masters | 1994 | | Alex Holland |
| Notes in a Minor Key | 1994 | Short | Kansas |
| Reality Bites | 1994 | | Roger |
| American Playhouse | 1993 | TV Series | Big Willie |
| There Are No Children Here | 1993 | TV Movie | John Paul Rivers |
| The Last Outlaw | 1993 | TV Movie | Lovecraft |
| Tribeca | 1993 | TV Series | The Reader |
| Young Indiana Jones | 1993 | TV Series | King Oliver |
| Nails | 1992 | TV Movie | Noah Owens |
| Article 99 | 1992 | | Luther Jermoe |
| Final Analysis | 1992 | | Detective Huggins |
| 3x3 Eyes | 1991 | Video | Mama (English version, voice) |
| Screen Two | 1991 | TV Series | Will |
| Against the Law | 1990 | TV Series | Otis Turnbull |
| Marked for Death | 1990 | | Max |
| Men at Work | 1990 | | Louis Fedders |
| Murder in Black and White | 1990 | TV Movie | Martin |
| Always | 1989 | | Powerhouse |
| Road House | 1989 | | Ernie Bass |
| A Man Called Hawk | 1989 | TV Series | Jesse |
| Christmas in Tattertown | 1988 | TV Movie | Saxophone (voice) |
| Ladykillers | 1988 | TV Movie | |
| Hustlin Backwardz | 2017 | pre-production | Jake Walters (rumored) |
| They Live | 1988 | | Frank |
| V-Force: New Dawn of V.I.C.T.O.R.Y. | 2017 | filming | Kevin Bishop |
| The Equalizer | 1988 | TV Series | Cristo |
| Nat Turner: Story of A Prophet | 2017 | pre-production | Nathanial |
| Bird | 1988 | | Buster Franklin |
| Love Struck | 2017 | pre-production | Joe Perkins (rumored) |
| Stars and Bars | 1988 | | Eugene Teagarden |
| Savage Dog | 2017 | filming | Valentino |
| Off Limits | 1988 | | Maurice |
| Untitled Livi Zheng Project | 2017 | post-production | Captain Duke |
| Braddock: Missing in Action III | 1988 | | Embassy Gate Captain |
| Ray Meets Helen | 2016 | post-production | Harve |
| Hot Pursuit | 1987 | | Alphonso |
| American Dresser | 2016 | post-production | Charlie |
| Platoon | 1986 | | King |
| The Gettysburg Address | 2016 | Documentary post-production | Frederick Douglass (voice) |
| The Whoopee Boys | 1986 | | Washington Square Peddler |
| Love Jacked | | post-production | Ed |
| Mister Rogers' Neighborhood | 1983-1985 | TV Series | Keith / Keith the Handyman |
| The 420 Movie: Mary & Jane | | announced | Chief Ironweed |
| The Thing | 1982 | | Childs |
| The Ogilvy Fortune | | pre-production | |
| The Pirates of Penzance | 1980 | TV Movie | Pirates and Police |
| Where Are the Cocoa Puffs? | | announced | Dr. MacIntyre (rumored) |
| Disco Godfather | 1979 | | Club Patron (uncredited) |
| Greenleaf | 2016-2017 | TV Series | Bishop James Greenleaf |
| Service to Man | 2016 | | Dean Holmes |
| Kulipari: An Army of Frogs | 2016 | TV Series | Lord Marmoo |
| Dirty Lies | 2016 | | Doc |
| Range 15 | 2016 | | Colonel Holloway |
| The Nice Guys | 2016 | | Older Guy |
| Person of Interest | 2016 | TV Series | Terence Beale |
| Adventure Time | 2012-2016 | TV Series | Flame King / Balthus |
| Nina | 2016 | | Clifton's Father |
| Teenage Mutant Ninja Turtles | 2015-2016 | TV Series | Sal Commander |
| The North Star | 2016 | | Frederick Douglas |
| The Last Punch | 2016 | | Don King |
| Blue: The American Dream | 2016 | | Terry Venable |
| Burn Off | 2015 | | President of the United Nations General Assembly |
| Chances | 2015 | Short | Man with No Name |
| Kids vs Monsters | 2015 | | Barry |
| The Hypothetical Star Wars Holiday Special | 2015 | Video short | Sqwee-ZL45 |
| Uncle Grandpa | 2015 | TV Series | Santa Claus |
| H4 | 2015 | | Worcester |
| Black Jesus | 2015 | TV Series | |
| Halo 5: Guardians | 2015 | Video Game | The Arbiter (voice) |
| If I Tell You I Have to Kill You | 2015 | | Detective Harris |
| Boiling Pot | 2015 | | Agent Long |
| Extant | 2015 | TV Series | Nicholas Calderon |
| Rick and Morty | 2015 | TV Series | Mr. President / Reverse Giraffe |
| Huevos: Little Rooster's Egg-cellent Adventure | 2015 | | Don Alfonso (English version, voice) |
| Union Furnace | 2015 | | Pin Stripe |
| Mr. Robot | 2015 | TV Series | Qwerty |
| Community | 2012-2015 | TV Series | Elroy Patashnik / Narrator |
| Big Time in Hollywood, FL | 2015 | TV Series | Agent Everett Malloy |
| What Lives Inside | 2015 | TV Mini-Series | Soot |
| Dutch Book | 2015 | | Joe Johnson |
| Archer | 2015 | TV Series | Lemuel Kane |
| The Marvel Experience | 2014 | | Nick Fury (voice) |
| Scorpion | 2014 | TV Series | Warden |
| Enlisted | 2014 | TV Series | Sgt. Major Donald Cody |
| Secrets of the Magic City | 2014 | | Mr. Daniels |
| Field of Lost Shoes | 2014 | | Old Judge |
| Birds of Paradise | 2014 | Video | Old Buzzard (voice) |
| Jabbawockeez: Regenerate | 2014 | Short | Ken-Gee |
| Things You Shouldn't Say Past Midnight | 2014 | TV Series | Dean |
| Frog Kingdom | 2013 | | Frog King (voice) |
| Free Birds | 2013 | | Chief Broadbeak (voice) |
| Once Upon a Time in Wonderland | 2013 | TV Series | The Cheshire Cat |
| Saints Row IV | 2013 | Video Game | Vice President Keith David Julius Little (voice) |
| Assault on Wall Street | 2013 | | Freddy |
| Sons of Liberty | 2013 | | Nathan Reynolds |
| Marvel Heroes | 2013 | Video Game | Nick Fury (voice) |
| Black Asylum | 2013 | Short | Agent Davis |
| The Bible | 2013 | TV Mini-Series documentary | Narrator |
| Touch | 2013 | TV Series | Dutch |
| Samuel Bleak | 2013 | | Ned Coffman |
| Belle's | 2013 | TV Series | William 'Big Bill' Cooper |
| Young Justice | 2013 | TV Series | Mongul |
| Don't Pass Me By | 2013 | | David Knox |
| Highway | 2012 | | Mustafa |
| Robot Chicken | 2012 | TV Series | Commentator / Angry Birds Narrator / Bank Robber |
| Christmas in Compton | 2012 | | Big Earl |
| Double or Nothing | 2012 | Short | Homeless Dude |
| Smiley | 2012 | | Diamond |
| Cloud Atlas | 2012 | | Kupaka / Joe Napier / An-kor Apis / ... |
| Don Cornelius: Visionary, Trailblazer & Cultural Icon | 2012 | TV Movie | Narrator |
| The Last Fall | 2012 | | Sydney Bishop |
| Mass Effect 3 | 2012 | Video Game | Admiral David Anderson (voice) |
| Crispus Attucks: Today Was a Good Day | 2012 | Video short uncredited | |
| Animen: The Galactic Battle | 2012 | | Sergeant Brass (voice) |
| Sorcerers of the Magic Kingdom | 2012 | Video Game | Dr. Facilier (voice) |
| The Undershepherd | 2012 | | Brother Wilks |
| Allen Gregory | 2011 | TV Series | Carl Trent Davis / Carl Trent D'Avis |
| Snowflake, the White Gorilla | 2011 | | Anvil (voice) |
| The Greening of Whitney Brown | 2011 | | Clerk |
| Hopelessly in June | 2011 | | Dalbert Myers |
| Hawaii Five-0 | 2011 | TV Series | Jimmy Cannon |
| The Inheritance | 2011/I | | Uncle Melvin |
| The Cape | 2011 | TV Series | Max Malini |
| Dishidia duodeshimu Fainaru fantajî | 2011 | Video Game | Chaos (English version, voice) |
| Synecdoche | 2011 | Short voice | |
| No Saints for Sinners | 2011 | | Victor |
| Now Here | 2010/I | | Detective Brinkman |
| Megamind | 2010 | Video Game | Psycho Delic |
| Tall Justice | 2010 | Short | Voiceover |
| Murdock | 2010 | Short | Murdock |
| Lottery Ticket | 2010/I | | Sweet Tee |
| Chasing 3000 | 2010 | | Officer L. |
| Stomp the Yard 2: Homecoming | 2010 | | Terry Harris |
| Spork | 2010 | | Coach Jenkins |
| Death at a Funeral | 2010 | | Reverend Davis |
| Meet Monica Velour | 2010 | | Claude |
| Funny or Die Presents... | 2010 | TV Series | Sleeping Celebrity |
| Mass Effect 2 | 2010 | Video Game | David Anderson (voice) |
| Sealing Your Fate | 2010 | Short | Gavin Taylor |
| Something Like a Business | 2010 | | Sebastian |
| Chain Letter | 2009 | | Detective Jim Crenshaw |
| The Princess and the Frog | 2009 | | Dr. Facilier (voice) |
| The Princess and the Frog | 2009 | Video Game | Dr. Facilier (voice) |
| Call of Duty: Modern Warfare 2 | 2009 | Video Game | Sergeant Foley (voice) |
| Numb3rs | 2009 | TV Series | Jeremiah Miller |
| All About Steve | 2009 | | Corbitt |
| Gamer | 2009 | | Agent Keith |
| The Butcher | 2009 | | Larry Cobb |
| Pastor Brown | 2009 | | Pastor Brown |
| Forgive Us Our Transgressions | 2009 | Short | Narrator (unconfirmed) |
Soundtrack
| Title | Year | Status | Character |
| --- | --- | --- | --- |
| Hewy's Animated Movie Reviews | 2009-2010 | TV Series performer - 2 episodes | |
| Nostalgia Critic | 2010 | TV Series performer - 1 episode | |
| The Princess and the Frog | 2009 | performer: "Friends on the Other Side" | |
| Beautiful Loser | 2008 | performer: "Memories of You", "O Holy Night" | |
| A Dennis the Menace Christmas | 2007 | Video performer: "Have Yourself a Merry Little Christmas" | |
| Delta Farce | 2007 | performer: "I Got You Babe" | |
| Johns | 1996 | performer: "Sweey Little Jesus Boy" 1934 | |
| Mister Rogers' Neighborhood | 1985 | TV Series performer - 1 episode | |
Producer
| Title | Year | Status | Character |
| --- | --- | --- | --- |
| Service to Man | 2016 | associate producer | |
| Creature Feature: 60 Years of the Gill-Man | 2014 | Documentary producer | |
| Creature Feature: 50 Years of the Gill-Man | 2004 | Video documentary producer | |
Composer
| Title | Year | Status | Character |
| --- | --- | --- | --- |
| Chances | 2015 | Short | |
Thanks
| Title | Year | Status | Character |
| --- | --- | --- | --- |
| Adrenaline III | 2015 | TV Series very special thanks | |
| Knock Knock | 2009 | Short special thanks | |
Self
| Title | Year | Status | Character |
| --- | --- | --- | --- |
| Behind Range 15 | 2017 | Documentary post-production | |
| School of Rickey | 2016 | TV Movie documentary | Narrator |
| Harlem on My Plate | 2016 | Documentary short | Himself |
| Jackie Robinson | 2016 | TV Mini-Series documentary | Narrator |
| Chabad Telethon | 2015 | TV Movie | Himself |
| Chabad Telethon | 2014 | TV Movie | Himself |
| Creature Feature: 60 Years of the Gill-Man | 2014 | Documentary | Narrator (voice) |
| The 600: History of NASCAR's Toughest Race | 2014 | TV Movie documentary | Narrator |
| Birds of Paradise: Bringing the Characters to Life - At the Recording Studio | 2014 | Video documentary short | |
| The Monday Night War: WWE vs. WCW | 2014 | TV Series documentary | Narrator |
| Good Day L.A. | 2013 | TV Series | Himself |
| The History of WWE: 50 Years of Sports Entertainment | 2013 | Video documentary | Narrator (voice, uncredited) |
| Snowflake, the White Gorilla: Giving the Characters a Voice | 2013 | Video short | Himself |
| Chabad Telethon | 2013 | TV Movie | Himself |
| Battleground Afghanistan | 2013 | TV Series | Himself - Narrator |
| Into Forgetfulness | 2013 | Documentary short | Narrator (voice) |
| The Making of 'Bailout: The Age of Greed' | 2013 | Short | Himself |
| Behind the Scenes of 'Pastor Brown' the Movie | 2012 | Documentary | Himself |
| American Experience | 1999-2012 | TV Series documentary | |
| NFL Alumni Player of the Year Awards | 2012 | TV Special | Himself |
| Chosen by God: The Great Black Pharaohs of the 25th Dynasty | 2011 | Documentary | Narrator (voice) |
| Red Hope? The Blacklisting of Hope Foye (Her Story, Her Songs) | 2011 | Documentary | Narrator |
| The Mo'Nique Show | 2011 | TV Series | Himself |
| New York Street Games | 2010 | Documentary | Himself |
| Baseball | 2010 | TV Mini-Series documentary | Narrator |
| E! True Hollywood Story | 2010 | TV Series documentary | Himself |
| Africa's Lost Eden | 2010 | TV Movie documentary | Narrator |
| Made in Hollywood | 2009 | TV Series | Himself |
| The Brian McKnight Show | 2009 | TV Series | Himself |
| Coraline: Voicing the Characters | 2009 | Video short | Himself |
| Chabad: To Life Telethon | 2008 | TV Movie | Himself |
| The Florence Henderson Show | 2008 | TV Series | Himself |
| After Hours with Daniel Boulud | 2007 | TV Series | Himself |
| The War | 2007 | TV Mini-Series documentary | Himself - Narrator |
| Shut Up and Ride | 2007 | Documentary | Narrator |
| Independent Lens | 2007 | TV Series documentary | Narrator |
| Fear Files | 2006 | TV Series documentary | Narrator |
| Working with a Master: John Carpenter | 2006 | Video documentary short | Himself |
| A Trumpet at the Walls of Jericho | 2005 | Documentary | Samuel Harrison Voice |
| City Confidential | 2001-2005 | TV Series documentary | Narrator |
| Crusades: Crescent & the Cross | 2005 | TV Movie documentary | Narrator |
| Black Theater Today: 2005 | 2005 | Documentary | |
| The Last Royals | 2005 | TV Movie documentary | Narrator |
| Nova | 2004 | TV Series documentary | Narrator |
| The Last Stand of the Great Bear | 2004 | TV Movie documentary | Narrator (voice) |
| Unforgivable Blackness: The Rise and Fall of Jack Johnson | 2004 | Documentary | Narrator (voice) |
| Beef II | 2004 | Video documentary | Narrator (voice) |
| In the Jury Room | 2004 | TV Series documentary | Announcer |
| I Love the '90s | 2004 | TV Series documentary | Himself |
| Ultimate Film Fanatic | 2004 | TV Series | Himself - Judge (2005) |
| The Sharon Osbourne Show | 2004 | TV Series | Himself |
| Creature Feature: 50 Years of the Gill-Man | 2004 | Video documentary | Narrator |
| The Wayne Brady Show | 2004 | TV Series | Himself |
| Tomb Raiders: Robbing the Dead | 2004 | TV Movie documentary | Narrator |
| Nubia: The Forgotten Kingdom | 2003 | TV Movie documentary | Narrator |
| Horatio's Drive: America's First Road Trip | 2003 | TV Movie documentary | Narrator (voice) |
| Comic Book Superheroes Unmasked | 2003 | TV Movie documentary | Narrator (voice) |
| Inside Mecca | 2003 | TV Movie documentary | Himself - Narrator |
| Kingdom of David: The Saga of the Israelites | 2003 | TV Movie documentary | Narrator (voice) |
| National Geographic: Stalking Leopards | 2002 | TV Movie documentary | Narrator |
| Revealed with Jules Asner | 2002 | TV Series | Himself |
| National Geographic Explorer | 2002 | TV Series documentary | Himself - Narrator |
| Empires: Egypt's Golden Empire | 2001 | TV Series documentary | Narrator |
| Mark Twain | 2001 | TV Movie documentary | Narrator (voice) |
| New York: A Documentary Film | 1999-2001 | TV Series documentary | |
| Nature | 1999-2001 | TV Series documentary | Narrator / Himself |
| Jazz | 2001 | TV Mini-Series documentary | Narrator |
| The Making of 'Pitch Black' | 2000 | Video documentary short | Himself |
| Photographers | 1999 | TV Movie documentary | Himself - Narrator |
| Arnold Schwarzenegger: Hollywood Hero | 1999 | TV Special documentary | Narrator |
| Not for Ourselves Alone: The Story of Elizabeth Cady Stanton & Susan B. Anthony | 1999 | TV Series documentary | Frederick Douglass (voice) |
| National Geographic: The Photographers | 1998 | Video documentary | |
| National Geographic Specials | 1994 | TV Series documentary | Himself - Narrator |
| Bluesland: A Portrait in American Music | 1993 | Documentary | Himself - Host |
| Cuba's Lost Treasure | 1993 | TV Movie documentary | Narrator |
| Reading Rainbow | 1993 | TV Series | Himself |
| Rhythm & Jam | 1993 | TV Mini-Series | Himself / King Oliver |
| The 46th Annual Tony Awards | 1992 | TV Special | Himself - Winner: Best Featured Actor in a Musical |
| The Making of 'They Live' | 1988 | TV Short | Himself |
Archive Footage
| Title | Year | Status | Character |
| --- | --- | --- | --- |
| Halo: The Master Chief Collection | 2014 | Video Game | Arbiter |
| Edición Especial Coleccionista | 2012 | TV Series | Childs |
| Death Battle | 2011 | TV Series | Spawn |
| The Spectacular Spider-Man: Attack of the Lizard | 2008 | Video | Big Man |
| Born to Controversy: The Roddy Piper Story | 2006 | Video documentary | Himself |
| Ultimate Fights from the Movies | 2002 | Video documentary | Frank (They Live) |
| Hercules | 1999 | TV Series | Apollo |