Kathy Griffin Net Worth is

$20 Million
Kathy Griffin Biography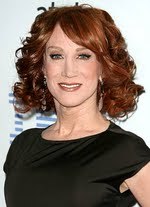 Kathleen Mary Griffin, commonly known as Kathy Griffin, is a famous American comedian, television and film producer, actress, as well as a voice actress. To the audience, Kathy Griffin is perhaps best known for her reality television series called "Kathy Griffin: My Life on the D-List", which made its debut in 2005 and finished its six season run in 2006. The show primarily focused on Kathy Griffin and her struggles to become a celebrity in Hollywood. Kathy Griffin's show not only won Primetime Emmy Awards and 19th GLAAD Media Awards, but also helped her establish herself as an actress in the television industry.
Kathy Griffin Net Worth $20 Million
In addition to her own reality series, Kathy Griffin has made numerous appearances on television screens, including Quentin Tarantino's "Pulp Fiction" with John Travolta, Samuel L. Jackson and Uma Thurman, "The Unborn", "Shakes the Clown" with Robin Williams, and "Suddenly Susan" with Brooke Shields to name a few. Kathy Griffin is also notable for her stand-up comedy specials, such as "Hot Cup of Talk", "Strong Black Woman", "Balls of Steel", and more recently "Calm Down Gurrl" and "Record Breaker". Kathy Griffin has also released several comedy albums, one of which, namely "For Your Consideration", topped the Billboard Top Comedy Albums chart and earned her a nomination for a Grammy Award.
An award-winning comedian and an actress, how rich is Kathy Griffin? Sources state that Kathy Griffins' net worth is estimated to be $20 million. Undoubtedly, most of Kathy Griffins' net worth and wealth comes from her career as an actress, as well as a stand-up comedian.
Kathy Griffin was born in 1960, in Oak Park, Illinois, where she studied at Oak Park and River Forest High School. While in high school, Griffin took part in many theatre productions, which later helped her decide about pursuing an acting career. Even though her parents were rather hesitant about her career choice, Griffin convinced them to let her move to Los Angeles, where she had more acting opportunities. When she finally moved out to Los Angeles, Kathy Griffin joined an improvisational and sketch comedy troupe called "The Groundlings", with whom she performed at various comedy clubs. It was with "The Groundlings" that Kathy Griffin was able to launch a successful career as a stand-up comedian.
In addition to performing on stage, Kathy Griffin made her on-screen debut in Jimmy T. Murakami's science fiction film "Battle Beyond the Stars", where she played a role as an alien extra. Griffin received her first major role in Bobcat Goldthwait's film called "Shakes the Clown", where she portrayed the character of Lucy. Ever since then, Kathy Griffin has continued making appearances both on stage and in front of the cameras. Griffin is also known to have appeared in several popular sitcoms, including "The Fresh Prince of Bel-Air" with Will Smith, "ER", "Seinfeld", "Law and Order Special Victims Unit" and "Days of Our Lives" among many others.
A famous stand-up comedian, as well as an actress, Kathy Griffin has an estimated net worth of $20 million.
Known for movies
Quick Facts
| | |
| --- | --- |
| Full Name | Kathy Griffin |
| Net Worth | $20 Million |
| Date Of Birth | November 4, 1960 |
| Place Of Birth | Oak Park, Illinois, United States |
| Height | 5 ft 3 in (1.6023 m) |
| Profession | Comedian, Actor, Voice Actor, Screenwriter, Television producer, Minister, Film Producer |
| Education | Oak Park and River Forest High School |
| Nationality | United States of America |
| Spouse | Matt Moline (m. 2001–2006) |
| Parents | Mary Margaret Corbally, John Patrick Griffin |
| Siblings | Kenny Griffin, Joyce Griffin, John Griffin, Gary Griffin, Sahuarita, AZ, United States, Columbus, OH, United States, Cincinnati, OH, United States |
| Nicknames | Kathleen Mary Griffin , Queen of the D-list , Kathleen Mary "Kathy" Griffin |
| Facebook | http://www.facebook.com/KathyGriffin |
| Twitter | http://www.twitter.com/kathygriffin |
| Instagram | http://www.instagram.com/kathygriffin |
| MySpace | http://www.myspace.com/kathygriffincomedy |
| Wikipedia | https://en.wikipedia.org/wiki/Kathy_Griffin |
| Awards | Grammy Award for Best Comedy Album, Primetime Emmy Award for Outstanding Reality Program, GLAAD Media Vanguard Award, Sahuarita, AZ, United States, Columbus, OH, United States, Cincinnati, OH, United States |
| Nominations | Primetime Emmy Award for Outstanding Variety, Music or Comedy Special, People's Choice Award for Favorite TV Celebreality Star, PGA Producer of the Year Award in Non-Fiction Television, Teen Choice Award for Choice Comedian, TV Land "Co-Worker You're Least Likely to Invite Out for Happy Hour" Award, Sahuarita, AZ, United States, Columbus, OH, United States, Cincinnati, OH, United States |
| Movies | Sahuarita, AZ, United States, Columbus, OH, United States, Cincinnati, OH, United States, Pulp Fiction, Shrek Forever After, Kathy Griffin: She'll Cut a Bitch, Muppets from Space, Dirty Love, Shakes the Clown, Four Rooms, The Cable Guy, A Diva's Christmas Carol, The Unborn, Who's the Caboose?, Trojan War, Love Wrecked, Courting Courtney, Enemies of Laughter, Her Minor Thing, Beethoven's 5th, Dill Scallion, Lion of Oz, Medusa: Dare to Be Truthful, Dinotopia: Quest for the Ruby Sunstone, A Turtle's Tale: Sammy's Adventures, The Intern, I Am Comic, On Edge, Can't Stop Dancing, Back from Hell: A Tribute to Sam Kinison |
| TV Shows | Sahuarita, AZ, United States, Columbus, OH, United States, Cincinnati, OH, United States, Kathy, Kathy Griffin: My Life on the D-List, Premium Blend, Kathy's So-Called Reality, Suddenly Susan, Dilbert, Fashion Police, New Year's Eve Live, Saturday Night Special, Bravo A-List Awards |

Interesting Facts
| # | Fact |
| --- | --- |
| 1 | Was a member of The Groundlings. |
| 2 | Was in a brief relationship with director Quentin Tarantino in 1995. She appears as herself in his film Pulp Fiction (1994). |
| 3 | Studied drama at the Lee Strasberg Theatre and Film Institute in Los Angeles. |
| 4 | On January 26, 2014, her album, Calm Down Gurrl, won the Grammy Award for Best Comedy Album at the 56th Grammy Awards. She is only the third woman to have won the award, the others being Lily Tomlin and Whoopi Goldberg. |
| 5 | In 2011, she also became the first comedian to have four televised specials in a year. |
| 6 | Holds the record for the highest number of specials recorded by a comedian for any network: sixteen, for the Bravo network. She also recorded a special for HBO in 1998. |
| 7 | Acting protégée of Joan Rivers. |
| 8 | Release of her book, "Official Book Club Selection: A Memoir According to Kathy Griffin". Dedicated the book to her father, John Griffin. [September 2009] |
| 9 | Received a Golden Palm Star on the Palm Springs Walk of Fame on March 7, 2009. |
| 10 | Ex-sister-in-law of Rebecca Moline. |
| 11 | Ranked #21 on the TV Guide Network special, Funniest Women on TV (2011). |
| 12 | Won a 'Do Something' Award for a comedian who makes an impact in the world of social change. Her achievements include: having a pap smear poolside at a hotel in Westwood as part of her "Smear Campaign" to raise awareness for cervical cancer; and for speaking out against the Don't Ask Don't Tell policy. |
| 13 | She has a strict no-apology policy with her comedy and routinely refuses to offer apologies when requested by her employers. Her only exception was to (barely) apologize to US Representative James Clyburn after referring to him as a "queen" in an interview with Roll Call. As documented on her reality series, Griffin phoned Clyburn's office with an apology but said to only relay it if her comment "came up". |
| 14 | Recounted her guest appearance on the Seinfeld (1989) episode, Seinfeld: The Doll (1996), during a stand-up performance on HBO Comedy Half-Hour: Kathy Griffin (1996), where she ridiculed star Jerry Seinfeld for being rude to her. Seinfeld was so amused by this, that he wrote her a humorous letter congratulating her for it (reprinted in her memoir, "Official Book Club Selection"), added the clip as well as a clip of her being interviewed about the incident by Conan O'Brien to a video shown to audiences at Seinfeld (1989) tapings and had Griffin return for a second episode, Seinfeld: The Cartoon (1998), for a storyline inspired by the incident in which Griffin's character becomes a comedian who makes a career out of bashing Jerry. The two have remained friendly in the years since. |
| 15 | Friends with Catherine Bell and CNN's Anderson Cooper. |
| 16 | Younger sister of Kenny Griffin, John Griffin, Joyce Griffin and Gary Griffin. |
| 17 | Auditioned for the role of Phoebe Buffay on Friends (1994), which went to Lisa Kudrow. |
| 18 | As of 2009, a member of the Television Academy of Arts and Sciences. |
| 19 | Considered as a possible replacement co-host on The View (1997). |
| 20 | Attended Triton Junior College in River Grove, Illinois for one semester. |
| 21 | She does not drink alcoholic beverages. |
| 22 | Drives a light blue 2004 Mercedes CLK320. |
| 23 | Is close friends with actor Jonathan Bennett. |
| 24 | Her parents are John Griffin and Maggie Griffin. |
| 25 | May 2005 - Having a second surgery for an epithelial ingrowth in her right eye, a rare condition that threatens her eyesight. |
| 26 | Notorious for making fun of other celebrities. |
| 27 | Suddenly Susan (1996) co-star Brooke Shields was Kathy's Maid of Honor at her wedding, which was held atop Hollywood's 360-Degrees Restaurant. |
| 28 | 23 September 2000 - Became engaged to computer technician Matt Moline in Punta Mita, Mexico. They were married February 18, 2001. |
| 29 | Has appeared in rapper Eminem's music video "The Real Slim Shady". |

Trademarks
| # | Trademark |
| --- | --- |
| 1 | Her suddenly immodest attitude |
| 2 | Red hair |
| 3 | Green eyes |
| 4 | Fast-talking rants on a variety of subjects |
| 5 | Puts her experiences with celebrities in her stand up performances |

Quotes
| # | Quote |
| --- | --- |
| 1 | I was raised right - I talk about people behind their backs. |
| 2 | "Honestly, you know, after David's death, we weren't nearly as invested in the show." (On how she and her Suddenly Susan (1996) colleagues were affected by the suicide of their co-star David Strickland). |

Pictures
Won Awards
Won awards
Year
Award
Ceremony
Nomination
Movie
Award shared with
2014
Grammy
Grammy Awards
Best Comedy Album
For the album "Calm Down Gurrl."
2012
Wilde Wit of the Year
Gay and Lesbian Entertainment Critics Association (GALECA)
2009
Vanguard Award
GLAAD Media Awards
2009
Gracie
Gracie Allen Awards
Outstanding Female Lead - Comedy Series
Kathy Griffin: My Life on the D-List (2005)
2008
Primetime Emmy
Primetime Emmy Awards
Outstanding Reality Program
Kathy Griffin: My Life on the D-List (2005)
Marcia Mulé (executive producer)

Bryan Scott (executive producer)

Lisa Tucker (executive producer)

Cori Abraham (executive producer)

Frances Berwick (executive producer)

Amy Introcaso (executive producer)

Chris Carlson (supervising producer)

Amy Kohn (supervising producer)
2007
Primetime Emmy
Primetime Emmy Awards
Outstanding Reality Program
Kathy Griffin: My Life on the D-List (2005)
Marcia Mulé (executive producer)

Bryan Scott (executive producer)

Lisa Tucker (executive producer)

Lenid Rolov (supervising producer)

Beth Wichterich (supervising producer)

Kelly Luegenbiehl (supervising producer)

Cori Abraham (executive producer)

Frances Berwick (executive producer)

Amy Introcaso (executive producer)
Nominated Awards

Filmography
Actress
| Title | Year | Status | Character |
| --- | --- | --- | --- |
| Lopez | 2016 | TV Series | Kathy Griffin |
| American Dad! | 2012 | TV Series | Kelly |
| Whitney | 2012 | TV Series | Lindsay |
| Drop Dead Diva | 2011 | TV Series | Jenna Kaswell-Bailey |
| Glee | 2011 | TV Series | Tammy Jean Albertson |
| The Defenders | 2011 | TV Series | Sally Scott |
| Hall Pass | 2011 | | Kathy Griffin |
| Sammy's avonturen: De geheime doorgang | 2010 | | Vera (voice) |
| Shrek Forever After | 2010 | | Dancing Witch / Wagon Witch #1 (voice) |
| Law & Order: Special Victims Unit | 2010 | TV Series | Babs Duffy |
| Privileged | 2009 | TV Series | Olivia |
| Two Peas in Your Pod | 2007 | TV Series | Kathy Griffin |
| Ugly Betty | 2007 | TV Series | Fashion TV Anchor |
| Bachelor Party Vegas | 2006 | Video | She-Elvis (uncredited) |
| Love Wrecked | 2005 | | Belinda |
| Days of Our Lives | 2005 | TV Series | Limo Driver |
| Her Minor Thing | 2005 | | Maggie |
| Dinotopia: Quest for the Ruby Sunstone | 2005 | | Rhoga (voice) |
| Cheap Seats: Without Ron Parker | 2005 | TV Series | Rae Prado |
| Dirty Love | 2005 | | Madame Belly |
| Half & Half | 2004 | TV Series | Dr. Morgan |
| Stripperella | 2004 | TV Series | The Bridesmaid |
| Beethoven's 5th | 2003 | Video | Evie Kling |
| Crank Yankers | 2003 | TV Series | Maria |
| Spider-Man | 2003 | TV Series | Roxanne Gaines |
| What's New, Scooby-Doo? | 2003 | TV Series | Luis Agent Autumn Summerfield |
| The Drew Carey Show | 2002 | TV Series | Kathy |
| Run Ronnie Run | 2002 | | Kathy Griffin |
| Strong Medicine | 2001 | TV Series | Matchmaker |
| The Simpsons | 2001 | TV Series | Francine |
| On Edge | 2001 | | Karen Katz |
| Suddenly Susan | 1996-2000 | TV Series | Vicki Groener |
| Eminem: E | 2000 | Video | Nurse (segment "The Real Slim Shady") |
| A Diva's Christmas Carol | 2000 | TV Movie | Ghost of Christmas Past |
| Enemies of Laughter | 2000 | | Cindy |
| Curb Your Enthusiasm | 2000 | TV Series | Kathy Griffin |
| Lion of Oz | 2000 | | Caroline (voice) |
| Dilbert | 1999-2000 | TV Series | Alice |
| The X-Files | 2000 | TV Series | Betty Templeton / Lulu Pfeiffer |
| Intern | 2000 | | Cornelia Crisp |
| Muppets from Space | 1999 | | Female Armed Guard |
| Who's the Caboose? | 1999 | | Katty |
| Jackie's Back! | 1999 | TV Movie | Kathy Griffin |
| Dill Scallion | 1999 | | Tina |
| Can't Stop Dancing | 1999 | | Modeling Agent |
| Seinfeld | 1996-1998 | TV Series | Sally Weaver |
| The Wonderful World of Disney | 1997 | TV Series | Mary |
| Courting Courtney | 1997 | | Ona Miller |
| The Big Fall | 1997 | Video | Sally |
| Trojan War | 1997 | | Cashier |
| Ned and Stacey | 1995-1996 | TV Series | Jeannie / Jeanne |
| Dr. Katz, Professional Therapist | 1996 | TV Series | Kathy |
| The Cable Guy | 1996 | | Cable Boy's Mother |
| Saturday Night Special | 1996 | TV Series | Various |
| Caroline in the City | 1996 | TV Series | DMV Clerk |
| Partners | 1996 | TV Series | Michelle |
| Ellen | 1996 | TV Series | Peggy |
| Big News | 1995 | TV Movie | |
| Mad About You | 1995 | TV Series | Brenda |
| The Barefoot Executive | 1995 | TV Movie | Mary |
| Dweebs | 1995 | TV Series | Sheila |
| Four Rooms | 1995 | | Betty |
| ER | 1995 | TV Series | Dolores Minky |
| Dream On | 1993 | TV Series | Dawn |
| Civil Wars | 1993 | TV Series | Yvonne |
| Medusa: Dare to Be Truthful | 1992 | TV Movie | Taffy |
| Shakes the Clown | 1991 | | Lucy |
| The Unborn | 1991 | | Connie Chicago |
| The Fresh Prince of Bel-Air | 1990 | TV Series | Susan Klein |
| On the Television | 1989 | TV Series | Various |
| On the Fritz | 1988 | TV Movie | Wife |
| Streets of Fire | 1984 | | Concertgoer (uncredited) |
| Fade to Black | 1980 | | Grauman's Chinese Theater Extra (uncredited) |
| Battle Beyond the Stars | 1980 | | Alien Extra (uncredited) |
Writer
| Title | Year | Status | Character |
| --- | --- | --- | --- |
| Kathy Griffin: Record Breaker | 2013 | TV Special documentary | |
| Kathy Griffin: Calm Down Gurrl | 2013 | TV Special documentary | |
| Kathy Griffin: Tired Hooker | 2011 | TV Special documentary | |
| Kathy Griffin: Pants Off | 2011 | TV Movie | |
| Kathy Griffin: Gurrl Down | 2011 | TV Special documentary | |
| Kathy Griffin: 50 & Not Pregnant | 2011 | TV Movie | |
| Kathy Griffin: Whores on Crutches | 2010 | TV Special documentary | |
| Kathy Griffin: Balls of Steel | 2009 | TV Special documentary written by | |
| Kathy Griffin: She'll Cut a Bitch | 2009 | TV Special documentary written by | |
| Kathy Griffin: Straight to Hell | 2007 | TV Special documentary written by | |
| Kathy Griffin: Everybody Can Suck It | 2007 | TV Special documentary written by | |
| Kathy Griffin: Strong Black Woman | 2006 | TV Special documentary | |
| Kathy Griffin Is... Not Nicole Kidman | 2005 | TV Special documentary written by | |
| Kathy Griffin: Allegedly | 2004 | Video | |
| Kathy Griffin: The D-List | 2004 | TV Special documentary | |
| Kathy Griffin: Hot Cup of Talk | 1998 | TV Special documentary | |
| Premium Blend | 1997-1998 | TV Series writer - 9 episodes | |
| Un-Cabaret | 1997 | TV Movie | |
| Dr. Katz, Professional Therapist | 1996 | TV Series additional material - 1 episode | |
| Saturday Night Special | | TV Series 4 episodes, 1996 writer - 2 episodes, 1996 | |
Producer
| Title | Year | Status | Character |
| --- | --- | --- | --- |
| Kathy Griffin: Record Breaker | 2013 | TV Special documentary executive producer | |
| Kathy Griffin: Calm Down Gurrl | 2013 | TV Special documentary executive producer | |
| Kathy Griffin: Kennedie Center On-Hers | 2013 | TV Special executive producer | |
| Kathy Griffin: Seaman 1st Class | 2012 | TV Special documentary executive producer | |
| Kathy Griffin: Tired Hooker | 2011 | TV Special documentary executive producer | |
| Kathy Griffin: Pants Off | 2011 | TV Movie executive producer | |
| Kathy Griffin: Gurrl Down | 2011 | TV Special documentary executive producer | |
| Kathy Griffin: 50 & Not Pregnant | 2011 | TV Movie executive producer | |
| Shep & Tiffany Watch TV: The Best of 2010 | 2010 | TV Movie executive producer | |
| Kathy Griffin: Whores on Crutches | 2010 | TV Special documentary executive producer | |
| Kathy Griffin: Kathy Griffin Does the Bible Belt | 2010 | TV Special documentary executive producer | |
| Kathy Griffin: Balls of Steel | 2009 | TV Special documentary executive producer | |
| Kathy Griffin: My Life on the D-List | 2005-2009 | TV Series executive producer - 5 episodes | |
| A-List Awards | 2009 | TV Special consulting producer | |
| Kathy Griffin: She'll Cut a Bitch | 2009 | TV Special documentary executive producer | |
| Kathy Griffin: Straight to Hell | 2007 | TV Special documentary executive producer | |
| Kathy Griffin: Everybody Can Suck It | 2007 | TV Special documentary executive producer | |
| Kathy Griffin: Allegedly | 2004 | Video executive producer | |
Music Department
| Title | Year | Status | Character |
| --- | --- | --- | --- |
| Kathy | 2012 | TV Series performer - 12 episodes | |
Miscellaneous
| Title | Year | Status | Character |
| --- | --- | --- | --- |
| Heroes of Comedy: Women on Top | 2003 | TV Mini-Series documentary archive courtesy of | |
Thanks
| Title | Year | Status | Character |
| --- | --- | --- | --- |
| RuPaul's Drag Race: Untucked! | 2010 | TV Series special thanks - 1 episode | |
| Joan Rivers: A Piece of Work | 2010 | Documentary special thanks | |
| MADtv | 2005 | TV Series special thanks - 1 episode | |
Self
| Title | Year | Status | Character |
| --- | --- | --- | --- |
| The Jay Leno Show | 2009-2010 | TV Series | Herself - Best Comedy Album Nominee / Herself |
| The 52nd Annual Grammy Awards | 2010 | TV Special | Herself |
| I Am Comic | 2010 | Documentary | Herself |
| Joan Rivers: A Piece of Work | 2010 | Documentary | Herself |
| Who Wants to Be a Millionaire | 2009-2010 | TV Series | Herself - Celebrity Question Presenter |
| 2009 Creative Arts Emmy Awards | 2009 | TV Special | Herself - Host |
| Kathy Griffin: Balls of Steel | 2009 | TV Special documentary | Herself |
| The Tonight Show with Conan O'Brien | 2009 | TV Series | Herself |
| The Bonnie Hunt Show | 2008-2009 | TV Series | Herself |
| The 2009 Primetime Creative Arts Emmy Awards | 2009 | TV Special | Herself - Host |
| VH1 Divas Live 2009 | 2009 | TV Movie | Herself |
| HGTV Design Star | 2009 | TV Series | Herself |
| Let's Dance | 2009/I | TV Series | Herself - Host |
| Comedy Central Roast of Joan Rivers | 2009 | TV Special | Herself - Roastmaster |
| Hollywood Lives | 2009 | TV Series documentary | Herself / Herself - Comedian |
| Last Call with Carson Daly | 2004-2009 | TV Series | Herself |
| Howard Stern on Demand | 2007-2009 | TV Series | Herself |
| The Tyra Banks Show | 2006-2009 | TV Series | Herself |
| Free Radio | 2009 | TV Series | Herself |
| A-List Awards | 2009 | TV Special | Herself - Host |
| Kathy Griffin: She'll Cut a Bitch | 2009 | TV Special documentary | Herself |
| MADtv | 2003-2009 | TV Series | Herself - Special Guest / Herself |
| Dancing with the Stars | 2007-2009 | TV Series | Herself / Herself - Audience Member |
| Just for Laughs | 2009 | TV Series | Herself |
| Late Night with Conan O'Brien | 1996-2009 | TV Series | Herself |
| Plymouth Rock Studios: The Series | 2009 | TV Series | Herself |
| CNN New Year's Eve Live! with Anderson Cooper and Kathy Griffin | 2009 | TV Special | Herself - Host |
| Rosie Live | 2008 | TV Special documentary | Herself / Various |
| The 60th Primetime Emmy Awards | 2008 | TV Special | Herself - Presenter: Outstanding Reality-Competition Program |
| America United: In Support of Our Troops | 2008 | TV Movie | Herself |
| Pam: Girl on the Loose | 2008 | TV Series | Herself |
| Dog Whisperer with Cesar Millan | 2008 | TV Series | Herself - Comedian & Actress |
| 19th Annual GLAAD Media Awards | 2008 | TV Special | Herself |
| The 6th Annual TV Land Awards | 2008 | TV Special | Herself |
| A-List Awards | 2008 | TV Special | Herself - Host |
| Showbiz Tonight | 2008 | TV Series | Herself |
| World's Funniest Commercials: Hilarious Liaisons | 2008 | TV Movie | Herself - Host |
| Mornings with Kerri-Anne | 2008 | TV Series | Herself - Guest |
| History of the Joke | 2008 | TV Movie documentary | Herself |
| Kathy Griffin: Straight to Hell | 2007 | TV Special documentary | Herself |
| Heckler | 2007 | Documentary | Herself |
| E! True Hollywood Story | 2007 | TV Series documentary | Herself |
| Mr. Warmth: The Don Rickles Project | 2007 | Documentary | Herself |
| In Search of Puppy Love | 2007 | Documentary | Herself |
| 2007 Primetime Creative Arts Emmy Awards | 2007 | TV Special | Herself - Winner: Outstanding Reality Program |
| Ellen: The Ellen DeGeneres Show | 2007 | TV Series | Herself |
| Kathy Griffin: Everybody Can Suck It | 2007 | TV Special documentary | Herself |
| The Captain | 2007 | Short | Herself |
| Loose Women | 2007 | TV Series | Herself |
| Judy Toll: The Funniest Woman You've Never Heard of | 2007 | Documentary | Herself |
| The 2006 Billboard Music Awards | 2006 | TV Special | Herself |
| VH1 Big in 06 Awards | 2006 | TV Special | Herself |
| SoapTalk | 2006 | TV Series | Herself |
| Gameshow Marathon | 2006 | TV Series | Herself - Panelist |
| Last Comic Standing | 2006 | TV Series | Herself - Celebrity Talent Scout / Herself - Celebrity Judge |
| Work Out | 2006 | TV Series | Herself (2007) |
| Kathy Griffin: Strong Black Woman | 2006 | TV Special documentary | Herself |
| Best of the Worst Red Carpet Moments | 2006 | TV Movie | Herself - Host |
| Kathy Griffin Is... Not Nicole Kidman | 2005 | TV Special documentary | Herself |
| VH1 Big in 05 | 2005 | TV Movie | Herself |
| 74th Annual Hollywood Christmas Parade | 2005 | TV Special | Herself |
| The WIN Awards | 2005 | TV Special | Herself |
| All-Star Reality Reunion | 2005 | TV Movie | Herself - Host |
| Weekends at the DL | 2005 | TV Series | Herself |
| World Poker Tour | 2005 | TV Series | Herself |
| I Love the '90s: Part Deux | 2005 | TV Series documentary | Herself |
| The Surreal Life | 2005 | TV Series | Herself |
| American Idol: The Phenomenon | 2004 | TV Special | |
| New Year's Eve with Carson Daly | 2004 | TV Special | Herself - Times Square Correspondent |
| Sex and the City: A Farewell | 2004 | TV Movie documentary | Herself |
| Last Laugh '04 | 2004 | TV Movie | Herself |
| The 2004 Billboard Music Awards | 2004 | TV Special | Herself |
| The 100 Most Memorable TV Moments | 2004 | TV Mini-Series documentary | Herself |
| VH1 Big in 04 | 2004 | TV Movie documentary | Herself |
| Halloween Costume Carnaval | 2004 | Video short | Herself |
| Kathy Griffin: Allegedly | 2004 | Video | Herself |
| McEnroe | 2004 | TV Series | Herself |
| 50 Most Outrageous TV Moments | 2004 | TV Movie | Herself |
| The 32nd Annual American Music Awards | 2004 | TV Special | Herself |
| Celebrity Poker Showdown | 2004 | TV Series | Herself |
| Reality TV Secrets Revealed 2 | 2004 | TV Movie documentary | Herself |
| Hollywood Squares | 2001-2004 | TV Series | Herself |
| The Sharon Osbourne Show | 2003-2004 | TV Series | Herself / Herself - Guest Host |
| Kathy Griffin: The D-List | 2004 | TV Special documentary | Herself |
| The Wayne Brady Show | 2003-2004 | TV Series | Herself |
| Average Joe | 2004 | TV Series | Herself - Host |
| 101 Reasons the 90's Ruled | 2004 | TV Movie documentary | Herself |
| Super Secret Movie Rules | 2004 | TV Series documentary | Herself - Comedienne |
| The Yesterday Show with John Kerwin | 2004 | TV Series | Herself |
| The Commies | 2003 | TV Special documentary | Herself |
| It's a Dog's Life: Behind the Scenes and Cast Interviews 'Beethoven's 5th' | 2003 | Video short | Herself |
| The 2003 Billboard Music Awards | 2003 | TV Special | Herself |
| VH1 Big in 03 | 2003 | TV Special | Herself |
| The Oprah Winfrey Show | 2003 | TV Series | Herself |
| I Love the '80s Strikes Back | 2003 | TV Series documentary | Herself |
| Howard Stern | 1999-2003 | TV Series | Herself |
| Whose Line Is It Anyway? | 2002-2003 | TV Series | Herself |
| The New Tom Green Show | 2003 | TV Series | Herself |
| Heroes of Comedy: Women on Top | 2003 | TV Mini-Series documentary | Herself |
| The Mole | 2003 | TV Series | Herself / Herself - Winner |
| The 30th Annual American Music Awards | 2003 | TV Special | Herself |
| E! News Live | 2003 | TV Series | Herself |
| I Love the '80s | 2002 | TV Series documentary | Herself |
| The Anna Nicole Show | 2002 | TV Series | Herself |
| The Conspiracy Zone | 2002 | TV Series | Herself (Comedian) |
| The Chris Isaak Show | 2002 | TV Series | Herself |
| America's Funniest Home Videos | 2002 | TV Series | Herself - Judge |
| Kathy's So-Called Reality | 2001 | TV Series | Herself |
| The Man Show | 2001 | TV Series | Herself |
| The Laugh Factor | 2001 | TV Movie documentary | Herself - Host |
| VH1/Vogue Fashion Awards | 2001 | TV Special | Herself |
| Lifegame | 2001 | TV Series | Herself |
| The Andy Dick Show | 2001 | TV Series | Herself |
| Headliners & Legends: Brooke Shields | 2001 | TV Movie documentary | Herself |
| Weakest Link | 2001 | TV Series | Herself |
| The Howard Stern Radio Show | 1999-2001 | TV Series | Herself |
| The Rosie O'Donnell Show | 1997-2001 | TV Series | Herself / Herself - Guest Host |
| The Late Late Show with Craig Kilborn | 2000-2001 | TV Series | Herself |
| The 2000 Billboard Music Awards | 2000 | TV Special | Herself - Co-Host |
| The Teen Choice Awards 2000 | 2000 | TV Special | Herself |
| Making the Video | 2000 | TV Series documentary | Nurse |
| MTV 2 Large: New Years Eve 2000 | 1999 | TV Special | Herself |
| The 1999 Billboard Music Awards | 1999 | TV Special | Herself |
| The Daily Show | 1997-1999 | TV Series | Herself |
| Rock & Roll Jeopardy! | 1999 | TV Series | Herself |
| The Martin Short Show | 1999 | TV Series | Herself |
| Happy Hour | 1999 | TV Series | Herself |
| The 1998 Billboard Music Awards | 1998 | TV Special | Herself - Host |
| Dr. Katz, Professional Therapist | 1998 | TV Series | Herself |
| The Roseanne Show | 1998 | TV Series | Herself |
| MTV Video Music Awards 1998 | 1998 | TV Special | Herself |
| Kathy Griffin: Hot Cup of Talk | 1998 | TV Special documentary | Herself |
| Premium Blend | 1997-1998 | TV Series | Herself - Host |
| Comic Relief VIII | 1998 | TV Special | Herself |
| Dennis Miller Live | 1998 | TV Series | Herself |
| Instant Comedy with the Groundlings | 1998 | TV Series | Herself |
| The 19th Annual CableACE Awards | 1997 | TV Special | Herself |
| The 1997 Billboard Music Awards | 1997 | TV Special | Herself |
| Un-Cabaret | 1997 | TV Movie | Herself - Comedian |
| Oddville, MTV | 1997 | TV Series | Herself |
| Viva Variety | 1997 | TV Series | Herself |
| Second City Headlines & News | 1997 | TV Series | Herself |
| HBO Comedy Half-Hour | 1996 | TV Series | Herself |
| It's Pat | 1994 | | Herself |
| Pulp Fiction | 1994 | | Herself |
| The More You Know | 1989 | TV Series | Herself |
| Jimmy Kimmel Live! | 2003-2016 | TV Series | Herself / Herself - Guest Co-Host / Herself - Guest / ... |
| The Insider | 2014-2016 | TV Series | Herself |
| Ageism in Hollywood | 2016 | TV Movie | Herself |
| Real Time with Bill Maher | 2009-2016 | TV Series | Herself - Guest |
| Joan Rivers: Exit Laughing | 2016 | Documentary | Herself |
| The Talk | 2010-2016 | TV Series | Herself / Herself - Guest / Herself - Guest Co-Hostess |
| The 9th Annual CNN Heroes: An All-Star Tribute | 2015 | TV Movie | Herself - Presenter |
| All-Star Dog Rescue Celebration | 2015 | TV Movie | Herself |
| The 18th Annual Mark Twain Prize for American Humor: Celebrating Eddie Murphy | 2015 | TV Movie | Herself - Presenter |
| Good Morning America | 2015 | TV Series | Herself - Guest |
| Late Night with Seth Meyers | 2015 | TV Series | Herself |
| Tavis Smiley | 2015 | TV Series | Herself |
| Larry King Now | 2013-2015 | TV Series | Herself - Guest |
| The Late Late Show with James Corden | 2015 | TV Series | Herself |
| Being Canadian | 2015 | Documentary | Herself |
| RuPaul's Drag Race | 2010-2015 | TV Series | Herself - Guest Judge / Herself - Judge |
| The View | 2005-2015 | TV Series | Herself / Herself - Guest / Herself - Guest Co-Hostess / ... |
| Fashion Police | 2013-2015 | TV Series | Herself - Host / Herself |
| Entertainment Tonight | 2007-2015 | TV Series | Herself |
| Late Show with David Letterman | 1997-2015 | TV Series | Herself - Guest / Herself |
| Today | 2009-2015 | TV Series | Herself |
| The 8th Annual CNN Heroes: An All-Star Tribute | 2014 | TV Movie documentary | Herself - Presenter |
| Anderson Cooper 360° | 2012-2014 | TV Series | Herself |
| Fox's Cause for Paws: An All-Star Dog Spectacular | 2014 | TV Movie | Herself |
| Extra | 2011-2014 | TV Series | Herself |
| Stars and Stripes: A CNN Heroes Special | 2014 | TV Movie documentary | Herself |
| Last Week Tonight with John Oliver | 2014 | TV Series | Herself |
| Chabad Telethon | 2014 | TV Movie | Herself |
| Svddxnly | 2014 | Documentary | |
| Chelsea Lately | 2009-2014 | TV Series | Herself - Guest / Herself |
| The Late Late Show with Craig Ferguson | 2007-2014 | TV Series | Herself / Herself - Guest |
| Howard Stern Birthday Bash | 2014 | Video | Herself |
| Live from the Red Carpet: The 2014 Daytime Emmy Awards | 2014 | TV Special | Herself |
| The 41st Annual Daytime Emmy Awards | 2014 | TV Special | Herself - Host |
| The Queen Latifah Show | 2013-2014 | TV Series | Herself |
| In Bed with Joan | 2014 | TV Series | Herself - Guest / Himself - Guest |
| The Arsenio Hall Show | 2014 | TV Series | Herself - Guest |
| E! Live from the Red Carpet | 2005-2014 | TV Series | Herself |
| Kirstie | 2014 | TV Series | Herself |
| Fashion News Live | 2013 | TV Series | Herself |
| The Trend on Zappos | 2013 | TV Series | Herself |
| Kathy Griffin: Record Breaker | 2013 | TV Special documentary | Herself |
| The Improv: 50 Years Behind the Brick Wall | 2013 | TV Movie documentary | Herself |
| Rachael Ray | 2009-2013 | TV Series | Herself / Herself - Mystery Taster |
| The Wendy Williams Show | 2009-2013 | TV Series | Herself / Herself - Guest |
| The Tonight Show with Jay Leno | 2003-2013 | TV Series | Herself / Herself - Guest |
| Hello Ross! | 2013 | TV Series | Herself - Guest |
| 2013 Young Hollywood Awards | 2013 | TV Special | Herself |
| The 40th Annual Daytime Emmy Awards | 2013 | TV Special | Herself - Presenter |
| Kathy Griffin: Calm Down Gurrl | 2013 | TV Special documentary | Herself |
| The Broadway.com Show | 2013 | TV Series | Herself |
| Anderson Live | 2011-2013 | TV Series | Herself / Herself - Co-Host / Herself - Co-Hostess |
| Moms Mabley: I Got Somethin' to Tell You | 2013 | Documentary | Herself |
| Kathy | 2012-2013 | TV Series | Herself - Host |
| Watch What Happens: Live | 2010-2013 | TV Series | Herself - Guest / Herself |
| Why We Laugh: Funny Women | 2013 | TV Movie documentary | Herself |
| Brand X with Russell Brand | 2013 | TV Series | Herself |
| Rachael vs. Guy: Celebrity Cook-Off | 2013 | TV Series | Herself - Guest Judge / Comedian |
| E! News | 2013 | TV Series | Herself - Guest Host |
| Conan | 2011-2013 | TV Series | Herself / Herself - Guest |
| Cyndi Lauper: Still So Unusual | 2013 | TV Series | Herself |
| Love You, Mean It with Whitney Cummings | 2013 | TV Series | Herself |
| Kathy Griffin: Kennedie Center On-Hers | 2013 | TV Special | Herself |
| Dave's Old Porn | 2012 | TV Series | Herself |
| I Heart Radio Music Festival | 2012 | TV Movie documentary | Herself |
| 2012 Primetime Creative Arts Emmys | 2012 | TV Movie | Herself - Presenter: Outstanding Guest Actress in a Drama Series |
| Good Afternoon America | 2012 | TV Series | Herself / Herself - Guest |
| Kathy Griffin: Seaman 1st Class | 2012 | TV Special documentary | Herself |
| Big Morning Buzz Live | 2012 | TV Series | Herself |
| Inside Comedy | 2012 | TV Series | Herself |
| The 54th Annual Grammy Awards | 2012 | TV Special | Herself |
| New Year's Eve Live with Anderson Cooper and Kathy Griffin | 2011 | TV Movie | Herself - Host |
| Paula's Best Dishes | 2011 | TV Series | Herself |
| Kathy Griffin: Tired Hooker | 2011 | TV Special documentary | Herself |
| Late Night with Jimmy Fallon | 2010-2011 | TV Series | Herself - Guest / Herself |
| Extra Virgin | 2011 | TV Series | Herself |
| America's Next Top Model | 2011 | TV Series | Herself - Guest Judge & Comedienne |
| Iron Chef America: The Series | 2011 | TV Series | Herself - Judge / Comedian |
| Kathy Griffin: Pants Off | 2011 | TV Movie | Herself |
| Rove LA | 2011 | TV Series | Herself |
| Piers Morgan Tonight | 2011 | TV Series | Herself |
| The Green Room with Paul Provenza | 2011 | TV Series | Herself |
| Lopez Tonight | 2009-2011 | TV Series | Herself - Guest |
| Same Name | 2011 | TV Series | Herself |
| The World According to Paris | 2011 | TV Series | Herself |
| The Marriage Ref | 2010-2011 | TV Series | Herself - Panelist / Herself |
| Kathy Griffin: Gurrl Down | 2011 | TV Special documentary | Herself |
| The Graham Norton Show | 2011 | TV Series | Herself - Guest |
| Talk Stoop with Cat Greenleaf | 2011 | TV Series | Herself |
| Kathy Griffin: 50 & Not Pregnant | 2011 | TV Movie | Herself |
| The 53rd Annual Grammy Awards | 2011 | TV Special | Herself |
| The 37th Annual People's Choice Awards | 2011 | TV Special | Herself |
| NBC's New Year's Eve with Carson Daly | 2010 | TV Movie | Herself |
| The Apprentice | 2009-2010 | TV Series | Herself / Herself - TV Personality |
| A Bundle of Sticks | 2010 | Documentary | Herself |
| VH1 Divas Salute the Troops | 2010 | TV Movie | Herself - Host |
| Kathy Griffin: Whores on Crutches | 2010 | TV Special documentary | Herself |
| Larry King Live | 2007-2010 | TV Series | Herself / Herself - Host |
| Kathy Griffin: My Life on the D-List | 2005-2010 | TV Series | Herself |
| The 2010 VH1 Do Something Awards | 2010 | TV Special | Herself |
| Kathy Griffin: Kathy Griffin Does the Bible Belt | 2010 | TV Special documentary | Herself |
| Back from Hell: A Tribute to Sam Kinison | 2010 | TV Special | Herself |
Archive Footage
| Title | Year | Status | Character |
| --- | --- | --- | --- |
| The Insider | 2015-2016 | TV Series | Herself / Herself - Author, Celebrity Run-Ins |
| Extra | 2014-2015 | TV Series | Herself |
| Entertainment Tonight | 2014-2015 | TV Series | Herself |
| RuPaul's Drag Race | 2015 | TV Series | Herself - Guest Judge |
| Inside Edition | 2014-2015 | TV Series documentary | Herself |
| Chelsea Lately | 2013-2014 | TV Series | Herself |
| The Graham Norton Show | 2011 | TV Series | Herself |
| Give It Up for Greg Giraldo | 2011 | TV Movie documentary | Herself |
| Katt Williams: 9 Lives | 2010 | Video documentary | Herself |
| Hollywood Squares | 2010 | Video Game | Herself |
| The 62nd Primetime Emmy Awards | 2010 | TV Special | Herself |
| RuPaul's Drag Race: Untucked! | 2010 | TV Series | Herself - Guest Judge |
| The O'Reilly Factor | 2008 | TV Series | Herself |
| E! True Hollywood Story | 2005 | TV Series documentary | Herself |
| 50 Most Wicked Women of Primetime | 2004 | TV Movie documentary | Herself - Celebrity Mole: Hawaii |
| Comic Remix | 2002 | TV Series | Herself |