Joey McIntyre Net Worth is

$15 Million
Joey McIntyre Biography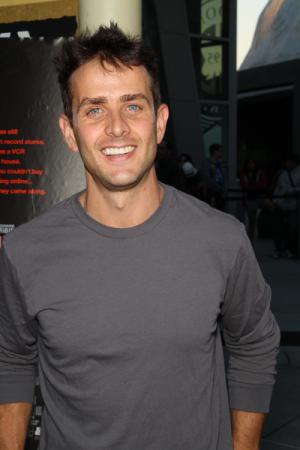 Joseph Mulrey McIntyre was born on 31 December 1972, in Needham, Massachusetts USA of part-Irish descent. Joey is an actor, singer and songwriter, best known to be the youngest member of the New Kids on the Block boy band. After the success of the group, he found success as a solo artist and actor. All of his efforts have helped put his net worth to where it is now.
How rich is Joey McIntyre? As of mid-2016, sources estimate a net worth that is at $15 million, mostly accumulated from success both in acting and music. As a solo artist he's sold over a million records internationally, and New Kids on the Block was considered one of the highest earning groups in the entertainment industry during their prime. These activities have helped in ensuring McIntyre's wealth.
Joey McIntyre Net Worth $15 Million
Joey was born into a big family already familiar with acting due to his mother being a theatre actress. Right around the time of his 13th birthday, he was invited to join New Kids on the Block to replace Mark Wahlberg, who'd left to pursue his own career. The band became highly successful during the 80s and 90s despite him having difficulty in adjusting to the group. This was a very good start to his net worth.
After the group split in the 90s, he sought out a career as a solo artist as well as an actor. His first film was "The Fantasticks" in 1995, but meantime he was unable to find a solo recording contract, so he decided to use his own earnings to create his album "Stay the Same" and sold it on his website. This became widely popular, and it led to Sony Music USA signing him and re-releasing the album. The re-released album was given a global release and sold over a million copies. Joey also started to work in music in the film industry, creating the song "Remember Me" for bandmate Donnie Wahlberg's movie "Southie". He then released a second album "Meet Joe Mac" but it did not become successful.
After this, he went on to host the show "Say What? Karaoke" and also became part of the production "Tick, Tick… BOOM!" He made more appearances in television shows and films such as "Boston Public", "Tony in' Tina's Wedding", and "Dancing with the Stars". His Broadway career also continued to flourish with "Wicked" and "Happy Days". He toured around the country as part of the "Dancing with the Stars – The Tour" and then later on when New Kids on the Block reunited. Along with this, McIntyre continued to release his own music, plus his recent appearances include "The Heat" and "The McCarthys."
For his personal life, Joey married Barrett Williams in 2003, and they have three children, one of whom has a hearing loss condition. According to McIntyre he was part of the Boston Marathon in 2013, and finished the race just minutes before the bombing took place. He also mentioned that he has to be part of the writing process of the music he sings so that he feels emotionally connected to the songs.
Known for movies
Quick Facts
| | |
| --- | --- |
| Full Name | Joey McIntyre |
| Net Worth | $15 Million |
| Date Of Birth | December 31, 1972 |
| Place Of Birth | Needham, Massachusetts, USA |
| Height | 5' 10" (1.78 m) |
| Profession | Singer, Songwriter, Composer, Actor |
| Education | Catholic Memorial School, Catholic Memorial School |
| Nationality | American |
| Spouse | Barrett Williams (m. 2003) |
| Children | Griffin McIntyre, Rhys McIntyre, and Kira McIntyre |
| Parents | Thomas McIntyre, Katherine McIntyre, Stay the Same, Step by Step, Please Don't Go Girl, Katherine McIntyre, Thomas McIntyre, Stay the Same, Step by Step, Please Don't Go Girl |
| Siblings | Judith McIntyre, Jean McIntyre, Carol McIntyre, Tommy McIntyre, Patricia McIntyre, Susan McIntyre, Alice McIntyre, Kate McIntyre, Stay the Same, Step by Step, Please Don't Go Girl, Judith McIntyre, Jean McIntyre, Carol McIntyre, Tommy McIntyre, Patricia McIntyre, Susan McIntyre, Alice McIntyre, Kate McIntyre, Stay the Same, Step by Step, Please Don't Go Girl |
| Facebook | https://www.facebook.com/Joey-Mulrey-McIntyre-69801768513 |
| Twitter | https://twitter.com/joeymcintyre |
| Instagram | https://www.instagram.com/joeymcintyre |
| Wikipedia | https://en.wikipedia.org/wiki/?curid=2048467 |
| Music Groups | New Kids on the Block boy |
| Movies | "The Fantasticks" (1995), "Southie" (2000), |
| TV Shows | "Say What? Karaoke", "Tick, Tick… BOOM!", "The Heat" ,"The McCarthys" |

Interesting Facts
| # | Fact |
| --- | --- |
| 1 | Competed in the Boston Marathon twice. |
| 2 | Currently filming the movie version of Tony 'n' Tina's Wedding (2004). [July 2003] |
| 3 | Set to replace Norbert Leo Butz in Broadway's "Wicked", making it his Broadway debut. [July 2004] |
| 4 | Filming Boston Public (2000) through September! [July 2002] |
| 5 | Reunited with New Kids on the Block for a reunion album and tour. [May 2008] |
| 6 | Release 4th solo album "8:09" (Artemis records) [April 2004] |
| 7 | In the Stephen Schwartz musical, "Wicked", until January 2005. [July 2004] |
| 8 | Currently performing the role of "Jonathan" in the Korean production of Jonathan Larson's musical, "tick...tick...BOOM!", a role he played off-Broadway to critical acclaim. [February 2002] |
| 9 | He is the youngest of 9 children: he has 7 sisters, Judith McIntyre, Alice McIntyre, Susan McIntyre, Patricia McIntyre, Carol McIntyre, Jean McIntyre, Kate McIntyre, and 1 brother Tommy McIntyre. |
| 10 | Has three children. First son, Griffin Thomas was born on 20 November 2007, second son, Rhys Edward on 13 December 2009, and daughter, Kira Katherine on 31 May 2011. |
| 11 | His second son Rhys was born with some hearing loss and uses hearing aids to hear. |
| 12 | Joe and his wife Barrett are happily expecting baby #3 in the Summer of 2011. |
| 13 | His favorite actress was Geraldine Page, who "inspired" him to become an actor. |
| 14 | He was an alter boy and his brother, Tommy, used to sing in the McIntyre's church's choir. |
| 15 | Was named after St. Joseph and a family friend whose surname is Mulrey. |
| 16 | Was born at Deaconess-Glover Hospital in Needham, Massachusetts. |
| 17 | Graduated from Catholic Memorial High School in West Roxbury, Massachusetts in 1990. |
| 18 | Attended Catholic schools as a child up, until joining New Kids on the Block in 1984. |
| 19 | His first ambition was to be a bricklayer like his father. |
| 20 | On TV, Joey had a recurring role as a teacher in the successful show, Boston Public (2000). He has been a regular fixture on MTV over the years, featured on Cribs (2000), Fanatic (1998) and a record breaking 14 appearances on Total Request Live (1999). |
| 21 | After leaving NKOTB Joey decided to go back to acting, and won roles in various movies. He has recently starred on Broadway, first in Tick Tick Boom and more recently as the lead Fiyero in Wicked. |
| 22 | Never far from music, he has released six solo albums: Stay The Same, Meet Joe Mac, One Too Many, 8:09, Talk To Me, and most recently Here We Go Again. |
| 23 | Was ranked #44 on VH1's list of the The Greatest: 100 Greatest Kid Stars (2005). |
| 24 | Sisters: Judith, Alice, Susan, Carol, Patricia, Jean and Kate. Has one brother named Tommy. |
| 25 | He met his real-estate agent wife whilst house-hunting in Los Angeles during his run on Boston Public (2000). 809 is a number of special significance. It is the date he met his wife, which a year later became their wedding date, and is also inscribed in Joey's wedding band. It is also the address of the rental she found for him and the place he wrote his 4th solo album titled also with this number. |
| 26 | Joey & Barrett were married in an interfaith ceremony at New York City's Plaza Hotel, presided over by a rabbi and a Roman Catholic priest. |
| 27 | Is an Irish Catholic. Said his mother had wanted him to become a priest. |
| 28 | His friend opened a pizzaria in Boston and named it Jose McIntyre's. |
| 29 | Grew up in Needham and Jamaica Plain, Massachusetts. |
| 30 | Is fond of working in New York City. |
| 31 | Was the youngest and last person to join New Kids on the Block. After Jamie Kelley dropped out, manager Maurice Starr wanted the young Michael Jackson type to fill out the group. He found Joey. |
| 32 | Brother of actress Judith McIntyre. |
| 33 | Owned a house that was part of the Underground Railroad. He sold it a while after he moved to Los Angeles. The house was featured on MTV's Cribs (2000). |

Quotes
| # | Quote |
| --- | --- |
| 1 | [on what it was like being reunited in Wicked with Joel Grey who played his father-in-law in The Fantasticks (1995)] "It was my first movie, and he was such a pro. I remember being able to go to his trailer and chat about anything. I was 21 and blabbing about what I wanted to do, and he said everything would work out." |
| 2 | [on fame and Hollywood] "If you're going to have a chip on your shoulder in this business, you'll have no shoulders left at the end of the day." |
| 3 | [on gay marriage] "I support gay marriage. I don't see the big deal. It's really ridiculous. My mother raised me Catholic, and I think the teachings of Jesus Christ have made me a caring person. And in my family, we have blacks, Jews and gays. I was brought up to follow what Jesus said: Love your neighbor, period." |
| 4 | [on his audition for the New Kids] "I tried out on Father's Day, June 15, 1985. Mary picked me up and I was really scared. I went to Maurice's (Starr) house and tried out. I sang one of the songs the group was about to record and afterwards we got in the car and Mary asked me, 'Well, do you want to be in the group? You've got the part.' And I said, 'Yeah, here I am,' and we recorded the songs." |
| 5 | [on dating; 1991] "I like steady relationships. By that I mean relationships that are balanced, where the guy isn't superior to the girl, where two people share everything. My perfect date would include a romantic dinner just for two, then maybe afterward we'd go to the theatre and see a play or a movie. Then after that, we would go for a walk. Yeah! Especially if it were on an autumn night in Boston. I love fall! I'd be all cozy in my jacket, and my date and I would walk hand-in-hand by the Charles River in Boston." |

Pictures
Nominated Awards

Filmography
Actor
| Title | Year | Status | Character |
| --- | --- | --- | --- |
| MA Men 2 | 2010 | Video short | Roger Sterling |
| Christmas at Cadillac Jack's | 2007 | TV Movie | Gary |
| On Broadway | 2007 | | Jack O'Toole |
| Less Than Perfect | 2006 | TV Series | Ethan |
| Love, Inc. | 2005 | TV Series | Greg |
| Tony 'n' Tina's Wedding | 2004 | | Tony |
| Boston Public | 2002-2003 | TV Series | Colin Flynn |
| Johnny Bravo | 2003 | TV Series | Pet Shop Boy |
| Pillowfighter | 2002 | Short | Jeremy Yoctin |
| All That | 1999 | TV Series | Various |
| The Fantasticks | 1995 | | Matt Hucklebee (as Joe McIntyre) |
| The Joey Mac Project | 2017 | TV Series post-production | Joey |
| Fuller House | 2016 | TV Series | Joey McIntyre |
| Angie Tribeca | 2016 | TV Series | Skylar |
| Angel from Hell | 2016 | TV Series | Joey McIntyre |
| The McCarthys | 2014-2015 | TV Series | Gerard McCarthy |
| The Hotwives of Orlando | 2014 | TV Series | Heath |
| The Heat | 2013/I | | Peter Mullins |
| Newsreaders | 2013 | TV Series | Mike Sullivan |
| 90210 | 2013 | TV Series | Rand Gunn |
| Motive | 2013 | TV Series | Glen Martin |
| New Year's Eve | 2011 | | Groom Rory - Ahern Party |
| Psych | 2011 | TV Series | Officer Reynolds |
| CSI: NY | 2011 | TV Series | Ray James |
| MA Men | 2010 | Video short | Roger Sterling |
Soundtrack
| Title | Year | Status | Character |
| --- | --- | --- | --- |
| Motive | 2013 | TV Series performer - 1 episode | |
| Johnny Bravo | 2003 | TV Series performer - 1 episode | |
| The Fantasticks | 1995 | performer: "Metaphor", "Soon It's Gonna Rain", "Happy Ending", "This Plum Is Too Ripe", "I Can See It", "They Were You" | |
Writer
| Title | Year | Status | Character |
| --- | --- | --- | --- |
| The Joey Mac Project | 2017 | TV Series post-production | |
Composer
| Title | Year | Status | Character |
| --- | --- | --- | --- |
| Joey McIntyre: Stay the Same | 1999 | Short | |
Producer
| Title | Year | Status | Character |
| --- | --- | --- | --- |
| The Joey Mac Project | 2017 | TV Series executive producer post-production | |
Self
| Title | Year | Status | Character |
| --- | --- | --- | --- |
| FX Movie Download | 2016 | TV Series | Himself - Guest |
| Rock This Boat: New Kids on the Block | 2015-2016 | TV Series | Himself |
| Celebrity Food Fight | 2015 | TV Series | Himself |
| Entertainment Tonight | 2006-2015 | TV Series | Himself / Himself - The McCarthys |
| The Meredith Vieira Show | 2014-2015 | TV Series | Himself - Panelist / Himself / Himself - The McCarthys |
| CBS This Morning | 2014 | TV Series | Himself |
| Live with Kelly and Michael | 2005-2014 | TV Series | Himself - The McCarthys / Himself |
| The Talk | 2014 | TV Series | Himself - The McCarthys |
| Wahlburgers | 2014 | TV Series | Himself |
| The Insider | 2014 | TV Series | Himself |
| Quiet on the Set | 2014 | TV Series | Himself |
| The Getaway | 2013 | TV Series | Himself |
| Watch What Happens: Live | 2013 | TV Series | Himself - Guest |
| NKOTBSB Live from Fenway Park | 2013 | Video | Himself |
| Dancing with the Stars | 2005-2013 | TV Series | Himself |
| Good Day L.A. | 2013 | TV Series | Himself |
| Big Morning Buzz Live | 2013 | TV Series | Himself |
| Loose Women | 2012 | TV Series | Himself |
| 2011 New Now Next Awards | 2011 | TV Special | Himself |
| New Kids on the Block: Coming Home | 2010 | | Himself |
| The Hour | 2010 | TV Series | Himself |
| 1 1/2 Ritter - Auf der Suche nach der hinreißenden Herzelinde | 2008 | | Himself |
| 2008 American Music Awards | 2008 | TV Special documentary | Himself - New Kids on the Block (uncredited) |
| Rachael Ray | 2008 | TV Series | Himself |
| New Kids on the Block: A Behind the Music Special Event | 2008 | TV Movie documentary | Himself |
| Happy Hour | 2008 | TV Series | Himself |
| The View | 2008 | TV Series | Himself |
| Zibb | 2008 | TV Series documentary | Himself |
| Good Morning America | 1990-2007 | TV Series | Himself |
| The Morning Show with Mike & Juliet | 2007 | TV Series | Himself |
| Great Things About the Holidays | 2005 | TV Movie | Himself |
| The Big Idea with Donny Deutsch | 2005 | TV Series | Himself |
| Larry King Live | 2005 | TV Series | Himself |
| Celebrity Charades | 2005 | TV Series | Himself |
| The Greatest | 2005 | TV Series documentary | Himself |
| Retrosexual: The 80's | 2004 | TV Mini-Series documentary | Himself (as Joe McIntyre) |
| VH1: All Access | 2004 | TV Series | Himself |
| I Love the '90s | 2004 | TV Series documentary | Himself |
| MTV Hits | 2004 | TV Series | Himself |
| Hollywood Squares | 1999-2003 | TV Series | Himself |
| The Michael Essany Show | 2003 | TV Series | Himself |
| The Wayne Brady Show | 2002 | TV Series | Himself |
| Bubblegum Babylon | 2002 | TV Movie documentary | Himself |
| Pyramid | 2002 | TV Series | Himself |
| Extra | 2002 | TV Series | Himself |
| The Late Late Show with Craig Kilborn | 2001-2002 | TV Series | Himself |
| 75th Annual Macy's Thanksgiving Day Parade | 2001 | TV Movie | Himself |
| Total Request Live | 2000-2001 | TV Series | Himself |
| MTV 20: Live & Almost Legal | 2001 | TV Movie documentary | Himself |
| Who Wants to Be a Millionaire | 2001 | TV Series | Himself |
| E! True Hollywood Story | 2001 | TV Series documentary | Himself |
| MTV20: Everybody Talk About Pop Music! | 2001 | TV Movie documentary | Himself |
| A.J. After Hours | 2001 | TV Series | Himself |
| The Test | 2001 | TV Series | Himself - Panelist |
| The 43rd Annual Grammy Awards | 2001 | TV Special | Himself |
| MTV Rock N' Jock Basebrawl | 2001 | TV Special | Himself |
| Celebrity Undercover | 2001 | TV Series | Himself |
| Cribs | 2000 | TV Series | Himself |
| Say What? Karaoke | 1999 | TV Series | Himself / Host (2001) |
| Improv Ice II | 1999 | TV Movie | Himself |
| Britney Spears and Joey McIntyre in Concert | 1999 | TV Special documentary | Himself |
| DreamMaker | 1999 | TV Series | Himself |
| All That | 1999 | TV Series | Himself - Musical Guest / Themselves - Musical Guest |
| The Rosie O'Donnell Show | 1999 | TV Series | Himself |
| Joey McIntyre: Stay the Same | 1999 | Short | Himself |
| Top of the Pops | 1991 | TV Series | Himself |
| New Kids on the Block at Disney-MGM Studios: Wildest Dreams | 1991 | TV Special | Himself |
| The 18th Annual American Music Awards | 1991 | TV Special | Himself |
| New Kids on the Block: No More Games Live! | 1990 | TV Movie | Himself |
| 1990 Billboard Music Awards | 1990 | TV Special | Himself |
| New Kids on the Block | 1990 | TV Series | Himself (as Joe McIntyre) |
| New Kids on the Block: Step by Step | 1990 | Video | Himself |
| The 17th Annual American Music Awards | 1990 | TV Special | Himself - Performer |
| Macy's Thanksgiving Day Parade | 1989 | TV Movie | Himself |
| Hangin' Tough Live | 1989 | Video | Himself |
Archive Footage
| Title | Year | Status | Character |
| --- | --- | --- | --- |
| Entertainment Tonight | 2015 | TV Series | Himself |
| Video on Trial | 2006 | TV Series | Himself - New Kids on the Block |