Jason Hawes Net Worth is

$1.5 Million
Jason Hawes Biography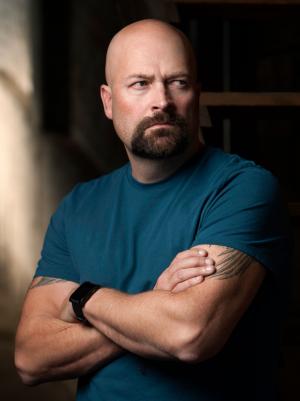 Born Jason Conrad Hawes on the 27th December 1971, in Canandaigua, New York State USA, he is a paranormal investigator, author, and television host, perhaps best known to the world as the founder of The Atlantic Paranormal Society, and is a part of the TV series "Ghost Hunters", which airs on SyFy. His career has been active since 1990.
Have you ever wondered how rich Jason Hawes is, as of mid-2016? According to authoritative sources, it has been estimated that Hawes` net worth is as high as $1.5 million, acquired through his successful, varied career.
Jason Hawes Net Worth $1.5 Million
Although born in Canandaigua, Jason moved to Warwick, Rode Island when he was eight years old, and went to Warwick High School. His interest for the paranormal began as early as 1990, when he formed the Rhode Island Paranormal Society, which operated as a support group for people who had experienced paranormal events. A year later he founded The Atlantic Paranormal Society, alongside Grant Wilson, and since then, their popularity has gone only upwards, and so has Jason`s net worth. As early as 2004, their association featured in the reality TV series entitled "Ghost Hunters" (2004-2016), and since then has been on air on the SyFy channel, becoming one of the channel`s most popular and longest-running shows, which only increased further Jason`s net worth.
Apart from the "Ghost Hunters", Jason has appeared in such shows as "Ghost Hunters International" (2008-2009), "Ghost Hunters Academy" (2009-2010), and "Destination Truth" (2009-2010), which also increased his net worth.
Jason`s net worth has also increased from his owning of an Inn, alongside his friend and colleague Grant Wilson, and also selling the same Inn.
Furthermore, Jason works as a plumber for the Roto-Rooter company, which has also increased his net worth.
He has proven quite successful as an author too; he has co-written six books, "Ghost Hunting: True Stories of Unexplained Phenomena from The Atlantic Paranormal Society" (2007), with Wilson and Michael Jan Friedman, "Seeking Spirits: The Lost Cases of The Atlantic Paranormal Society" (2009), again with the same helpers, "Ghost Hunt: Chilling Tales of the Unknown" (2010), with Dokey Cameron and Wilson, and its sequel "Ghost Hunt 2: MORE Chilling Tales of the Unknown" (2011). In 2011 two more books came out, "Ghost Trackers: A Novel", and "Ghost Files: The Collected Cases from Ghost Hunting and Seeking Spirits", and in 2012 came out his latest book "Ghost Town: A Novel", all of which increased his net worth by a large margin.
Regarding his personal life, as his work is quite exciting, his personal life is no different. He was a victim of a false e-mail threat; a person named Barry Clinton Eckstrom started sending threatening emails to people of The Atlantic Paranormal Society, especially women, writing how he was going to rape them and murder them, under Jason`s name. Furthermore, Jason also began to receive those emails, and had to alert the FBI. Luckily all ended well for Jason, as Eckstrom was arrested and sentenced to two years in prison.
When it comes to his love life, Jason has been married to Kristen Cornell since 1998, with whom he has five children.
Jason is also known for his philanthropic activities; he often uses public ghost-hunting events to raise money for child hospital centers, including Shriners Hospitals for Children, and the organization Cure Kids Cancer.
Known for movies
Quick Facts

Interesting Facts
| # | Fact |
| --- | --- |
| 1 | His family moved to Avon New York when he was still small. His father was offered a position at a company in Rhode Island when Jason was about 7 years old, and the family relocated to Warwick, Rhode Island in 1979. |
| 2 | Jason and Kristen have five children: three daughters, Samantha,, Haily and Satori, and two sons, Austin and Logan. |
| 3 | Graduated from Toll Gate High School in Warwick, Rhode Island, class of 1990. |

Quotes
| # | Quote |
| --- | --- |
| 1 | When in doubt get the hell out! |
| 2 | What makes us so unique is when TAPS comes in we try to dis-prove a haunting. |

Pictures

Filmography
Producer
| Title | Year | Status | Character |
| --- | --- | --- | --- |
| Ghost Hunters | | TV Series documentary producer - 92 episodes, 2004 - 2016 series producer - 10 episodes, 2004 | |
Actor
| Title | Year | Status | Character |
| --- | --- | --- | --- |
| Ghost Team | 2016 | | Troy |
| The Glowing | 2007 | Short | |
Thanks
| Title | Year | Status | Character |
| --- | --- | --- | --- |
| Ghosts That Hunt Back | 2011 | Video very special thanks | |
Self
| Title | Year | Status | Character |
| --- | --- | --- | --- |
| Ghost Hunters | 2004-2016 | TV Series documentary | Himself / Himself - Lead Investigator / Himself - Investigator / ... |
| Steve Harvey | 2014 | TV Series | Himself |
| The Wil Wheaton Project | 2014 | TV Series | Himself - Ghost Hunters |
| Syfy 20th Anniversary Special | 2012 | TV Special documentary | Himself |
| 20/20 | 2012 | TV Series documentary | Himself - Star, Ghost Hunters (segment "Pet Premonitions") |
| Who Wants to Be a Millionaire | 2010-2011 | TV Series | Himself - Celebrity Contestant |
| Late Night with Jimmy Fallon | 2010 | TV Series | Himself |
| Destination Truth | 2009-2010 | TV Series | Himself - Paranormal Expert |
| Ghost Hunters Academy | 2009-2010 | TV Series | Himself |
| Larry King Live | 2007-2009 | TV Series | Himself |
| Ghost Hunters International | 2008-2009 | TV Series documentary | Himself |
| Infanity | 2008 | TV Series documentary | |
| The View | 2008 | TV Series | Himself |
| Late Night with Conan O'Brien | 2005 | TV Series | Himself |
Archive Footage
| Title | Year | Status | Character |
| --- | --- | --- | --- |
| Ghost Hunters Academy | 2009 | TV Series | Himself |
| Destination Truth | 2008 | TV Series | Himself / Himself - Paranormal Expert |