Jack Nicholson Net Worth is

$400 Million
Jack Nicholson Biography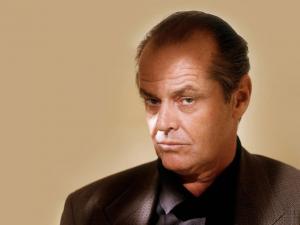 John Joseph Nicholson, commonly known as Jack Nicholson, is a famous American actor, film producer and director, as well as a screenwriter. Throughout his lengthy acting career, Jack Nicholson has portrayed some of the most famous and beloved characters, including Mac Murphy in a critically acclaimed adaptation of Ken Kesey's "One Flew Over the Cuckoo's Nest" by Miloš Forman, the villain under the name of "The Joker" in Tim Burton's superhero film "Batman", as well as Jack Torrance in Stanley Kubrick's adaptation of the novel written by Stephen King "The Shining". Some of the other films Jack Nicholson is known for are "Five Easy Pieces", "The Passenger" with Steven Berkoff, "The Witches of Eastwick" with Cher, and, more recently, "The Departed" with Leonardo DiCaprio and Matt Damon, and "How Do You Know" with Reese Witherspoon, Paul Rudd and Owen Wilson.
Jack Nicholson Net Worth $400 Million
An inductee into the New Jersey Hall of Fame, Jack Nicholson won six Golden Globe Awards, three BAFTA Awards, as well as three Academy Awards in addition to numerous other nominations.
A famous actor, how rich is Jack Nicholson? According to sources, Jack Nicholson's net worth is estimated to be $400 million. Due to his impressive salary, Jack Nicholson was able to acquire some valuable assets, such as his art collection that includes works of Picasso and Warhol the worth of which is $100 million, a Newberry house in Aspen which is worth $15 million, as well as Malibu property, which costs $4.25 million.
Jack Nicholson was born in 1937, in Neptune City, New Jersey, where he attended Manasquan High School. A troubled child during his high school years, Jack Nicholson spent most of his after-school time in detention. When he graduated from high school, Nicholson moved out to Hollywood where he initially worked as a gofer – that is an employee who specialises in the delivery of special items to celebrities. At the time, Nicholson worked for Joseph Barbera and William Hanna. Nicholson's debut in the film industry came in 1958, when he portrayed the character of Jimmy Walker in a cult film produced by Roger Corman called "The Cry Baby Killer". In the early stages of his career, Nicholson worked on many of Corman's projects, including "The St. Valentine's Massacre" and "The Raven".
However, Nicholson was largely disappointed with his acting prospects and therefore ventured into writing and directing. His first success as a screenwriter was a cult film, directed by Corman, called "The Trip". Nicholson wrote several other screenplays before he returned in front of the cameras. Jack Nicholson's major breakthrough came with Forman's "One Flew Over the Cuckoo's Nest", for which he won the Oscar for Best Actor, and was followed by appearances in "The Shining" and "Batman", while his more recent appearance includes Rob Reiner's film "The Bucket List", where he co-starred with Morgan Freeman.
Not only is Jack Nicholson an award-winning actor, he is also an inductee to both the New Jersey Hall of Fame, as well as the California Hall of Fame. Nicholson is also a recipient of the Doctor of Fine Arts degree.
Known for movies
Quick Facts
| | |
| --- | --- |
| Full Name | Jack Nicholson |
| Net Worth | $400 Million |
| Date Of Birth | April 22, 1937 |
| Place Of Birth | Neptune City, New Jersey, United States |
| Height | 5 ft 9 in (1.77 m) |
| Profession | Actor, Film Producer, Screenwriter, Film director |
| Education | Manasquan High School, Actors Studio |
| Nationality | United States of America |
| Spouse | Sandra Knight (m. 1962–1968) |
| Children | Lorraine Nicholson, Ray Nicholson, Honey Hollman, Jennifer Nicholson, Caleb James Goddard |
| Parents | June Frances Nicholson, Donald Furcillo |
| Nicknames | John Joseph Nicholson , Mulholland Man , Nick , The Great Seducer , John Joseph "Jack" Nicholson , Jack , Nicholson, Jack |
| Wikipedia | https://en.wikipedia.org/wiki/Jack_Nicholson |
| Awards | Academy Award for Best Actor, Academy Award for Best Actor in a Supporting Role, Golden Globe Award for Best Actor – Motion Picture – Drama, AFI Life Achievement Award, Kennedy Center Honors, MTV Movie Award for Best Villain, Golden Globe Award for Best Supporting Actor – Motion Picture, Golden Globe Award for Best Actor – Motion Picture Musical or Comedy, Golden Globe Cecil B. DeMille Award, BAFTA Award for Best Actor in a Leading Role, Cannes Best Actor Award, Screen Actors Guild Award for Outstanding Performance by a Male Actor in a Leading Role, BAFTA Award for Best Actor in a Supporting Role, New York Film Critics Circle Award for Best Actor, David di Donatello for Best Foreign Actor, Saturn Award for Best Actor, National Board of Review Award for Best Actor, Critics' Choice Movie Award for Best Actor, National Society of Film Critics Award for Best Actor, New York Film Critics Circle Award for Best Supporting Actor, National Society of Film Critics Award for Best Supporting Actor, Laurel Awards, Los Angeles Film Critics Association Award for Best Actor, London Film Critics' Circle Award for Actor of the Year, National Board of Review Award for Best Cast, Satellite Award for Best Ensemble – Motion Picture, Chicago Film Critics Association Award for Best Supporting Actor, Boston Society of Film Critics Award for Best Actor, Los Angeles Film Critics Association Award for Best Supporting Actor, Boston Society of Film Critics Award for Best Supporting Actor, Stanislavsky Award, Satellite Award for Best Actor – Motion Picture Musical or Comedy, Grammy Award for Best Album for Children, Online Film Critics Society Award for Best Actor, Kansas City Film Critics Circle Award for Best Supporting Actor, Kansas City Film Critics Circle Award for Best Actor, Dallas–Fort Worth Film Critics Association Award for Best Actor, Funniest Actor In A Motion Picture (Leading Role), Washington D.C. Area Film Critics Association Award for Best Actor, San Diego Film Critics Society Award for Best Actor, Southeastern Film Critics Association Award for Best Actor, Florida Film Critics Circle Award for Best Supporting Actor, Central Ohio Film Critics Association Award for Best Ensemble, Fotogramas de Plata Award for Best Foreign Movie Performer, Phoenix Film Critics Society Award for Best Supporting Actor |
| Nominations | Screen Actors Guild Award for Outstanding Performance by a Cast in a Motion Picture, Critics' Choice Movie Award for Best Acting Ensemble, Satellite Award for Best Actor – Motion Picture Drama, MTV Movie Award for Best Male Performance, Satellite Award for Best Supporting Actor – Motion Picture, Critics' Choice Movie Award for Best Supporting Actor, People's Choice Award for Favorite Movie Actor, People's Choice Award for Favorite On-Screen Chemistry, Teen Choice Award for Choice Hissy Fit: Film, People's Choice Award for Favorite All-Time Entertainer |
| Movies | The Shining, One Flew Over the Cuckoo's Nest, As Good as It Gets, The Departed, Batman, Chinatown, A Few Good Men, Easy Rider, Five Easy Pieces, Terms of Endearment, About Schmidt, Something's Gotta Give, The Last Detail, The Bucket List, The Witches of Eastwick, Anger Management, Prizzi's Honor, Mars Attacks!, The Pledge, Ironweed, Reds, Carnal Knowledge, Hoffa, The Two Jakes, The Postman Always Rings Twice, The Crossing Guard, Goin' South, How Do You Know, Blood and Wine, The Missouri Breaks, The Passenger, Ride in the Whirlwind, The King of Marvin Gardens, The Cry Baby Killer, The Terror, The Shooting, Broadcast News, The Last Tycoon, On a Clear Day You Can See Forever, Wolf, Tommy, Drive, He Said, The Raven, Man Trouble, Psych-Out, The Little Shop of Horrors, Hells Angels on Wheels, The Trip, The Evening Star, The Wild Ride, The Fortune |
| TV Shows | The Shining, Dr. Kildare |

Interesting Facts
| # | Fact |
| --- | --- |
| 1 | Has worked with 10 directors who have won a Best Director Oscar: Vincente Minnelli, Mike Nichols, Roman Polanski, Milos Forman, Elia Kazan, Warren Beatty, Tony Richardson, James L. Brooks, John Huston and Martin Scorsese. |
| 2 | Is an accomplished and well payed "ghost writer" for the movie industry. |
| 3 | Was considered for the role of villain Howard Payne in Speed (1994), which went to his good friend Dennis Hopper instead. |
| 4 | Was offered the role of Gunnery Sgt. Emil Foley in An Officer and a Gentleman (1982), which he turned down. The role was instead given to Louis Gossett Jr. who went on to receive an Oscar for his performance. |
| 5 | He was considered for the role of Eddie Valiant in Who Framed Roger Rabbit (1988), which went to Bob Hoskins. |
| 6 | He was considered for the role of Thomas Hagen in The Godfather (1972) before Robert Duvall was cast. |
| 7 | Is a Democrat. |
| 8 | Has twice been interviewed in Playboy magazine. His second interview is printed in the 50th anniversary issue. |
| 9 | In 1977, he attended the murder trial of Claudine Longet in Aspen, Colorado. The courthouse he sat in (the Pitkin County Courthouse) is the very same courtroom where infamous serial killer Ted Bundy was brought into to stand trial for murder several months later. |
| 10 | Prior to playing The Joker, he was considered for Lex Luthor in Superman (1978). That role ultimately went to Gene Hackman. |
| 11 | Had a meeting with Disney about voicing Hades in Hercules (1997). He turned them down due to the offer of salary they were offering him. |
| 12 | Was interested in playing The Father in A Christmas Story (1983) but the budget could not meet his high salary demands. |
| 13 | Two of his three Oscar-winning performances were directed by James L. Brooks. This makes him one of four actors to win two Oscars under the same person's direction. The other three are: Walter Brennan for Come and Get It (1936) and The Westerner (1940) (both directed by William Wyler), Dianne Wiest for Hannah and Her Sisters (1986) and Bullets Over Broadway (1994) (both directed by Woody Allen) and Christoph Waltz for Inglourious Basterds (2009) and Django Unchained (2012) (both directed by Quentin Tarantino). |
| 14 | In the movie The Last Detail (1973), Nicholson's character says "Marines are really assholes, you know that? It takes a certain kind of a sadistic temperament to be a Marine." Later in his career in the movie A Few Good Men (1992), he played Marine Colonel Nathan Jessup. |
| 15 | As of 2014, has appeared in ten films that were nominated for the Best Picture Oscar: Five Easy Pieces (1970), Chinatown (1974), One Flew Over the Cuckoo's Nest (1975), Reds (1981), Terms of Endearment (1983), Prizzi's Honor (1985), Broadcast News (1987), A Few Good Men (1992), As Good as It Gets (1997) and The Departed (2006). Of those, One Flew Over the Cuckoo's Nest (1975), Terms of Endearment (1983) and The Departed (2006) are winners in the category. |
| 16 | Is the only actor to ever play the Devil, the Joker, and a werewolf. |
| 17 | Has two grandsons; Sean (born 1996) and Duke Norfleet (born 1999), via daughter Jennifer Nicholson. |
| 18 | Became a father for the fifth time at age 54 when his [now ex] girlfriend Rebecca Broussard gave birth to their son Ray Nicholson on February 20, 1992. |
| 19 | Became a father for the fourth time at 52 when his [now ex] girlfriend Rebecca Broussard gave birth to their daughter Lorraine Nicholson on April 16, 1990. Nicholson was in a relationship with Anjelica Huston when Lorraine was conceived. |
| 20 | Became a father for the third time at age 44 when his [now ex] lover Winnie Hollman gave birth to their daughter Honey Hollman in 1981. Nicholson was in a relationship with Anjelica Huston when he conceived Hollman. |
| 21 | Became a father for the second time at age 33 when his [now ex] girlfriend Susan Anspach gave birth to their son Caleb James Goddard in 1970. Nicholson has never had contact with Goddard. |
| 22 | Became a father for the first time at age 26 when his [now ex] wife Sandra Knight gave birth to their daughter Jennifer Nicholson on September 13, 1963. |
| 23 | After his first screen test, Louis B. Mayer said to him: "I don't know what we can use you for but if we ever do need you, we'll need you real bad.". |
| 24 | As of 2013, he's one of the six actors to receive three acting Oscars, the others being: Walter Brennan, Ingrid Bergman, Katharine Hepburn (who has four), Meryl Streep and Daniel Day-Lewis. |
| 25 | Is one of only four actors to receive two Oscars for films that also won Best Picture (the others are Marlon Brando, Dustin Hoffman and Gene Hackman). |
| 26 | His art collection includes Matisse, Warhol, Tamara de Lempicka and Picasso; the collection is estimated to be worth over $100 million. [2011] |
| 27 | Has appeared on the cover of GQ magazine three times: March 1981, January 1990 and January 1996. |
| 28 | (May 30, 2010) Waved the green flag that officially started the Indianapolis 500 automobile race. |
| 29 | Lives in Beverly Hills, Malibu, Los Angeles, California, Aspen, Colorado and Kailua, Hawaii. |
| 30 | Does not have a cellphone. |
| 31 | He was inducted into the 2010 New Jersey Hall of Fame for his services and contributions to Arts and Entetainment. |
| 32 | Is the only actor to receive two Best Lead Actor Oscars for films that also won Best Lead Actress: One Flew Over the Cuckoo's Nest (1975) with Louise Fletcher and As Good as It Gets (1997) with Helen Hunt. |
| 33 | (August 29, 2009) Attended the Catholic funeral mass of Senator Ted Kennedy at the Our Lady of Perpetual Help Basilica in Boston. |
| 34 | As of 2009, he has an estimated fortune of nearly $240 million. |
| 35 | At about 5'9", he is the shortest actor to have played "the Joker" in a (non fan-made) live-action Batman production. Cesar Romero stood 6'3" and the most recent "Joker", Heath Ledger, was 6'1". |
| 36 | Actor with the most awards from the New York Film Critics: Easy Rider (1969), Chinatown (1974) and The Last Detail (1973), One Flew Over the Cuckoo's Nest (1975), Terms of Endearment (1983), Prizzi's Honor (1985) and The Witches of Eastwick (1987)/Ironweed (1987)/Broadcast News (1987). |
| 37 | While accepting the Lifetime Achievement Award at the 1999 Golden Globes, he noted that his first day of work as a film actor was May 5, 1955, which he took as a good omen as "5" was the jersey number of his boyhood idol, Joe DiMaggio. He attended DiMaggio's memorial service four months later. |
| 38 | He was nominated for the 2008 New Jersey Hall of Fame for his services to Arts and Entertainment. |
| 39 | With the release of Suicide Squad (2016), Nicholson and Jared Leto will be the only two actors still living to have played "The Joker" in a (non fan-made) live action Batman production (Cesar Romero died in 1994; Heath Ledger died in 2008). |
| 40 | His famous trademark sunglasses have prescription lenses, since he is very short-sighted. |
| 41 | The last two Oscar-winning films in which Nicholson appeared have both featured songs by Van Morrison ("Day Like This" in As Good as It Gets (1997) and a cover of Pink Floyd's "Comfortably Numb" in The Departed (2006)). |
| 42 | His Mulholland Drive home once shared a driveway with his The Missouri Breaks (1976) co-star Marlon Brando's home. |
| 43 | Publicly endorsed Senator Hillary Clinton as his choice for Democratic candidate in the 2008 presidential election, joking that she is "the best man for the job". |
| 44 | Is a lifelong devotee of Bob Dylan and Louis Armstrong. |
| 45 | Has owned a Mercedes-Benz 600 for 30 years which he considers the best touring car of all time. [2008] |
| 46 | Good friends with WWE Hall of Famer George 'The Animal' Steele. |
| 47 | In June 1954, he graduated from Manasquan High School in New Jersey and headed for California, where he went on to work in the MGM cartoon department and mail room. |
| 48 | Rolling Stone magazine nicknamed him "The Great Seducer". |
| 49 | Once described The Joker as a psychotic version of Bugs Bunny. |
| 50 | Good friends with Serbian NBA superstar Vlade Divac. |
| 51 | William Friedkin tried to get Nicholson star in Sorcerer (1977), but Nicholson didn't want travel anywhere in that time. |
| 52 | Shaved his head for The Bucket List (2007). |
| 53 | Was originally signed to play Daddy Warbucks in John Huston's musical comedy Annie (1982), but dropped out after the original producer departed the project. The role ultimately went to Albert Finney. |
| 54 | Once said in an interview that if he can get Jim Carrey, Tom Cruise, Robert Downey Jr. and Johnny Depp to be a part of it, he will start his own wrestling promotion. |
| 55 | Wants to one day induct Ric Flair into the WWE Hall of Fame. |
| 56 | Was the first choice to play Tank Sullivan in Space Cowboys (2000), which went to James Garner. |
| 57 | Has appeared in Batman (1989) opposite Pat Hingle. Hingle appeared in The Shining (1997), a remake of The Shining (1980), in which Nicholson appeared. |
| 58 | He is tied with Walter Brennan and Daniel Day-Lewis for the most Oscar wins by any male actor. |
| 59 | He was considered for Mickey Rourke's role in Angel Heart (1987). |
| 60 | He was considered for James Caan's role in Misery (1990). |
| 61 | He was considered for John Malkovich's role in In the Line of Fire (1993). |
| 62 | Turned down Gene Hackman's role in Hoosiers (1986). |
| 63 | Along with Clint Eastwood, Nicholson turned down George Clooney's role in Three Kings (1999). |
| 64 | He was considered for Dustin Hoffman's role in Sam Peckinpah's controversial film Straw Dogs (1971). |
| 65 | He was considered for Sir Anthony Hopkins's role in The Silence of the Lambs (1991). |
| 66 | He was considered for Harrison Ford's role in The Mosquito Coast (1986). |
| 67 | Most of Nicholson's performance in On a Clear Day You Can See Forever (1970) ended up on the cutting room floor, including a musical number sung by him. |
| 68 | He was considered for Jason Miller's role in The Exorcist (1973). |
| 69 | He was considered for Jon Voight's role in Coming Home (1978). |
| 70 | Between 1970 (when he was nominated for Best Supporting Actor for Easy Rider (1969)) and 2003 (when he copped a Best Actor no for About Schmidt (2002), the longest he has ever gone between Oscar nominations was six years, between One Flew Over the Cuckoo's Nest (1975) and Reds (1981). |
| 71 | As he is a huge fan of professional wrestling, his all time favorites are Harley Race, Ric Flair and John Cena. |
| 72 | His mother June Frances Nicholson passed away from cancer on July 31, 1963. |
| 73 | He had to stop promoting The Departed (2006) due to neck injury. |
| 74 | With his win for As Good as It Gets (1997) in 1998, he became the first actor in 20 years to win both a Best Actor Golden Globe - Comedy and an Oscar for the same role. |
| 75 | Was offered the role of Sy in One Hour Photo (2002) which he turned down. The role was given to Robin Williams instead. |
| 76 | (September 11, 2006) Checked himself into Cedars Sinai Hospital with a salivary gland infection. |
| 77 | Demolished his neighbor Marlon Brando's bungalow, which he bought for £3.4 million following the actor's death in 2004. |
| 78 | He was awarded a Star on the Hollywood Walk of Fame at 6925 Hollywood Boulevard in Hollywood, California on December 4, 1996. |
| 79 | Was considered for the role of Allie Fox in The Mosquito Coast (1986), which went to Harrison Ford instead. |
| 80 | Premiere magazine ranked him #16 on a list of The Greatest Movie Stars of All Time in their Stars in Our Constellation feature (2005). |
| 81 | His performance as The Joker in Batman (1989) is ranked #45 on the American Film Institute's 100 Heroes & Villains. |
| 82 | His performance as Jack Torrance in The Shining (1980) is ranked #25 on the American Film Institute's 100 Heroes & Villains. |
| 83 | Turned down the role of Willie in Bad Santa (2003), which went to Billy Bob Thornton. |
| 84 | He turned down the role of Richard Nixon in Nixon (1995), which went to Sir Anthony Hopkins. |
| 85 | One Flew Over the Cuckoo's Nest (1975) is ranked #17 on the American Film Institute's 100 Most Inspiring Movies of All Time. |
| 86 | Turned down the title role of the infamous Bob Guccione film Caligula (1979), which eventually went to Malcolm McDowell. |
| 87 | His performance as Randle Patrick McMurphy in One Flew Over the Cuckoo's Nest (1975) is ranked #14 on Premiere magazine's 100 Greatest Movie Characters of All Time. |
| 88 | His performance as Jake "J.J." Gittes in Chinatown (1974) is ranked #37 on Premiere magazine's 100 Greatest Movie Characters of All Time. |
| 89 | His performance as Jack Torrance in The Shining (1980) is ranked #82 on Premiere magazine's 100 Greatest Movie Characters of All Time. |
| 90 | Along with Marlon Brando, Nicholson eagerly sought the role of Dr. Martin Dysart in Sidney Lumet's film adaptation of Sir Peter Shaffer's play Equus (1977). The role went instead to Richard Burton, who received his seventh and final Oscar nomination for his performance. |
| 91 | Was in attendance at Chris Penn's funeral |
| 92 | The song "Santa Baby" in the film, Party Monster (1998) was recorded as a gift for the actor by the actress and recording artist, Cynthia Basinet, as were many other songs, including "Haunted Heart" and "Someone to Watch Over Me". She was later nominated for a shared Nobel in 2005. |
| 93 | His performance as Randle Patrick McMurphy in One Flew Over the Cuckoo's Nest (1975) is ranked #47 on Premiere magazine's 100 Greatest Performances of All Time (2006). |
| 94 | His performance as Billy "Bad Ass" Buddusky in The Last Detail (1973) is ranked #12 on Premiere magazine's 100 Greatest Performances of All Time (2006). |
| 95 | After presenting the Best Picture Oscar at The 78th Annual Academy Awards (2006) to Crash (2004), he told the press he was surprised as he thought Brokeback Mountain (2005) would win. Nicholson then told the press that he himself had voted for Brokeback Mountain (2005). |
| 96 | A 12 time acting nominee (eight times as Best Actor, four times as Best Supporting Actor), he ties Katharine Hepburn's 12 nominations (all in the Best Actress category) and only Meryl Streep with 14 (10 in the Best Actress category) has more acting nominations. (Bette Davis was nominated 10 times for an Academy Award, all of them Best Actress nods.). |
| 97 | With his seventh Best Actor nomination for As Good as It Gets (1997) , he surpassed Laurence Olivier as the most nominated actor ever with 11 total nominations (Nicholson had four Best Supporting Actor nominations in 1970, 1982, 1984 and 1991; Olivier had nine Best Actor (tied for the most in that category with Spencer Tracy) and one Best Supporting Actor nominations. Nicholson extended the lead with his eight Best Actor nod for About Schmidt (2002), which tied him with Paul Newman for second place in Best Actor nominations. (Newman also has one Supporting Actor nomination). |
| 98 | Claims his personal favorite performances are his works in One Flew Over the Cuckoo's Nest (1975), Batman (1989), Hoffa (1992) and As Good as It Gets (1997). |
| 99 | The character Shipwreck from the animated G.I. Joe series of the 1980s was partly based on him (and partly based on Popeye the Sailor Man). |
| 100 | Is one of only the few actors to receive a Best Supporting Actor Oscar after winning a Best Actor Oscar. |
| 101 | Attended his 50th high school reunion at Manasquan High School in Manasquan, New Jersey. Needless to say, his classmates were surprised and delighted that he attended. [2004] |
| 102 | Has been nominated for an acting Oscar in five different decades (1960s, 1970s, 1980s, 1990s and 2000s). |
| 103 | Has appeared in One Flew Over the Cuckoo's Nest (1975) and Tommy (1975). Both of those films were nominated for Best Actress Oscars. "Cuckoo" star Louise Fletcher won. |
| 104 | Turned down the lead role of Roy Neary in Close Encounters of the Third Kind (1977), even though he knew the movie would be a success as he felt that the special effects would overwhelm any actor in the movie. |
| 105 | Turned down the role of Johnny Hooker in The Sting (1973) to play Billy "Bad Ass" Buddusky in The Last Detail (1973), which was written by his close friend Robert Towne, as he did not want to appear in a purely commercial picture just then. Robert Redford eventually played the role. Both Nicholson and Redford were nominated for Best Actor of 1973 at the Academy Awards, losing to Jack Lemmon for Save the Tiger (1973). |
| 106 | His mother, June Frances (Nicholson), had English, Scottish, Irish, Welsh, and Pennsylvania Dutch (German) ancestry. Jack never knew his biological father, and was raised by his maternal grandparents. He was led to believe that June was his older sister and his grandparents were his parents. It was not until 1974, when a Time magazine reporter researched his life, that he learned the truth. An Italian immigrant named Donald Furcillo, who was married briefly to June, may have been Jack's biological father. It is also possible that Jack's biological father was Edgar A. Kirschfeld, a Latvian-born entertainer (known as "Eddie King"). Nicholson has chosen not to investigate further. |
| 107 | Batman creator Bob Kane personally recommended him for the role of the Joker in Batman (1989). |
| 108 | Presented the Best Picture Oscar eight times (1972, 1977, 1978, 1990, 1993, 2006, 2007 and 2013), more than any other actor or actress. Though he was a relative newcomer and lacked the status typically associated with Best Picture presenters, the then-two-time nominee took on the assignment in 1972 when many better-known celebrities balked at the job, worried that they would be tainted if Stanley Kubrick's A Clockwork Orange (1971) won the top gong and they were seen by the public as linked to the controversial picture. Nicholson, who early on declared publicly that he loved the Oscar (when the sentiment was not chic), happily obliged. In addition to presenting the Best Actress trophy in 1999, he also presented the Thalberg Award to Warren Beatty in 2000 and an honorary award to Michelangelo Antonioni in 1995. |
| 109 | Boyhood friends with Danny DeVito. Nicholson's relatives and DeVito's relatives managed a hair salon together. |
| 110 | Graduated from Manasquan High School in Manasquan, New Jersey, where he was voted "Class Clown" by the Class of 1954. |
| 111 | Has a second home in Aspen, Colorado. |
| 112 | Each one of the films for which he has won an Oscar has also won Best Actress in a Leading Role (Louise Fletcher, One Flew Over the Cuckoo's Nest (1975); Shirley MacLaine, Terms of Endearment (1983); Helen Hunt, As Good as It Gets (1997)). |
| 113 | Flew to Cuba and met with Fidel Castro in June 1998. While there, he also met with leaders of the Cuban film industry, enjoyed local restaurants, jazz clubs and visited a famous cigar factory. He left greatly impressed with the country and its Communist dictator, who he described as "a genius", though the luxuries he was treated to on the island are off-limits to most Cuban citizens. |
| 114 | Long refused to do any televised interviews except for press conferences. But in recent years, he has occasionally agreed to speak briefly when approached by reporters. He has not appeared on a talk show since 1971. |
| 115 | The Best Lady at his wedding to Sandra Knight was Millie Perkins. The Best Man was Harry Dean Stanton. After their divorce, Nicholson lived, for a time, at Harry Dean Stanton's place. |
| 116 | Along with Dustin Hoffman and Warren Beatty, he was asked to play the role of Michael Corleone in The Godfather (1972). |
| 117 | Is an avid fan of the Los Angeles Lakers and is often seated next to his good friend Lou Adler. He rarely misses a Lakers home game. Contrary to popular belief, Nicholson never had production companies schedule the filming of a movie he was in to accommodate his attendance at sporting events. Nicholson is also a life-long fan of the New York Yankees. |
| 118 | Lives on famed "Bad Boy Drive" a.k.a. Mulholland Drive in Beverly Hills, California. It's nicknamed so because its residents have included former Hollywood bad boys Warren Beatty, and the late Marlon Brando. |
| 119 | Loves jokes at his expense so much that he showed up at every Academy Awards hosted by Billy Crystal, who in turn would incorporate Nicholson somehow in the telecast. |
| 120 | In 1994, in an apparent bout of rage, he smashed a man's car window in with a golf club. He expressed remorse for the incident in an interview with US magazine. |
| 121 | Dedicated his Oscar for As Good as It Gets (1997) to J.T. Walsh, his co-star in A Few Good Men (1992) who had died shortly before the Academy Awards in 1998. |
| 122 | He was the 2001 John F. Kennedy Center Honors recipient. |
| 123 | Used to be a messenger boy for MGM's cartoon department. |
| 124 | Recipient of a Lifetime Achievement Award from the American Film Institute. [1994] |
| 125 | Ranked #6 in Empire (UK) magazine's "The Top 100 Movie Stars of All Time" list. [October 1997] |

Net Worth & Salary
| Title | Salary |
| --- | --- |
| Anger Management (2003) | $20,000,000 |
| About Schmidt (2002) | $10,000,000 |
| The Pledge (2001) | $10,000,000 |
| As Good as It Gets (1997) | $15,000,000 |
| Wolf (1994) | $13,000,000 |
| Hoffa (1992) | $10,000,000 |
| A Few Good Men (1992) | $5,000,000 |
| The Two Jakes (1990) | $5,000,000 |
| Batman (1989) | $6,000,000 |
| Ironweed (1987) | $5,000,000 |
| The Witches of Eastwick (1987) | $6,000,000 |
| Heartburn (1986) | $4,000,000 |
| Terms of Endearment (1983) | $1,000,000 + profit percentage (totalling $9,000,000) |
| The Shining (1980) | $1,250,000 |
| The Missouri Breaks (1976) | $1,250,000 + 10% of all gross receipts above $12.5m |
| One Flew Over the Cuckoo's Nest (1975) | $1,000,000 + 15% gross |
| Tommy (1975) | $75,000 |
| Chinatown (1974) | $500,000 |
| On a Clear Day You Can See Forever (1970) | $12,500 |

Trademarks
| # | Trademark |
| --- | --- |
| 1 | Triangular eyebrows |
| 2 | Method acting. |
| 3 | His somewhat maniacal laugh |
| 4 | Frequently works as a character with mental instability |
| 5 | Frequently works with Danny DeVito |
| 6 | Often plays charming, anti-authoritarian characters |
| 7 | Slow drawl and shark's grin |
| 8 | Dark sunglasses |

Quotes
| # | Quote |
| --- | --- |
| 1 | [on working with Martin Scorsese in The Departed (2006)] We wanted to create a really bad man, basically a villain who was pretty flamboyant and somebody who you wanted them to get pretty bad. I thought it would bring out the best in Marty. |
| 2 | [on Heath Ledger's death] I warned him of the stress, the pressure, and the expectations that comes with that Joker character. |
| 3 | [on Michelle Pfeiffer] She's a good egg, I'm crazy about her... You couldn't really say Michelle is glacial, but there's obviously something oscillating beneath the surface there. Her first look at people is "Yeah, well, what do you want?" It's a form of protection because she's very sensitive. You never could steamroll Michelle. She's always very tough in that sense. |
| 4 | [on working with Michelangelo Antonioni on Professione: reporter (1975)] Antonioni was like a father figure to me. I worked with him because I wanted to be a film director and I thought I could learn from a master. He's one of the few people I know that I ever really listened to. |
| 5 | [advice to Harry Dean Stanton on screen-acting] Just let the wardrobe be the character. You play yourself. That's the way you approach it. |
| 6 | I'm so rich that I'm going to sell myself like an ordinary person. I'm not into money at all. |
| 7 | I'm not worried about wrinkles, in myself or in women. I find them interesting. I can't see so well, so sometimes I look in the mirror and I see how I was as a young man. |
| 8 | (2011) I would never complain about my life, even though I really would like to have a mate. It's not like I'm starved for company - I have a few very good lady friends - but there's only a certain amount of times a woman wants to see you and never go out for dinner. I got tired of arguing with women about going to have dinners, so I hired somebody to cook. The food is better at my house. |
| 9 | (2011) I've had everything a man could ask for, but I don't know if anyone could say I'm successful with affairs of the heart. I don't know why. I would love that one last real romance. But I'm not very realistic about it happening. What I can't deny is my yearning. I've been in love in my life, but it always starts with obsession that lasts exactly 18 months and then it changes. If I'd known and been prepared for that, I may have been able to orchestrate the whole relationship thing better...But when I'm with someone I've often defied every one of my conventions. I've been so struck I've said, "Come on, let's go, let's get married." But no woman has ever recognized what I say as being legitimate. They think of my reputation, Jack the Jumper. I'm damned by what people think. Now I think I have a gap I won't ever cross. |
| 10 | (2011) On set I'm an actor like every other actor. Most times, for every part I play, I can think of other actors who would be better. I worry from the moment I take a job. |
| 11 | (2011) I am from a different era of movie acting. My career doesn't depend on explosions and pyrotechnics. |
| 12 | (2011, on his own own mortality) One of the toughest parts of aging is losing your friends. At first it starts quietly, then pretty soon it's every month, and you can't help but think, "When is that bell going to go off for me?" And on top of that you feel this constant loss. At this time of life, you feel just a sword's point from death. It's frightening - who wants to face God and the clear white light? I know I definitely don't. Yet. |
| 13 | [on Debra Winger] She's real smart, very dedicated, extremely resourceful about her work. You put up with her contentiousness because there is always something at the bottom. You get something you wouldn't get unless you took the trip with her. The girl's got boom. |
| 14 | The less people know about me, the easier my job is. |
| 15 | I don't know if this is a true statistic, but I heard somewhere that there are three times as many single women over forty as single men. That's what we got from the women's movement. The chickens have come home to roost. |
| 16 | I'd prefer if people had no impressions of me. As a kid, I had to tell my own family, "Please, just don't talk about me!" Because they always got it wrong. Always. I just didn't want them to tell anyone anything about me. God knew, they had a great opinion and they loved me and meant well, but it was like, Please, you don't have this right. You know what I mean? |
| 17 | I always hesitate to say things like this in interviews because they tend to come back to haunt you, but if I were an Arab-American, I would insist on being profiled. This is not the time for civil rights. There are larger issues for Americans. |
| 18 | I'm the age where we didn't have television as kids. So when I saw my nieces and nephews watching Howdy Doody (1954), Kukla, Fran and Ollie (1969), and so forth, I thought the world had gone mad. |
| 19 | I love discourse. I'm dying to have my mind changed. I'm probably the only liberal who read Treason, by Ann Coulter. I want to know, you understand? I like listening to everybody. This to me is the elixir of life. |
| 20 | [on his signature glasses] They're prescription. That's why I wear them. A long time ago, the Middle American in me may have thought it was a bit affected maybe. But the light is very strong in southern California. And once you've experienced negative territory in public life, you begin to accept the notion of shields. I am a person who is trained to look other people in the eye. But I can't look into the eyes of everyone who wants to look into mine; I can't emotionally cope with that kind of volume. Sunglasses are part of my armor. |
| 21 | I hate giving advice, because people won't take it. |
| 22 | [on Professione: reporter (1975)] Antonioni says he just tries to make something beautiful because truth is beautiful and beauty is truth. That's what I'm really into. I like making beautiful things. Maybe that sounds ridiculous but when I choose a film to do, it's because it interests me in that way rather than any other. I look at every character I play on the screen as being completely separate. You can say most of them are outsiders, but it's hard today to think of any character in a film who isn't an outsider. All I ask is that they relate to the truth in some way. |
| 23 | [on On a Clear Day You Can See Forever (1970)] All I am in the movie is bad. |
| 24 | After September 11, I held my tongue. All of the public positions had been taken -- for, against, good, evil. I had nothing more to add. So I thought, Bring in the clowns, you know what I mean? That's why I've done a coupla years' worth of comedies. |
| 25 | For a long time, I was afraid to be alone. I had to learn how to be alone. And there are still times when I think, Uh-oh! I gotta talk to somebody here or I'm gonna go crazy! But I like to be alone. Now I do. I really do. There's a big luxury in solitude. |
| 26 | I was talking to Sean Penn on the phone today. I told him it was interesting that they managed to leave me off this long list of Method actors they'd published in some article. I told him, "I'm still fooling them!" I consider it an accomplishment. Because there's probably no one who understands Method acting better academically than I do, or actually uses it more in his work. But it's funny -- nobody really sees that. It's perception versus reality, I suppose. |
| 27 | [on Stanley Kubrick] Everyone pretty much acknowledges him as The Man, and I still think that underrates him. |
| 28 | There's no one before or since like Marlon Brando. The gift was enormous and flawless, like [Pablo Picasso]. Brando was a genius who was the beginning and end of his own revolution. You didn't rush him. He had a tremendous gift just in his stillness. I was in high school when I saw The Wild One (1953). He changed my life forever... a monumental artist. There was no way to follow in his footsteps. He was just too large and just too far out of sight. He truly shook the world, and his influence will be there long into the future. |
| 29 | I come from the Lynchs of Sligo (Ireland). You know, I went there, but I looked in the phone book and there are nine million Lynchs in Sligo. |
| 30 | [When asked would he see The Dark Knight (2008)] I'm not inclined to watch it because of what I said. But if it's a good movie, I'll catch up with it somewhere. I don't think they ever really captured Tim Burton's spirit [since he stopped being involved]. They kind of drove the franchise into the ground. Tim Burton's a genius. He had the right take on it. That's why I did the movie. I did the movie based on a single conversation with him. We both come from the cartoon world originally. We had similar ideas. Tim said the Joker should have a humorous dark side to him. Burton is one of the great movie makers. I think the world of him. He's the most unassuming man. And he doesn't feel pressure. That's what I love about him. Once he's in there, he's smiling making the movie. That's it! |
| 31 | It's not so nice when you are 71 and looking for some action. I feel uncomfortable doing it in the limelight - so from now on I'll do it when it's right. Happily, when it comes to girls hitting on me, I'm not undernourished. |
| 32 | Star quality is if you're on stage and a cat walks on and they still watch you. |
| 33 | Explaining his controversial remarks on the death of Heath Ledger: What I actually said was, 'I warned them.' I had a bad experience with those sleeping pills that Ledger apparently took. I took one of these pills and had just gone to sleep when I had a phone call to go to an emergency at a friend's house. I jumped up, went outside and some time later woke up on the driveway. It sounds amusing but I live in the mountains and it could've been worse. I didn't know Heath Ledger, but I know those pills. |
| 34 | I've grown out of talking like I know something when I don't. |
| 35 | [on Jessica Lange] She is like a delicate fawn, but crossed with a Buick. |
| 36 | I think it is very unattractive for me to be seen fawning over little, tiny girls. I didn't feel that for a long time but now I do. If I could slip them out the back entrance wrapped in a blanket, that's a different story. (February 2004) |
| 37 | We were moving to a freer society before AIDS. Most people who investigated this knew that if you were not shooting up or getting f***ed in the heinie, you were as likely to get AIDS as you were to have a safe fall on your head while walking down Wilshire Boulevard. But you could not proselytize this view. The facts were almost useless. You couldn't give a woman the facts and have her respond, 'Oh, all right.' |
| 38 | The thing I like about The Joker is that his sense of humor is completely tasteless. |
| 39 | I would be so happy if I didn't smoke, for a lot of reasons. I can't believe that I can't break the habit. I don't want to be lying around, dying in Cedar's Sinai Hospital and thinking that I was as stupid enough, a man who is as petrified of dying as I am, to have done it to myself. I'm a real fraidy-cat about mortality. |
| 40 | With my sunglasses on, I'm Jack Nicholson. Without them, I'm fat and seventy. |
| 41 | (1996) I just wish every film I liked wasn't either foreign or made in America but with such terrible difficulty. This is the worst period ever for trying to do interesting work. |
| 42 | As an actor, I have no desire for anybody to understand my past work. Period. |
| 43 | (1992) I don't believe in God now. I can still work up an envy for someone who has a faith. I can see how that could be a deeply soothing experience. |
| 44 | Beer, it's the best damn drink in the world. |
| 45 | [on Stanley Kubrick] Just because you're a perfectionist doesn't mean you're perfect. |
| 46 | I'm very contra my constituency in terms of abortion because I'm positively against it. I don't have the right to any other view. My only emotion is gratitude, literally, for my life. |
| 47 | I don't want people to know what I'm actually like. It's not good for an actor. |
| 48 | So I mean it when I say that if you can't appreciate Brando, I wouldn't know how to talk to you. If there's anything obvious in life, this is it. Other actors don't go around discussing who is the best actor in the world, because it's obvious - Marlon Brando is. |
| 49 | [on being nominated for an Oscar for the third time for The Last Detail (1973)] The first time I was up for an Oscar, I thought I would win it. But I didn't have as sharp a view as I do now. The second time... I expected to lose, and deservedly lose, to George C. Scott. But even getting a nomination blows my mind. I'd love to win but now that I've had several good performances that people at large have liked, it becomes harder to excite them. And familiarity breeds contempt. |
| 50 | [on turning down the role played by Robert Redford in The Sting (1973)] I liked the period, the whole project and I knew it would be commercial. But at the time, I needed to put my energies into a movie that really needed them. I needed to take a risk. |
| 51 | Every director implored me, "Jack, can't you talk a little bit faster?" It was like a hot button for me and I would become hateful. So when Roman started to say it, I began and he said, "Jack, this movie is 100-and-something pages long. To have a movie that is screen able, you'll have to talk a little faster". [Roman Polanski directed him in Chinatown (1974)]. |
| 52 | There's a period just before you start a movie when you start thinking, I don't know what in the world I'm going to do. It's free-floating anxiety. In my case, though, this is over by lunch the first day of shooting. |
| 53 | "You're new here, aren't you?" Nicholson, who rarely is seen in public without his sunglasses, replied when asked by a photographer to take off his glasses for a photo. |
| 54 | A question you always ask in acting is, Where were you going if this scene didn't interrupt the movements of the character? |
| 55 | My motto is: more good times. |
| 56 | I was particularly proud of my performance as the Joker. I considered it a piece of pop art. |
| 57 | I'm not a raver anymore, all good things must come to an end. |
| 58 | I only take viagra when I am with more than one woman. |
| 59 | When I come up against a director who has a concept that I don't agree with, or maybe I just haven't thought of it or whatever, I'd be more prone to go with them than my own because I want to be out of control as an actor, I want them to have the control, otherwise it's going to become predictably my work, and that's not fun. |
| 60 | [on the birth of his son after having had two daughters] I finally got it right. |
| 61 | A star on a movie set is like a time bomb. That bomb has got to be defused so people can approach it without fear. |
| 62 | If you get an impulse in a scene, no matter how wrong it seems, follow the impulse. It might be something and if it ain't - take two! |
| 63 | You only lie to two people in your life: your girlfriend and the police. |
| 64 | [regarding Terms of Endearment (1983)] When I read the part, I knew I'd win the Oscar for it. |
| 65 | [on the $5 million he earned for A Few Good Men (1992)] It was one of the few times when it was money well spent. |
| 66 | The average celebrity meets, in one year, ten times the amount of people that the average person meets in his entire life. |

Pictures
Won Awards
Won awards
Year
Award
Ceremony
Nomination
Movie
Award shared with
2011
CinEuphoria
CinEuphoria Awards
Career - Honorary Award
2008
Gold Derby Award
Gold Derby Awards
Life Achievement (Performer)
2007
Austin Film Critics Award
Austin Film Critics Association
Best Supporting Actor
The Departed (2006)
2007
COFCA Award
Central Ohio Film Critics Association
Best Ensemble
The Departed (2006)
Anthony Anderson

Alec Baldwin

Matt Damon

Leonardo DiCaprio

Vera Farmiga

Martin Sheen

Mark Wahlberg

Ray Winstone
2007
IOMA
Italian Online Movie Awards (IOMA)
Best Supporting Actor (Miglior attore non protagonista)
The Departed (2006)
2007
MTV Movie Award
MTV Movie Awards
Best Villain
The Departed (2006)
2007
NTFCA Award
North Texas Film Critics Association, US
Best Supporting Actor
The Departed (2006)
2006
DFCC
Dublin Film Critics Circle Awards
Best Supporting Actor
The Departed (2006)
2006
FFCC Award
Florida Film Critics Circle Awards
Best Supporting Actor
The Departed (2006)
2006
Golden Schmoes
Golden Schmoes Awards
Best Supporting Actor of the Year
The Departed (2006)
2006
NBR Award
National Board of Review, USA
Best Acting by an Ensemble
The Departed (2006)
Leonardo DiCaprio

Matt Damon

Mark Wahlberg

Martin Sheen

Ray Winstone

Vera Farmiga

Alec Baldwin

Anthony Anderson

James Badge Dale
2006
PFCS Award
Phoenix Film Critics Society Awards
Best Performance by an Actor in a Supporting Role
The Departed (2006)
2006
Satellite Award
Satellite Awards
Best Ensemble, Motion Picture
The Departed (2006)
Anthony Anderson

Alec Baldwin

Matt Damon

Leonardo DiCaprio

Vera Farmiga

Martin Sheen

Mark Wahlberg

Ray Winstone
2004
Movies for Grownups Award
AARP Movies for Grownups Awards
Best Grownup Love Story
Something's Gotta Give (2003)
Diane Keaton
2004
Marquee Award
CineVegas International Film Festival
2004
Golden Camera
Golden Camera, Germany
Best International Actor
2003
Golden Globe
Golden Globes, USA
Best Performance by an Actor in a Motion Picture - Drama
About Schmidt (2002)
2003
Movies for Grownups Award
AARP Movies for Grownups Awards
Best Actor
About Schmidt (2002)
2003
Critics Choice Award
Broadcast Film Critics Association Awards
Best Actor
About Schmidt (2002)
2003
DFWFCA Award
Dallas-Fort Worth Film Critics Association Awards
Best Actor
About Schmidt (2002)
2002
LAFCA Award
Los Angeles Film Critics Association Awards
Best Actor
About Schmidt (2002)
2002
WAFCA Award
Washington DC Area Film Critics Association Awards
Best Actor
About Schmidt (2002)
2001
Stanislavsky Prize
Moscow International Film Festival
1999
Cecil B. DeMille Award
Golden Globes, USA
For outstanding contribution to the entertainment field.
1999
ALFS Award
London Critics Circle Film Awards
Actor of the Year
As Good as It Gets (1997)
1999
Audience Award
SESC Film Festival, Brazil
Best Foreign Actor (Melhor Ator Estrangeiro)
As Good as It Gets (1997)
1998
Oscar
Academy Awards, USA
Best Actor in a Leading Role
As Good as It Gets (1997)
1998
Golden Globe
Golden Globes, USA
Best Performance by an Actor in a Motion Picture - Comedy or Musical
As Good as It Gets (1997)
1998
American Comedy Award
American Comedy Awards, USA
Funniest Actor in a Motion Picture (Leading Role)
As Good as It Gets (1997)
1998
Critics Choice Award
Broadcast Film Critics Association Awards
Best Actor
As Good as It Gets (1997)
1998
Jupiter Award
Jupiter Award
Best International Actor
As Good as It Gets (1997)
1998
OFTA Film Award
Online Film & Television Association
Best Actor
As Good as It Gets (1997)
1998
OFTA Film Award
Online Film & Television Association
Best Comedy/Musical Actor
As Good as It Gets (1997)
1998
OFCS Award
Online Film Critics Society Awards
Best Actor
As Good as It Gets (1997)
1998
Golden Satellite Award
Satellite Awards
Best Actor in a Motion Picture, Comedy or Musical
As Good as It Gets (1997)
1998
Actor
Screen Actors Guild Awards
Outstanding Performance by a Male Actor in a Leading Role
As Good as It Gets (1997)
1997
ACCA
Awards Circuit Community Awards
Best Actor in a Leading Role
As Good as It Gets (1997)
1997
NBR Award
National Board of Review, USA
Best Actor
As Good as It Gets (1997)
1997
OFTA Film Hall of Fame
Online Film & Television Association
Acting
1997
SDFCS Award
San Diego Film Critics Society Awards
Best Actor
As Good as It Gets (1997)
1996
Star on the Walk of Fame
Walk of Fame
Motion Picture
Awarded on December 4, 1996 at 6925 Hollywood Blvd.
1994
Life Achievement Award
American Film Institute, USA
1993
CFCA Award
Chicago Film Critics Association Awards
Best Supporting Actor
A Few Good Men (1992)
1993
SEFCA Award
Southeastern Film Critics Association Awards
Best Supporting Actor
A Few Good Men (1992)
1992
NBR Award
National Board of Review, USA
Best Supporting Actor
A Few Good Men (1992)
1988
Saturn Award
Academy of Science Fiction, Fantasy & Horror Films, USA
Best Actor
The Witches of Eastwick (1987)
1987
LAFCA Award
Los Angeles Film Critics Association Awards
Best Actor
Ironweed (1987)
1987
NYFCC Award
New York Film Critics Circle Awards
Best Actor
The Witches of Eastwick (1987)
1986
Golden Globe
Golden Globes, USA
Best Performance by an Actor in a Motion Picture - Comedy or Musical
Prizzi's Honor (1985)
1986
BSFC Award
Boston Society of Film Critics Awards
Best Actor
Prizzi's Honor (1985)
1986
NSFC Award
National Society of Film Critics Awards, USA
Best Actor
Prizzi's Honor (1985)
1985
NYFCC Award
New York Film Critics Circle Awards
Best Actor
Prizzi's Honor (1985)
1984
Oscar
Academy Awards, USA
Best Actor in a Supporting Role
Terms of Endearment (1983)
1984
Golden Globe
Golden Globes, USA
Best Performance by an Actor in a Supporting Role in a Motion Picture
Terms of Endearment (1983)
1984
BSFC Award
Boston Society of Film Critics Awards
Best Supporting Actor
Terms of Endearment (1983)
1984
NSFC Award
National Society of Film Critics Awards, USA
Best Supporting Actor
Terms of Endearment (1983)
1983
BAFTA Film Award
BAFTA Awards
Best Supporting Actor
Reds (1981)
1983
KCFCC Award
Kansas City Film Critics Circle Awards
Best Supporting Actor
Terms of Endearment (1983)
1983
LAFCA Award
Los Angeles Film Critics Association Awards
Best Supporting Actor
Terms of Endearment (1983)
1983
NBR Award
National Board of Review, USA
Best Supporting Actor
Terms of Endearment (1983)
1983
NYFCC Award
New York Film Critics Circle Awards
Best Supporting Actor
Terms of Endearment (1983)
1982
BSFC Award
Boston Society of Film Critics Awards
Best Supporting Actor
Reds (1981)
1981
KCFCC Award
Kansas City Film Critics Circle Awards
Best Supporting Actor
Reds (1981)
1981
NBR Award
National Board of Review, USA
Best Supporting Actor
Reds (1981)
1977
BAFTA Film Award
BAFTA Awards
Best Actor
One Flew Over the Cuckoo's Nest (1975)
1977
Sant Jordi
Sant Jordi Awards
Best Foreign Actor (Mejor Actor Extranjero)
One Flew Over the Cuckoo's Nest (1975)
1976
Oscar
Academy Awards, USA
Best Actor in a Leading Role
One Flew Over the Cuckoo's Nest (1975)
1976
Golden Globe
Golden Globes, USA
Best Actor in a Motion Picture - Drama
One Flew Over the Cuckoo's Nest (1975)
1976
David
David di Donatello Awards
Best Foreign Actor (Migliore Attore Straniero)
One Flew Over the Cuckoo's Nest (1975)
1975
Golden Globe
Golden Globes, USA
Best Actor in a Motion Picture - Drama
Chinatown (1974)
1975
BAFTA Film Award
BAFTA Awards
Best Actor
Chinatown (1974)
1975
Fotogramas de Plata
Fotogramas de Plata
Best Foreign Movie Performer (Mejor intérprete de cine extranjero)
Chinatown (1974)
1975
NBR Award
National Board of Review, USA
Best Actor
One Flew Over the Cuckoo's Nest (1975)
1975
NSFC Award
National Society of Film Critics Awards, USA
Best Actor
Chinatown (1974)
1975
NSFC Award
National Society of Film Critics Awards, USA
Best Actor
One Flew Over the Cuckoo's Nest (1975)
1975
NYFCC Award
New York Film Critics Circle Awards
Best Actor
One Flew Over the Cuckoo's Nest (1975)
1975
Silver Medallion Award
Telluride Film Festival, US
1974
Best Actor
Cannes Film Festival
The Last Detail (1973)
1974
KCFCC Award
Kansas City Film Critics Circle Awards
Best Actor
Chinatown (1974)
1974
NYFCC Award
New York Film Critics Circle Awards
Best Actor
Chinatown (1974)
1970
Golden Laurel
Laurel Awards
Male Supporting Performance
Easy Rider (1969)
1970
NSFC Award
National Society of Film Critics Awards, USA
Best Supporting Actor
Easy Rider (1969)
1969
KCFCC Award
Kansas City Film Critics Circle Awards
Best Supporting Actor
Easy Rider (1969)
1969
NYFCC Award
New York Film Critics Circle Awards
Best Supporting Actor
Easy Rider (1969)
Nominated Awards
Nominated awards
Year
Award
Ceremony
Nomination
Movie
Award shared with
2007
Golden Globe
Golden Globes, USA
Best Performance by an Actor in a Supporting Role in a Motion Picture
The Departed (2006)
2007
BAFTA Film Award
BAFTA Awards
Best Actor in a Supporting Role
The Departed (2006)
2007
Movies for Grownups Award
AARP Movies for Grownups Awards
Best Actor
The Departed (2006)
2007
Critics Choice Award
Broadcast Film Critics Association Awards
Best Supporting Actor
The Departed (2006)
2007
Critics Choice Award
Broadcast Film Critics Association Awards
Best Acting Ensemble
The Departed (2006)
Anthony Anderson

Alec Baldwin

Matt Damon

Leonardo DiCaprio

Vera Farmiga

Martin Sheen

Mark Wahlberg

Ray Winstone
2007
Gold Derby Award
Gold Derby Awards
Supporting Actor
The Departed (2006)
2007
Gold Derby Award
Gold Derby Awards
Ensemble Cast
The Departed (2006)
Anthony Anderson

Alec Baldwin

Matt Damon

Leonardo DiCaprio

Vera Farmiga

Martin Sheen

Mark Wahlberg

Ray Winstone
2007
OFTA Film Award
Online Film & Television Association
Best Supporting Actor
The Departed (2006)
2007
OFCS Award
Online Film Critics Society Awards
Best Supporting Actor
The Departed (2006)
2007
People's Choice Award
People's Choice Awards, USA
Favorite On-Screen Match-Up
The Departed (2006)
Matt Damon

Leonardo DiCaprio
2007
Actor
Screen Actors Guild Awards
Outstanding Performance by a Cast in a Motion Picture
The Departed (2006)
Anthony Anderson

Alec Baldwin

Matt Damon

Leonardo DiCaprio

Vera Farmiga

Martin Sheen

Mark Wahlberg

Ray Winstone
2006
ACCA
Awards Circuit Community Awards
Best Actor in a Supporting Role
The Departed (2006)
2006
CFCA Award
Chicago Film Critics Association Awards
Best Supporting Actor
The Departed (2006)
2006
Satellite Award
Satellite Awards
Best Actor in a Supporting Role
The Departed (2006)
2006
SLFCA Award
St. Louis Film Critics Association, US
Best Supporting Actor
The Departed (2006)
2004
Golden Globe
Golden Globes, USA
Best Performance by an Actor in a Motion Picture - Comedy or Musical
Something's Gotta Give (2003)
2003
Oscar
Academy Awards, USA
Best Actor in a Leading Role
About Schmidt (2002)
2003
BAFTA Film Award
BAFTA Awards
Best Performance by an Actor in a Leading Role
About Schmidt (2002)
2003
CFCA Award
Chicago Film Critics Association Awards
Best Actor
About Schmidt (2002)
2003
Gold Derby Award
Gold Derby Awards
Lead Actor
About Schmidt (2002)
2003
IOMA
Italian Online Movie Awards (IOMA)
Best Actor (Miglior attore protagonista)
About Schmidt (2002)
2003
ALFS Award
London Critics Circle Film Awards
Actor of the Year
About Schmidt (2002)
2003
OFTA Film Award
Online Film & Television Association
Best Actor
About Schmidt (2002)
2003
OFCS Award
Online Film Critics Society Awards
Best Actor
About Schmidt (2002)
2003
PFCS Award
Phoenix Film Critics Society Awards
Best Actor in a Leading Role
About Schmidt (2002)
2003
Golden Satellite Award
Satellite Awards
Best Actor in a Motion Picture, Drama
About Schmidt (2002)
2003
Actor
Screen Actors Guild Awards
Outstanding Performance by a Male Actor in a Leading Role
About Schmidt (2002)
2003
Teen Choice Award
Teen Choice Awards
Choice Movie Hissy Fit
Anger Management (2003)
2002
ACCA
Awards Circuit Community Awards
Best Actor in a Leading Role
About Schmidt (2002)
2002
Golden Schmoes
Golden Schmoes Awards
Best Actor of the Year
About Schmidt (2002)
2002
TFCA Award
Toronto Film Critics Association Awards
Best Performance, Male
About Schmidt (2002)
2002
VVFP Award
Village Voice Film Poll
Best Performance
About Schmidt (2002)
2001
TFCA Award
Toronto Film Critics Association Awards
Best Performance, Male
The Pledge (2001)
1999
Blockbuster Entertainment Award
Blockbuster Entertainment Awards
Favorite Actor - Video
As Good as It Gets (1997)
1999
People's Choice Award
People's Choice Awards, USA
Favorite All-Time Movie Star
1998
CFCA Award
Chicago Film Critics Association Awards
Best Actor
As Good as It Gets (1997)
1997
Golden Satellite Award
Satellite Awards
Best Actor in a Motion Picture, Comedy or Musical
Mars Attacks! (1996)
1995
Saturn Award
Academy of Science Fiction, Fantasy & Horror Films, USA
Best Actor
Wolf (1994)
1994
Chainsaw Award
Fangoria Chainsaw Awards
Best Actor
Wolf (1994)
1993
Oscar
Academy Awards, USA
Best Actor in a Supporting Role
A Few Good Men (1992)
1993
Golden Globe
Golden Globes, USA
Best Performance by an Actor in a Motion Picture - Drama
Hoffa (1992)
1993
Golden Globe
Golden Globes, USA
Best Performance by an Actor in a Supporting Role in a Motion Picture
A Few Good Men (1992)
1993
MTV Movie Award
MTV Movie Awards
Best Male Performance
A Few Good Men (1992)
1993
MTV Movie Award
MTV Movie Awards
Best Villain
A Few Good Men (1992)
1993
Razzie Award
Razzie Awards
Worst Actor
Hoffa (1992)
1991
Saturn Award
Academy of Science Fiction, Fantasy & Horror Films, USA
Best Actor
Batman (1989)
1990
Golden Globe
Golden Globes, USA
Best Performance by an Actor in a Motion Picture - Comedy or Musical
Batman (1989)
1990
BAFTA Film Award
BAFTA Awards
Best Actor in a Supporting Role
Batman (1989)
1990
American Comedy Award
American Comedy Awards, USA
Funniest Actor in a Motion Picture (Leading Role)
Batman (1989)
1990
CFCA Award
Chicago Film Critics Association Awards
Best Supporting Actor
Batman (1989)
1990
People's Choice Award
People's Choice Awards, USA
Favorite Motion Picture Actor
1989
People's Choice Award
People's Choice Awards, USA
Favorite Dramatic Motion Picture Actor
1988
Oscar
Academy Awards, USA
Best Actor in a Leading Role
Ironweed (1987)
1988
Golden Globe
Golden Globes, USA
Best Performance by an Actor in a Motion Picture - Drama
Ironweed (1987)
1988
David
David di Donatello Awards
Best Foreign Actor (Migliore Attore Straniero)
The Witches of Eastwick (1987)
1988
People's Choice Award
People's Choice Awards, USA
Favorite Motion Picture Actor
1988
People's Choice Award
People's Choice Awards, USA
Favorite All-Time Motion Picture Star
1987
People's Choice Award
People's Choice Awards, USA
Favorite Motion Picture Actor
1986
Oscar
Academy Awards, USA
Best Actor in a Leading Role
Prizzi's Honor (1985)
1986
David
David di Donatello Awards
Best Foreign Actor (Migliore Attore Straniero)
Prizzi's Honor (1985)
1986
Silver Ribbon
Italian National Syndicate of Film Journalists
Best Foreign Actor (Migliore Attore Straniero)
Prizzi's Honor (1985)
1986
People's Choice Award
People's Choice Awards, USA
Favorite Motion Picture Actor
1982
Oscar
Academy Awards, USA
Best Actor in a Supporting Role
Reds (1981)
1982
Golden Globe
Golden Globes, USA
Best Actor in a Supporting Role - Motion Picture
Reds (1981)
1977
People's Choice Award
People's Choice Awards, USA
Favorite Motion Picture Actor
1976
People's Choice Award
People's Choice Awards, USA
Favorite Motion Picture Actor
1975
Oscar
Academy Awards, USA
Best Actor in a Leading Role
Chinatown (1974)
1975
People's Choice Award
People's Choice Awards, USA
Favorite Motion Picture Actor
1974
Oscar
Academy Awards, USA
Best Actor in a Leading Role
The Last Detail (1973)
1974
Golden Globe
Golden Globes, USA
Best Actor in a Motion Picture - Drama
The Last Detail (1973)
1972
Golden Globe
Golden Globes, USA
Best Actor in a Motion Picture - Drama
Carnal Knowledge (1971)
1971
Oscar
Academy Awards, USA
Best Actor in a Leading Role
Five Easy Pieces (1970)
1971
Golden Globe
Golden Globes, USA
Best Actor in a Motion Picture - Drama
Five Easy Pieces (1970)
1971
Palme d'Or
Cannes Film Festival
Drive, He Said (1971)
1971
Golden Laurel
Laurel Awards
Star, Male
9th place.
1970
Oscar
Academy Awards, USA
Best Actor in a Supporting Role
Easy Rider (1969)
1970
Golden Globe
Golden Globes, USA
Best Supporting Actor
Easy Rider (1969)
1970
BAFTA Film Award
BAFTA Awards
Best Supporting Actor
Easy Rider (1969)
2nd Place Awards
2nd place awards
Year
Award
Ceremony
Nomination
Movie
Award shared with
2006
ACCA
Awards Circuit Community Awards
Best Cast Ensemble
The Departed (2006)
Leonardo DiCaprio

Matt Damon

Mark Wahlberg

Martin Sheen

Vera Farmiga

Ray Winstone

Alec Baldwin

Anthony Anderson
2006
BSFC Award
Boston Society of Film Critics Awards
Best Ensemble Cast
The Departed (2006)
Mark Wahlberg

Vera Farmiga

Matt Damon

Anthony Anderson

Leonardo DiCaprio

Alec Baldwin

Ray Winstone

Martin Sheen
2006
DFWFCA Award
Dallas-Fort Worth Film Critics Association Awards
Best Supporting Actor
The Departed (2006)
2003
COFCA Award
Central Ohio Film Critics Association
Best Actor
About Schmidt (2002)
2002
NYFCC Award
New York Film Critics Circle Awards
Best Actor
About Schmidt (2002)
2002
SDFCS Award
San Diego Film Critics Society Awards
Best Actor
About Schmidt (2002)
2002
SEFCA Award
Southeastern Film Critics Association Awards
Best Actor
About Schmidt (2002)
1998
SEFCA Award
Southeastern Film Critics Association Awards
Best Actor
As Good as It Gets (1997)
1998
TFCA Award
Toronto Film Critics Association Awards
Best Performance, Male
As Good as It Gets (1997)
1997
LAFCA Award
Los Angeles Film Critics Association Awards
Best Actor
As Good as It Gets (1997)
1985
LAFCA Award
Los Angeles Film Critics Association Awards
Best Actor
Prizzi's Honor (1985)
1981
LAFCA Award
Los Angeles Film Critics Association Awards
Best Supporting Actor
Reds (1981)
1981
NYFCC Award
New York Film Critics Circle Awards
Best Supporting Actor
Reds (1981)
1971
Golden Laurel
Laurel Awards
Best Dramatic Performance, Male
Five Easy Pieces (1970)
3rd Place Awards
3rd place awards
| Year | Award | Ceremony | Nomination | Movie | Award shared with |
| --- | --- | --- | --- | --- | --- |
| 1992 | NYFCC Award | New York Film Critics Circle Awards | Best Supporting Actor | A Few Good Men (1992) | |
| 1982 | NSFC Award | National Society of Film Critics Awards, USA | Best Supporting Actor | Reds (1981) | |
| 1970 | NYFCC Award | New York Film Critics Circle Awards | Best Actor | Five Easy Pieces (1970) | |

Filmography
Actor
| Title | Year | Status | Character |
| --- | --- | --- | --- |
| Toni Erdmann | | announced | |
| How Do You Know | 2010 | | Charles |
| The Bucket List | 2007 | | Edward |
| The Departed | 2006 | | Frank Costello |
| Something's Gotta Give | 2003 | | Harry Sanborn |
| Anger Management | 2003 | | Dr. Buddy Rydell |
| About Schmidt | 2002 | | Warren Schmidt |
| The Pledge | 2001/I | | Jerry Black |
| As Good as It Gets | 1997 | | Melvin Udall |
| Mars Attacks! | 1996 | | President James Dale Art Land |
| The Evening Star | 1996 | | Garrett Breedlove |
| Blood and Wine | 1996 | | Alex |
| The Crossing Guard | 1995 | | Freddy Gale |
| Wolf | 1994 | | Will Randall |
| Hoffa | 1992 | | James R. 'Jimmy' Hoffa |
| A Few Good Men | 1992 | | Col. Nathan R. Jessup |
| Man Trouble | 1992 | | Eugene Earl Axline aka Harry Bliss |
| The Two Jakes | 1990 | | Jake Gittes |
| Batman | 1989 | | Joker Jack Napier |
| Ironweed | 1987 | | Francis Phelan |
| Broadcast News | 1987 | | Bill Rorish |
| The Witches of Eastwick | 1987 | | Daryl Van Horne |
| Elephant's Child | 1986 | TV Movie | Narrator (voice) |
| Heartburn | 1986 | | Mark Forman |
| Prizzi's Honor | 1985 | | Charley Partanna |
| Terms of Endearment | 1983 | | Garrett Breedlove |
| The Border | 1982 | | Charlie Smith |
| Reds | 1981 | | Eugene O'Neill |
| The Postman Always Rings Twice | 1981 | | Frank Chambers |
| The Shining | 1980 | | Jack Torrance |
| Goin' South | 1978 | | Henry Lloyd Moon |
| The Last Tycoon | 1976 | | Brimmer |
| The Missouri Breaks | 1976 | | Tom Logan |
| One Flew Over the Cuckoo's Nest | 1975 | | R.P. McMurphy |
| The Fortune | 1975 | | Oscar |
| Tommy | 1975 | | The Specialist |
| Professione: reporter | 1975 | | Locke |
| Chinatown | 1974 | | J.J. Gittes |
| The Last Detail | 1973 | | Buddusky |
| The King of Marvin Gardens | 1972 | | David Staebler |
| A Safe Place | 1971 | | Mitch |
| Carnal Knowledge | 1971 | | Jonathan |
| Five Easy Pieces | 1970 | | Robert Eroica Dupea |
| On a Clear Day You Can See Forever | 1970 | | Tad Pringle |
| The Rebel Rousers | 1970 | | Bunny |
| Easy Rider | 1969 | | George Hanson |
| Head | 1968 | | Movie director at filmshoot in restaurant (uncredited) |
| Psych-Out | 1968 | | Stoney |
| The Andy Griffith Show | 1966-1967 | TV Series | Marvin Jenkins / Mr. Garland |
| The Guns of Will Sonnett | 1967 | TV Series | Tom Murdock |
| The St. Valentine's Day Massacre | 1967 | | Gino, Hit Man (uncredited) |
| Hells Angels on Wheels | 1967 | | Poet |
| Ride in the Whirlwind | 1966 | | Wes |
| The Shooting | 1966 | | Billy Spear |
| Dr. Kildare | 1966 | TV Series | Jaime Angel |
| Back Door to Hell | 1964 | | Burnett |
| Flight to Fury | 1964 | | Jay Wickham |
| Ensign Pulver | 1964 | | Yeoman Dolan |
| The Terror | 1963 | | Lt. Andre Duvalier |
| The Raven | 1963 | | Rexford Bedlo |
| The Broken Land | 1962 | | Will Brocious |
| Hawaiian Eye | 1962 | TV Series | Tony Morgan |
| Little Amy | 1962 | TV Movie | Jefferson City Coach |
| The Hour of St. Francis | 1962 | TV Series short | Jim Evans |
| Bronco | 1961 | TV Series | Bob Doolin |
| Sea Hunt | 1961 | TV Series | John Stark |
| Tales of Wells Fargo | 1961 | TV Series | Tom Washburn |
| The Barbara Stanwyck Show | 1960 | TV Series | Bud |
| Studs Lonigan | 1960 | | Weary Reilly |
| The Little Shop of Horrors | 1960 | | Wilbur Force |
| The Wild Ride | 1960 | | Johnny Varron |
| Mr. Lucky | 1960 | TV Series | Martin |
| Too Soon to Love | 1960 | | Buddy |
| The Cry Baby Killer | 1958 | | Jimmy Wallace |
| Matinee Theatre | 1956 | TV Series | Musician's Son |
Soundtrack
| Title | Year | Status | Character |
| --- | --- | --- | --- |
| The Bucket List | 2007 | performer: "I've Got A Feeling I'm Falling" - uncredited | |
| The Departed | 2006 | performer: "Mother Machree" 1910 - uncredited | |
| Something's Gotta Give | 2003 | performer: "La Vie en Rose" | |
| Anger Management | 2003 | performer: "I Feel Pretty" | |
| As Good as It Gets | 1997 | performer: "You'll Always Be My Shining Star" - uncredited / writer: "You'll Always Be My Shining Star" - uncredited | |
| Heartburn | 1986 | performer: "Yes Sir, That's My Baby", "Is You Is or Is You Ain't My Baby?", "Baby, It's Cold Outside", "Soliloquy" excerpt | |
| One Flew Over the Cuckoo's Nest | 1975 | performer: "The Star Spangled Banner" 1814 - uncredited | |
| Tommy | 1975 | performer: "Go to the Mirror" - uncredited | |
| The King of Marvin Gardens | 1972 | performer: "Here She Come, Miss America" - uncredited | |
| Head | 1968 | writer: "Ditty Diego" - uncredited | |
Producer
| Title | Year | Status | Character |
| --- | --- | --- | --- |
| I Am But a Fool | 2008 | Short executive producer | |
| Biography | 2004 | TV Series documentary producer - 1 episode | |
| Blue Champagne | 1992 | Video producer | |
| The Two Jakes | 1990 | producer - uncredited | |
| Drive, He Said | 1971 | producer | |
| Head | 1968 | producer | |
| Ride in the Whirlwind | 1966 | producer | |
| The Shooting | 1966 | producer | |
Writer
| Title | Year | Status | Character |
| --- | --- | --- | --- |
| Drive, He Said | 1971 | screenplay | |
| Head | 1968 | written by | |
| The Trip | 1967/II | written by | |
| Ride in the Whirlwind | 1966 | written by | |
| Flight to Fury | 1964 | written by | |
| Thunder Island | 1963 | screenplay | |
Director
| Title | Year | Status | Character |
| --- | --- | --- | --- |
| The Two Jakes | 1990 | | |
| Goin' South | 1978 | | |
| Drive, He Said | 1971 | | |
| The Terror | 1963 | one final day director - uncredited | |
Miscellaneous
| Title | Year | Status | Character |
| --- | --- | --- | --- |
| Eyeball Eddie | 2001 | Short film mentor | |
Thanks
| Title | Year | Status | Character |
| --- | --- | --- | --- |
| Supermensch: The Legend of Shep Gordon | 2013 | Documentary special thanks | |
| Jill and Jac | 2010 | special thanks | |
| Song of the Shattered | 2010 | acknowledgment to the works of | |
| Into the Wild | 2007 | thanks | |
| E! True Hollywood Story | 2005 | TV Series documentary special thanks - 1 episode | |
| My Buddy Jack | 2003 | Video documentary short special thanks | |
| Skull Session: The Making of 'Anger Management' | 2003 | Video documentary short special thanks | |
| AFI's 100 Years... 100 Passions: America's Greatest Love Stories | 2002 | TV Special documentary thanks | |
| Code of Conduct | 2001 | Video documentary short special thanks | |
Self
| Title | Year | Status | Character |
| --- | --- | --- | --- |
| The Fight Game with Jim Lampley | 2016 | TV Series | Himself |
| Saturday Night Live: 40th Anniversary Special | 2015 | TV Special | Himself |
| 2014 MTV Movie Awards | 2014 | TV Special | Himself - Cameo #47 (credit only) |
| The 85th Annual Academy Awards | 2013 | TV Special | Himself - Presenter: Best Picture |
| Close Up | 2012 | Documentary | Himself |
| AFI Life Achievement Award: A Tribute to Shirley MacLaine | 2012 | TV Special | Himself |
| Close Up | 2011 | TV Series | Himself - Interviewee |
| Corman's World: Exploits of a Hollywood Rebel | 2011 | Documentary | Himself |
| America Lost and Found: The BBS Story | 2010 | | Himself |
| I'm Still Here | 2010/I | | Himself |
| AFI Life Achievement Award: A Tribute to Mike Nichols | 2010 | TV Movie | Himself |
| Entertainment Tonight | 2007-2010 | TV Series | Himself |
| Hope for Haiti Now: A Global Benefit for Earthquake Relief | 2010 | TV Movie documentary | Himself |
| AFI Life Achievement Award: A Tribute to Michael Douglas | 2009 | TV Movie | Himself |
| AFI Life Achievement Award: A Tribute to Warren Beatty | 2008 | TV Special | Himself |
| American Masters | 2008 | TV Series documentary | Himself - Interviewee |
| American Idol | 2008 | TV Series | Himself |
| The 80th Annual Academy Awards | 2008 | TV Special | Himself - Presenter |
| Rob Reiner Interviews the Stars: Jack Nicholson | 2008 | Video documentary short | Himself |
| Chinatown: Filming | 2007 | Video documentary short | Himself |
| Chinatown: The Beginning and the End | 2007 | Video documentary short | Himself |
| Chinatown: The Legacy | 2007 | Video documentary short | Himself |
| Lost Kubrick: The Unfinished Films of Stanley Kubrick | 2007 | Video documentary short | Himself |
| The Visions of Stanley Kubrick | 2007 | Video documentary short | Himself |
| View from the Overlook: Crafting 'The Shining' | 2007 | Video documentary short | Himself |
| Saturday Night Live | 1997-2007 | TV Series | Himself |
| Gala Tribute AFI's 40th Anniversary | 2007 | TV Movie | Himself - Speaker |
| 2007 MTV Movie Awards | 2007 | TV Special | Himself - Winner: Best Villain |
| The World Awaits: De La Hoya vs. Mayweather | 2007 | TV Movie | Himself - Audience Member (uncredited) |
| The 79th Annual Academy Awards | 2007 | TV Special | Himself - Presenter: Best Picture |
| The 64th Annual Golden Globe Awards | 2007 | TV Special | Himself - Nominee: Best Actor in a Supporting Role in a Motion Picture |
| Witness to 'Reds' | 2006 | Video | Himself |
| HBO First Look | 2006 | TV Series documentary short | Himself |
| The 78th Annual Academy Awards | 2006 | TV Special | Himself - Presenter: Best Picture |
| The Making of 'Blood and Wine' | 2006 | Video documentary | Himself |
| Shadows of the Bat: The Cinematic Saga of the Dark Knight - The Gathering Storm | 2005 | Video documentary short | Himself |
| Shadows of the Bat: The Cinematic Saga of the Dark Knight - The Legend Reborn | 2005 | Video documentary short | Himself |
| Shelter from the Storm: A Concert for the Gulf Coast | 2005 | TV Movie | Himself |
| Los Angeles | 2005 | Documentary short | Himself |
| Batman Heroes: Alexander Knox | 2005 | Video documentary short | Himself |
| Batman Villains: Bob the Goon | 2005 | Video documentary short | Himself |
| Batman Villains: The Joker | 2005 | Video documentary short | Himself |
| Beyond Batman: From Jack to the Joker | 2005 | Video documentary short | Himself |
| Beyond Batman: Nocturnal Overtures - The Music of Batman | 2005 | Video documentary short | Himself |
| The Kennedy Center Honors: A Celebration of the Performing Arts | 2004 | TV Movie | Himself |
| AFI Life Achievement Award: A Tribute to Meryl Streep | 2004 | TV Special | Himself |
| The 76th Annual Academy Awards | 2004 | TV Special | Gandalf - Opening Segment (uncredited) |
| The 61st Annual Golden Globe Awards | 2004 | TV Special | Himself - Presenter: Best Actress in a Motion Picture Drama & Nominee: Best Actor in a Motion Picture - Musical or Comedy |
| Tinseltown TV | 2003 | TV Series | Himself |
| My Buddy Jack | 2003 | Video documentary short | Himself |
| Skull Session: The Making of 'Anger Management' | 2003 | Video documentary short | Himself |
| The 75th Annual Academy Awards | 2003 | TV Special | Himself - Nominee: Best Actor in a Leading Role / Past Winner |
| The 60th Annual Golden Globe Awards | 2003 | TV Special | Himself - Winner: Best Actor in a Motion Picture [Drama] |
| Easy Riders, Raging Bulls: How the Sex, Drugs and Rock 'N' Roll Generation Saved Hollywood | 2003 | Documentary | Himself |
| Back in the U.S. | 2002 | TV Special documentary | Himself |
| Leute heute | 2002 | TV Series documentary | Himself |
| Afterthoughts | 2002 | TV Movie documentary | David |
| Playboy: Inside the Playboy Mansion | 2002 | TV Movie documentary | Himself |
| The Kennedy Center Honors: A Celebration of the Performing Arts | 2001 | TV Special | Himself - Honoree |
| America: A Tribute to Heroes | 2001 | TV Special documentary | Himself |
| AFI Life Achievement Award: A Tribute to Barbra Streisand | 2001 | TV Special documentary | Himself |
| Stanley Kubrick: A Life in Pictures | 2001 | Documentary | Himself |
| Hollywood Rocks the Movies: The Early Years (1955-1970) | 2000 | TV Movie documentary | Himself (preproduction footage of 'Head (1968)') (uncredited) |
| The 72nd Annual Academy Awards | 2000 | TV Special | Himself - Presenter: Thalberg Award |
| The 51st Annual Primetime Emmy Awards | 1999 | TV Special | Himself - Audience Member |
| AFI Life Achievement Award: A Tribute to Dustin Hoffman | 1999 | TV Special documentary | Himself |
| The 71st Annual Academy Awards | 1999 | TV Special | Himself - Presenter: Best Actress in a Leading Role |
| Playboy: Playmate Pajama Party | 1999 | Video documentary | Himself |
| The 56th Annual Golden Globe Awards | 1999 | TV Special documentary | Himself - Cecil B. DeMille Award Recipient |
| Junket Whore | 1998 | Documentary | Himself |
| Bravo Profiles: The Entertainment Business | 1998 | TV Mini-Series documentary | Himself |
| The 70th Annual Academy Awards | 1998 | TV Special | Himself - Winner: Best Actor in a Leading Role / Past Winner |
| 4th Annual Screen Actors Guild Awards | 1998 | TV Special | Himself |
| The 55th Annual Golden Globe Awards | 1998 | TV Special | Himself - Winner: Best Actor in Motion Picture Comedy / Musical |
| Getting the Goods on 'As Good As It Gets' | 1997 | TV Movie documentary | Narrator |
| Very Important Pennis | 1996 | TV Series | Himself |
| AFI Life Achievement Award: A Tribute to Clint Eastwood | 1996 | TV Special documentary | Himself |
| AFI Life Achievement Award: A Tribute to Steven Spielberg | 1996 | TV Special documentary | Himself |
| Hard Copy | 1996 | TV Series | Himself |
| The 67th Annual Academy Awards | 1995 | TV Special | Himself - Presenter: Honorary Award to Michelangelo Antonioni |
| Rolling Stones: Stripped | 1995 | TV Movie | Himself |
| AFI Life Achievement Award: A Tribute to Jack Nicholson | 1994 | TV Special | Himself |
| The 19th Annual People's Choice Awards | 1993 | TV Special | Himself - Accepting Award for Favourite Dramatic Motion Picture |
| The 65th Annual Academy Awards | 1993 | TV Special | Himself - Nominee: Best Actor in a Supporting Role & Presenter: Best Picture |
| The Annual Daily Variety Honors. A Salutes to Army Archerd | 1993 | TV Movie | Himself |
| The 50th Annual Golden Globe Awards | 1993 | TV Special | Himself - Nominee: Best Actor in a Motion Picture Drama & Best Actor in a Supporting Role in a Motion Picture |
| An American Reunion: The People's Inaugural Celebration | 1993 | TV Movie | Himself |
| AFI Life Achievement Award: A Tribute to Kirk Douglas | 1991 | TV Special documentary | Himself (uncredited) |
| The 33rd Annual Grammy Awards | 1991 | TV Special | Himself |
| The 16th Annual People's Choice Awards | 1990 | TV Special | Himself - Accepting Award for Favourite Dramatic Motion Picture |
| Cinéma cinémas | 1990 | TV Series documentary | Himself |
| The 62nd Annual Academy Awards | 1990 | TV Special | Himself - Co-Presenter: Best Picture |
| The 60th Annual Academy Awards | 1988 | TV Special | Himself - Nominee: Best Actor in a Leading Role |
| How the Rhinoceros Got His Skin and How the Camel Got His Hump | 1987 | TV Movie | Himself - Narrator (voice) |
| One Voice | 1986 | TV Special documentary | Himself - Audience Member (uncredited) |
| The 58th Annual Academy Awards | 1986 | TV Special | Himself - Nominee: Best Actor in a Leading Role |
| Live Aid | 1985 | TV Special documentary | Himself |
| The 56th Annual Academy Awards | 1984 | TV Special documentary | Himself - Winner: Best Actor in a Supporting Role |
| La nuit des Césars | 1984 | TV Series documentary | Himself |
| AFI Life Achievement Award: A Tribute to John Huston | 1983 | TV Special | Himself |
| The 54th Annual Academy Awards | 1982 | TV Special documentary | Himself - Nominee: Best Actor in a Supporting Role |
| Notre Dame de la Croisette | 1981 | Documentary | Himself (uncredited) |
| Making 'The Shining' | 1980 | TV Short documentary | Himself |
| Wings Over the World | 1979 | TV Movie documentary | Himself (uncredited) |
| The 50th Annual Academy Awards | 1978 | TV Special | Himself - Presenter: Best Picture |
| AFI Life Achievement Award: A Tribute to Henry Fonda | 1978 | TV Special documentary | Himself (uncredited) |
| The 49th Annual Academy Awards | 1977 | TV Special | Himself - Presenter: Best Picture |
| AFI Life Achievement Award: A Tribute to Bette Davis | 1977 | TV Special documentary | Himself (uncredited) |
| Jimmy Carter's Inaugural Gala | 1977 | TV Movie | Himself |
| TVTV Looks at the Academy Awards | 1976 | TV Special documentary | Himself |
| The 48th Annual Academy Awards | 1976 | TV Special | Himself - Winner: Best Actor in a Leading Role |
| AFI Life Achievement Award: A Tribute to William Wyler | 1976 | TV Movie documentary | Himself (uncredited) |
| The Mike Douglas Show | 1976 | TV Series | Himself - Actor |
| Academy of TV Arts and Sciences Salute to Robert Evans | 1975 | TV Movie | Himself |
| The 47th Annual Academy Awards | 1975 | TV Special | Himself - Nominee |
| The 46th Annual Academy Awards | 1974 | TV Special | Himself - Nominee: Best Actor in a Leading Role |
| John & Yoko in Syracuse, New York | 1972 | TV Short documentary | Himself |
| The 44th Annual Academy Awards | 1972 | TV Special | Himself - Presenter |
| Chronicles: Van's Last Performance | 1971 | Documentary | Himself |
| Cinema | 1971 | TV Series documentary | Himself |
| The 43rd Annual Academy Awards | 1971 | TV Special | Himself - Nominee: Best Actor in a Leading Role |
| Neues aus der Welt des Films | 1971 | TV Series | Himself |
| The 42nd Annual Academy Awards | 1970 | TV Special | Himself - Nominee: Best Actor in a Supporting Role |
| The 27th Annual Golden Globes Awards | 1970 | TV Special | Himself - Nominee: Best Supporting Actor in a Motion Picture |
Archive Footage
| Title | Year | Status | Character |
| --- | --- | --- | --- |
| The Doctor in One Flew Over the Cuckoo's Nest | 2013 | Documentary short | R.P. McMurphy |
| Don't Say No Until I Finish Talking: The Story of Richard D. Zanuck | 2013 | Documentary | Himself |
| Edición Especial Coleccionista | 2011-2013 | TV Series | Wilbur Force / Jack Torrance |
| Top Priority: The Terror Within | 2012 | Documentary | Himself - Academy Award Winning Actor |
| American Masters | 2009-2012 | TV Series documentary | Himself |
| No me la puc treure del cap | 2012 | TV Series | George Hanson |
| The Announcement | 2012 | TV Movie documentary | Himself |
| America's Book of Secrets | 2012 | TV Series documentary | Himself |
| Room 237 | 2012/I | Documentary | Jack Torrance (uncredited) |
| Whistleblowers: The Untold Stories | 2011 | TV Series | Himself - Award Winning Actor |
| The Tonight Show with Jay Leno | 2010-2011 | TV Series | Himself / Himself - Lakers Game |
| Moguls & Movie Stars: A History of Hollywood | 2010 | TV Mini-Series documentary | George Hanson |
| Under the Boardwalk: The Monopoly Story | 2010 | Documentary | David Staebler |
| Cinemassacre's Monster Madness | 2007-2010 | TV Series documentary | Lt. Andre Duvalier / Rexford Bedlo |
| I Am | 2010/III | Documentary | R.P. McMurphy (uncredited) |
| Cinémas | 2010 | TV Series | Himself |
| Dans le labyrinthe de Marienbad | 2009 | Video documentary short | |
| Explosiv - Das Magazin | 2009 | TV Series documentary | Himself |
| Premio Donostia a Meryl Streep | 2008 | TV Special | Mark Forman |
| Strictly Courtroom | 2008 | TV Movie documentary | Col. Nathan R. Jessep (uncredited) |
| Waiting for Hockney | 2008 | Documentary | Himself |
| 5 Second Movies | 2008 | TV Series | The Joker |
| The O'Reilly Factor | 2008 | TV Series | Himself |
| Oscar, que empiece el espectáculo | 2008 | TV Movie documentary | Himself (uncredited) |
| Roman Polanski: Wanted and Desired | 2008 | Documentary | Himself / Jack Gittes |
| Writing a Bucket List | 2008 | Video documentary short | Edward (uncredited) |
| Biography | 2000-2007 | TV Series documentary | Himself / Jack Torrance |
| John Mayer: Say | 2007 | Video short | Edward |
| Al rojo vivo con María Celeste | 2007 | TV Series | Himself |
| Cannes, 60 ans d'histoires | 2007 | TV Movie documentary | Himself |
| ...10 años de Proyecto Corto | 2007 | TV Movie | Himself |
| Alberto Iglesias, el músico fiel | 2006 | TV Movie documentary | Jack Torrance (uncredited) |
| 80s | 2005 | TV Series documentary | Joker Jack Napier |
| Corazón de... | 2005 | TV Series | Himself |
| E! True Hollywood Story | 2005 | TV Series documentary | Himself |
| ... A Father... A Son... Once Upon a Time in Hollywood | 2005 | TV Movie documentary | Himself |
| Inside Deep Throat | 2005 | Documentary | Himself |
| 101 Biggest Celebrity Oops | 2004 | TV Special documentary | Himself - #68: Box Office Hit to Box Office Flop |
| Bully & Rick | 2004 | TV Series | Himself |
| Celebrities Uncensored | 2003 | TV Series | Himself |
| Cher: The Farewell Tour | 2003 | TV Movie documentary | Daryl Van Horne |
| Larry King Live | 2003 | TV Series | J.J. Gittes |
| The Kid Stays in the Picture | 2002 | Documentary | Himself |
| A Few Good Men: From Stage to Screen | 2001 | Video documentary short | Col. Nathan R. Jessep (uncredited) |
| Code of Conduct | 2001 | Video documentary short | Col. Nathan R. Jessep (uncredited) |
| Schlock! The Secret History of American Movies | 2001 | Documentary | Himself |
| Gimme Some Truth: The Making of John Lennon's Imagine Album | 2000 | Video documentary | Himself |
| Warner Bros. 75th Anniversary: No Guts, No Glory | 1998 | TV Movie documentary | Himself (uncredited) |
| ... y otras mujeres de armas tomar | 1998 | TV Movie documentary | Himself |
| Hey, Hey We're the Monkees | 1997 | TV Movie documentary | Himself (uncredited) |
| Arena | 1997 | TV Series documentary | Himself |
| 100 Years at the Movies | 1994 | TV Short documentary | Himself |
| The Who's Tommy, the Amazing Journey | 1993 | Documentary | The Specialist |
| The Making of '...And God Spoke' | 1993 | | Himself - Academy Awards |
| Fallen Champ: The Untold Story of Mike Tyson | 1993 | TV Movie documentary | Himself - Audience Member |
| Ca détourne | 1992 | TV Movie | |
| Hollywood Mavericks | 1990 | Documentary | Robert Eroica Dupea |
| The Siskel & Ebert 500th Anniversary Special | 1989 | TV Movie | Himself / Robert Eroica Dupea |
| Monsters & Maniacs | 1988 | Video documentary | Himself |
| America at the Movies | 1976 | Documentary | Jonathan Fuerst Robert Eroica Duprea |
| The Movie Orgy | 1968 | Documentary | Clip from Unidentified Film (uncredited) |
| The Eighties | 2016 | TV Mini-Series documentary | Himself - Actor |
| Quick Reviews with Maverick | 2016 | TV Series | Melvin Udall |
| Entertainment Tonight | 2008-2016 | TV Series | Himself |
| The Challenge Show | 2015 | TV Series | Jack Torrance |
| Dante's Domicile | 2015 | TV Series | Lt. Andre Duvalier |
| Welcome to the Basement | 2013-2015 | TV Series | Jack Torrence / Will Randall / Himself |
| Mike & Mike | 2013-2015 | TV Series | Himself |
| Inside Edition | 2015 | TV Series documentary | Himself |
| Animation Lookback | 2015 | TV Series documentary | Col. Nathan R. Jessup |
| Julie Walters: A Life on Screen | 2014 | TV Movie documentary | Himself (uncredited) |
| Dr. Kubrick, Or: How I Learned to Stop Worrying & Love Eyes Wide Shut | 2014 | Documentary short | Himself |
| The Tonight Show Starring Jimmy Fallon | 2014 | TV Series | Himself - Clippers Playoff Game |
| Ann-Margret: Från Valsjöbyn till Hollywood | 2014 | Documentary | Himself |
| Ann-Margret: Från Valsjöbyn till Hollywood (I) | 2014 | Documentary | Himself |
| The Second Annual 'On Cinema' Oscar Special | 2014 | TV Movie | Himself (uncredited) |
| And the Oscar Goes To... | 2014 | TV Movie documentary | Himself |