George Barris Net Worth is

$10 Million
George Barris Biography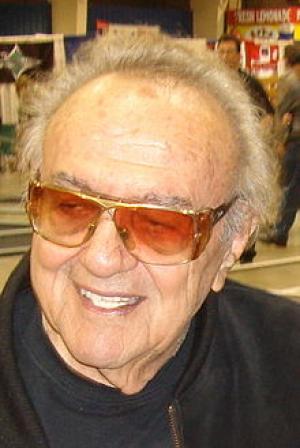 George Salapatas was born on the 20th November 1925, in Chicago, Illinois USA, of Greek descent, and as George Barris was known as a car designer, famous for building automobiles for Hollywood, such as the Batmobile and Munster Koach. Thanks to his designing skills and car knowledge, Barris' net worth significantly increased. His career was active from the 1940s until 2010. He passed away in 2015.
Have you ever wondered how rich George Barris was at the time of his death? According to authoritative sources, it has been estimated that Barris' net worth was high as $10 million, an amount earned through his successful career as a car designer.
George Barris Net Worth $10 Million
George Barris was born to the family of Greek immigrants and when three years old, his father sent him and brother Sam to live with their uncle in Roseville, California. George developed an interest towards cars from an early age, so at seven he was already making car models and winning contests. George and Sam worked at the Greek family restaurant, and bought their first car, a 1925 Buick that wasn't in a good shape, but the brothers quickly improved its condition, inserted few modifications, and later sold it for a profit – it was George's first custom car of many.
Barris went to San Juan High School, and although his family wanted him to stay and work at the restaurant, Barris decided to move to Los Angeles, and open Barris Custom Shop at 18 years of age. After being discharged from the army, Sam joined his brother in L.A., and they started working on custom cars for private buyers before somebody from the movie industry noted their skills. They were asked to design cars for Hollywood stars and executives, but also the props for films. Their first one used in a movie was in "High School Confidential" in 1958.
Barris designed the Ford police car that featured in the movie "North by Northwest" in 1959, and a modified Plymouth Barracuda for "Fireball 500" (1966), a Mercury station wagon for "The Silencers" (1966), Dodge Charger for "Thunder Alley" (1967), created a vehicle for "Supervan" (1967), and Lincoln Continental Mark III for "The Car" (1977). All of these ventures increased George`s net worth by a large margin.
However, Barris' most notable work came when the ABC executives asked him to create a signature car for the TV series "Batman" (1966-1968). He didn't have enough time to build a new car from a scratch, so instead George used his Lincoln Futura as a base, but the Batmobile was an international hit and stayed under Barris' ownership until he sold it at auction for $4,620,000 in 2013. Selling this famous vehicle generated a large amount for his net worth.
George constructed and modified cars for such celebrities as Zsa Zsa Gabor, Bob Hope, Elton John, Ann-Margret, Bing Crosby, and Glen Campbell. He also modified a Pontiac station wagon for John Wayne, a Cadillac limousine for Elvis, Cadillac Eldorado for Dean Martin, and in 1966 Ford Mustang convertibles for Sonny and Cher, increasing further his net worth. Most recently, he worked on a Toyota Prius for The New York Times in 2005, and did a special design of a 2010 Chevrolet Camaro Spirit, which also added to his net worth.
Regarding his personal life, George Barris married Shirley Nahas in 1958, and were together until her passing in 2001, and they had two children together. George Barris died in his sleep at home in Encino, California, in November 2015.
Known for movies
Quick Facts
| | |
| --- | --- |
| Full Name | George Barris |
| Net Worth | $10 Million |
| Date Of Birth | November 20, 1925 |
| Died | November 5, 2015, Encino, Los Angeles, California, United States |
| Place Of Birth | Chicago, Illinois, USA |
| Profession | Designer |
| Nationality | American |
| Spouse | Shirley Barris (m. 1958–2001) |
| Children | Joji Barris, Brett Barris |
| Wikipedia | https://en.wikipedia.org/wiki/George_Barris_(auto_customizer) |

Interesting Facts
| # | Fact |
| --- | --- |
| 1 | Still running Barris Kustom Industries in Toluca Lake, California. [1999] |
| 2 | Well known builder of hot rods and custom cars, such as the Batmobile from Batman (1966) and the truck from The Beverly Hillbillies (1962). |

Won Awards
Won awards
| Year | Award | Ceremony | Nomination | Movie | Award shared with |
| --- | --- | --- | --- | --- | --- |
| 2005 | Lifetime Achievement Award | San Fernando Valley International Film Festival | | | |
| 2000 | Life Career Award | Academy of Science Fiction, Fantasy & Horror Films, USA | | Designer of film and TV's Batmobile. | |

Filmography
Miscellaneous
| Title | Year | Status | Character |
| --- | --- | --- | --- |
| James Dean: Live Fast, Die Young | 1997 | race car: Kustom Spyder | |
| Turbo: A Power Rangers Movie | 1997 | car customizer | |
| Jurassic Park | 1993 | car modifications - uncredited | |
| Knight Rider | 1982 | TV Series car designer | |
| The Dukes of Hazzard | 1979 | TV Series car modifications | |
| The Car | 1977 | car customizing | |
| Supervan | 1977 | car customizer | |
| Bearcats! | 1971 | TV Series car - 13 episodes | |
| The Bugaloos | 1970-1971 | TV Series car designer - 14 episodes | |
| The Beverly Hillbillies | | TV Series car designer - 3 episodes, 1962 - 1963 production assistant - 1 episode, 1968 | |
| The Banana Splits Adventure Hour | 1968 | TV Series car designer - 5 episodes | |
| Mannix | 1967 | TV Series car customizer: Mannix Roadster | |
| Thunder Alley | 1967 | car customizer: Thunder Charger - uncredited | |
| Batman: The Movie | 1966 | car designer - uncredited | |
| Fireball 500 | 1966 | car customizer - uncredited | |
| Out of Sight | 1966 | car customizer | |
| The Silencers | 1966 | car customizer - uncredited | |
| Marriage on the Rocks | 1965 | car customizer: Zebra Mustang | |
| The Munsters | 1965 | TV Series technical advisor - 1 episode | |
| For Those Who Think Young | 1964 | car customizer | |
| Cinderfella | 1960 | builder: 'Golden Sahara' car - uncredited | |
| High School Confidential! | 1958 | car modifications - uncredited | |
Actor
| Title | Year | Status | Character |
| --- | --- | --- | --- |
| Smokey and the Hotwire Gang | 1979 | | Billy The Kid |
| Mag Wheels | 1978 | | Shop Owner |
| Supervan | 1977 | | King of the Customizers |
Producer
| Title | Year | Status | Character |
| --- | --- | --- | --- |
| Disco Fever | 1978/I | executive producer | |
| Mag Wheels | 1978 | executive producer | |
| Juke Box Racket | 1960 | co-producer | |
Transportation Department
| Title | Year | Status | Character |
| --- | --- | --- | --- |
| The Patsy | 1964 | picture vehicles - uncredited | |
| For Those Who Think Young | 1964 | picture vehicles - uncredited | |
Director
| Title | Year | Status | Character |
| --- | --- | --- | --- |
| Juke Box Racket | 1960 | co-director | |
Writer
| Title | Year | Status | Character |
| --- | --- | --- | --- |
| Disco Fever | 1978/I | story | |
Thanks
| Title | Year | Status | Character |
| --- | --- | --- | --- |
| Deadline Auto Theft | 1983 | special thanks | |
Self
| Title | Year | Status | Character |
| --- | --- | --- | --- |
| American Pickers | 2013 | TV Series documentary | Himself |
| The Batmobile | 2012 | TV Movie documentary | Himself |
| Comic Con 2012 Live | 2012 | TV Movie | Himself |
| The Jace Hall Show | 2010 | TV Series | Himself |
| Totally Tracked Down | 2010 | TV Series | Himself |
| Monster Garage | 2002-2007 | TV Series | Himself |
| The Girls Next Door | 2006-2007 | TV Series | Himself - Kustom Kar King |
| Real James Dean | 2006 | Video documentary | Himself - Custom Car Designer |
| TV's Greatest Cars | 2004 | TV Movie documentary | Himself |
| TV Land's Top Ten | 2004 | TV Series documentary | Himself |
| Dead Famous | 2004 | TV Series documentary | Himself |
| Street Fury: Inferno | 2003 | Video documentary | Himself |
| Biography | 2002-2003 | TV Series documentary | Himself |
| Living Famously | 2003 | TV Series documentary | Himself |
| The Batmobile Revealed | 2001 | Video documentary short | Himself |
| The Final Day | 2000 | TV Mini-Series documentary | Himself |
| Bat Talk | 1989 | TV Movie documentary | Himself |
| The Late Show | 1988 | TV Series | Himself |
| Forever James Dean | 1988 | Documentary | Himself |
| Deadline Auto Theft | 1983 | | Himself |
| The Junkman | 1982 | | Himself |
| Disco Fever | 1978/I | | Himself |
| Pit Stop | 1969 | | Himself |