Daniela Ruah Net Worth is

$7 Million
Daniela Ruah Biography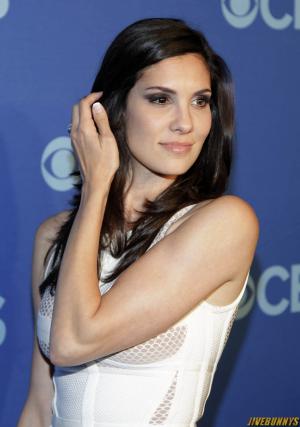 Daniela Sofia Korn Ruah was born on 2 December 1983, in Boston, Massachusetts USA, to Portuguese-born Jewish parents Caterina Azancot Korn and Moises Carlos Bentes Ruah. She is an actress, most famous for her role as NCIS Special Agent Kensi Blye in the CBS television series "NCIS: Los Angeles".
A famous actress, how rich is Daniela Ruah at present? According to sources, Ruah's net worth reaches $7 million, as of mid-2016. Her wealth has been acquired mostly through her acting career.
Daniela Ruah Net Worth $7 Million
Ruah was the only child of her parents; when she was a five-year-old girl, her family moved back to Portugal, but after her parents divorced, her father remarried and she got a stepbrother. She was raised in her parents' Jewish religion, and attended an international English-meduim school and later St. Julian School in Carcavelos, near Lisbon. She subsequently obtained her Bachelor of Arts degree in Performing Arts from London Metropolitan University in England, earning first class Honors.
Ruah started her acting career at the age of ten, appearing in Portuguese soap operas. Her big break came in 2000, with the role of Sara in the soap opera "Jardin Probidios", when she was 16. The following year she took the role of Constança Valadas in the soap opera "Filha do Mar". At the age of 18 Ruah moved to London to attend college, then after graduation she returned to Portugal, and went on to appear in various soap operas and series, such as "Inspector Max", "Dei-te Quase Tudo", "Tu e Eu" and "Casos da Vida". In 2006 she won the "Danca Comigo" contest, the Portuguese version of "Dancing with the Stars". The following year she moved to the USA to study acting at New York City's Lee Strasberg Theatre and Film Institute.
In 2009 Ruah was cast in a starring role as Special Agent Kensi Blye in the CBS action television series "NCIS: Los Angeles". The police procedural series portrays The Naval Criminal Investigation Service's Office of Special Projects, with the teams going undercover to spot the criminal acts around LA. The series has been aired for seven seasons so far, with the eighth one being set to premiere in late 2016. Ruah's role in the series has brought her enormous fame and has greatly contributed to her net worth, and it also earned her the Portuguese Golden Globe award for Newcomer of the Year and TV Action Icon Award 2011 of Celebrity & Stuntwomen's Awards. She was also nominated for Teen Choice Award for Choice TV Action Actress.
In the mean time, Ruah has also participated in other projects. In 2009 she appeared as Angela Bowery in the short film "Safe Heaven", and as Sophie in another 2009 short film "Midnight Passion". The same year she appeared in the television series "Guiding Light" and "NCIS". In 2011 she made a guest appearance as Kensi Blye in an episode of "HawaiiFive-O, then the following year she took the role of Sofia in the World War II film "Red Tails". In 2013 Ruah made her theater debut as Catherine in the play "Proof", held at LA's Hayworth Theatre. All added to her net worth.
When it comes to her private life, Ruah has been married to a stuntman David Paul Olsen since 2014; he is the brother and stunt double of Ruah's co-star from "NCIS: Los Angeles", Eric Christian Olsen. The couple has one child, and Ruah is currently pregnant with another. The family resides in Los Angeles, California.
Ruah is involved in philanthropy – she has volunteered to raise money for the American Society for the Prevention of Cruelty to Animals. She has also participated in raising money for a charity organization called Project Have Hope, helping families in Uganda by providing their children with quality education.
Known for movies
Quick Facts
| | |
| --- | --- |
| Full Name | Daniela Ruah |
| Net Worth | $7 Million |
| Date Of Birth | December 2, 1983 |
| Place Of Birth | Boston, Massachusetts, United States |
| Height | 5 ft 9 in (1.77 m) |
| Weight | 123.5 lbs |
| Profession | Actress |
| Education | English-meduim schoo, St. Julian School in Carcavelos, London Metropolitan University, New York City's Lee Strasberg Theatre and Film Institute |
| Nationality | Portuguese-American |
| Spouse | David Paul Olsen (m. 2014) |
| Children | River Isaac Ruah Olsen |
| Parents | Caterina Azancot Korn, Moises Carlos Bentes Ruah |
| Nicknames | Daniela Sofia Korn Ruah |
| Facebook | http://www.facebook.com/oficialdanielaruah |
| Twitter | http://www.twitter.com/danielaruah |
| Instagram | https://www.instagram.com/danielaruah/?hl=en |
| Wikipedia | https://en.wikipedia.org/wiki/Daniela_Ruah |
| Awards | Portuguese Golden Globe award for Newcomer of the Year, TV Action Icon Award 2011 of Celebrity & Stuntwomen's Awards |
| Nominations | Teen Choice Award for Choice TV Action Actress |
| Movies | "Red Tails" (2013), "Jardins Proibidos", "Inspector Max" (2004), "Midnight Passion" (2009), "Excuse" (2016) |
| TV Shows | "Danca Comigo" (2006), "NCIS: Los Angeles", "HawaiiFive-O" (2011), "Safe Heaven", "Guiding Light", "Proof" (2013) |

Interesting Facts
| # | Fact |
| --- | --- |
| 1 | Gave birth to her 2nd child at age 32, a daughter named Sierra Esther Ruah Olsen on September 4, 2016. Child's father is her husband, David Paul Olsen. |
| 2 | Sister-in-law of Eric Christian Olsen. |
| 3 | Daughter-in-law of Jeanne D. Olsen. |
| 4 | Daughter of Caterina Korn Broder. |
| 5 | Gave birth to her 1st child at age 30, a son named River Isaac Ruah Olsen on December 30, 2013. Child's father is her fiancé (now husband), David Paul Olsen. |
| 6 | (June 19, 2014) Married her boyfriend of 4 years and father of her 5-month-old son, River, David Paul Olsen. |
| 7 | Has nevus of Ota in her right eye. |
| 8 | Daniela's paternal grandparents, Samuel Allenby Bentes Ruah and Esther Buzaglo Bensusan, were both Sephardi Jews (their families lived in Portugal and Gibraltar). Daniela's maternal grandfather, Max Joachim Korn, was an Ashkenazi Jew (born in Wroclaw, Poland). Daniela's maternal grandmother, Vera Jacob Muginstein Azancot, was of Sephardi Jewish and Spanish descent on her own father's side, and of Ashkenazi Jewish descent on her own mother's side (Daniela's matrilineal great-grandmother, Simy Sophie Muginstein, was from Odessa, in the Russian Empire). |
| 9 | Los Angeles: Currently shooting season 4 of NCIS: Los Angeles (2009). [April 2013] |
| 10 | Currently shooting season 2 of NCIS: Los Angeles (2009). [August 2010] |
| 11 | Attended the "Lee Strasberg Theatre Institute" with Josh Bowman and Christiane Seidel. |
| 12 | She has played the same character (Kensi Blye) in three different series: NCIS (2003), NCIS: Los Angeles (2009) and Hawaii Five-0 (2010). |
| 13 | Winner of Dança Comigo (2006) - season 1 (Portuguese version of Dancing with the Stars (2005)). |
| 14 | Hosted 'Cinebox' for the Portuguese network TVI. |

Trademarks
| # | Trademark |
| --- | --- |
| 1 | Has a distinguishable birthmark in her right eye; her other eye is hazel. |

Quotes
| # | Quote |
| --- | --- |
| 1 | [on being a Portuguese Jew] There's I'd say between four- and five-hundred [Portuguese Jews]. Not a lot out of 10½ million to 11 million people. My family is probably the biggest family there. But coming from a small community makes you want to follow the traditions of your family much more. |

Pictures
Won Awards
Won awards
| Year | Award | Ceremony | Nomination | Movie | Award shared with |
| --- | --- | --- | --- | --- | --- |
| 2010 | Golden Globe | Golden Globes, Portugal | Revelation | NCIS: Los Angeles (2009) | |
Nominated Awards
Nominated awards
| Year | Award | Ceremony | Nomination | Movie | Award shared with |
| --- | --- | --- | --- | --- | --- |
| 2011 | Festival Prize | Short Shorts Film Festival & Asia | | Tu & Eu (2011) | |
| 2010 | Teen Choice Award | Teen Choice Awards | Choice TV Actress: Action | NCIS: Los Angeles (2009) | |

Filmography
Actress
| Title | Year | Status | Character |
| --- | --- | --- | --- |
| NCIS: Los Angeles | 2009-2017 | TV Series | Kensi Blye |
| Excuse | 2016 | Short | Brenda |
| Pivot | 2016 | Short | Pregnant Woman |
| Red Tails | 2012 | | Sofia |
| Hawaii Five-0 | 2011 | TV Series | Kensi Blye |
| Tu & Eu | 2011 | Short | Sofia |
| Safe Haven | 2009 | Short | Angela Bowery |
| NCIS | 2009 | TV Series | Kensi Blye |
| Midnight Passion | 2009 | Short | Sophie |
| Guiding Light | 2009 | TV Series | Gigi |
| Casos da Vida | 2008 | TV Series | Rita |
| Blind Confession | 2008 | Short | Woman |
| Tu e Eu | 2006-2007 | TV Series | Daniela Pinto |
| Dei-te Quase Tudo | 2005-2006 | TV Series | Rita |
| Canaviais | 2006 | Short | Margarida |
| Inspector Max | 2004 | TV Series | Verónica Botelho |
| Filha do Mar | 2001-2002 | TV Series | Constança Valadas |
| Elsa, uma Mulher Assim | 2001 | TV Mini-Series | Mónica |
| Querida Mãe | 2001 | TV Movie | Zezinha |
| Jardins Proibidos | 2000-2001 | TV Series | Sara |
Thanks
| Title | Year | Status | Character |
| --- | --- | --- | --- |
| Burning Daylight | 2010 | thanks | |
Self
| Title | Year | Status | Character |
| --- | --- | --- | --- |
| The Insider | 2014-2017 | TV Series | Herself - NCIS: Los Angeles / Herself |
| Super Bowl's Greatest Commercials 2017 | 2017 | TV Movie | Herself - Host |
| The Talk | 2012-2016 | TV Series | Herself / Herself - NCIS: Los Angeles / Herself - Guest |
| NCIS: Los Angeles - Season 7: Celebrating 150 | 2016 | Video short | Herself |
| NCIS: Los Angeles - Season 7: Getting Personal | 2016 | Video short | Herself |
| NCIS: Los Angeles - Season 7: Hot Property | 2016 | Video short | Herself |
| NCIS: Los Angeles - Season 7: What's in a Name? | 2016 | Video short | Herself |
| Entertainment Tonight | 2010-2016 | TV Series | Herself |
| Sociedade Recreativa | 2016 | TV Series | Herself |
| Prémios Sophia 2016 | 2016 | TV Movie | Herself - Presenter |
| NCIS: Los Angeles - Season 6: The World on a String | 2015 | Short | Herself |
| NCIS: Los Angeles - Season 6: Too Close for Comfort | 2015 | Video short | Herself |
| NCIS: Los Angeles - Season 6: Yippee Ki-Yay | 2015 | Short | Herself |
| The Queen Latifah Show | 2014-2015 | TV Series | Herself |
| The 41st Annual People's Choice Awards | 2015 | TV Special | Herself |
| NCIS: Los Angeles: Season 5 - Crafting Afghanistan | 2014 | Video documentary short | Herself |
| NCIS: Los Angeles: Season 5 - Happy 100th | 2014 | Video documentary short | Herself |
| NCIS: Los Angeles: Season 5 - The Write Staff | 2014 | Video documentary short | Herself |
| NCIS: Los Angeles: Season 5 - Unexpected Developments | 2014 | Video documentary short | Herself |
| Só Visto! | 2013-2014 | TV Series | Herself |
| The Arsenio Hall Show | 2014 | TV Series | Herself - Guest |
| The 15th Annual 'A Home for the Holidays' | 2013 | TV Special | |
| NCIS: Los Angeles: Season 4 - Chris at the Helm | 2013 | Video short | Herself |
| NCIS: Los Angeles: Season 4 - Sound Off | 2013 | Video short | Herself |
| NCIS: Los Angeles: Season 4 - Un4Gettable: Season Four of NCIS: Los Angeles | 2013 | Video short | Herself |
| The Late Late Show with Craig Ferguson | 2010-2012 | TV Series | Herself |
| The Jeff Probst Show | 2012 | TV Series | Herself |
| NCIS: Los Angeles - Season 3: Aligning the Stars | 2012 | Video short | Herself |
| NCIS: Los Angeles - Season 3: Investigating Season 3 | 2012 | Video short | Herself |
| Janela Indiscreta | 2012 | TV Series | Herself |
| Golden Globes, Portugal | 2011 | TV Special | Herself - Presenter |
| Episódio Especial | 2010 | TV Series | Herself |
| Companhia das Manhãs | 2010 | TV Series | Herself |
| Lado B | 2010 | TV Series | Herself |
| Globos de Ouro 2009 | 2010 | TV Movie | Herself - Winner: Revelation of the Year |
| Fama Show | 2009-2010 | TV Series | Herself |
| The 36th Annual People's Choice Awards | 2010 | TV Special | Herself - Audience Member (uncredited) |
| Vida Nova | 2009 | TV Series | Herself (2010) |
| Dança Comigo | 2006-2007 | TV Series | Herself / Audience Member / Herself (Winner) |
| Você na TV! | 2006 | TV Series | Herself |
| Gala de Natal TVI 2005 | 2005 | TV Movie | Herself |
| Lux | 2000 | TV Series | Herself (2000) |
Archive Footage
| Title | Year | Status | Character |
| --- | --- | --- | --- |
| Extra | 2015 | TV Series | Herself |
| Jardins Proibidos | 2014-2015 | TV Series | Sara |
| Fama Show | 2010 | TV Series | Herself |
| Gala do 15º aniversário da TVI | 2008 | TV Movie | Sara (segment "Jardins Proibidos") |