Clint Walker Net Worth is

$5 Million
Clint Walker Biography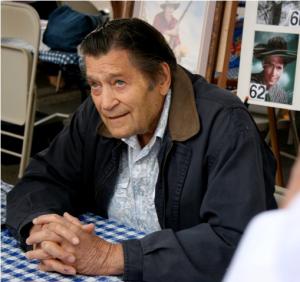 Norman Eugene Walker was born on 30 May 1927, in Hartford, Illinois USA, and is of Czech descent on his mother's side. Clint Walker is a retired actor, who is renowned for his cowboy role in the television series "Cheyenne", which was a big hit in '50s and '60s. He became famous by his stage name when he started his career in acting. This name took him to the height of success given his acting skills and striking physique. Clint has appeared in many Hollywood movies as well as several television series, which made him one of the stars of the '50s who helped take the cinema and television craze with westerns to the next level.
How rich is this western hero, Clint Walker? Clint is estimated by authoritative sources to have accumulated a net worth of $5 million from his acting career which spanned more than 40 years, and when actors weren't paid the huge amounts that they are today.
Clint Walker Net Worth $5 Million
All the fame and money did not come naturally to this actor; Clint was raised by his mother as his parents divorced when he was very young, and he left school in his teens and worked at odd jobs including metal worker, nightclub bouncer, doorman, undercover for detectives among others. It was only after some years that a friend suggested that he could become an actor, given his voice and strong physique. So Clint then tried his luck in acting, and initially appeared in the film "Jungle Gents" with the name Jett Norman. Later when he was signed by Warner Bros and ABC to the popular series "Cheyenne" in the role that portrayed Cheyenne Bodie, was when he adopted his popular stage name, Clint Walker. With this role, Clint never looked back in his life, and went on to a successful acting career.
Clint always gave a touch of glamour in his movies, and is considered to be the one who should get credit for raising the stature of western actors in the eyes of the public. He subsequently starred in numerous television series, as well as "Cheyenne", including  "Yuma", "Killdozer!", "Scream of the Wolf" and many more. He also played roles in big Hollywood movies with the likes of "The Dirty Dozen", "The Great Bank Robbery", "Hysterical", "None but the Brave" and so on. For his considerable contribution to television and the cinema, he has been rewarded with a star on Hollywood Walk of Fame, as well as inducted into the Hall of Great Western Performers at the National Cowboy & Western Heritage Museum. In all, Clint appeared in more than 40 films, both on the big screen, and in TV series and films, before he retired in the late '90s.
In his personal life, Clint has been married thrice, and with his first wife, Verna Garner (1948-68) is the father of a daughter named Valerie, who went on to become one of the first female pilots. He was also married to Giselle Hennesey from1974 until her death in 1994, and has been married to Susan Cavallari since 1997, living in Nevada County, California. The pin-up prince of woman in '50s and '60s, Clint still enjoys the sparks and celebrations he gets from his fans and followers, and loves signing autographs at various gatherings.
Known for movies
Quick Facts
| | |
| --- | --- |
| Full Name | Clint Walker |
| Net Worth | $5 Million |
| Date Of Birth | May 30, 1927 |
| Place Of Birth | Hartford, Illinois, United States |
| Height | 6 ft 5 in (1.981 m) |
| Profession | Actor, Voice Actor |
| Education | United States Merchant Marine, |
| Nationality | American |
| Spouse | Susan Cavallari (m. 1997), Giselle Hennessy (m. 1974–1994), Verna Garver (m. 1948–1968) |
| Children | Valerie Walker |
| Parents | Gladys Huldah (née Schwanda), Paul Arnold Walker |
| Siblings | Neoma L. Westbrook |
| Nicknames | Norman Eugene Walker , Jett Norman |
| Facebook | https://www.facebook.com/handsomeClintWalker/ |
| IMDB | http://www.imdb.com/name/nm0907636 |
| Allmusic | https://www.allmusic.com/artist/clint-walker-mn0001621410 |
| Awards | Golden Boot Awards (1997) |
| Nominations | Hollywood Walk of Fame (1960), Hall of Great Western Performers (National Cowboy & Western Heritage Museum in Oklahoma, 2004) |
| Movies | More Dead Than Alive (1969), Fort Dobbs (1958), Yellowstone Kelly (1959), Gold of the Seven Saints (1961), Send Me No Flowers (1964), The Ten Commandments (1956), Jungle Gents (1954), |
| TV Shows | Cheyenne (1955-1962), Maverick (1960), Kraft Suspense Theatre (1964), Kodiak (1974), Centennial (1978), The Love Boat (1983), Sweating Bullets (1993) |

Interesting Facts
| # | Fact |
| --- | --- |
| 1 | He was a health food addict. |
| 2 | He is a staunch conservative Republican. |
| 3 | Enjoys meeting people and signing autographs while attending various gatherings, film festivals and Western Heritage events. His favorite event to attend is the Western Legends Film Festival held the last week of August each year in Kanab, Utah, where many of the Hollywood westerns were filmed and where Clint was honored in 2004 for his role in the movie Fort Dobbs (1958). |
| 4 | After the first few episodes of Cheyenne (1955), he was given a horse named Brandy. Brandy was 16 hands high (5'4"). Not only did Clint ride the horse in the "Cheyenne" episodes, he was used in the movies made at Warner Brothers. Brandy has a distinguishing white spot on his right rump. |
| 5 | He was a guest at the 2012 Memphis Film Festival's "A Gathering of Guns 4: A TV Western Reunion" at the Whispering Woods Hotel and Conference Center in Olive Branch, Mississippi. |
| 6 | Walker's twin sister, Neoma L. "Lucy" Westbrook, died Nov. 11, 2000 at her residence in Hartford, Illinois, aged 73. |
| 7 | In 1971, he was involved in a freak accident at Mammoth Mountain, CA, when the tip of a ski pole pierced his heart. He made an amazing recovery and was back at work filming in Spain two months later. |
| 8 | His twin sister's name was Lucille. |
| 9 | He was born a twin. |
| 10 | Unlike many of his TV-western colleagues, Clint Walker never had to endure a whipping on Cheyenne (1955) (though on a 10-23-61 episode titled "The Young Fugitives," he was bound shirtless to a tree. |

Net Worth & Salary
| Title | Salary |
| --- | --- |
| Cheyenne (1955) | $175 per week (first two seasons) |

Pictures
Won Awards
Won awards
| Year | Award | Ceremony | Nomination | Movie | Award shared with |
| --- | --- | --- | --- | --- | --- |
| 1997 | Golden Boot | Golden Boot Awards | | | |
| 1960 | Star on the Walk of Fame | Walk of Fame | Television | On 8 February 1960. At 1505 Vine Street | |

Filmography
Actor
| Title | Year | Status | Character |
| --- | --- | --- | --- |
| Small Soldiers | 1998 | | Nick Nitro (voice) |
| Kung Fu: The Legend Continues | 1995 | TV Series | Cheyenne Bodie |
| Sweating Bullets | 1993 | TV Series | Dead Eye Dixon |
| The Gambler Returns: The Luck of the Draw | 1991 | TV Movie | Cheyenne |
| The All American Cowboy | 1985 | TV Movie | |
| The Serpent Warriors | 1985 | | Morgan Bates |
| The Love Boat | 1983 | TV Series | Bill |
| Hysterical | 1983 | | Sheriff |
| Mysterious Island of Beautiful Women | 1979 | TV Movie | Wendell |
| Centennial | 1978 | TV Mini-Series | Joe Bean |
| Deadly Harvest | 1977 | | Grant Franklin |
| The White Buffalo | 1977 | | Whistling Jack Kileen |
| Snowbeast | 1977 | TV Movie | Sheriff Paraday |
| Baker's Hawk | 1976 | | Dan Baker |
| Killdozer | 1974 | TV Movie | Lloyd Kelly |
| Scream of the Wolf | 1974 | TV Movie | Byron Douglas |
| Kodiak | 1974 | TV Series | Cal 'Kodiak' McKay / Cal 'Kodiak' McCay / Kodiak |
| Pancho Villa | 1972 | | Scotty |
| The Bounty Man | 1972 | TV Movie | Kinkaid |
| Hardcase | 1972 | TV Movie | Jack Rutherford |
| Yuma | 1971 | TV Movie | Marshal Dave Harmon |
| The Phynx | 1970 | | Master Sergeant Clint Walker |
| The Great Bank Robbery | 1969 | | Ranger Ben Quick |
| Sam Whiskey | 1969 | | O. W. Bandy |
| More Dead Than Alive | 1969 | | Cain |
| The Dirty Dozen | 1967 | | Samson Posey |
| Maya | 1966 | | Hugh Bowen |
| The Night of the Grizzly | 1966 | | Jim Cole |
| The Lucy Show | 1965-1966 | TV Series | Frank / Frank Wilson |
| None But the Brave | 1965 | | Capt. Dennis Bourke |
| Send Me No Flowers | 1964 | | Bert Power |
| Kraft Suspense Theatre | 1964 | TV Series | David Wolfe |
| 77 Sunset Strip | 1963 | TV Series | Cal Jasper |
| Cheyenne | 1955-1962 | TV Series | Cheyenne Bodie / Ace Black / Jim Thornton Merritt |
| Gold of the Seven Saints | 1961 | | Jim Rainbolt |
| Maverick | 1960 | TV Series | Cheyenne Bodie |
| Requiem to Massacre | 1960 | | Custer |
| Yellowstone Kelly | 1959 | | Luther 'Yellowstone' Kelly |
| Fort Dobbs | 1958 | | Gar Davis |
| The Travellers | 1957 | | Cheyenne Bodie |
| The Ten Commandments | 1956 | | Sardinian Captain |
| Jungle Gents | 1954 | | Tarzan Type (uncredited) |
Soundtrack
| Title | Year | Status | Character |
| --- | --- | --- | --- |
| The Night of the Grizzly | 1966 | writer: "Pine Tree Tall" - uncredited | |
| The Jack Benny Program | 1963 | TV Series performer - 1 episode | |
| Cheyenne | | TV Series 1 episode, 1961 performer - 2 episodes, 1957 - 1962 | |
Self
| Title | Year | Status | Character |
| --- | --- | --- | --- |
| Lookin' Back with O.W. Bandy | 2014 | Video documentary short | Himself |
| The Infamous Killer Cain | 2014 | Video documentary short | Himself |
| The Legend of Big Jim Cole | 2012 | Video documentary short | Himself |
| The Lonely Gunfighter: The Legacy of Cheyenne | 2006 | Video short | Himself |
| Armed and Deadly: The Making of 'The Dirty Dozen' | 2006 | Video documentary short | Himself |
| ABC's 50th Anniversary Celebration | 2003 | TV Special documentary | Himself |
| 100 Years of the Hollywood Western | 1994 | TV Movie documentary | Himself |
| All-Star Party for 'Dutch' Reagan | 1985 | TV Special | Himself |
| Oklahoma Passage - A Story of Mobility | 1982 | Documentary short | Narrator |
| The John Davidson Show | 1982 | TV Series | Himself |
| ABC's Silver Anniversary Celebration | 1978 | TV Special | Himself |
| The Troy Cory Evening Show | 1974 | TV Series | Himself - Guest |
| The Tonight Show Starring Johnny Carson | 1972 | TV Series | Himself |
| Allen Ludden's Gallery | 1969 | TV Series | Himself |
| Operation Dirty Dozen | 1967 | Short documentary | Himself |
| The Joey Bishop Show | 1967 | TV Series | Himself |
| The Eamonn Andrews Show | 1966 | TV Series | Himself |
| The Linkletter Show | 1964-1965 | TV Series | Himself |
| The Jack Benny Program | 1963 | TV Series | Himself |
| Stump the Stars | 1963 | TV Series | Himself - Guest Panelist |
| The James Dean Story | 1957 | Documentary | Himself - 'Giant' premiere footage (uncredited) |
Archive Footage
| Title | Year | Status | Character |
| --- | --- | --- | --- |
| La tele de tu vida | 2007 | TV Series | Kodiak |
| Private Screenings | 2001 | TV Series | Cheyenne Bodie in 'Cheyenne' |
| Hollywood Remembers Lee Marvin | 2000 | TV Movie documentary | Samson Posey |
| Rock Hudson's Home Movies | 1992 | Documentary | Bert |
| Gold, Glory and Custer | 1964 | | Cheyenne Bodie |