Armie Hammer Net Worth is

$12 Million
Armie Hammer Biography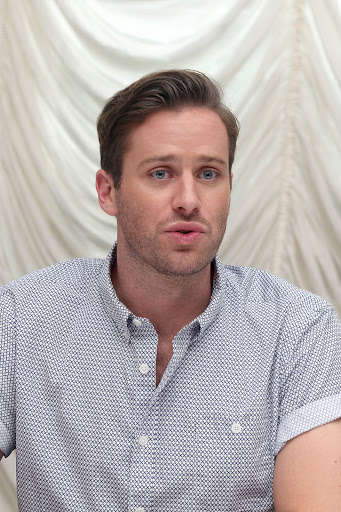 Armand Douglas Hammer was born on the 28th August 1986, in Los Angeles, California, USA, of Russian, Jewish, English, and Scots-Irish descent. He is an actor best known for his roles in the films "The Social Network", "Mirror, Mirror", "The Lone Ranger", "The Man From U.N.C.L.E." etc. He is also recognized as a voice actor. He has been an active member of the entertainment industry since 2002.
Have you ever wondered how rich is Armie Hammer? According to sources, it is estimated that the overall amount of Armie's net worth is over $12 million as of early 2016. The main source of this sum of money is his successful career as an actor, who gained popularity by starring in high budget films. Another source is coming from providing his voice to characters in several films, and a video game.
Armie Hammer Net Worth $12 Million
Armie Hammer was brought up in a wealthy family; his grandfather Armand Hammer was a tycoon who established the oil company Occidental Petroleum, while his father is Michael Armand Hammer, a businessman and the CEO of the "Armand Hammer Foundation". When he was only seven years old, his family moved to Dallas, Texas, and then to the Cayman Islands where he attended the Grace Christian Academy, a school set up by his father. At the age of 11, Armie had a dream about becoming an actor, which.his parents initially thought was just a joke. At that time, they returned to Los Angeles, where he was a student at the L.A. Baptist High School and Calvary Junior High School. During studies, he made his debut appearance in the play "Rooster Hannigan". Soon after, he quit his education to pursue his career, which his family didn't support considering that he would ruin their lives, thus Armie continued education at Pasadena City College and UCLA; anyway, he was very persistent and didn't quit on a career of professional acting.
Armie's professional career began in 2006 with the role of Kurt in the TV series "Veronica Mars" (2006), after which he was featured in the film "Flicka" (2006). In 2008, he earned the lead role of Billy Graham in the film "Billy: The Early Years" (2008), but before that, he made appearances in TV series "Desperate Housewives" (2007), and in the film "Blackout" (2008). Since that year, his career has only gone upwards, and so has his net worth.
In 2009, Armie showed his talents in the series' "Gossip Girl" and "Reaper". However, his breakthrough came in 2010, when he was chosen for the role of the Winklevoss twins, Tyler and Cameron in the film, directed by David Fincher "The Social Network", after which Armie's net worth increased substantially, and also, his name became more sought after by directors and producers in Hollywood.
Since then, the roles came one after another, first as Clyde Tolson in the film "J. Edgar" (2011), then as Prince Alcott in "Mirror Mirror" (2012), and afterwards playing John Reid in the film "Lone Ranger" (2013). All these appearances added a lot to his net worth.
To speak further of his accomplishments in the acting world, in 2015 he appeared in films "Entourage", and also as one of the lead characters in the film "The Man From U.N.C.L.E", as Illya, and most recently he was cast as Samuel Turner in the film "Birth Of A Nation" (2016). His net worth will certainly become larger in the next few months, as Armie is currently a part of the cast of films "Mine" (2016), "Final Portrait" (2016), "Nocturnal Animals" (2016) and "Free Fire" (2016).
Armie has also benefited from his voice alone, as he has been featured in a few episodes of animated shows such as "American Dad" in 2012, "The Simpsons", as well in 2012, and in a game "Disney Infinite" in 2013.
When it comes to his personal life, Armie Hammer married Elizabeth Chambers, an actress, in 2010, and the couple has a daughte. In his free time, Armie enjoys playing the guitar.
Known for movies
Quick Facts
| | |
| --- | --- |
| Full Name | Armie Hammer |
| Net Worth | $12 Million |
| Date Of Birth | August 28, 1986 |
| Place Of Birth | Los Angeles, California, United States |
| Height | 6 ft 5 in (1.96 m) |
| Profession | Actor |
| Education | Los Angeles Baptist High School, University of California, Los Angeles, Pasadena City College |
| Nationality | United States of America |
| Spouse | Elizabeth Chambers (m. 2010) |
| Children | Harper Hammer |
| Parents | Dru Ann Mobley, Michael Armand Hammer |
| Siblings | Viktor Hammer |
| Nicknames | Armand Douglas Hammer , Armand Douglas "Armie" Hammer |
| Twitter | http://www.twitter.com/armiehammer |
| Instagram | https://www.instagram.com/armiehammer |
| ImDB | http://imdb.com/name/nm2309517 |
| Awards | Young Hollywood Award for Male Star of Tomorrow |
| Nominations | Screen Actors Guild Award for Outstanding Performance by a Cast in a Motion Picture, Screen Actors Guild Award for Outstanding Performance by a Male Actor in a Supporting Role, Critics' Choice Movie Award for Best Acting Ensemble, Teen Choice Award for Choice Movie: Chemistry, Teen Choice Award for Choice Movie Breakout Star - Male |
| Movies | The Man from U.N.C.L.E., The Lone Ranger, Mirror Mirror, The Social Network, Nocturnal Animals, The Birth of a Nation, J. Edgar, Free Fire, Billy: The Early Years, Flicka, 2081, Spring Breakdown, Call Me by Your Name, Cars 3, Mine, Hotel Mumbai, Blackout, The Polar Bears, Serpent Girl, Final Portrait, 2:22 |

Interesting Facts
| # | Fact |
| --- | --- |
| 1 | His wife Elizabeth Chambers are expecting 2nd child in the spring 2017. |
| 2 | Contrary to very popular belief, his family is not the namesake of the home goods brand Arm & Hammer. Though patriarch Armand Hammer's name is thought to be a pun, he was named after an Alexandre Dumas character, Armand Duval, in the book La Dame aux Camélias (The Lady of the Camellias), published in 1848. |
| 3 | Despite his family's wealth, he claims that he has never had a trust fund and that he supported himself through his acting career. |
| 4 | Daughter Harper Grace Hammer was born December 1, 2014. |
| 5 | Lived in the Cayman Islands from ages 7 to 13. |
| 6 | Family opened the Hammer Museum in Los Angeles, CA. |
| 7 | Brother-in-law to Catherine Chambers, John Chambers, and Joseph Chambers. |
| 8 | Armie's paternal great-grandfather, Armand Hammer, was the son of Russian Jewish immigrants, Rose (Lifschitz) and Julius Hammer, from Odessa (then in the Russian Empire). Armie's other ancestry is German, English, Scots-Irish (Northern Irish), Scottish, Russian, Polish, Swiss-German, Danish, distant Greek, and 1/512 Cherokee Native American (through his paternal grandmother, Armie descends from Chief Kanagatucko, a Cherokee elder who lived in the 18th century). |
| 9 | In 2007, he was set to play Bruce Wayne/Batman in a ''Justice League'' film, under the direction of George Miller, but the project was canceled. He was considered by Warner Bros. for the part of Batman in Batman v Superman: Dawn of Justice (2016), which went to Ben Affleck. |
| 10 | Would like to open a cigar shop. |
| 11 | His parents did not support his decision to pursue a career in acting, preferring him to enter business. According to Hammer, his relationship with them became strained but he reconciled with them after he started getting starring roles. |
| 12 | His maternal grandparents are longtime Tulsa real estate developer Doug Mobley, and his wife, Donna (Kaufman). |
| 13 | Became engaged to Elizabeth Chambers on August 18, 2009. |
| 14 | He spent the better part of his formative years in the Cayman Islands after his father saw the movie, The Firm (1993) . |
| 15 | He plays the guitar. |
| 16 | He is the son of Michael and Dru Hammer. His mother is from Tulsa, Oklahoma, and is a graduate of Oklahoma State University. His father graduated from the University of San Diego and received an M.B.A. degree from New York University. |
| 17 | He is the great-grandson of industrialist, art collector and philanthropist Armand Hammer. |

Trademarks
| # | Trademark |
| --- | --- |
| 1 | Deep, booming voice |
| 2 | Towering height |

Quotes
| # | Quote |
| --- | --- |
| 1 | [on co-star Henry Cavill as Superman] Henry is the best Superman we've ever had. That jawline, and the way he fills out that suit oh my god. He's great. |
| 2 | [on meeting co-star Henry Cavill for the first time] I was overwhelmed by his good looks, his chiseled body, his muscles, pretty much everything. There was the whole package there. |
| 3 | There are two 'Snow White' movies coming out for the same reason that you remember back in the day there was Armageddon (1998) and then Deep Impact (1998). You know, The Andromeda Strain (1971) and then Outbreak (1995). Like, all of those things. It's common because basically studios have no imagination in making the decisions. |
| 4 | There were two auditions for The Social Network (2010), one with Aaron Sorkin and one with David Fincher. I was a nervous wreck. I was like, 'Okay, how do I hold the paper without my hands making it shake?' |
| 5 | Yeah, I mean I've definitely had a bunch of action scripts sent to me, but again I'm a stickler for directors. If it's like an action flick with a great director then it's like 'Oh let's look at this thing,' but if it's just like a shoot-em'-up with a first time director. I don't know if that's the trajectory I want to take with what I'm doing. |
| 6 | It's something that I think I'm going to have to fight against for most of my career, for people to take me seriously as an actor as opposed to a good-looking guy. It's not what I want to be known as. |
| 7 | My entire life had been this long, pressured conversation about the family I represented. 'When you walk out the door, you represent us. You have to dress well and make sure your hair is combed.' |
| 8 | My very first kiss happened when I was 6, underneath some desks during 'nap time', but my first real kiss happened when I was 15 in the parking lot at a Mexican food restaurant. |
| 9 | My wife comes from a foodie family so I've been indoctrinated into that. I had sweetbreads the other night, and I have to say, not my favorite thing in the world. You're eating a gland. |
| 10 | You have to emote much more to get what you're trying to get across to come through a quarter inch of latex that's superglued to your face. |
| 11 | I don't think I should tell you what to do, nor should the government. As long as you enjoy your own personal liberties and don't infringe on the liberties of others, I don't care. |
| 12 | I feel fortunate. I've really gotten to work with amazing talented people, and to learn from them, which is why I'm doing this. If I can work with the best director I'm going to do it. |
| 13 | I grew up in the Cayman Islands. I didn't play video games or watch TV. I would basically come home from school, throw down my backpack, grab my machete, and go hike and chop down trees to make a fort. |
| 14 | I have about as much control over how I look as the guy who's short and looks more like a character actor - we both have the same drive to be actors and we both have the same drive to assume these different characters. It's just harder for me to get the chance, because they look at me and say, 'Oh, he's this type,' and they stamp me. |
| 15 | I was always Armie. There couldn't be a 90-year-old Armand and a 9-day-old one. And I heard enough jokes about baking soda. |
| 16 | Just because it sparkles doesn't mean it's good. |
| 17 | My great-great-grandfather Julius founded the Communist Party in New York. |
| 18 | Not sure of my place in the world (still up for debate) and not sure what I wanted to do with my life (not really up for debate). |
| 19 | The Internet is an actor's best friend. |
| 20 | I mean I would still love to be in Mel Brooks' movies; he's great. |
| 21 | I need it to survive. But most specifically, McDonalds Big Mac's and McDoubles (with no pickles). |
| 22 | I never grew up reading or fantasizing about fairy tales. I was always too busy, like, outside being a kid. |
| 23 | I support myself. My wife and I together - it's all our household. I'm really proud of that. |
| 24 | I try to do romantic gestures all the time. |
| 25 | I think a primal role of a man in a relationship is to protect his woman. |
| 26 | As a fluke, my great-grandfather hit one of the largest oil reserves in California. |
| 27 | I couldn't be more blessed. |
| 28 | I like reading. I just hate school. |
| 29 | I love art. I used to have a painting of Gorbachev that was given to my family by Gorbachev. |
| 30 | [on filming The Lone Ranger (2013)] I learned to ride a horse through a moving train while firing two pistols, simultaneously. I'm not sure if that's a very applicable skill that I'll be able to use in Los Angeles traffic, but it was fun to get to do it in the movie. |
| 31 | [on a film version of Fifty Shades of Grey (2015)] No one actually offered me the movie, but while I was working on The Lone Ranger (2013), my agent brought it up and I said, "Nope". I mean c'mon - it's just mommy porn. I'm not going to sit on top of the laundry machine in spin cycle, reading about putting a ball gag in someone's mouth. That doesn't do it for me. |
| 32 | I'm half Jewish, but no one believes me because my looks lean a little WASP-y... It's sometimes hard for me to get the roles I'm drawn to. |

Pictures
Won Awards
Nominated Awards

Filmography
Actor
| Title | Year | Status | Character |
| --- | --- | --- | --- |
| Cars 3 | 2017 | completed | Jackson Storm (voice) |
| Hotel Mumbai | 2017 | post-production | David |
| Freakshift | | pre-production | |
| Final Portrait | 2017 | | James Lord |
| Call Me by Your Name | 2017 | | Oliver |
| Mine | 2016/II | | Mike |
| Free Fire | 2016 | | Ord |
| Nocturnal Animals | 2016 | | Hutton Morrow |
| The Birth of a Nation | 2016 | | Samuel Turner |
| Disney Infinity 3.0 | 2015 | Video Game | The Lone Ranger (voice) |
| The Man from U.N.C.L.E. | 2015 | | Illya Kuryakin |
| Entourage | 2015 | | Arnie Hammer |
| Disney Infinity: Marvel Super Heroes | 2014 | Video Game | The Lone Ranger (voice) |
| Stan Lee's Mighty 7 | 2014 | TV Movie | Strong Arm (voice) |
| Disney Infinity | 2013 | Video Game | The Lone Ranger (voice) |
| The Lone Ranger | 2013 | | John Reid (Lone Ranger) |
| The Polar Bears | 2012 | Short | Zook (voice) |
| Mirror Mirror | 2012/I | | Prince Alcott |
| American Dad! | 2012 | TV Series | Car Rental Agent |
| The Simpsons | 2012 | TV Series | Cameron Winklevoss Tyler Winklevoss |
| J. Edgar | 2011 | | Clyde Tolson |
| The Social Network | 2010 | | Cameron Winklevoss Tyler Winklevoss |
| The Etiquette Ninjas | 2010 | Video | |
| The Last Hurrah | 2009 | | Skateboarder |
| 2081 | 2009 | Short | Harrison Bergeron |
| Reaper | 2009 | TV Series | Morgan |
| Gossip Girl | 2009 | TV Series | Gabriel Edwards |
| Spring Breakdown | 2009 | | Abercrombie Boy |
| Billy: The Early Years | 2008 | | Billy Graham |
| Blackout | 2008/IV | | Tommy |
| Desperate Housewives | 2007 | TV Series | Barrett |
| Flicka | 2006 | | Male Prefect |
| Veronica Mars | 2006 | TV Series | Kurt |
| Arrested Development | 2005 | TV Series | Student #2 |
Thanks
| Title | Year | Status | Character |
| --- | --- | --- | --- |
| J. Edgar: A Complicated Man | 2012 | Video documentary short special thanks | |
| J. Edgar: The Most Powerful Man in the World | 2012 | Video documentary short special thanks | |
Self
| Title | Year | Status | Character |
| --- | --- | --- | --- |
| Made in Hollywood | 2013-2017 | TV Series | Himself / Himself - Guest |
| The Late Late Show with James Corden | 2017 | TV Series | Himself |
| Jimmy Kimmel Live! | 2010-2017 | TV Series | Himself |
| Evening Urgant | 2017 | TV Series | Himself |
| The Grand Tour | 2016 | TV Series | Himself - Special Guest |
| Good Morning America | 2015-2016 | TV Series | Himself - Guest / Himself |
| The Late Show with Stephen Colbert | 2016 | TV Series | Himself - Guest |
| The Man from U.N.C.L.E.: A Higher Class of Hero | 2015 | Documentary short | Himself |
| The Man from U.N.C.L.E.: A Man of Extraordinary Talents | 2015 | Documentary short | Himself |
| The Man from U.N.C.L.E.: Metisse Motorcycles: Proper and Very British | 2015 | Documentary short | Himself |
| The Man from U.N.C.L.E.: Spyvision: Recreating '60s Cool | 2015 | Documentary short | Himself |
| The Man from U.N.C.L.E.: The Guys from U.N.C.L.E. | 2015 | Documentary short | Himself |
| Días de cine | 2015 | TV Series | Himself |
| Entertainment Tonight | 2015 | TV Series | Himself |
| Extra | 2015 | TV Series | Himself |
| Live with Kelly and Ryan | 2013-2015 | TV Series | Himself - Guest / Himself |
| Today | 2013-2015 | TV Series | Himself |
| Conan | 2012-2015 | TV Series | Himself - Guest |
| Riding the Rails of 'The Lone Ranger' | 2013 | Video short | Himself |
| The Lone Ranger: Armie's Western Roadtrip | 2013 | Video short | Himself |
| The Lone Ranger: Becoming a Cowboy | 2013 | Video short | Himself |
| The American Cinematheque Tribute to Jerry Bruckheimer | 2013 | TV Movie | Himself |
| Vivir de cine | 2013 | TV Series | Himself |
| Janela Indiscreta | 2012-2013 | TV Series | Himself |
| Piper's Picks TV | 2013 | TV Series | Himself - Guest |
| Piper's QUICK Picks | 2013 | TV Series | Himself - Guest |
| The Lone Ranger: Unmasked | 2013 | TV Movie documentary | Himself |
| The Tonight Show with Jay Leno | 2011-2013 | TV Series | Himself - Guest / Himself / Himself - At the Vanity Fair Oscar Party |
| The Project | 2012-2013 | TV Series | Himself |
| AMC Lone Ranger Q & A | 2013 | TV Special | Himself |
| Ellen: The Ellen DeGeneres Show | 2010-2012 | TV Series | Himself - Guest |
| J. Edgar: A Complicated Man | 2012 | Video documentary short | Himself |
| J. Edgar: The Most Powerful Man in the World | 2012 | Video documentary short | Himself |
| 18th Annual Screen Actors Guild Awards | 2012 | TV Special | Himself |
| Up Close with Carrie Keagan | 2010-2011 | TV Series | Himself |
| Vietnam in HD | 2011 | TV Series documentary | Gery Benedetti |
| Late Night with Jimmy Fallon | 2011 | TV Series | Himself - Guest |
| 13th Annual Young Hollywood Awards | 2011 | TV Special | Himself - Star of Tomorrow Male |
| 17th Annual Screen Actors Guild Awards | 2011 | TV Special | Himself |
| Rachael Ray | 2011 | TV Series | Himself |
| 16th Annual Critics' Choice Movie Awards | 2011 | TV Special documentary | Himself |
| How Did They Ever Make a Movie of Facebook? | 2011 | Video documentary | Himself |
| Jump Start Live | 2011 | TV Series | Himself |
| Chelsea Lately | 2011 | TV Series | Himself - Guest |
| Sidewalks Entertainment | 2010 | TV Series | Himself |
| Double Exposure | 2010 | TV Series | Himself |
| CMT Insider | 2008 | TV Series | Himself |
Archive Footage
| Title | Year | Status | Character |
| --- | --- | --- | --- |
| Access Hollywood | 2017 | TV Series | Himself |
| Breakfast | 2016 | TV Series | Himself - Actor 'Nocturnal Animals' |
| Nostalgia Critic | 2016 | TV Series | The Lone Ranger |
| Entertainment Tonight | 2015 | TV Series | Himself |
| Extra | 2015 | TV Series | Himself |
| Movie Guide | 2013 | TV Series | John Reid The Lone Ranger |