Trey Parker Net Worth is

$350 Million
Trey Parker Biography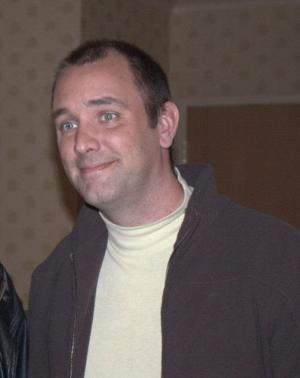 Randolph Severn Parker III, known simply as Trey Parker, is a famous American film and television director, screenwriter, musician, voice actor, as well as an actor. To the public, Trey Parker is perhaps best known for co-creating the adult animated sitcom called "South Park". Co-created by Parker and Matt Stone in 1997, "South Park" has become one of the most watched animated sitcoms, notable for its dark and blunt humor, as well as vulgar language. Aside from Stone and Parker, Mona Marshall and April Stewart have also provided the voices of the majority of characters on the show. Even though "South Park" has met with a lot criticism and controversy due to the depiction of sensitive subjects and negative portrayal of liberal values, it managed to maintain high enough ratings to remain on air for 18 seasons, and a total of 255 episodes. A popular series, "South Park" inspired the release of a full-length movie called "South Park: Bigger, Longer & Uncut" directed by Parker, a compilation album entitled "Chef Aid: The South Park Album", as well as numerous video games released for "PlayStation", "PC", "Nintendo 64" and other platforms. Considered to be among the Greatest TV Cartoons of All Time, "South Park" has been awarded with various Peabody Awards, as well as Primetime Emmy Awards.
Trey Parker Net Worth $300 Million
A famous voice actor, as well as film and television director, how rich is Trey Parker? According to sources, Trey Parker's net worth is estimated to be $300 million, most of which he has accumulated due to his involvement in the film and television industry.
Trey Parker was born in 1969 in Colorado, United States, where he studied at Evergreen High School. As a teenager, Parker had been largely interested in becoming an actor, as a result of which he enrolled in the Berklee College of Music, and then the University of Colorado. While at the university, Parker took film classes and soon made his first movie called "Giant Beavers of Southern Sri Lanka". It was in the university where he met his friend and a soon-to-be colleague Matt Stone, with whom he then worked on various film projects. One of his early films called "American History" even won him a Student Academy Award, which only motivated Parker to pursue his dream.
Parker began his career with the "Avenging Conscience" production company, which he co-founded with Stone, and Ian Hardin. Prior to his immense success with "South Park", Trey Parker directed such films as "Cannibal! The Musical", "Orgazmo" and made an appearance in the popular sports comedy film directed by David Zucker called "BASEketball" with Parker, Stone, Dian Bachar and Yasmine Bleeth in the main roles. Parker's latest film venture was a 2005 documentary film entitled "The Aristocrats", which featured appearances from such famous people as Drew Carey, Robin Williams, Pat Cooper, Lewis Black and Rip Taylor to name a few. In 2103, Parker came out with a Broadway performance called "The Book of Mormon", which received a lot of positive critical reviews.
A famous actor and voice actor, Trey Parker has an estimated net worth of $300 million.
Known for movies
Quick Facts
| | |
| --- | --- |
| Full Name | Trey Parker |
| Net Worth | $350 Million |
| Date Of Birth | October 19, 1969 |
| Place Of Birth | Conifer, Colorado, United States |
| Height | 6 ft (1.85 m) |
| Profession | Television producer, Actor, Screenwriter, Film director, Television Director, Animator, Musician, Film Producer, Lyricist, Voice Actor |
| Education | Berklee College of Music, University of Colorado Boulder, Evergreen High School |
| Nationality | United States of America |
| Spouse | Emma Sugiyama (m. 2006–2008) |
| Children | Betty Parker |
| Parents | Sharon Parker, Randy Parker |
| Siblings | Shelley Parker |
| Partner | Boogie Tillmon (2013–) |
| Nicknames | Randolph Severn "Trey" Parker III , Randolph Severn Parker III , Juan Schwartz , John Smith , Ose, Mr. , Satan, the Dark Prince , Marsh, Stan , Hitler, Adolf , Gerblansky, Ned , Parker, Trey |
| Wikipedia | https://en.wikipedia.org/wiki/Trey_Parker |
| Awards | Tony Award for Best Original Score, Tony Award for Best Book of a Musical, Grammy Award for Best Musical Theater Album, Primetime Emmy Award for Outstanding Animated Program, Laurence Olivier Award for Best New Musical, Tony Award for Best Direction of a Musical, Drama Desk Award for Outstanding Musical, Drama Desk Award for Outstanding Music, The Game Award for Best Performance, Drama Desk Award for Outstanding Lyrics, New York Drama Critics' Circle Award for Best Musical, Drama Desk Award for Outstanding Director of a Musical, MTV Movie Award for Best Musical Sequence, Primetime Emmy Award for Outstanding Animated Program (for Programming One Hour or More), Outer Critics Circle Award for Outstanding New Broadway Musical, Outer Critics Circle Award for Outstanding New Score, PGA Most Promising Producer in Television, Outer Critics Circle Award for Outstanding Director of a Musical, Los Angeles Drama Critics Circle Award for Musical Score, WhatsOnStage Award for Best New Musical |
| Music Groups | DVDA |
| Nominations | Academy Award for Best Original Song, Primetime Emmy Award for Outstanding Character Voice-Over Performance, Drama Desk Award for Outstanding Book of a Musical, Laurence Olivier Award for Outstanding Achievement in Music, Academy of Canadian Cinema and Television Award for Best Comedy Series |
| Movies | Team America: World Police, South Park: Bigger, Longer & Uncut, BASEketball, Despicable Me 3, Cannibal! The Musical, The Spirit of Christmas, Run Ronnie Run!, Your Studio and You, Tales from the Crapper, Caddie Woodlawn, Wat's Pig, Giant Monsters Attack Japan!, Imaginationland Episode II, Toofy Shorts: Vol. 1, The Book of Mormon |
| TV Shows | I Love the '90s: Part Deux, That's My Bush!, The Three Friends and Jerry, Captain Butler, Time Warped, Hull High, South Park |

Interesting Facts
| # | Fact |
| --- | --- |
| 1 | Began working on beginning of season 9 of South Park (1997) [February 2005] |
| 2 | Working on movies Giant Monsters Attack Japan! and My All-American (2011). [August 2006] |
| 3 | He and Matt Stone are good friends with Mike Judge. |
| 4 | He and Matt Stone admit that they both hate the first 3 seasons of South Park. They said that they were embarrassing to watch. |
| 5 | The character of Stan Marsh from South Park is based on him. |
| 6 | Received three 2011 Tony Award co-nominations for "The Book of Mormon": "Best Book of a Musical" and "Best Original Score" with Matt Stone, and "Best Direction of a Musical" with Casey Nicholaw. |
| 7 | His name, Trey Parker, comes from his original name, Randolph Parker III. He is the third person in his family to be named that, and Trey means "Three" in some languages. |
| 8 | His favorite director is Stanley Kubrick. |
| 9 | He and Matt Stone have said that their favorite episode of South Park (1997) is South Park: Terrance and Phillip in Not Without My Anus (1998). |
| 10 | Is a Denver Broncos fan, and has made several references to them and John Elway in South Park (1997). |
| 11 | Attended Berklee College of Music in Boston, Massachusetts, before attending University of Colorado at Boulder. |
| 12 | Before South Park (1997) began airing, he was offered the chance to direct the feature film version of the popular purple dinosaur in Barney's Great Adventure (1998). |
| 13 | Wrote every new song for Team America: World Police (2004) This includes "Freedom Isn't Free", "America F*** Yeah!","The End of an Act". He also co-wrote "Everyone Has AIDS" for the movie. |
| 14 | Nearly every song heard on South Park (1997) is written by him. |
| 15 | Always hoped that Saddam Hussein would see his movie South Park: Bigger, Longer & Uncut (1999), in which he and Matt Stone made fun of him. In 2004 Parker and Stone portrayed another active dictator, Kim Jong-il of North Korea, in their new movie Team America: World Police (2004). Two days after the premiere, they sent a copy to the North Korean government. |
| 16 | He had written a script titled "Fuzzies", which is a children's story he was planning to direct using stop-motion-animation for the closet creatures, but the project has been put on hold. He and Matt Stone were also planning to make a movie based on "That's My Bush!". |
| 17 | His character, Eric Cartman, was rated number 16 in Comedy Central's newest show 'Mouthing Off: 51 Greatest Smartasses'. |
| 18 | On South Park (1997), he is the voice of "Stan Marsh" and Stan's father "Randy Marsh" (among other characters). He named Stan's parents (Sharon and Randy) after his own. |
| 19 | Sings and plays the keyboard for a band called D.V.D.A |
| 20 | Wore the green, low-cut dress popularized by Jennifer Lopez to the 72nd Academy Awards. |
| 21 | Has a black belt in tae kwan do. |
| 22 | Has played piano since the age of 12 and credits Elton John as a hero. |
| 23 | Son of Randy Parker. |

Trademarks
| # | Trademark |
| --- | --- |
| 1 | His work often has an amateur appearance for the sake of comedy; South Park has paper cutout-style animation, Team America has intentionally bad puppetry and his live action movies often have intentionally bad acting. |
| 2 | Often works alongside Matt Stone. |
| 3 | He likes to use the line "God bless us, everyone" in movies or episodes of South Park. |

Quotes
| # | Quote |
| --- | --- |
| 1 | [Spotlight on location's interview in the Baseketball special features] We laugh at everything and make fun of everything and as soon as we say "we're not gonna make fun of this" then we become racists and bigots and whatever we call us. |
| 2 | Winning the Emmy really was like, you're kind of the punk rock kid at school, and suddenly you get Student of the Month. And you're like, "This isn't cool." |
| 3 | "You know, everyone says that South Park (1997) is satire and political satire and whatever, but really when you look at a season, there's rarely more than a couple episodes per season that are political satire". |
| 4 | During the run we were like, "So there's two things we can't do on Comedy Central: Show Mohammed or Tom Cruise." |
| 5 | (On That's My Bush! (2001)): "A lot of people didn't get it. I didn't get it myself". |
| 6 | (On Team America: World Police (2004)): "It's like a Bruckheimer musical". |
| 7 | Cartman is the proverbial fat kid who everyone picked on, but he still hangs out all the time. His voice just sort of came from...doing Stan's voice but putting a lot of fat on it. |
| 8 | (On his friendship with partner and collaborator, Matt Stone): "If anything, the friendship becomes greater because you share something special together that you don't share with your other friends". |

Pictures
Won Awards
Nominated Awards

Filmography
Writer
| Title | Year | Status | Character |
| --- | --- | --- | --- |
| South Park: The Fractured But Whole | 2016 | Video Game filming | |
| The Book of Mormon | | screenplay announced | |
| South Park | | TV Series created by - 259 episodes, 1997 - 2016 written by - 206 episodes, 1997 - 2016 creator - 17 episodes, 2014 - 2016 writer - 7 episodes, 2002 - 2015 story - 1 episode, 2011 | |
| South Park: The Stick of Truth | 2014 | Video Game | |
| South Park: Kyle Sucks Cartman's Balls - The Trilogy | 2008 | Video written by | |
| Team America: World Police | 2004 | written by | |
| That's My Bush! | | TV Series creator - 8 episodes, 2001 written by - 8 episodes, 2001 | |
| South Park Rally | 2000 | Video Game uncredited | |
| South Park: Chef's Luv Shack | 1999 | Video Game characters | |
| South Park: Bigger, Longer & Uncut | 1999 | television series South Park / written by | |
| South Park | 1998 | Video Game creator | |
| Orgazmo | 1997 | written by | |
| The Spirit of Christmas | 1995 | Short uncredited | |
| Your Studio and You | 1995 | Short uncredited | |
| Time Warped | 1995 | TV Series | |
| Cannibal! The Musical | 1993 | screenplay | |
| American History | 1992 | Short documentary | |
| The Spirit of Christmas | 1992 | Short uncredited | |
Producer
| Title | Year | Status | Character |
| --- | --- | --- | --- |
| South Park | 1997-2016 | TV Series executive producer - 274 episodes | |
| South Park: The Stick of Truth | 2014 | Video Game executive producer | |
| How's Your News?: Election 2012 | 2012 | Documentary executive producer | |
| How's Your News? | 2009 | TV Series executive producer - 6 episodes | |
| South Park: Kyle Sucks Cartman's Balls - The Trilogy | 2008 | Video executive producer | |
| Kenny vs. Spenny | 2007-2008 | TV Series executive producer - 10 episodes | |
| How's Your News?: On the Campaign Trail | 2004 | TV Movie documentary executive producer | |
| Team America: World Police | 2004 | producer | |
| That's My Bush! | 2001 | TV Series executive producer - 8 episodes | |
| How's Your News? | 1999 | Documentary executive producer | |
| South Park: Bigger, Longer & Uncut | 1999 | producer | |
| South Park | 1998 | Video Game executive producer | |
| Orgazmo | 1997 | producer - uncredited | |
| The Spirit of Christmas | 1995 | Short producer - uncredited | |
| Time Warped | 1995 | TV Series producer | |
| Cannibal! The Musical | 1993 | producer | |
| American History | 1992 | Short documentary producer - uncredited | |
| The Spirit of Christmas | 1992 | Short producer - uncredited | |
Actor
| Title | Year | Status | Character |
| --- | --- | --- | --- |
| Despicable Me 3 | 2017 | pre-production | Balthazar Bratt (voice) |
| South Park: The Fractured But Whole | 2016 | Video Game filming | Eric Cartman Stan Marsh (voice) |
| South Park | 1997-2016 | TV Series | Stan Marsh Eric Cartman Randy Marsh ... |
| South Park: The Stick of Truth | 2014 | Video Game | Stan Marsh Eric Cartman Randy Marsh ... (voice) |
| Tallica Parking Lot | 2013 | Short | Stan Marsh / Eric Cartman (voice) |
| South Park: Kyle Sucks Cartman's Balls - The Trilogy | 2008 | Video | Stan Marsh Eric Cartman Clyde ... (voice) |
| Team America: World Police | 2004 | | Gary Johnston Joe Kim Jong Il ... (voice) |
| Tales from the Crapper | 2004 | Video | Steve Keen (as Juan Schwartz) |
| Run Ronnie Run | 2002 | | Trey Parker |
| South Park Rally | 2000 | Video Game | Stan Marsh Eric Theodore Cartman Tweek ... (voice) |
| South Park: Chef's Luv Shack | 1999 | Video Game | Stan Marsh Eric Cartman Mr. Mackey ... (voice) |
| South Park: Bigger, Longer & Uncut | 1999 | | Stan Marsh Eric Cartman Satan ... (voice) |
| Terror Firmer | 1999 | | Hermaphrodite (uncredited) |
| Revenge of the Roadkill Rabbit | 1999 | Short | Father Rabbit |
| South Park | 1998 | Video Game | Stan Marsh Eric Cartman Mr. Garrison ... (voice) |
| BASEketball | 1998 | | Joe Cooper |
| The Tonight Show with Jay Leno | 1997 | TV Series | Stan Marsh / Eric Cartman / Mr. Garrison |
| Orgazmo | 1997 | | Joe Young Orgazmo |
| For Goodness Sake II | 1996 | Short | Interviewer |
| The Spirit of Christmas | 1995 | Short | Stan Cartman Santa Claus (voice, uncredited) |
| Your Studio and You | 1995 | Short | Narrator Man walking out of Universal Records office Man toasting drinks at MCA outdoors bar (uncredited) |
| Time Warped | 1995 | TV Series | Juan Schwartz / Aaron / God / ... (voice) |
| Cannibal! The Musical | 1993 | | Alferd Packer (as Juan Schwartz) |
| The Spirit of Christmas | 1992 | Short | Boy 1 / Frosty / Santa Claus (voice, uncredited) |
Animation Department
| Title | Year | Status | Character |
| --- | --- | --- | --- |
| South Park | | TV Series original character designer - 274 episodes, 1997 - 2016 animator - 2 episodes, 1997 | |
| South Park: Bigger, Longer & Uncut | 1999 | original character designer - uncredited | |
| The Spirit of Christmas | 1995 | Short character designer - uncredited | |
| The Spirit of Christmas | 1992 | Short character designer - uncredited | |
Director
| Title | Year | Status | Character |
| --- | --- | --- | --- |
| South Park | 1997-2016 | TV Series 247 episodes | |
| South Park: Kyle Sucks Cartman's Balls - The Trilogy | 2008 | Video | |
| Team America: World Police | 2004 | | |
| South Park: Bigger, Longer & Uncut | 1999 | | |
| Orgazmo | 1997 | | |
| For Goodness Sake II | 1996 | Short | |
| The Spirit of Christmas | 1995 | Short uncredited | |
| Your Studio and You | 1995 | Short uncredited | |
| Time Warped | 1995 | TV Series | |
| Cannibal! The Musical | 1993 | | |
| American History | 1992 | Short documentary | |
| The Spirit of Christmas | 1992 | Short uncredited | |
Music Department
| Title | Year | Status | Character |
| --- | --- | --- | --- |
| South Park | | TV Series composer - 185 episodes, 1997 - 2016 music performer - 54 episodes, 1997 - 2012 performer - 1 episode, 2008 | |
| That's My Bush! | 2001 | TV Series composer - 8 episodes | |
| South Park: Bigger, Longer & Uncut | 1999 | composer: songs | |
| Orgazmo | 1997 | music producer | |
| Cannibal! The Musical | 1993 | songs by | |
Soundtrack
| Title | Year | Status | Character |
| --- | --- | --- | --- |
| Brad Tries... | 2010 | TV Series performer - 1 episode | |
| Saul of the Mole Men | 2007 | TV Series performer: "Saul of the Mole Men" | |
| Rock Band | 2007 | Video Game writer: "Timmy and the Lords of the Underworld" | |
| AMV Hell 3: The Motion Picture | 2005 | performer: "I'm a Little Piggy", "Fingerbang", "Let's Fighting Love" | |
| Team America: World Police | 2004 | performer: "Everyone Has Aids", "Freedom Isn't Free", "America, F**k Yeah", "Derka Derk Terrorist Theme", "Only a Woman", "I'm So Ronery", "The End of an Act", "Montage", "America F**k Yeah Bummer Remix, "America F**K Yeah Bummer Remix" / writer: "Everyone Has Aids", "Freedom Isn't Free", "America, F**k Yeah", "Derka Derk Terrorist Theme", "Only a Woman", "I'm So Ronery", "The End of an Act", "Montage", "America F**k Yeah Bummer Remix, "America F**K Yeah Bummer Remix" | |
| Bowling for Columbine | 2002 | Documentary performer: "Mountain Town" 1999 / writer: "Mountain Town" 1999 | |
| That's My Bush! | 2001 | TV Series performer: "That's My Bush!" / writer: "That's My Bush!" | |
| The 72nd Annual Academy Awards | 2000 | TV Special writer: "Blame Canada" | |
| South Park: Bigger, Longer & Uncut | 1999 | "Mountain Town", "Uncle Fucka", "Wendy's Song", "It's Easy, Mmmkay", "Hell Isn't Good", "Blame Canada", "Kyle's Mom's a Bitch", "What Would Brian Boitano Do?", "Up There", "La Resistance Medley", "I Can Change", "I'm Super", "The Mole's Reprise", "Mountain Town Reprise", "What Would Brian Boitano Do? Pt. II", "Eyes of a Child" / performer: "Mountain Town", "Uncle Fucka", "Wendy's Song", "It's Easy, Mmmkay", "Blame Canada", "Kyle's Mom's a Bitch", "What Would Brian Boitano Do?", "Up There", "La R | |
| BASEketball | 1998 | writer: "Warts On My Dick" | |
| Orgazmo | 1997 | performer: "The Morman Song" / writer: "Mi Verga", "The Morman Song" | |
| For Goodness Sake II | 1996 | Short lyrics: "Diversity Cantana in E-Flat" / performer: "Diversity Cantana in E-Flat" / writer: "Diversity Cantana in E-Flat" | |
| Cannibal! The Musical | 1993 | arranger: "Shpadoinkle", "That's All I'm Asking For" / lyrics: "Shpadoinkle", "That's All I'm Asking For", "When I Was On Top Of You", "Trapper Song", "This Side Of Me", "Let's Build A Snowman", "Hang The Bastard" / music: "Shpadoinkle", "That's All I'm Asking For", "When I Was On Top Of You", "Trapper Song", "This Side Of Me", "Let's Build A Snowman", "Hang The Bastard" / performer: "Shpadoinkle", "That's All I'm Asking For", "When I Was On Top Of You", "Trapper Song", "Hang The Bastard" | |
| The Brothers Grimsby | 2016 | performer: "Kyle's Mom's a Bitch" / writer: "Kyle's Mom's a Bitch" | |
| South Park | | TV Series performer - 18 episodes, 1997 - 2015 writer - 12 episodes, 1997 - 2015 lyrics - 3 episodes, 2012 - 2014 music - 3 episodes, 2012 - 2014 arranger - 1 episode, 1998 | |
| The Olivier Awards 2014 | 2014 | TV Special lyrics: "I Believe" / music: "I Believe" | |
| South Park: The Stick of Truth | 2014 | Video Game "Blame Canada", "Fingerbang", "Princess Kenny Theme" / performer: "The Maiden from Stonebury Hollow", "Lullaby", "Kyle's Mom's a Bitch", "Taco-Flavored Kisses", "Fingerbang", "Montage", "Princess Kenny Theme", "Vote or Die" / writer: "The Maiden from Stonebury Hollow", "Lullaby", "Kyle's Mom's a Bitch", "Taco-Flavored Kisses", "Montage", "Vote or Die" | |
| The Sugarcube Critic | 2014 | TV Series performer - 1 episode | |
| Atop the Fourth Wall | | TV Series 1 episode, 2010 performer - 2 episodes, 2011 - 2014 lyrics - 1 episode, 2012 | |
| Some Jerk with a Camera | 2012 | TV Series documentary performer - 1 episode | |
| One Hit Wonderland | | TV Series documentary performer - 1 episode, 2012 writer - 1 episode, 2012 | |
| The 66th Annual Tony Awards | 2012 | TV Movie documentary lyrics: "Hello" / music: "Hello" | |
| The 65th Annual Tony Awards | 2011 | TV Special writer: "I Believe" | |
Sound Department
| Title | Year | Status | Character |
| --- | --- | --- | --- |
| Cannibal! The Musical | 1993 | dialogue editor / foley artist / post-production sound / sound designer / sound effects | |
Composer
| Title | Year | Status | Character |
| --- | --- | --- | --- |
| South Park | 1999 | TV Series 1 episode | |
| Cannibal! The Musical | 1993 | | |
Cinematographer
| Title | Year | Status | Character |
| --- | --- | --- | --- |
| Tubes of Fire | 1998 | Short | |
Art Department
| Title | Year | Status | Character |
| --- | --- | --- | --- |
| South Park | 1997 | TV Series artist - 1 episode | |
Editor
| Title | Year | Status | Character |
| --- | --- | --- | --- |
| Orgazmo | 1997 | | |
Thanks
| Title | Year | Status | Character |
| --- | --- | --- | --- |
| 9:10 - 4:45 | 2015 | Short special thanks | |
| South Park: l'affrontement | 2013 | Short thanks | |
| The Oohs | 2012 | Short acknowledgment | |
| The Legend of Action Man | 2010 | thanks | |
| Undead or Alive: A Zombedy | 2007 | the producers wish to thank | |
| Borat: Cultural Learnings of America for Make Benefit Glorious Nation of Kazakhstan | 2006 | the producers wish to give special thanks for their assistance | |
| Knight of the Living Dead | 2005 | Video special thanks | |
| Sweetwater Tides | 2004 | TV Movie thanks | |
| Bowling for Columbine | 2002 | Documentary thanks | |
| South Park | 1998 | Video Game special thanks | |
| South Park (Chef: Behind the Menu) | 1998 | TV Short special thanks | |
Self
| Title | Year | Status | Character |
| --- | --- | --- | --- |
| Ubisoft E3 2016 Conference | 2016 | TV Movie | Himself |
| Ubisoft E3 2015 Conference | 2015 | TV Movie | Himself |
| The Game Awards 2014 | 2014 | TV Special | Himself |
| Hell's Kitchen | 2014 | TV Series | Himself - Restaurant Patron |
| VGX: The Next Generation of Video Game Awards | 2013 | TV Special | Himself |
| South Park: l'affrontement | 2013 | Short | Himself (as Tray Parker) |
| Spike TV VGA Video Game Awards | 2012 | TV Special | Eric Cartman (voice) |
| The BAFTA Britannia Awards | 2012 | TV Special | Himself |
| Jimmy Kimmel Live! | 2003-2012 | TV Series | Himself / Himself - Guest |
| In Focus with Eden Lane | 2012 | TV Series | Himself |
| The 66th Annual Tony Awards | 2012 | TV Movie documentary | Himself - Presenter: Best Musical |
| E3 Xbox Media Briefing | 2012 | TV Movie | Himself |
| 6 Days to Air: The Making of South Park | 2011 | TV Movie documentary | Himself |
| 60 Minutes | 2011 | TV Series documentary | Himself (segment "Parker & Stone") |
| The Daily Show | 1997-2011 | TV Series | Himself |
| The 65th Annual Tony Awards | 2011 | TV Special | Himself - Winner: Best Direction of a Musical, Best Book of a Musical and Best Original Score |
| The 2011 Comedy Awards | 2011 | TV Special | Himself |
| Theater Talk | 2011 | TV Series | Himself |
| ABC News Nightline | 2011 | TV Series | Himself |
| Charlie Rose | 2005-2011 | TV Series | Himself - Guest / Himself |
| Late Night with Jimmy Fallon | 2011 | TV Series | Himself |
| Good Morning America | 2011 | TV Series | Himself |
| Late Show with David Letterman | 2006-2011 | TV Series | Himself |
| The Simpsons 20th Anniversary Special: In 3-D! On Ice! | 2010 | TV Special documentary | Himself |
| Tromatized: Meet Lloyd Kaufman | 2009 | Documentary | Himself |
| Direct Your Own Damn Movie! | 2009 | Video documentary | Himself |
| Godfather World | 2008 | Video short | Himself |
| The Masterpiece That Almost Wasn't | 2008 | Video documentary short | Himself |
| The 65th Annual Peabody Awards | 2006 | TV Special | Himself - Winner |
| Taint of Greatness: The Journey of Beavis and Butt-Head, Part 2 | 2006 | Video documentary short | Himself (uncredited) |
| Dokument: Humor | 2005 | TV Series documentary | Himself |
| Make Your Own Damn Movie! | 2005 | Video documentary | Himself - Director |
| 05 Spaceys | 2005 | TV Special | Himself |
| The Hour | 2005 | TV Series | Himself |
| 'Team America': An Introduction | 2005 | Video documentary short | Himself |
| 'Team America': Building the World | 2005 | Video documentary short | Himself |
| 'Team America': Capturing the Action | 2005 | Video documentary short | Himself |
| 'Team America': Crafting the Puppets | 2005 | Video documentary short | Himself |
| 'Team America': Miniature Pyrotechnics | 2005 | Video documentary short | Himself |
| 'Team America': Pulling the Strings | 2005 | Video documentary short | Himself |
| 'Team America': Up Close with Kim Jong-Il | 2005 | Video documentary short | Himself |
| The Culture Show | 2005 | TV Series documentary | Himself |
| 100 Greatest Cartoons | 2005 | TV Special documentary | Himself |
| I Love the '90s: Part Deux | 2005 | TV Series documentary | Himself |
| The Aristocrats | 2005 | Documentary | Cartman Stan (voice) |
| MTV Icon: The Cure | 2004 | TV Movie | Himself (uncredited) |
| Last Call with Carson Daly | 2004 | TV Series | Himself |
| Late Night with Conan O'Brien | 1998-2004 | TV Series | Himself |
| The Tonight Show with Jay Leno | 1997-2004 | TV Series | Himself |
| I Love the '90s | 2004 | TV Series documentary | Himself |
| Shocked | 2003 | TV Movie documentary | Himself |
| The Book of Orgazmo | 2003 | Video short | Himself |
| Tribeca Film Festival Presents | 2003 | TV Movie documentary | Himself |
| Uncensored Comedy: That's Not Funny! | 2003 | TV Movie documentary | Himself |
| VH1 Goes Inside | 2003 | TV Series documentary | Himself |
| Lapdance 01 | 2001 | Video | Himself |
| Planet of the Apes: Rule the Planet | 2001 | TV Short documentary | Himself (uncredited) |
| Dennis Miller Live | 1998-2001 | TV Series | Himself |
| 2000 MTV Movie Awards | 2000 | TV Special documentary | Eric Cartman Mr. Garrison Mr. Mackey (voice) |
| Top Ten | 2000 | TV Series documentary | Himself |
| The 72nd Annual Academy Awards | 2000 | TV Special | Himself - Nominee: Best Original Song |
| The 51st Annual Primetime Emmy Awards | 1999 | TV Special | Himself (voice) |
| Python Night: 30 Years of Monty Python | 1999 | TV Movie documentary | Himself |
| Goin' Down to South Park | 1999 | TV Movie documentary | Himself |
| 1998 Primetime Creative Arts Emmys | 1998 | TV Movie | Himself - Host |
| MTV Video Music Awards 1998 | 1998 | TV Special | Himself - Presenter |
| The 19th Annual CableACE Awards | 1997 | TV Special | Stan Marsh / Eric Cartman (voice) |
Archive Footage
| Title | Year | Status | Character |
| --- | --- | --- | --- |
| 60 Minutes | 2012 | TV Series documentary | Himself (segment "Parker & Stone") |
| Edición Especial Coleccionista | 2012 | TV Series | Joe Cooper |
| Troma Is Spanish for Troma | 2010 | Documentary | Alferd Packer (in 'Alferd Packer: The Musical') |
| 5 Second Movies | 2008 | TV Series | Cartman |
| 50 Greatest Comedy Catchphrases | 2008 | TV Movie documentary | Various (uncredited) |
| 20 to 1 | 2006 | TV Series documentary | Philip Niles |
| Bowling for Columbine | 2002 | Documentary | Himself |