Tab Hunter Net Worth is

$10 Million
Tab Hunter Biography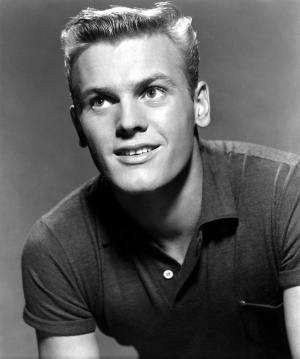 Arthur Andrew Kelm was born on 11 July 1931, in New York City, USA, of German and Jewish descent. As Tab Hunter, he is known as an actor, author, and singer, who was one of the most popular Hollywood actors during the 1950s to 1960s. He's appeared in over 40 films, and all of his efforts have helped put his net worth to where it is today.
How rich is Tab Hunter? As of mid-2016, sources estimate a net worth that is at $10 million, mostly earned through a successful acting career; he's also tried his hand at a singing career and wrote an autobiography. He's won numerous awards over the course of his career, and all of these efforts have ensured the position of his wealth.
Tab Hunter Net Worth $10 million
Tab's father was abusive, and after his parents divorced, they would relocate to several cities. During his teenage years, he competed in figure skating both in pair and singles. At the age of 15, he joined the US Coast Guard, lying about his age during enlistment. While a member of the Coast Guard, he was given the nickname "Hollywood", because he preferred to watch movies instead of going to bars.
Later he would sign to his first agent, Henry Wilson, who would give him the stage name "Tab Hunter". One of his first appearances was in the film "Island of Desire", and he was then cast in the drama "Battle Cry", which solidified his status as one of the top romantic leads of Hollywood. He would continue appearing in films including "The Pleasure of His Company" and "Gunman's Walk", and due to his increasing popularity, he was put under an exclusive studio contract to Warner Bros, along with James Dean and Natalie Wood. In 1957, he released the song "Young Love" which went on to top the Billboard Hot 100 charts for six weeks, and certified gold; later on he would release "Ninety-Nine Ways", which led to Warner Bros banning Dot Records from his contract, and establishing their own recording company.
In 1958, Hunter appeared in the musical "Damn Yankees", which was based on the book entitled "The Year the Yankees Lost the Pennant". Throughout the late 1950s, Hunter became the top grossing star of Warner Bros. In 1960, he started "the Tab Hunter Show" but it was cancelled after just a season. In the late 1960s, he would appear in various productions such as "Bye Bye Birdie" and "The Tender Trap", before being cast in several westerns, including "Hostile Guns". He had a supporting role in "The Life and Times of Judge Roy Bean", and would have a career revival in the 1980s in "Polyester". Other later projects included "Grease 2" and "Cameron's Closet".
Most recently, in 2015 a documentary about his life was released called "Tab Hunter Confidential". The documentary was based on his own autobiography which he co-wrote, and is entitled "Tab Hunter Confidential: The Making of a Movie Star", and it went on to get several writing nominations.
For his personal life, it is known that Hunter is gay, a fact he stated through his autobiography. He faked romances with co-stars Natalie Wood and Debbie Reynolds to promote him being a heterosexual star. He also contemplated marrying Etchika Choureau and Joan Perry, but never thought that he could maintain a marriage. It is known that he had long term relationships with actor Anthony Perkins and figure skater Ronnie Robertson. He eventually settled down with film producer Allan Glaser.
Known for movies
Quick Facts
| | |
| --- | --- |
| Full Name | Tab Hunter |
| Net Worth | $10 Million |
| Date Of Birth | July 11, 1931 |
| Place Of Birth | New York City, New York, United States |
| Height | 1.82 m |
| Profession | Actor |
| Nationality | American |
| Spouse | Allan Glaser |
| Parents | Charles Kelm, Gertrude Gelien |
| Siblings | Walt Gelien |
| Partner | Allan Glaser, Allan Glaser |
| Facebook | https://www.facebook.com/tabhunterconfidential |
| Wikipedia | https://en.wikipedia.org/wiki/Tab_Hunter |
| Nominations | Lambda Literary Award for Belles Lettres |
| Movies | Damn Yankees, Lust in the Dust, Battle Cry, The Burning Hills, Saturday Island, The Girl He Left Behind, Gunman's Walk, That Kind of Woman, Ride the Wild Surf, Lafayette Escadrille, City Under the Sea, Grease 2, The Sea Chase, The Lawless, Polyester, The Pleasure of His Company, Track of the Cat, They Came to Cordura, Operation Bikini, The Loved One, Gun Belt, Hostile Guns, Birds Do It, The Life and Times of Judge Roy Bean, The Steel Lady, Return to Treasure Island, Timber Tramps, Cameron's Closet, Sweet Kill, Dark Horse, Won Ton Ton, the Dog Who Saved Hollywood, The Golden Arrow, Out of the Dark, Pandemonium, The Fickle Finger of Fate, Vengeance Is My Forgiveness, Grotesque, The Last Chance, Bridge over the Elbe, Wild Bill, Troubled Waters, While We're Young, Rita |
| TV Shows | The Tab Hunter Show, Sex: The Revolution, Forever Fernwood |

Interesting Facts
| # | Fact |
| --- | --- |
| 1 | He was the younger of two boys. His brother, Walter John Gelien (born August 18, 1930), was killed in Vietnam on October 28, 1965, leaving seven children. |
| 2 | He was born Arthur Kelm in New York City. His mother, Gertrude (Gelien), was a German (Catholic) immigrant. His father, Charles Kelm, was Jewish. Tab was raised in California by his mother and maternal grandparents, Ida (Sonnenfleth) and John Henry Gelien. |
| 3 | Was Warner Bros. Records' first signee. |
| 4 | Hunter and his companion Allan Glaser met in 1983. The couple co-produced the films Lust in the Dust (1985) and Dark Horse (1992). |
| 5 | He was awarded a Star on the Hollywood Walk of Fame for Recording at 6320 Hollywood Boulevard in Hollywood, California. |
| 6 | On December 23, 1980, he suffered a heart attack at age 49 while skiing in Taos, New Mexico. In March 1991, he suffered a stroke. He recovered from both. |
| 7 | Had a lifelong love for horses. |
| 8 | The name "Tab Hunter" came from agent Henry Willson who wanted to "tab" the actor wannabe with a catchy new name. "Hunter" came from his skills as a horseman who rode hunters and jumpers. |
| 9 | Was once arrested following an L.A. raid on a "pajama party" in Walnut Park in 1950. Tab was eventually fined $50 for a reduced "disorderly conduct" charge after originally being charged with "idle, lewd or dissolute conduct." |
| 10 | Following the likes of Richard Chamberlain, Tab released his tell-all 2005 memoir revealing his homosexuality. The book entitled "Tab Hunter Confidential: The Making of a Movie Star" outlines a late 1950s relationship with actor Anthony Perkins that lasted several years. Other briefer flings mentioned included dancer Rudolf Nureyev, actor Scott Marlowe and ice-skater Ronnie Robertson. The book was actually written in 2003 but held in release for two years. |
| 11 | He co-executive produced and hosted the cable television series Hollywood on Horses (1989). |
| 12 | His bare chest was chosen to adorn the cover of Donald Reuter's book: "Shirtless! The Hollywood Male Physique." |
| 13 | Born at 3:00am EDT |

Net Worth & Salary

Quotes
| # | Quote |
| --- | --- |
| 1 | When you're as young as I was and you're thrown into all of that and everyone's going [makes kissing sounds], it's really going to take your head and send you on a journey. You're not going to hate it, but you're just going to try to have the wherewithal to find your balance, hopefully. How could you not love being at home up in Lake Arrowhead with Kay Starr singing her hit song "Side by Side" and Judy Garland on the floor, and the two of them doing a duet? You'd be an idiot not to go for it and love it. |
| 2 | It's all very important, but the real important thing is, I think, not labeling a person. The first line in my book is, "I hate labels." It's who we are as human beings. What kind of human being are you? Are you a contributor? |
| 3 | When things stop happening, it is a shock. But you have to go with the flow of things. You have to understand, "This is happening. It can't be forever. This is the now. It's the way it is. Life is not the way you want it to be -- it's the way it is." "I want this," "I want that," "I want this," "I want that" -- there's too much of that. |
| 4 | What you are as a human being inside is what's important. My mother told me, "Don't get concerned with the externals." Everyone today is concerned with how they look, how they're presented. Strip it away. |
| 5 | I had a very grounded family. My mother was very structured. She used to say, "There is yes and there is no and there is no in between." Tell that to people today. And I had a brother that I looked up to that was terrific. When negative things happen, you just have to believe that somewhere under the pile of crap is a pony. You just gotta be positive, 'cause there's too much negativity around. |
| 6 | I think marriage is just between two people and their maker, period. Doesn't concern any of us, whether it be a woman and a woman, a man and a man, or a man and a woman, I don't care. |
| 7 | I still don't look at it as if I've come out. Coming out, what does that mean? What I'm concerned about is people as human beings. Are you a decent human being? What are you contributing? That's important. |
| 8 | [on Gary Cooper] Coop was a lovely guy. His sense of humor was kind of within. He'd do something he knew was funny. He laughed inwardly. It was a delight! He's say things, then chuckle within himself. He was wonderful, low-key, like Fred Astaire, an absolute gentleman. These are quality, quality people. They have their own atmosphere about them. Coop's was very laid-back and easy. |
| 9 | [about his love for Montecito, California] It's like the French Riveria without the French. I thank God every day I'm able to be there. |
| 10 | [in a 1971 interview] The star thing is over. I've knocked around quite a bit in the past few years and now I'm just another actor looking for work. Acting is what I know and what I do best . . . I'm trying to find a new niche . . . something to help erase that bland image the studios gave me in the Fifties. I'm looking for roles that will establish me as a more mature actor. |

Pictures
Won Awards
Won awards
| Year | Award | Ceremony | Nomination | Movie | Award shared with |
| --- | --- | --- | --- | --- | --- |
| 2015 | Lifetime Achievement Award | California Independent Film Festival | | | |
Nominated Awards
Nominated awards
| Year | Award | Ceremony | Nomination | Movie | Award shared with |
| --- | --- | --- | --- | --- | --- |
| 1959 | Golden Laurel | Laurel Awards | Top Male Musical Performance | Damn Yankees! (1958) | |

Filmography
Actor
| Title | Year | Status | Character |
| --- | --- | --- | --- |
| Dark Horse | 1992 | | Perkins |
| Cameron's Closet | 1988 | | Owen Lansing |
| Grotesque | 1988 | | Rod |
| Out of the Dark | 1988 | | Driver |
| Film '72 | 1985 | TV Series | Himnself |
| Lust in the Dust | 1985 | | Abel Wood |
| Masquerade | 1984 | TV Series | Whitney |
| The Fall Guy | 1984 | TV Series | Anthony Haley |
| And They Are Off | 1982 | | Henry Barclay |
| Benson | 1982 | TV Series | Roy Lucas |
| Grease 2 | 1982 | | Mr. Stuart |
| Pandemonium | 1982 | | Blue Grange |
| Strike Force | 1981 | TV Series | Voorhees |
| Polyester | 1981 | | Todd Tomorrow |
| Charlie's Angels | 1980 | TV Series | Bill Maddox |
| The Kid from Left Field | 1979 | TV Movie | Bill Lorant |
| $weepstake$ | 1979 | TV Series | Chip |
| Katie: Portrait of a Centerfold | 1978 | TV Movie | Elliot Bender |
| Hawaii Five-O | 1978 | TV Series | Mel Burgess |
| Police Woman | 1978 | TV Series | Martin Quinn |
| The Love Boat | 1977 | TV Series | Dave King |
| Forever Fernwood | 1977 | TV Series | George Schumway (post-plastic surgery) |
| Won Ton Ton: The Dog Who Saved Hollywood | 1976 | | David Hamilton |
| McMillan & Wife | 1976 | TV Series | Roger Thornton |
| Mary Hartman, Mary Hartman | 1976 | TV Series | George Shumway #2 (1977-1978) |
| Ellery Queen | 1976 | TV Series | John Randall |
| Timber Tramps | 1975 | | Big Swede |
| The Six Million Dollar Man | 1975 | TV Series | Arnold Blake |
| Circle of Fear | 1973 | TV Series | Bob Herrick |
| Owen Marshall, Counselor at Law | 1972 | TV Series | |
| The Life and Times of Judge Roy Bean | 1972 | | Sam Dodd |
| Sweet Kill | 1972 | | Eddie Collins |
| Cannon | 1972 | TV Series | Bob Neal |
| Walt Disney's Wonderful World of Color | 1971 | TV Series | Tim Andrews |
| Hacksaw | 1971 | TV Movie | Tim Andrews |
| San Francisco International Airport | 1970 | TV Series | Stayczek |
| The Virginian | 1970 | TV Series | Cart Banner |
| No importa morir | 1969 | | Richard |
| The Last Chance | 1968 | | Patrick Harris |
| Vengeance Is My Forgiveness | 1968 | | Sheriff Durango |
| Hostile Guns | 1967 | | Mike Reno |
| The Cups of San Sebastian | 1967 | | Jerry |
| Birds Do It | 1966 | | Lt. Porter |
| The Loved One | 1965 | | Whispering Glades Tour Guide |
| City in the Sea | 1965 | | Ben Harris |
| Man with Two Faces | 1964 | | Alex Carswell |
| Ride the Wild Surf | 1964 | | Steamer Lane |
| Burke's Law | 1964 | TV Series | Barney Blake |
| Operation Bikini | 1963 | | Lt. Morgan Hayes |
| Combat! | 1962 | TV Series | Del Packer |
| Saints and Sinners | 1962 | TV Series | Sergeant Eddie Manzak |
| The Golden Arrow | 1962 | | Hassan |
| The Pleasure of His Company | 1961 | | Roger Henderson |
| The Tab Hunter Show | 1960-1961 | TV Series | Paul Morgan |
| General Electric Theater | 1959 | TV Series | Daniel |
| They Came to Cordura | 1959 | | Lt. William Fowler |
| That Kind of Woman | 1959 | | Red |
| Meet Me in St. Louis | 1959 | TV Movie | John Truett |
| Damn Yankees! | 1958 | | Joe Hardy |
| Gunman's Walk | 1958 | | Ed Hackett |
| Lafayette Escadrille | 1958 | | Thad Walker |
| Playhouse 90 | 1956-1958 | TV Series | Donald Bashor / Stanley Smith |
| Hans Brinker and the Silver Skates | 1958 | TV Movie | Hans Brinker |
| Climax! | 1955-1957 | TV Series | Jimmy Piersall |
| Conflict | 1956 | TV Series | Donald McQuade |
| The Girl He Left Behind | 1956 | | Andy L. Shaeffer |
| The Burning Hills | 1956 | | Trace Jordan |
| The Sea Chase | 1955 | | Cadet Wesser |
| The Ford Television Theatre | 1955 | TV Series | Gig Spevvy |
| Battle Cry | 1955 | | Pvt. / Cpl. Dan 'Danny' Forrester |
| Track of the Cat | 1954 | | Harold Bridges |
| Return to Treasure Island | 1954 | | Clive Stone |
| The Steel Lady | 1953 | | Bill Larson |
| Gun Belt | 1953 | | Chip Ringo |
| Island of Desire | 1952 | | Marine Corporal Michael J. 'Chicken' Dugan |
| The Lawless | 1950 | | Frank O'Brien |
Producer
| Title | Year | Status | Character |
| --- | --- | --- | --- |
| Dark Horse | 1992 | producer | |
| Hollywood on Horses | 1989 | Video documentary co-executive producer | |
| Lust in the Dust | 1985 | producer | |
| The Tab Hunter Show | 1960-1961 | TV Series producer - 31 episodes | |
Soundtrack
| Title | Year | Status | Character |
| --- | --- | --- | --- |
| Tab Hunter Confidential | 2015 | Documentary performer: "I'll Be With You In Apple Blossom Time" lyrics by nm0281419 & music by nm0903117, "Moonlight Swim" lyrics by nm2004611 & music by nm0918840, "Ninety-Nine Ways" written by nm1478580 as Anthony September, "Young Love" written by Whaley T. Cartey as Ric Cartey & Carole Joyner / writer: "Don't Let It Get Around" | |
| Mischief | 1985 | performer: "Young Love" | |
| Losin' It | 1983 | performer: "Young Love" | |
| Polyester | 1981 | performer: "POLYESTER" | |
| The Tennessee Ernie Ford Show | 1961 | TV Series performer - 1 episode | |
| Damn Yankees! | 1958 | performer: "Goodbye, Old Girl", "Two Lost Souls" | |
| Gunman's Walk | 1958 | performer: "I'm A Runaway" | |
| The 30th Annual Academy Awards | 1958 | TV Special performer: "April Love" | |
Writer
| Title | Year | Status | Character |
| --- | --- | --- | --- |
| Dark Horse | 1992 | story | |
Thanks
| Title | Year | Status | Character |
| --- | --- | --- | --- |
| I Am Divine | 2013 | Documentary special thanks | |
Self
| Title | Year | Status | Character |
| --- | --- | --- | --- |
| Perry Como's Kraft Music Hall | 1959 | TV Series | Himself |
| The 30th Annual Academy Awards | 1958 | TV Special | Himself - Performer |
| The Pat Boone-Chevy Showroom | 1958 | TV Series | Himself |
| The Dinah Shore Chevy Show | 1957 | TV Series | Himself |
| Screen Snapshots 1856: The Mocambo Party | 1957 | Short | Himself |
| What's My Line? | 1957 | TV Series | Himself - Guest Panelist / Himself - Mystery Guest |
| The 28th Annual Academy Awards | 1956 | TV Special | Himself - Audience Member |
| The Bob Cummings Show | 1956 | TV Series | Himself |
| Lux Video Theatre | 1955 | TV Series | Himself - Guest Host |
| The Jimmy Durante Show | 1955 | TV Series | Himself |
| The Colgate Comedy Hour | 1955 | TV Series | Himself |
| This Is Your Life | 1954 | TV Series | Himself |
| Hollywood Opening Night | 1952 | TV Series | Himself |
| Olympic Fund Telethon | 1952 | TV Special | Himself |
| Broadway: Beyond the Golden Age | 2016 | Documentary post-production | Himself |
| Red Eye w/Tom Shillue | 2015 | TV Series | Himself - Guest Panelist |
| Going Deep with Tab Hunter | 2015 | Video documentary short | Himself |
| CTV National News | 2015 | TV Series | Himself |
| Tab Hunter Confidential | 2015 | Documentary | Himself |
| I Am Divine | 2013 | Documentary | Himself |
| Hollywood Singing and Dancing: A Musical History - The 1950s: The Golden Era of the Musical | 2009 | Video documentary | Himself |
| Sex: The Revolution | 2008 | TV Mini-Series documentary | Himself |
| Hollywood Singing and Dancing: A Musical History | 2008 | Video documentary | Himself |
| Hollywood Singing and Dancing: A Musical Treasure | 2008 | TV Movie documentary | Himself |
| The Brothers Warner | 2007 | TV Movie documentary | Himself - Actor |
| The O'Reilly Factor | 2006 | TV Series | Himself |
| Queer Edge with Jack E. Jett | 2005 | TV Series | Himself |
| CBS News Sunday Morning | 2005 | TV Series documentary | Himself |
| Good Morning America | 2005 | TV Series | Himself - Guest |
| Larry King Live | 2005 | TV Series | Himself - Guest |
| Biography | 1997-2004 | TV Series documentary | Himself |
| Rita | 2003 | TV Movie documentary | Himself |
| Elvis Forever | 2002 | TV Movie documentary | Himself |
| More Lust, Less Dust | 2001 | Video short | Himself |
| E! True Hollywood Story | 1997-1999 | TV Series documentary | Himself |
| The Best of Hollywood | 1998 | TV Movie documentary | Himself - Host / Narrator (voice) |
| Ballyhoo: The Hollywood Sideshow! | 1996 | Documentary | Himself |
| Wild Bill: Hollywood Maverick | 1995 | Documentary | Himself |
| The 8th Annual American Cinema Awards | 1991 | TV Special | Himself |
| 7th Annual American Cinema Awards | 1990 | TV Special | Himself |
| Hollywood on Horses | 1989 | Video documentary | Himself - Presenter |
| James Stewart's Wonderful Life | 1988 | TV Movie documentary | Himself |
| The 4th Annual American Cinema Awards | 1987 | TV Special | Himself |
| Our Time | 1985 | TV Series | Himself |
| Just Our Luck | 1983 | TV Series | Himself |
| The Fall Guy | 1983 | TV Series | Himself |
| Madame's Place | 1982 | TV Series | Himself |
| Natalie - A Tribute to a Very Special Lady | 1982 | TV Movie documentary | Himself |
| Fridays | 1982 | TV Series | Himself - Guest Host |
| Circus of the Stars #6 | 1981 | TV Special | Himself |
| The Alan Thicke Show | 1981 | TV Series | Himself - Guest |
| The Mike Douglas Show | 1963-1978 | TV Series | Himself - Guest |
| Match Game 73 | 1978 | TV Series | Himself |
| Celebrity Challenge of the Sexes 2 | 1977 | TV Movie | Himself |
| The Joey Bishop Show | 1969 | TV Series | Himself - Guest |
| The David Frost Show | 1969 | TV Series | Himself - Guest |
| The Tonight Show Starring Johnny Carson | 1967 | TV Series | Himself - Guest |
| The Hollywood Squares | 1967 | TV Series | Himself |
| You Don't Say | 1964 | TV Series | Himself |
| The Object Is | 1964 | TV Series | Himself |
| Stump the Stars | 1962-1963 | TV Series | Himself |
| The 20th Annual Golden Globes Awards | 1963 | TV Special | Himself - Presenter: Best Foreign Film |
| Here's Hollywood | 1960-1961 | TV Series | Himself |
| Summer on Ice | 1961 | TV Movie | Himself |
| The Tennessee Ernie Ford Show | 1960-1961 | TV Series | Himself - Actor / Singer |
| Celebrity Talent Scouts | 1960 | TV Series | Himself |
| The Dick Clark Show | 1959-1960 | TV Series | Himself / Himself - |
| Startime | 1959 | TV Series | Himself |
| The Arthur Murray Party | 1959 | TV Series | Himself |
| The Steve Allen Plymouth Show | 1957-1959 | TV Series | Himself - Singer / Himself - Guest |
| The Juke Box Jury | 1956-1959 | TV Series | Himself |
| I've Got a Secret | 1957-1959 | TV Series | Himself - Celebrity Guest |
| New American Bandstand 1965 | 1959 | TV Series | Himself |
Archive Footage
| Title | Year | Status | Character |
| --- | --- | --- | --- |
| Wrangler: Anatomy of an Icon | 2008 | Documentary | Himself |
| Rosemary Clooney: Singing at Her Best | 2004 | Video short | Himself |
| John Huston: The Man, the Movies, the Maverick | 1988 | Documentary | Himself (uncredited) |
| That's Hollywood | 1981 | TV Series documentary | Todd Tomorrow |