Stephen Hawking Net Worth
Stephen Hawking Net Worth is

$20 Million
Stephen Hawking Biography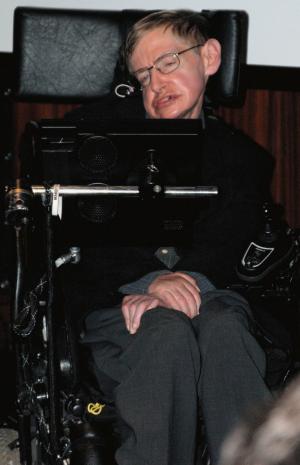 Stephen William Hawking, commonly known as Stephen Hawking, is a famous English scientist, physicist, author, as well as a mathematician. Stephen Hawking is perhaps most notable for funding "The Centre of Theoretical Cosmology", a department in the University of Cambridge, the main focus of which is challenging various issues in scientific studies and providing a better understanding of the universe. Hawking is also known for providing a theoretical argument for the existence of black body radiation, which is thought to be released by black holes. The black body radiation was later named "Hawking radiation" in his honor. Among his other significant achievements in the scientific field are the "Penrose-Hawking singularity theorems", which try to answer the question of when and in what instances gravity produces singularities. Hawking elaborated on these theorems in his book called "A Brief History of Time", which was published in 1988. Over the years, the book achieved a remarkable success. It sold more than 10 million copies worldwide and was translated into 35 languages. Undoubtedly a best-seller, "A Brief History of Time" inspired the release of a documentary film about Stephen Hawking under the same title, which came out in 1991 and was directed by Errol Morris. In addition to that, a play based on Hawking's book is currently in the production, and is rumored to premiere in either 2015 or 2016.
Stephen Hawking Net Worth $20 Million
Stephen Hawking's contributions to scientific studies have been acknowledged with such honorary awards as Adams Prize, Albert Medal, Albert Einstein Award, Heineman Prize, and RAS Gold Medal to name a few. A famous scientist and physicist, how rich is Stephen Hawking? According to sources, Stephen Hawking's net worth is estimated to be $20 million.
Stephen Hawking was born in 1942, in Oxford, England, where he later attended the University of Oxford, just like both his parents did. Hawking showed exceptional talent and understanding of various complex concepts in high school, yet at the very beginning, he struggled with other subjects. Upon entering the University of Oxford, Hawking felt distanced and lonely, since he was one of the youngest students as he enrolled in the university when he was 17 years old. However, Hawking managed to overcome his sense of loneliness and soon became one of the most popular students in the university. During his graduate studies, Hawking excelled by writing an essay on Penrose's spacetime singularity theorem called "Singularity and the Geometry of Space-Time", where he applied Penrose's findings to an entire universe. Hawking's essay not only gained him a PhD degree, but also won him the Adam's Prize.
Unfortunately, shortly after his graduation, Hawking's health began declining, and he had to resort to using crutches in order to physically support himself. It was later established that Hawking was suffering from motor neuron disease, which affects the cells that are responsible for voluntary muscle activity, as well as speaking and walking. Over the years, the disease spread through his body and made Hawking almost entirely paralyzed. A famous and influential scientist, Stephen Hawking has an estimated net worth of $20 million.
Known for movies
Quick Facts
| | |
| --- | --- |
| Full Name | Stephen Hawking |
| Net Worth | $20 Million |
| Date Of Birth | January 8, 1942 |
| Place Of Birth | Oxford, United Kingdom |
| Height | 5 ft 6 in (1.69 m) |
| Profession | Science writer, Physicist, Scientist, Astronomer, Mathematician, Professor, Author, Cosmologist, Writer, Astrophysicist |
| Education | University College, Oxford (BA, 1962), Trinity Hall, Cambridge (PhD, 1965) |
| Nationality | British |
| Spouse | Elaine Mason (m. 1995–2006), Jane Hawking (m. 1965–1995) |
| Children | Lucy Hawking, Robert Hawking, Timothy Hawking |
| Parents | Frank Hawking, Isobel Hawking |
| Siblings | Mary Hawking, Philippa Hawking, Edward Hawking |
| Nicknames | Stephen W. Hawking , Stephen William Hawking , Prof. Stephen Hawking , Professor Stephen Hawking , S.W. Hawking , S. Hawking |
| Facebook | http://www.facebook.com/stephenhawking |
| Wikipedia | https://en.wikipedia.org/wiki/Stephen_Hawking |
| Awards | Presidential Medal of Freedom, Copley Medal, Adams Prize, Albert Medal, Albert Einstein Award, Heineman Prize, RAS Gold Medal |
| Movies | A Brief History of Time, Hawking, Beyond the Horizon, Fate of the Universe |
| TV Shows | Stephen Hawking's Universe, TV Offal, Masters of Science Fiction, Genius of Britain, Brave New World with Stephen Hawking, Into the Universe with Stephen Hawking, Stephen Hawking's Grand Design, Genius by Stephen Hawking, London 2012 Paralympic Opening Ceremony: Enlightenment, Stephen Hawking: Master of the Universe |

Interesting Facts
| # | Fact |
| --- | --- |
| 1 | Due to the American accent on his voice synthesizer, many people have no idea that he is really British. He has said he would like to replace it with a synthesizer with a British accent, but he has become so synonymous with his current one that he knows he can't. |
| 2 | Has admitted to having been quite lazy in his youth and notes that during his four years at Oxford, he did about 1000 hours of work (equating to about an hour-and-a-half for each day.) This earned him the ire of his teachers. At the end of his four years, the deans weren't sure if he deserved a first-class or second-class degree, due to the quality of his work. Hawking said that a first-class degree would get him into Cambridge; otherwise he'd have to stay at Oxford for his graduate work. The deans gave him a first-class degree. |
| 3 | Mentioned in the song "Real Love" by Yes. |
| 4 | His electronic voice was used in Pink Floyd's song "Keep Talking". |
| 5 | Hawking has been portrayed by actors including Benedict Cumberbatch (in the 2004 TV movie Hawking) and Eddie Redmayne (in The Theory of Everything). Hawking has appeared as himself in shows including "The Big Bang Theory," "The Simpsons," and "Star Trek: The Next Generation". |
| 6 | Was not a particularly good student until he started studying science in school. |
| 7 | Is a big fan of 'Star Trek'. |
| 8 | Hawking is a big fan of Marilyn Monroe. His 60th birthday celebration included an appearance by a Marilyn Monroe impersonator. |
| 9 | He has one grandchild. |
| 10 | He and his first wife, Jane Wilde, had three children: Robert (b. 1967), Lucy (b. 1969) and Timothy (b. 1979). |
| 11 | Has played himself in Star Trek: The Next Generation (1987), The Simpsons (1989), Futurama (1999) and The Big Bang Theory (2007). |
| 12 | Is a fan of Doctor Who (1963) and Red Dwarf (1988). |
| 13 | The only person ever to play himself in any Star Trek film or series. |
| 14 | He appeared as guest star in a Star Trek episode, and asked the crew to make a tour of the Enterprise. When he saw the warp drive, he said "I'm working on that...". |
| 15 | Acquired (the incurable) amyotrophic lateral sclerosis (ALS) (also known as Lou Gehrig's disease) in the early 1960s. Can now barely move or talk...but can yet think. And humankind continues as beneficiary of this man's brilliance. |
| 16 | Occupies the same post, as Lucasian professor of mathematics at Cambridge University, as was earlier occupied by Sir Isaac Newton. |
| 17 | Has been awarded many honorary degrees and is a Fellow of The Royal Society and a Member of the US National Academy of Sciences. |
| 18 | He was awarded the Companion of Honour in the 1989 Queen's Honours List for his services to science. |
| 19 | Was born exactly 300 years after the death of Galileo. |
| 20 | Received an honorary B.A. degree from Oxford University, and a Ph.D from Cambridge, (1981), Notre Dame (1982) and New York University (1982).Received a First Class honours degree from Oxford (1962) and a Ph.D from Cambridge, (1966). |
| 21 | He was awarded the CBE (Commander of the Order of the British Empire) in the 1982 Queen's Honours List for his services to science. |

Trademarks
| # | Trademark |
| --- | --- |
| 1 | His computerized voice box for communicating |

Quotes
| # | Quote |
| --- | --- |
| 1 | [on the Star Trek warp engine] I'm working on that. |
| 2 | However difficult life may seem, there is always something you can do and succeed at. |
| 3 | Women. They are a complete mystery. |
| 4 | By the age of fourteen, I knew I wanted to do Physics because it was the most fundamental of the sciences. |
| 5 | [from "A Brief History of Time" (1989)] However, if we discover a complete theory, it should in time be understandable by everyone, not just by a few scientists. Then we shall all, philosophers, scientists and just ordinary people, be able to take part in the discussion of the question of why it is that we and the universe exist. If we find the answer to that, it would be the ultimate triumph of human reason -- for then we should know the mind of God. |
| 6 | [from A Brief History of Time (1991)] Even if there is only one possible unified theory, it is just a set of rules and equations. What is it that breathes fire into the equations and makes a universe for them to describe? The usual approach of science of constructing a mathematical model cannot answer the questions of why there should be a universe for the model to describe. Why does the universe go to all the bother of existing? |
| 7 | Some of our greatest catastrophes have been caused by people talking, and some by people not talking. |
| 8 | My goal is simple. It is complete understanding of the universe, why it is as it is, and why it exists at all. |
| 9 | We are just an advanced breed of monkeys on a minor planet of a very average star. But we can understand the Universe. That makes us something very special. |
| 10 | To confine our attention to terrestrial matters would be to limit the human spirit. |
| 11 | I think that computer viruses should count as life. I think it says something about human nature that the only form of life we have created so far is purely destructive. We've created life in our own image. |

Pictures

Filmography
Actor
| Title | Year | Status | Character |
| --- | --- | --- | --- |
| The Big Bang Theory | 2012-2016 | TV Series | Stephen Hawking Dr. Stephen Hawking |
| Anyone Can Quantum | 2016 | Short | Stephen Hawking |
| London 2012 Paralympic Opening Ceremony: Enlightenment | 2012 | TV Movie | Narrator (voice) |
| Futurama | 2000-2011 | TV Series | Stephen Hawking |
| The Simpsons | 1999-2010 | TV Series | Stephen Hawking |
| How to Lose Weight in 60 Seconds | 2010 | Short | Narrator (voice) |
| Futurama: The Beast with a Billion Backs | 2008 | Video | Stephen Hawking's Head (voice) |
| Star Trek: The Next Generation | 1993 | TV Series | Stephen Hawking |
Writer
| Title | Year | Status | Character |
| --- | --- | --- | --- |
| Stephen Hawking's Fate of the Universe | 2017 | Documentary filming | |
| Hawking | 2013 | Documentary written by | |
| Into the Universe with Stephen Hawking | 2010 | TV Mini-Series documentary | |
| Beyond the Horizon | 2009 | Documentary | |
| Reality on the Rocks | 1995 | TV Series documentary book "A Brief History of Time" | |
| A Brief History of Time | 1991 | Documentary book | |
Miscellaneous
| Title | Year | Status | Character |
| --- | --- | --- | --- |
| Devil Hunters | | consultant: theoretical physics announced | |
Thanks
| Title | Year | Status | Character |
| --- | --- | --- | --- |
| La força de la vida. El making of del disc i del llibre de La Marató | 2013 | TV Movie thanks | |
| Naked Science | 2009 | TV Series documentary special thanks - 1 episode | |
| Big Nothing | 2006 | thanks - as Professor Stephen Hawking | |
| TV Offal | 1997-1998 | TV Series special thanks - 7 episodes | |
Self
| Title | Year | Status | Character |
| --- | --- | --- | --- |
| Into the Universe with Stephen Hawking | 2010 | TV Mini-Series documentary | Himself |
| How the Universe Works | 2010 | TV Series documentary | Himself - Phd., Theoretical Physicist |
| Quantum Roulette | 2009 | Documentary | Himself |
| The Challenge of Quantum Reality | 2009 | Video documentary | Himself (as Professor Stephen Hawking) |
| Beyond the Horizon | 2009 | Documentary | Himself |
| The One Show | 2008 | TV Series | Himself |
| TEDTalks | 2008 | TV Series | Himself |
| Stephen Hawking: Master of the Universe | 2008 | TV Series documentary | Himself |
| Masters of Science Fiction | 2007 | TV Series | Himself - Host |
| The Culture Show | 2007 | TV Series documentary | Himself |
| The 11th Hour | 2007/I | Documentary | Himself - Lucasian Professor of Mathematics, Cambridge University |
| Last Days on Earth | 2006 | TV Movie documentary | Himself |
| Die Invasion der Ideen | 2006 | TV Movie documentary | Himself |
| TalkAsia | 2006 | TV Series | Himself |
| Beckmann | 2005 | TV Series | Himself |
| Richard & Judy | 2005 | TV Series | Himself |
| Horizon | 1996-2005 | TV Series documentary | Himself |
| Alien Planet | 2005 | TV Movie documentary | Himself |
| The British Comedy Awards 2004 | 2004 | TV Special | Himself |
| Naked Science | 2004 | TV Series documentary | Himself - Cosmologist |
| This Week | 2004 | TV Series | Himself |
| Late Night with Conan O'Brien | 2003 | TV Series | Himself - Guest / Himself |
| 60 Minutes | 2003 | TV Series documentary | Himself - Physicist (segment "Stephen Hawking") |
| The Sky at Night | 2002 | TV Series documentary | Himself |
| Campus, le magazine de l'écrit | 2001 | TV Series documentary | Himself |
| TV Offal | 1997-1998 | TV Series | Himself - Introduction |
| Bioperfection: Building a New Human Race | 1998 | TV Movie | Himself |
| 'Red Dwarf' A-Z | 1998 | TV Movie | Himself (as Prof. Stephen Hawking) |
| Stephen Hawking's Universe | 1997 | TV Mini-Series documentary | Himself |
| Great Composers | 1997 | TV Series documentary | Scientist |
| The Big Question | 1996 | TV Series | Himself |
| The Colours of Infinity | 1995 | TV Movie documentary | Himself (uncredited) |
| Reality on the Rocks | 1995 | TV Series documentary | Himself |
| The Science of Star Trek | 1995 | TV Movie documentary | Himself |
| The Making of 'A Brief History of Time' | 1992 | TV Short documentary | Himself |
| Time Travel: The Next Frontier | 1992 | TV Movie documentary | Himself |
| A Brief History of Time | 1991 | Documentary | Himself |
| The Astronomers | 1991 | TV Series documentary | Himself |
| God, the Universe and Everything Else | 1988 | Video | Himself |
| Creation of the Universe | 1985 | TV Movie documentary | Himself |
| Stephen Hawking's Fate of the Universe | 2017 | Documentary filming | Himself |
| The University | 2016 | Documentary | Himself - Interviewee |
| GENIUS by Stephen Hawking | 2016 | TV Series documentary | Himself |
| Destination Mars | 2015 | TV Mini-Series documentary | Himself |
| Hubble's Cosmic Journey | 2015 | TV Movie documentary | Himself - Cosmologist |
| The EE British Academy Film Awards | 2015 | TV Special documentary | Himself - Presenter: Special Visual Effects (as Professor Stephen Hawking) |
| Monty Python: The Meaning of Live | 2014 | TV Movie documentary | Himself |
| Monty Python Live (Mostly) | 2014 | | Himself (as Stephen Hawking CH CBE FRS FRSA) |
| Last Week Tonight with John Oliver | 2014 | TV Series | Himself |
| Stephen Hawking's Science of the Future | 2014 | TV Series | Himself - Narrator / Himself - Presenter |
| Stem Cell Universe with Stephen Hawking | 2014 | TV Movie documentary | Himself |
| David Blaine: Real or Magic | 2013 | TV Movie | Himself |
| Daily Mirror: The Pride of Britain Awards | 2013 | TV Special | Himself |
| Doctor Who Live: The Next Doctor | 2013 | TV Movie | Himself (as Professor Stephen Hawking) |
| Hawking | 2013 | Documentary | Himself |
| South at Six | 2013 | TV Series | Himself |
| The Unbelievers | 2013 | Documentary | Himself |
| Brave New World with Stephen Hawking | 2011-2012 | TV Series | Himself - Host |
| Stephen Hawking's Grand Design | 2012 | TV Mini-Series documentary | Himself |
| Surviving Progress | 2011 | Documentary | Himself - Theoretical Physicist |
| Curiosity | 2011 | TV Series documentary | Himself - Host |
| The Creation Question: A Curiosity Conversation | 2011 | TV Movie | Himself |
| Beautiful Equations | 2011 | TV Movie documentary | Himself |
| Larry King Live | 2010 | TV Series | Himself |
| Genius of Britain: The Scientists Who Changed the World | 2010 | TV Series documentary | Himself - Presenter |
| CERN neboli Továrna na absolutno | 2010 | Documentary | Himself (voice) |
Archive Footage
| Title | Year | Status | Character |
| --- | --- | --- | --- |
| I Like the Sound of My Own Voice | 2021 | Documentary announced | Himself |
| Professing Themselves to Be Wise | 2016 | Video documentary | Himself |
| Quantum Earth | 2015 | TV Series | Himself - Guest |
| The Tonight Show Starring Jimmy Fallon | 2015 | TV Series | Himself - Speaking via Hologram |
| Nostalgia Critic | 2014 | TV Series | Himself |
| America's Book of Secrets | 2013 | TV Series documentary | Himself |
| Sendung ohne Namen | 2012 | TV Series documentary | Himself |
| Through the Wormhole | 2012 | TV Series documentary | Himself - Theoretical Physicist |
| When Aliens Attack | 2011/II | TV Movie documentary | Himself - Theoretical Physicist |
| The End of God? A Horizon Guide to Science and Religion | 2010 | TV Movie documentary | Himself |
| Mars: A Horizon Guide | 2009 | TV Movie documentary | Himself (uncredited) |
| The Universe | 2008 | TV Series documentary | Himself - Theoretical Physicist |
| D & D & F: 'Dungeons & Dragons' & 'Futurama' | 2008 | Video documentary short | Himself (uncredited) |
| La Marató 2005 | 2005 | TV Special | Himself |
| How William Shatner Changed the World | 2005 | TV Movie documentary | Himself - Scientific Genius |
| The Simpsons | 2000-2002 | TV Series | Stephen Hawking |