Rowan Atkinson Net Worth is

$130 Million
Rowan Atkinson Biography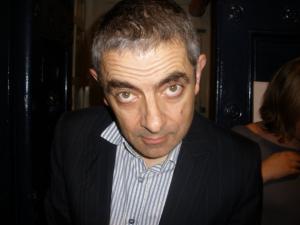 Rowan Sebastian Atkinson was born on 6th January 1955, in Consett, County Durham, England, into a normal Anglican family. Rowan is an entertainer, comedian and scriptwriter, undoubtedly best known world-wide for his comic portrayal of "Mr. Bean", in a largely visual TV series of the same name, which transcends language and culture, and which spawned feature films in the 1990s and 2000s.
So just how rich is Rowan Atkinson? Sources estimate that Rowan's net worth amounts to $130 million, which has been accumulated during his career in the entertainment industry spanning almost 40 years, and is the largest among current comic actors in the UK.
Rowan Atkinson Net Worth $130 Million
Rowan Atkinson attended St Bees School before graduating from the University of Newcastle with a degree in Electric Engineering, then studied at Queens College, Oxford for a Master's in the same subject. However,  Rowan started performing while he was a student. He first came to notice with a  program called "The Atkinson People" which was released on BBC radio in 1978, and which was the start of his net worth growth. Soon afterwards he moved on to television work, appearing in "Not the Nine O'Clock News" (1979-82) which was produced by John Lloyd, and in which he was also involved as a co – writer.These series added substantially to Rowan's net worth.
The performances for which Rowan Atkinson is best known are the four series of "The Black Adder", throughout the 1980s, and for making up his iconic and very popular character of Mr. Bean in several TV series beginning in 1990. Rowan has several times attempted to 'retire' Mr. Bean, but the popularity of the character continues to this day. There have been two "Mr. Bean" movies also, the first in 1997 – also starring Charlie Sheen, Patrick Swayze, and Kristin Scott Thomas – contributing considerably to Atkinson's net worth, as it grossed more than $620 million at the box office."Mr. Bean's Holiday" in 2007 was almost equally  successful.
Rowan Atkinson has appeared in more than 20 movies, including "Never Say Never Again" (based on the James Bond novel "Thunderball"), and the following based on novels written by Richard Curtis: "The Tall Guy", "Four Weddings and a Funeral", and "Love Actually". Another two movies were created on the basis of his popular character  called "Johnny English", the first of that title earning him a nomination for European Film Award as Best Actor.
Additionally, Rowan Atkinson has performed on stage, most significantly in the musical Oliver! in 2009, playing Fagin, which brought favourable reviews and a nomination for an Olivier award for best actor in a musical.
Rowan Atkinson was appointed Commander of the Order of the British Empire in the 2013 Birthday Honours for services to drama and charity. He was included in to the list of "The Observer" as one of the most humorous characters in British comedy, and among the top 50 comics ever.
In Rowan Atkinson's personal life, he married Sunetra Sastri in 1990, and they have two children. Rowan filed for divorce in 2014, and has been seen in public with Louise Ford.
Because of Rowan Atkinson's net worth, he is able to enjoy his love of expensive cars, although he started with driving his mother's Morris Minor around the family farm. Atkinson has a driving license of C + E lorry category which was gained in 1981, a benefit when filming comedy material.
As lover of car racing he filmed as a racer Henry Birkin in the television play "Full Throttle" in 1995. Rowan Atkinson has been in a racer's role in other cars like a Renault 5 GT Turbo for two seasons. A McLaren F1 is one more expensive actor's toy in which he has been involved in minor car crashes. He has owned a Honda NSX previously, and now owns an Audi A8 and a Honda Civic Hybrid.
Known for movies
Quick Facts
| | |
| --- | --- |
| Full Name | Rowan Atkinson |
| Net Worth | $130 Million |
| Salary | $130 million, 1.175 million USD |
| Date Of Birth | 6 January 1955 |
| Place Of Birth | Consett, United Kingdom |
| Height | 5 ft 10 in (1.8 m) |
| Weight | 83 kg |
| Profession | Actor, Comedian, Screenwriter, Voice Actor |
| Education | The Queen's College, Oxford, Newcastle University, St Bees School, Chorister School, Durham, Boston College, Avon Old Farms |
| Nationality | British |
| Spouse | Sunetra Sastry (m. 1990) |
| Children | Lily Atkinson, Benjamin Atkinson |
| Parents | Ella May Bainbridge, Eric Atkinson, Ellen Atkinson, Tom Atkinson |
| Siblings | Rodney Atkinson, Rupert Atkinson, Paul Atkinson, Tommy Atkinson |
| Nicknames | Rowan Sebastian Atkinson , Mr. Rowan Atkinson , Row , Mr. Bean , Ro Atkinson |
| Facebook | http://www.facebook.com/djwillatkinson |
| Twitter | http://www.twitter.com/camatkinson13 |
| MySpace | http://www.myspace.com/313534711 |
| Wikipedia | https://en.wikipedia.org/wiki/Rowan_Atkinson |
| Awards | British Academy Television Award for Best Entertainment Performance, Laurence Olivier Award for Best Comedy Performance, British Comedy Award for Best Entertainment Performer |
| Nominations | Hobey Baker Award |
| Movies | Bean, Johnny English Reborn, Mr. Bean's Holiday, Keeping Mum, Johnny English, Love Actually, Scooby-Doo, Rat Race, The Lion King, Four Weddings and a Funeral, Rowan Atkinson Live!, The Witches, The Tall Guy, Never Say Never Again, Maybe Baby, Hot Shots! Part Deux, Blackadder: Back & Forth, Doctor Who: The Curse of Fatal Death, Spider-Plant Man, Bernard and the Genie, Blackadder's Christmas Carol, Dead on Time, The Appointments of Dennis Jennings, The Secret Policeman's Other Ball, Fist Of Bean, Satan's Sadists, The Jubilee Girl, The London 2012 Olympic Opening Ceremony: Isles of Wonder, The Best of Mr. Bean, Just for Laughs: Stand-Up: Vol. 3: Launching Pad, Weird World |
| TV Shows | The Thin Blue Line, Mr. Bean, Blackadder, Blackadder II, Not the Nine O'Clock News, Canned Laughter, The Black Adder, Ohh Nooo! Mr. Bill Presents |

Interesting Facts
| # | Fact |
| --- | --- |
| 1 | He disliked the first series of Blackadder. |
| 2 | Has trouble pronouncing words that begin with the letter B and followed by a vowel. He has to pause slightly to say them. |
| 3 | His grandparents were all born in Durham. His paternal grandparents were Edward Atkinson, of Spennymoor, and Edith Gertrude Browell, of Crookhall. His maternal grandparents were Frank Bainbridge, of Hartlepool, and Ella Schofield, of Grosmont. |
| 4 | He was awarded the CBE (Commander of the Order of the British Empire) in the 2013 Queen's Birthday Honours List for his services to Drama and to charity. |
| 5 | Attended Catherine Duchess of Cambridge and Prince William's wedding. |
| 6 | Has suffered with a stammer for many years, hence does not like giving interviews. |
| 7 | On August 4, 2011 he was admitted to Peterborough City Hospital after crashing his McLaren Formula1 sports car. He suffered a light injury on his shoulder. |
| 8 | He is the only actor to appear in every episode of Blackadder, Tony Robinson did not appear in the pilot. |
| 9 | Owns a Aston Martin DB7 Vantage, which he used in the film Johnny English (2003). |
| 10 | He had to pull out of his role in a West End production of Oliver in April 2009 due to hernia surgery. |
| 11 | Along with Tony Robinson and Tim McInnerny, he is one of only three actors to appear in all four "Blackadder" series: The Black Adder (1982), Black-Adder II (1986), Black Adder the Third (1987) and Blackadder Goes Forth (1989). |
| 12 | Has publicly opposed the British Labour government's plans to introduce new legislation on incitement to religious hatred, arguing that it would undermine free speech and thought (even citing the possible development of mind-reading technology), and that such measures would make political satire - which he considers seminal in a democracy - unworkable. |
| 13 | He was one of the guests at Prince Charles' and Camilla Parker-Bowles' wedding. |
| 14 | Once crashed his McLaren F1, a supercar valued at more than $1,000,000, into the back of a stationary Mini Metro, valued at around $600. The damage was not severe. |
| 15 | He was awarded the Laurence Olivier Theatre Award for Best Comedy Performance in 1982 for the 1981 season. |
| 16 | Attended Cathedral Chorister School, Durham with Tony Blair. |
| 17 | Races (and also crashes) his Aston Martins in the Aston Martins Owners club series. |
| 18 | Education: Newcastle University, Newcastle, UK (electrical engineering); Oxford University, Oxford, UK (electrical engineering) |
| 19 | Writes articles for CAR (a British car magazine). |
| 20 | Owns various fast cars (Aston Martin Vantages, etc.). |
| 21 | Has an HGV license (Heavy Goods Vehicle - the old legal term in the United Kingdom for goods vehicles weighing more than 3.5 tonnes gross vehicle weight). |
| 22 | Rides go-karts round his tennis courts and, according to Stephen Fry (his best man), "hasn't got an ounce of showbiz in him". |
| 23 | Father of a son, Benjamin Alexander Sebastian Atkinson (born 1993) and a daughter, Lily Grace Atkinson (aka Lily Atkinson) (born 1995), with his wife Sunetra Sastry. |

Trademarks
| # | Trademark |
| --- | --- |
| 1 | His characters: Mr. Bean and Blackadder |
| 2 | Wide range of humorous expressions |

Quotes
| # | Quote |
| --- | --- |
| 1 | The more success you have, the more pressure you feel to make things to a good standard, for movies you make to make money and that sort of thing. One misses those days when you were 19 or 23 and you just did what made you laugh. What you and your friends thought was funny. And you did it, and if they laughed, great, and if they didn't, it didn't matter. As you get older you always think about everything so much, you're so concerned that what you do should be good and should be successful that it's the success you're pursuing rather than the fun of doing it, which is what's so great when you're younger... What's difficult for me on a movie is not playing Mr. Bean. The problem is the scripts. The problem is the shaping of the shots. The problem is the editing. The problem is all those things. |
| 2 | I definitely do not have the wit of Blackadder. I definitely require scriptwriters to provide that. And I don't think I'm as dark or cynical as Blackadder is in his view of the world. Probably I'm somewhere in between but closer to Mr. Bean. You know, the nice bits of Mr. Bean, because Mr. Bean has a very vindictive and selfish and nasty side to him. I hope I don't have too much of that. |
| 3 | I've always required a formal setting, a stage or a film or TV studio in which to perform. And above all I need to become somebody else. I'm certainly not a stand-up comedian in any sense. |
| 4 | If I'm denied words, Mr. Bean's physicality and attitude to life is what I seem to acquire. In 1989, we put him on TV and no doubt the motivation was a belief that we had a character that could live in other markets and other countries. I was always envious of the fact that so many British musical artists in the late eighties, Phil Collins or David Bowie or Duran Duran or someone like that, assumed an international marketplace for their product, whereas British comedians don't. And I thought we have a tool here that will enable us to do that. |
| 5 | [preparing to perform onstage the title role in Simon Gray's 'Quartermaine's Terms'] It's well known that tragedy and comedy are close bedfellows. It's rare, though, that you see them placed in such intimacy. Like most tragic figures, 'Quartermaine' is unaware of his own tragedy. What I love about him is his optimism. You don't tend to feel much sympathy for pessimistic people, but those who retain their optimism, despite the sadness of their lives, are interesting, engaging and sympathetic. |
| 6 | [on being overwhelmed by fans at a Toronto shopping mall] It's a bit disconcerting being treated like Madonna. |
| 7 | The casual ease which some people move from finding something offensive to wishing to declare it criminal - and are then able to find factions within government to aid their ambitions - is truly depressing. |
| 8 | I remember looking up Johnny English (2003) in a film guide and it said 'intermittently hilarious' - quite a good description of five good jokes and a lot of longueurs. I find it frustrating that, apart from Four Weddings and a Funeral (1994), I have yet to be involved in a film of which I am totally proud. |
| 9 | Mr. Bean is essentially a child trapped in the body of a man. All cultures identify with children in a similar way, so he has this bizarre global outreach. And 10-year-old boys from different cultures have more in common than 30-year-olds. As we grow up, we acquire this sensibility that divides us. |
| 10 | [commenting in 2004 on Britain's proposed Racial and Religious Hatred Bill] To criticize a person for their race is manifestly irrational and ridiculous, but to criticize their religion, that is a right. That is a freedom. The freedom to criticize ideas, any ideas - even if they are sincerely held beliefs - is one of the fundamental freedoms of society. A law which attempts to say you can criticize and ridicule ideas as long as they are not religious ideas is a very peculiar law indeed. |
| 11 | People think because I can make them laugh on the stage, I'll be able to make them laugh in person. That isn't the case at all. I am essentially a rather quiet, dull person who just happens to be a performer. |

Pictures
Won Awards
Won awards
Year
Award
Ceremony
Nomination
Movie
Award shared with
2002
Telvis
Telvis Awards
Foreign Male TV Performer (Ulkomainen miesesiintyjä)
1998
TV Prize
Aftonbladet TV Prize, Sweden
Best Foreign TV Personality - Male (Bästa utländska man)
1996
TV Prize
Aftonbladet TV Prize, Sweden
Best Foreign TV Personality - Male (Bästa utländska man)
1994
TV Prize
Aftonbladet TV Prize, Sweden
Best Foreign TV Personality - Male (Bästa utländska man)
1993
CableACE
CableACE Awards
Writing an Entertainment Special
Rowan Atkinson Live (1992)
Richard Curtis

Ben Elton
1990
BAFTA TV Award
BAFTA Awards
Best Light Entertainment Performance
Blackadder Goes Forth (1989)
1981
BAFTA TV Award
BAFTA Awards
Best Light Entertainment Performance
Not the Nine O'Clock News (1979)
Nominated Awards

Filmography
Actor
| Title | Year | Status | Character |
| --- | --- | --- | --- |
| Johnny English 3 | 2018 | pre-production | Johnny English |
| Maigret in Montmartre | 2017 | TV Movie completed | Jules Maigret |
| Maigret: Night at the Crossroads | 2017 | TV Movie | Jules Maigret |
| Red Nose Day Actually | 2017 | TV Short | Rufus |
| Huan Le Xi Ju Ren | 2017 | | Mr. Bean |
| Maigret's Dead Man | 2016 | TV Movie | Chief Inspector Jules Maigret |
| Maigret Sets a Trap | 2016 | TV Movie | Chief Inspector Jules Maigret |
| Mr Bean: Funeral | 2015 | Video short | Mr. Bean |
| Mr Bean: The Animated Series | 2015 | TV Series | Mr. Bean |
| Johnny English Reborn | 2011 | | Johnny English |
| Bondi Rescue | 2010 | TV Series | Mr. Bean |
| Tak & the Power of Juju | 2008 | TV Series | Lok |
| Mr. Bean's Holiday | 2007 | | Mr. Bean |
| The Dame Edna Treatment | 2007 | TV Series | Mr. Bean |
| Mr. Bean's Wedding | 2007 | Video short | Mr. Bean |
| Keeping Mum: Deleted Scenes | 2006 | Video short | Walter Goodfellow |
| Keeping Mum: Funnies | 2006 | Video short | Walter Goodfellow |
| Keeping Mum | 2005 | | Walter Goodfellow |
| Spider-Plant Man | 2005 | TV Short | Peter Piper / Spider-Plant Man |
| Love Actually | 2003 | | Rufus - Jewellery Salesman |
| Johnny English | 2003 | | Johnny English |
| Mr. Bean: The Animated Series | 2002-2003 | TV Series | Mr. Bean |
| The Jubilee Girl | 2002 | TV Movie | Sir Osmond Darling-Blackadder |
| Scooby-Doo | 2002 | | Mondavarious |
| Rat Race | 2001 | | Enrico Pollini |
| Maybe Baby | 2000 | | Mr. James |
| Blackadder Back & Forth | 1999 | Short | All Blackadders |
| Comic Relief: Doctor Who - The Curse of Fatal Death | 1999 | TV Short | The Doctor |
| Ohh, Nooo! Mr. Bill Presents | 1998 | TV Series | Mr. Bean (1998-1999) |
| Bean | 1997 | | Mr. Bean |
| The Thin Blue Line | 1995-1996 | TV Series | Inspector Raymond Fowler |
| Unseen Bean | 1995 | Video | Mr. Bean |
| Mr. Bean | 1990-1995 | TV Series | Mr. Bean |
| The Exciting Escapades of Mr. Bean: The Bus Stop | 1995 | Video short | Mr. Bean |
| Mr Bean: Torvill and Bean | 1995 | Video | Mr. Bean |
| Full Throttle | 1995 | TV Movie | Sir Henry 'Tim' Birkin |
| Animated StoryBook: The Lion King | 1994 | Video Game | Zazu (voice) |
| Schmidteinander | 1994 | TV Series | Mr. Bean |
| The Lion King | 1994 | | Zazu (voice) |
| Four Weddings and a Funeral | 1994 | | Father Gerald - Wedding Two |
| Hot Shots! Part Deux | 1993 | | Dexter Hayman |
| Mr Bean: Blind Date | 1993 | Video | Mr. Bean |
| Election 92 | 1992 | TV Movie | Mr. Bean |
| Bernard and the Genie | 1991 | TV Movie | Charles Pinkworth |
| Mr. Bean's Red Nose Day | 1991 | Video | Mr. Bean |
| The Amazing Adventures of Mr. Bean | 1990 | Video | Mr. Bean |
| The Exciting Escapades of Mr. Bean | 1990 | Video | Mr. Bean |
| Mr Bean: The Library | 1990 | Video short | Mr. Bean |
| The Witches | 1990 | | Mr. Stringer |
| A Bit of Fry and Laurie | 1990 | TV Series | Nigel Havers |
| Blackadder Goes Forth | 1989 | TV Series | Captain Edmund Blackadder |
| The Tall Guy | 1989 | | Ron Anderson |
| Blackadder's Christmas Carol | 1988 | TV Short | Blackadders |
| The Appointments of Dennis Jennings | 1988 | Short | Dr. Schooner |
| Blackadder: The Cavalier Years | 1988 | TV Short | Sir Edmund Blackadder |
| Black Adder the Third | 1987 | TV Series | Edmund Blackadder, butler to the Prince / McAdder |
| Black-Adder II | 1986 | TV Series | Edmund Blackadder |
| Never Say Never Again | 1983 | | Small-Fawcett |
| The Black Adder | 1982-1983 | TV Series | Edmund, Duke of Edinburgh The Flat Adder The Great Grumbledook ... |
| Dead on Time | 1983 | Short | Bernard Fripp |
| Not the Nine O'Clock News | 1979-1982 | TV Series | Various Roles |
| Peter Cook & Co. | 1980 | TV Movie | Various Characters |
| The Innes Book of Records | 1980 | TV Series | |
| Lena | 1980 | TV Series | Concert Pianist (Mime) |
| Canned Laughter | 1979 | TV Short | Robert Box / Dave Perry / Mr. Marshall |
Writer
| Title | Year | Status | Character |
| --- | --- | --- | --- |
| Mr. Bean's Holiday | 2007 | character | |
| Mr. Bean: The Animated Series | | TV Series character - 12 episodes, 2002 - 2003 characters - 1 episode, 2002 | |
| Blackadder Back & Forth | 1999 | Short television series "The Black Adder" - uncredited | |
| Bean | 1997 | character "Mr. Bean" | |
| Mr. Bean | | TV Series 1 episode, 1995 written by - 14 episodes, 1990 - 1995 | |
| Funny Business | 1992 | TV Series documentary | |
| Rowan Atkinson: Not Just a Pretty Face | 1992 | TV Special documentary written by | |
| The Driven Man | 1991 | TV Movie documentary | |
| The Black Adder | | TV Series written by - 7 episodes, 1982 - 1983 by - 5 episodes, 1983 | |
| Dead on Time | 1983 | Short | |
| Not the Nine O'Clock News | 1979 | TV Series writer | |
| Canned Laughter | 1979 | TV Short | |
Producer
| Title | Year | Status | Character |
| --- | --- | --- | --- |
| Mr. Bean: The Animated Series | 2002-2003 | TV Series executive producer - 8 episodes | |
| Bean | 1997 | executive producer | |
Soundtrack
| Title | Year | Status | Character |
| --- | --- | --- | --- |
| London 2012 Olympic Opening Ceremony: Isles of Wonder | 2012 | TV Special performer: "Chariots of Fire" | |
| The Boys: The Sherman Brothers' Story | 2009 | Documentary performer: "It's a Small World" | |
| Johnny English | 2003 | performer: "Thank You for the Music" | |
| Mr. Bean: The Animated Series | | TV Series 2 episodes, 2002 - 2003 performer - 1 episode, 2003 | |
| The Lion King | 1994 | performer: "I Just Can't Wait to Be King" 1994, "I've Got a Lovely Bunch of Coconuts" 1944, "It's a Small World" 1966, "Nobody Knows the Trouble I've Seen" uncredited | |
Director
| Title | Year | Status | Character |
| --- | --- | --- | --- |
| Comic Relief | 1986/II | TV Special documentary | |
Miscellaneous
| Title | Year | Status | Character |
| --- | --- | --- | --- |
| Legacy of Kain: Defiance | 2003 | Video Game voice-over | |
Thanks
| Title | Year | Status | Character |
| --- | --- | --- | --- |
| That's Life!! Kilorenzos Smith in Talks... | 2013 | TV Series documentary inspiration - 1 episode | |
| Funny Show Part Two: The Video - Movie | 2012 | Video inspiration | |
| Blackadder Rides Again | 2008 | TV Special documentary thanks | |
| Blackadder Exclusive: The Whole Rotten Saga | 2008 | TV Movie documentary thanks | |
Self
| Title | Year | Status | Character |
| --- | --- | --- | --- |
| The Red Nose Day Special | 2017 | TV Series | Himself |
| The South Bank Show | 2014 | TV Series documentary | |
| Mel Smith: I've Sort of Done Things | 2013 | TV Movie documentary | Himself |
| London 2012 Olympic Opening Ceremony: Isles of Wonder | 2012 | TV Special | Mr. Bean |
| XXX Summer Olympics Opening Ceremony | 2012 | TV Special | Himself - Performer / Mr. Bean |
| How to Go Faster and Influence People: The Gordon Murray F1 Story | 2012 | TV Movie documentary | Himself - McLaren F1 Owner |
| John Howard Davies: A Life in Comedy | 2012 | TV Movie documentary | Himself |
| Formula 1: BBC Sport | 2011 | TV Series | |
| The Tonight Show with Jay Leno | 1996-2011 | TV Series | Himself |
| Janela Indiscreta | 2011 | TV Series | Himself |
| Wetten, dass..? | 2003-2011 | TV Series | Himself |
| Daybreak | 2011 | TV Series | Himself |
| Cinema 3 | 2003-2011 | TV Series | Himself |
| Días de cine | 2011 | TV Series | Himself |
| El hormiguero | 2011 | TV Series | Himself - Guest |
| Prozhektorperiskhilton | 2011 | TV Series | Himself - Guest |
| Top Gear | 2011 | TV Series | Himself |
| Today | 2011 | TV Series | Himself |
| Not Again: Not the Nine O'Clock News | 2009 | TV Movie documentary | Himself |
| Bondi Rescue | 2009 | TV Series | Himself |
| Blackadder Rides Again | 2008 | TV Special documentary | Himself |
| Biography | 2008 | TV Series documentary | Himself |
| Mr. Bean's Holiday: Beans in Cannes | 2008 | Video short | Himself |
| Mr. Bean's Holiday: French Beans | 2008 | Video short | Himself |
| Mr. Bean's Holiday: The Human Bean | 2008 | Video short | Himself |
| L'hebdo cinéma | 2007 | TV Series documentary | Himself |
| Le grand journal de Canal+ | 2007 | TV Series documentary | Himself |
| The Footy Show | 2007 | TV Series | Himself |
| Richard & Judy | 2007 | TV Series | Himself |
| Bean: Scenes Unseen | 2007 | Video documentary short | Himself / Mr. Bean |
| Noche Hache | 2007 | TV Series | Himself |
| Comic Relief 2007: The Big One | 2007 | TV Special | Mr. Bean |
| Red Nose Day | 2006 | TV Series | Himself |
| Behind the Scenes: Big Trouble in Little Wallop | 2006 | Video documentary short | Himself / Walter Goodfellow (uncredited) |
| Keeping Mum: Big Trouble in Little Wallop | 2006 | Video documentary short | Himself / Walter Goodfellow (uncredited) |
| Sunrise | 2006 | TV Series | Himself |
| The Funny Blokes of British Comedy | 2005 | TV Movie documentary | Himself |
| Breakfast | 2005 | TV Series | Himself |
| The Royal Wedding of HRH the Prince of Wales and Camilla Parker Bowles | 2005 | TV Movie | Himself |
| Arena | 1976-2004 | TV Series documentary | Himself |
| This Morning | 2004 | TV Series | Himself |
| Pet Star | 2003 | TV Series documentary | Himself - Judge |
| The Daily Show | 2003 | TV Series | Himself |
| Sen kväll med Luuk | 2003 | TV Series | Himself |
| Parkinson | 2003 | TV Series | Himself |
| Comic Relief 2003: The Big Hair Do | 2003 | TV Special | Martin Bashir |
| Scooby Doo: Unmasking the Mystery | 2002 | Video documentary short | Himself - 'Mondavarious' |
| Just for Laughs | 2002 | TV Series | Himself (2002) |
| Making 'Rat Race' | 2001 | Video short documentary | Himself |
| Comic Relief: Say Pants to Poverty | 2001 | TV Special | Himself (segment "Popsters") |
| Comic Relief Short Pants | 2001 | TV Special short | Neville |
| The Royal Variety Performance 2000 | 2000 | TV Movie documentary | Performer |
| Laughter in the House: The Story of British Sitcom | 1999 | TV Mini-Series documentary | Edmund Blackadder |
| A Royal Birthday Celebration | 1998 | TV Movie documentary | Sir Edmund Blackadder |
| Ôsama no buranchi | 1998 | TV Series | Himself |
| Les enfants de la télé | 1997 | TV Series | Himself |
| The Story of Bean | 1997 | TV Special documentary | Himself |
| Lo + plus | 1997 | TV Series | Himself |
| Comic Relief | 1997 | TV Special | Himself |
| The Nose at Ten | 1996 | TV Series | Himself |
| Reflections of Mr. Bean | 1996 | TV Movie | Himself |
| Late Night with Conan O'Brien | 1996 | TV Series | Himself |
| La Marató 1995 | 1995 | TV Special | Himself |
| La Lloll | 1995 | TV Series | Himself |
| Live for Peace: A Royal Gala | 1995 | TV Movie | Himself |
| Comic Relief | 1995 | TV Special | Himself |
| Comic Relief: Behind the Nose | 1995 | TV Special | Mr. Bean |
| Talkshowet | 1993 | TV Series | Himself |
| Hearts of Hot Shots Part Deux: A Filmmaker's Apology | 1993 | TV Short documentary | Himself |
| Comic Relief: The Invasion of the Comic Tomatoes | 1993 | TV Special | Mr. Bean |
| Funny Business | 1992 | TV Series documentary | Presenter / Various |
| Rowan Atkinson: Not Just a Pretty Face | 1992 | TV Special documentary | Various Roles |
| Going Live! | 1991 | TV Series | Mr. Bean |
| Wogan | 1991 | TV Series | Himself |
| Comic Relief | 1991 | TV Special | Mr. Bean |
| The Driven Man | 1991 | TV Movie documentary | Himself |
| Hysteria 2! | 1989 | TV Special | Shakespeare's Manager |
| A Night of Comic Relief 2 | 1989 | TV Special | Himself |
| Hysteria! Hysteria! Hysteria! | 1988 | TV Special | Mr. R (uncredited) |
| Live! From London | 1988 | TV Special | Himself |
| Comic Relief | 1988 | TV Special | Edmund Blackadder |
| The Last Resort with Jonathan Ross | 1987 | TV Series | Himself |
| The Grand Knockout Tournament | 1987 | TV Special | Lord Knock of Alton |
| Comic Relief | 1986/II | TV Special documentary | Himself |
| Omnibus | 1986 | TV Series documentary | |
| Bob Hope's Happy Birthday Homecoming (London Royal Gala) | 1985 | TV Movie | Himself - Performer |
| Weekend in Wallop | 1984 | TV Movie documentary | Himself |
| Royal Variety Performance 1984 | 1984 | TV Movie | Himself |
| The Secret Policeman's Other Ball | 1982 | Documentary | Himself / Various Roles |
| Cleo and John | 1982 | TV Movie documentary | Himself |
| Fundamental Frolics | 1981 | | Himself |
| The Secret Policeman's Ball | 1979 | TV Movie documentary | Various Roles |
| And Now the Good News | 1978 | TV Series | Himself |
Archive Footage
| Title | Year | Status | Character |
| --- | --- | --- | --- |
| Sunrise | 2014-2017 | TV Series | Himself |
| Talking Comedy | 2016 | TV Series | |
| Weekend Today | 2015 | TV Series | Himself |
| Britain's Best Loved Sitcoms | 2015 | TV Series documentary | Blackadder |
| Ade in Adland | 2013 | TV Mini-Series documentary | |
| The Bolt Report | 2012 | TV Series | Himself |
| The Unforgettable Russell Harty | 2012 | TV Movie documentary | Himself - Interviewee on The Russell Harty Show |
| My Favourite Joke | 2011 | TV Series | Edmund Blackadder |
| Brows Held High | 2011 | TV Series | Edmund Blackadder |
| Great TV Mistakes | 2010 | TV Movie documentary | Edmund Blackadder (uncredited) |
| A polos 25 | 2010 | TV Series | Mr. Bean |
| Mr. Bean's Wacky World | 2009 | Video Game | Mr. Bean |
| Blackadder's Most Cunning Moments | 2008 | TV Movie documentary | Prince Edmund - Duke of Edinburgh Lord Edmund Blackadder Edmund Blackadder ... (uncredited) |
| Blackadder Exclusive: The Whole Rotten Saga | 2008 | TV Movie documentary | Himself |
| Morir de humor | 2008 | TV Movie | Mr. Bean |
| The Comedy Map of Britain | 2008 | TV Series documentary | Himself |
| That Fellow in the Coat | 2008 | TV Series | Zazu |
| 50 Greatest Comedy Catchphrases | 2008 | TV Movie documentary | Edmund Blackadder (uncredited) |
| PISA - Der Ländertest | 2007 | TV Series | Mr. Bean |
| The Secret Life of Brian | 2007 | TV Movie documentary uncredited | |
| ¿De qué te ríes? | 2006 | TV Movie | Mr. Bean |
| Room 101 | 2005 | TV Series | Himself |
| 80s | 2005 | TV Series documentary | Blackadder |
| The Comedians' Comedian | 2005 | TV Movie documentary | |
| Mickey's PhilharMagic | 2003 | Short | Zazu |
| The Storytellers | 2003 | Video documentary short | Rufus - Jewellery Salesman (uncredited) |
| The Real Vicars of Dibley | 2002 | TV Movie | Vicar (uncredited) |
| I Love Christmas | 2001 | TV Special documentary | |
| The Sketch Show Story | 2001 | TV Series documentary | Himself / Various Roles (2001) |
| The Greatest | 2001 | TV Series documentary | Edmund Blackadder |
| Full Mountie | 2000 | TV Series | Himself |
| The World's Best Sellers: The Fine Art of Separating People from Their Money | 1998 | TV Movie documentary | Himself |
| Comic Relief Presents the Pick of the Nose | 1998 | Video | Mr. Bean / Newsreader (uncredited) |
| The Final Frolics of Mr. Bean | 1994 | Video | Mr. Bean |
| Disney Sing-Along-Songs: Circle of Life | 1994 | Video short | Zazu |
| Two Mikes Don't Make a Wright | 1993 | Documentary segment "The Appointments of Dennis Jennings" | |
| Four Weddings and a Funeral: Production Featurette | 1993 | Video documentary short | Father Gerald (uncredited) |
| The Merry Mishaps of Mr. Bean | 1992 | Video | Mr. Bean |
| The Perilous Persuits of Mr. Bean | 1992 | Video | Mr. Bean |
| Comic Relief: Behind the Nose | 1992 | TV Movie | Himself / Blackadder |
| Pandora's Box | 1992 | TV Mini-Series documentary | Politician |
| Szeszélyes évszakok | 1991 | TV Series | Mr. Bean |