Nick Saban Net Worth is

$30 Million
Nick Saban Biography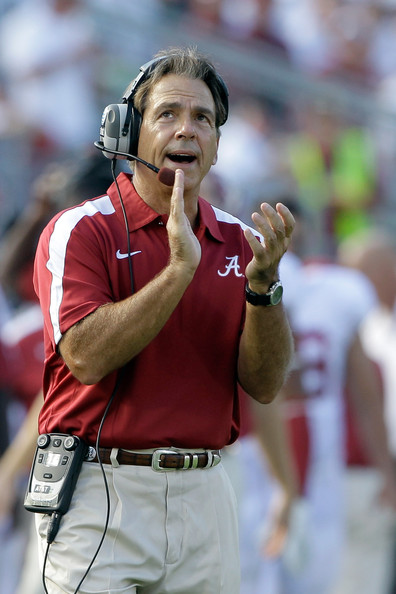 Nicholas Lou Saban, Jr. was born on the 31st October 1951, in Fairmont, West Virginia USA of Croatian descent. He is a college football coach, which is the main source of Nick Saban net worth, and in fact Nick was named the Most Powerful Coach in Sports by Forbes magazine in 2008. Currently, Nick is coaching the football team at the University of Alabama. He has set the win-loss-tie record of 177-59-1 as a college head coach. Nick Saban is also an inductee into the Alabama Sports Hall of Fame. He has been coaching since 1972.
So just how rich is Nick Saban? It has been estimated by sources that Nick Saban's net worth is as much as $30 million. Earning over $7 million per year, he is one of the highest paid football coaches in the USA. His assets include a vacation home located on Burton Lake, Georgia USA.
Nick Saban Net Worth $30 Million
Nick was raised in a Catholic household in Fairmont,. While studying at Kent University Saban played football in the position of defensive back in the Kent State team (1970–1971). He was not thinking about the position of the coach until his own coach Don James appointed him to the position of graduate assistant coach, a position he worked in from 1972 to 1974. Later, he was promoted to assistant coach and held this position while working at Kent State (1975–1976), Syracuse (1977), West Virginia (1978-1979), Ohio State (1980–1981), Navy (1982), Michigan State (1983–1987) and Houston Oilers (1988–1989).
In 1990, Nick Saban worked as the head football coach for the Toledo Rockets football team, but after a season he resigned and went to the defensive coordinator's position for the Cleveland Browns of the National Football League, from 1991 to 1994. Since 1995, Saban has worked only in the position of head coach, from 1995 to 1999 with the Michigan State team; from 2000 to 2004 with The LSU Tigers football team; from 2005 to 2006 with the Miami Dolphins; and since 2007 he has been training the team of Alabama. Overall, all the mentioned positions increased the net worth of Nick Saban.
Nick has also guided such noted coaches Derek Dooley, Mike Haywood, Will Muschamp, Jimbo Fisher and others. As a highly respected coach, Nick Saban owns a number of awards and honours, among which are Paul "Bear" Bryant Award (2003), Home Depot Coach of the Year Award (2008), Amos Alonzo Stagg Coaching Award (2010), Bobby Dodd Coach of the Year Award (2014) and many others.
Additionally, Nick Saban landed a cameo role in the sports drama film "The Blind Side" (2009) directed and written by John Lee Hancock which was praised by critics and took over $300 million at the box office. In 2010, the autobiographical film about Nick was released, entitled "Nick Saban: Gamechanger" (2010) directed by Trey Reynolds. Ias well as many media appearances, Nick is also involved in charity – Nick Saban and his wife founded the charity organization Nick's Kids which focuses on helping mentally disabled children. The foundation was started when Nick was appointed as a head coach.
Finally, in the personal life of the coach, Nick Saban married his high school sweetheart Terry Constable in 1971, and the family has a son and a daughter.
Known for movies
Quick Facts
| | |
| --- | --- |
| Full Name | Nick Saban |
| Net Worth | $30 Million |
| Date Of Birth | October 31, 1951 |
| Place Of Birth | Fairmont, West Virginia, United States |
| Height | 5 ft 6 in (1.68 m) |
| Profession | American football player, American Football coach, Coach, Actor |
| Education | Kent State University |
| Nationality | United States of America |
| Spouse | Terry Saban (m. 1971) |
| Children | Kristen Saban, Nicholas Saban |
| Parents | Mary Saban, Nick Saban Sr. |
| Siblings | Dianna Thompson |
| Nicknames | Nicholas Lou Saban |
| Wikipedia | https://en.wikipedia.org/wiki/Nick_Saban |
| Awards | Bryant Award (2003), Home Depot Coach of the Year Award (2008), Amos Alonzo Stagg Coaching Award (2010), Bobby Dodd Coach of the Year Award (2014), |
| Nominations | Best Coach/Manager ESPY Award |

Interesting Facts
| # | Fact |
| --- | --- |
| 1 | Cousin of coach Lou Saban. |

Filmography
Self
| Title | Year | Status | Character |
| --- | --- | --- | --- |
| Before the Kick: The Brian Kinchen Story | | Documentary filming | Himself |
| 2017 College Football Playoff National Championship | 2017 | TV Special | Himself - Alabama Crimson Tide Head Coach |
| The Bowden Dynasty: A Story of Faith, Family & Football | 2017 | Documentary | Himself |
| 2016 Chick-fil-A Peach Bowl | 2016 | TV Movie | Himself - Alabama Crimson Tide Head Coach |
| Running for His Life: The Lawrence Phillips Story | 2016 | Documentary | Himself |
| Mike & Mike | 2010-2016 | TV Series | Himself - University of Alabama Head Football Coach / Himself - Telephone Interviewee |
| A Football Life | 2012-2015 | TV Series | Himself |
| Miracles on the Plains | 2015 | Documentary | Himself |
| 2015 Allstate Sugar Bowl | 2015 | TV Movie | Himself - Alabama Crimson Tide Head Coach |
| 60 Minutes Sports | 2013 | TV Series documentary | Himself - Alabama Head Coach (segment "Built by Bama") |
| 60 Minutes | 2012-2013 | TV Series documentary | Himself - Head Coach, University of Alabama (segment "The Perfectionist") / Himself - Head Coach, University of Alabama (segment "The College Game") |
| Mama Called | 2013 | Documentary | Himself |
| Airport 24/7: Miami | 2013 | TV Series | Himself - Football Coach |
| 2013 Discover BCS National Championship Game | 2013 | TV Movie | Himself - Alabama Crimson Tide Head Coach |
| 2012 Allstate BCS National Championship Game | 2012 | TV Movie | Himself - Alabama Crimson Tide Head Coach |
| Roll Tide/War Eagle | 2011 | TV Movie documentary | Himself |
| Music Builds: The CMT Disaster Relief Concert | 2011 | TV Movie | Himself |
| Year of the Quarterback | 2011 | TV Series documentary | Himself |
| 2011 Capital One Bowl | 2011 | TV Movie | Himself - Alabama Crimson Tide Head Coach |
| Boys of Fall | 2010 | TV Movie documentary | Himself |
| Nick Saban: Gamechanger | 2010 | Documentary | Himself |
| 2010 BCS National Championship Game | 2010 | TV Movie | Himself - Alabama Crimson Tide Head Coach |
| The Blind Side | 2009 | | Himself |
| 2009 Allstate Sugar Bowl | 2009 | TV Movie | Himself - Alabama Crimson Tide Head Coach |
| NFL Monday Night Football | 1988-2006 | TV Series | Himself - Cleveland Browns Defensive Coordinator / Himself - Houston Oilers Secondary Coach / Himself - Miami Dolphins Head Coach |
| NBC Sunday Night Football | 2006 | TV Series | Himself - Miami Dolphins Head Coach |
| Pardon the Interruption | 2005 | TV Series | Himself - Guest Interviewee |
| The 70th Annual Nokia Sugar Bowl | 2004 | TV Movie | Himself - LSU Tigers Head Coach |
| 2003 SBC Cotton Bowl | 2003 | TV Movie | Himself - LSU Tigers Head Coach |
| 2002 Nokia Sugar Bowl | 2002 | TV Movie | Himself - LSU Tigers Head Coach |
| 2000 Chick-fil-A Peach Bowl | 2000 | TV Movie | Himself - LSU Tigers Head Coach |
| 1997 Aloha Bowl | 1997 | TV Movie | Himself - Michigan St. Spartans Head Coach |
| 1996 Norwest Sun Bowl | 1996 | TV Movie | Himself - Michigan St. Spartans Head Coach |
| 1995 Independence Bowl | 1995 | TV Movie | Himself - Michigan St. Spartans Head Coach |
| The NFL on NBC | 1988-1994 | TV Series | Himself - Cleveland Browns Defensive Coordinator / Himself - Houston Oilers Secondary Coach |
| TNT Sunday Night Football | 1994 | TV Series | Himself - Cleveland Browns Defensive Coordinator |
| ESPN's Sunday Night Football | 1988-1991 | TV Series | Himself - Houston Oilers Secondary Coach / Himself - Cleveland Browns Defensive Coordinator |
| The NFL on CBS | 1988 | TV Series | Himself - Houston Oilers Secondary Coach |
| 1988 Rose Bowl | 1988 | TV Movie | Himself - Michigan St. Spartans Defensive Coordinator / Secondary Coach |
| 1982 Army-Navy Game | 1982 | TV Movie | Himself - Navy Midshipmen Secondary Coach |
| 1981 Liberty Bowl | 1981 | TV Movie | Himself - Ohio St. Buckeyes Secondary Coach |
Archive Footage
| Title | Year | Status | Character |
| --- | --- | --- | --- |
| Mike & Mike | 2013-2017 | TV Series | Himself - University of Alabama Head Football Coach / University of Alabama Head Football Coach / Nm1659186 |
| 60 Minutes | 2014 | TV Series documentary | Himself - Head Coach, University of Alabama (segment "The Perfectionist") |
| Rome Is Burning | 2006-2010 | TV Series | Himself |