Mukesh Ambani Net Worth is

$40 Billion
Mukesh Ambani Biography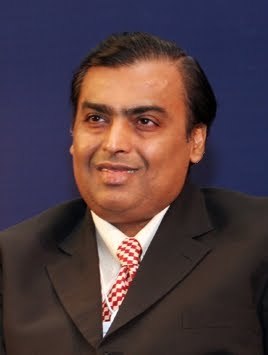 Mukesh Dhirubhai Ambani, commonly known as Mukesh Ambani, is a famous Indian entrepreneur. To the public, Mukesh Ambani is perhaps best known as an MD and Chairman of a conglomerate company called "Reliance Industries", which specializes in refining and marketing petrochemicals, retail, telecommunications, and exploration and production. The company mainly produces crude oil, natural gas, textiles, and petroleum. Ranked at #99 on the list of the "World's Biggest Corporations" compiled by "Fortune Global 500", "Reliance Industries" has a huge significance on India's total exports, constituting 14% of it. "Reliance Industries Limited" is also the second largest company in India. Aside from the company, Mukesh Ambani is known for his board memberships. Over the years, he was a member of Board of Governors in the Institute of Chemical Technology, served as Chairman of the Board on "Reliance Petroleum", and became the president of Pandit Deendayal Petroleum University. In 2000, he received the Ernst & Young Entrepreneur of the Year Award, and a decade later, in 2010, earned a Global Leadership Award, Businessman of the Year Award, and Business Leader of the Year Award for his business contributions.
Mukesh Ambani Net Worth $40 Billion
A well-known business magnate, how rich is Mukesh Ambani? According to sources, Mukesh Ambani's net worth is estimated to be $40 billion, most of which he has accumulated through his business ventures. Among his many valuable assets is his house in India, the worth of which amounts to an impressive $1 billion. Ambani's house currently employs 600 people, who look after the estate on a daily basis.
Mukesh Ambani was born in 1957, in Aden, Yemen. Ambani studied at the private Hill Grange High School, and later enrolled in the Institute of Chemical Technology. After he graduated with a degree in Chemical Engineering, Ambani decided to continue his studies at Stanford University, yet he then chose to focus on helping his father with the "Reliance" company, which he officially joined in 1981, and expanded it to encompass polyester fibres and petroleum.
In 2002, Ambani then founded "Reliance Communications", which specializes in telecommunications. Since its establishment, the company has grown to become the second largest telecom operator in India, with more than 150 million subscribers.
Mukesh then contributed to the creation of petroleum refinery in India, which turned out to be the biggest refinery in the world, capable of producing as much as 33 million tons of petroleum every year.
Aside from that, Mukesh Ambani became involved with the "Bank of America" corporation, headquartered in the United States, where he was a member on the board of directors. In addition, he became involved with the Indian Institute of Management Bangalore, where he held the position of the Chairman of the Board.
In regards to his personal life, Mukesh Ambani is married to Nita Ambani, a famous Indian businesswoman, known as the founder of Dhirubhai Ambani International School, and Dhirubhai Ambani Foundation, which is responsible for the promotion of health care systems and education. Together, they have three children, namely Akash Ambani, Anant Ambani, as well as Isha Ambani.
Quick Facts
| | |
| --- | --- |
| Net Worth | $40 Billion |
| Date Of Birth | April 19, 1957 |
| Place Of Birth | Aden, Yemen |
| Height | 5 ft 6 in (1.69 m) |
| Profession | Businessperson |
| Nationality | India |
| Spouse | Nita Ambani (m. 1984) |
| Children | Isha Ambani, Akash Ambani, Anant Ambani |
| Parents | Kokilaben Ambani, Dhirubhai Ambani |
| Siblings | Anil Ambani, Nina Kothari, Deepti Salgaonka |
| Nicknames | Mukesh D. Ambani , Shri Mukesh D. Ambani , Mukesh Dhirubhai Ambani |
| Wikipedia | https://en.wikipedia.org/wiki/Mukesh_Ambani |