James Packer Net Worth is

$6.4 Billion
James Packer Biography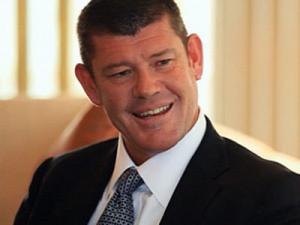 James Douglas Packer was born on 8 September 1967 in Sydney, Australia. He is one of the richest Australian businessmen, in fact the third richest of all people living in Australia according Forbes. James is the inheritor of the company called Consolidated Press Holdings Limited, which is an umbrella for a number of other companies. Consolidated Media Holdings and Publishing and Broadcasting Limited were the companies where Parker worked as an executive chairman. Currently, he is a chairman of Crown Resorts.
James Packer Net Worth $4.4 Billion
So just how rich is James Packer? Sources estimate that the amount of James's current overall net worth is $4.4 billion. This has diminished somewhat since 2007, when James Packer's was rated the richest person in Australia by Forbes, with a net worth of $7.25 billion. His assets include two main residences, one in Bondi Beach, another in Bellevue Hill which is the most expensive in the whole of Australia, and both in Sydney, as well as a number of luxurious ships and yachts, plus a large collection of luxurious cars, a jet aircraft and a helicopter.
James Packer is the grandson of Sir Douglas Frank Hewson Packer, the wealthy owner of the Nine Network and Australian Consolidated Press, and the son of Kerry Francis Bullmore Packer, who was a media magnate, and Roslyn Weedon. He was educated at Cranbrook School, butdid not continue further as his mother decided to groom him to take over the family business. Newcastle Waters cattle station was the first company where he took a position to acquire practical experience, and then to own, control and manage the company. James Packer was taught by his father and a very strict mentor Albert John Dunlap. Currently, Packer is the chairperson of one of the biggest resort and entertainment groups in Australia, Crown Limited, which has a current capitalisation of $12 billion, including interests in casinos in Macao and London.
James Packer and his whole family are philanthropists, and provide considerable sums to the community of Australia through the Packer Family Foundation Board, which is chaired by his sister Gretel. They raise funds for various branches including health care, education, arts, the environment and community welfare. Of course this is in addition to the company Crown Resorts also contributing to the wealth of Australia through significant taxes.
In his personal life, James Packer dated many girlfriends including Deni Hines, Joan Severance and Tania Bryer. He was engaged to Kate Fisher, however, they separated after two years together. In 1999 he married model Jodhi Meares, but after three years of marriage they divorced. A singer and model, Erica Baxter, became James' second wife in 2007, and together they have two daughters and a son. However, they divorced in 2013, and James Packer is currently single.
As an interesting aside, James Packer developed an interest in Scientology as a recourse after his first divorce, and in an association with actor Tom Cruise. However, this interest has now lapsed.
Quick Facts