Dean Stockwell Net Worth is

$1.5 Million
Dean Stockwell Biography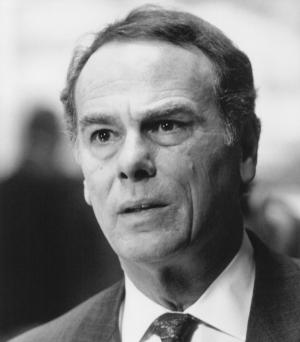 Robert Dean Stockwell was born on the 5th March 1936, in North Hollywood, Los Angeles, California USA, and is an actor, probably best recognized for starring in the role of Donald Martin in "Anchors Aweigh" (1945), playing Judd Steiner in "Compulsion" (1959), portraying Admiral Al Calavicci in "Quantum Leap" (1989-1993), and as John Cavil in "Battlestar Galactica" (2006-2009). His acting career has been active since 1945.
So, have you ever wondered how rich Dean Stockwell is, as of early 2017? According to authoritative sources, it has been estimated that the total size of Dean's net worth is over $1.5 million, accumulated through his successful career in the film industry.
Dean Stockwell Net Worth $1.5 Million
Dean Stockwell spent his childhood in New York City, where he was raised by his mother, Elizabeth Veronica Stockwell, an actress and dancer, and his father, Harry Stockwell, who was a lyric baritone singer and actor; he is the younger brother of actor Guy Stockwell. Speaking about his education, he matriculated at the age of 16, after which he enrolled at the University of California – Berkeley; however, he soon quit in order to pursue his career in the acting world.
Dean's professional acting career actually began when he signed a contract with MGM studio, and made his debut appearance in the musical "Anchors Aweigh" (1945) – as a child actor, he was also cast "Gentleman's Agreement" (1947) playing Tommy Green, "Song Of The Thin Man" (1947) as Nick Charles Jr., and "The Secret Garden" (1949) in the role of Colin Craven, among others, all of which added amount to his early net worth.
As a teenager, Dean continued to line up success after success, appearing in the Broadway production of the novel entitled "Compulsion", which he later reprised on the screen in 1959. Beside that, he also starred in film and TV titles including "Cattle Drive" (1951), "The Careless Years" (1957) and "Johnny Staccato" (1959), steadily increasing his net worth.
In 1960, Dean landed the role of Paul Morel in the British film "Sons And Lovers", starring alongside Wendy Hiller and Trevor Howard, which was followed by roles in the films "The Joke And The Valley" (1961), and "Long Day's Journey Into Night" (1962) with Katharine Hepburn and Jason Robards. Parallel with that, he also made guest appearances in a number of TV titles, including "Alfred Hitchcock Presents" (1961), "The Eleventh Hour" (1964), and "Bonanza" (1969).
In the following years, Dean started working as a real estate broker, so he wasn't very active on the screen, although appearing as a guest star in a number of TV series, plus the leading role of Jack Whittier in the 1973 film "The Werewolf Of Washington". Nevertheless, during the 1980s he returned, starring in Wim Wenders' film "Paris, Texas" (1984) as Walt Henderson, and in the same year in the film entitled "Dune" playing Wellington Yueh. In the following year, he was cast in "The Legend Of Billie Jean", as well as in "To Live And Die In L.A.", after which his next big role came in 1988, when he portrayed Tony 'The Tiger' Russo in the comedy "Married To The Mob", for which he was nominated for an Oscar in the category Best Supporting Actor, and increasing his net worth by a large margin.
In 1989, Dean began to appear in the role of Admiral Al Calavicci in the TV series "Quantum Leap", alongside Scott Bakula, and Deborah Pratt, which lasted until 1993, increasing his popularity as well as his fortune. By 2000, he had also been cast in the TV series "Captain Planet And The Planeteers" (1990-1992), playing Duke Nukem, in the 1997 film "Air Force One" as Defense Secretary Walter Dean, with Harrison Ford and Glenn Close, and in "The Tony Danza Show" (1997-1998), in the role of Frank DiMeo, among many others.
To speak further of his career, Dean won the role of Mark Whiting in the 2004 film remake of "The Manchurian Candidate", and in 2006 he was chosen to play John Cavil in the TV series "Battlestar Galactica", which was on air until 2009. Most recently, he starred as Ben Tracey in "Max Rose" (2013), and made a guest appearance in "NCIS: New Orleans" (2014). His net worth is certainly at least steady.
Thanks to his accomplishments, Dean has won a number of recognitions and awards, including two Acting Awards at the Cannes Film Festival for his works on "Compulsion" and "Long Day's Journey Into Night", Golden Globe Award for Best Juvenile Actor for his work on "Gentleman's Agreement", a Golden Globe Award and Emmy Award for his work on "Quantum Leap", etc. He also received a star on the Hollywood Walk of Fame in 1992.
Regarding his personal life, Dean Stockwell has been married twice, firstly to actress Millie Perkins from 1960 to 1962. With his second wife, Joy Marchenko(1981-2004), he had two children. Most recently he has been linked with singer Carol Belle. In free time, he enjoys in creating photographs and composing.
Known for movies
Quick Facts
| | |
| --- | --- |
| Full Name | Dean Stockwell |
| Net Worth | $1.5 Million |
| Date Of Birth | March 5, 1936 |
| Place Of Birth | North Hollywood, Los Angeles, California, U.S. |
| Height | 1.68 m |
| Profession | Actor |
| Education | Alexander Hamilton High School |
| Nationality | American |
| Spouse | Joy Marchenko (m. 1981–2004), Millie Perkins (m. 1960–1962), Carol Belle |
| Children | Sophia Stockwell, Austin Stockwell |
| Parents | Nina Olivette, Harry Stockwell |
| Siblings | Guy Stockwell |
| Wikipedia | https://en.wikipedia.org/wiki/Dean_Stockwell |
| Awards | Cannes Best Actor Award, Golden Globe Award for Best Supporting Actor in a Series, Miniseries, or Motion Picture Made for Television, National Society of Film Critics Award for Best Supporting Actor, Golden Globe Special Award for - Best Juvenile Actor |
| Nominations | Academy Award for Best Actor in a Supporting Role, Golden Globe Award for Best Actor – Motion Picture – Drama, Primetime Emmy Award for Outstanding Supporting Actor in a Drama Series |
| Movies | Blue Velvet, Paris, Texas, Compulsion, Married to the Mob, Anchors Aweigh, The Boy with Green Hair, Dune, Gentleman's Agreement, Air Force One, The Player, Human Highway, To Live and Die in L.A., The Manchurian Candidate, The Dunwich Horror, Psych-Out, The Rainmaker, Long Day's Journey Into Night, The Green Years, Tucker: The Man and His Dream, Buffalo Soldiers, Song of the Thin Man, Beverly Hills Cop II, Battlestar Galactica: The Plan, The Legend of Billie Jean, The Persecuted, The Shadow Men, Paper Man, Stars in My Crown, The Happy Years, The Werewolf of Washington, Mr. Wrong, Sons and Lovers, Naked Souls, Batman Beyond: Return of the Joker, The Mighty McGurk, Down to the Sea in Ships, The Quickie, Gardens of Stone, Deep Waters, The Careless Years, McHale's Navy, They Nest, Banzai Runner, Gun for a Coward, The Blue Iguana, Living in Peril, The Last Movie, Wrong Is Right, CQ, Alsino and the Condor, The Secret Garden |
| TV Shows | The Tony Danza Show, Captain Planet and the Planeteers, The Langoliers, Quantum Leap, NBC Matinee Theater |

Interesting Facts
| # | Fact |
| --- | --- |
| 1 | According to Katharine Hepburn biographer Charles Higham, the actress became so upset with Dean Stockwell when he showed up o the first day of shooting of "Long Day's Journey into Night" with a bottle of vodka, she almost struck him. When she discovered he found the set very cold, she bought him a coat, which he later found in his dressing room. |
| 2 | Seen at 2001 Reno Film Festival [November 2001] |
| 3 | Reception for Dean Stockwell's solo art exhibit at the R. B. Ravens Art Gallery, Taos, New Mexico, September 3, 2004. [September 2004] |
| 4 | He made guest appearances on both The Twilight Zone (1959) and The Twilight Zone (1985). |
| 5 | Auditioned for the role of Michael Corleone in The Godfather (1972). |
| 6 | Godfather of Amber Tamblyn. |
| 7 | Stockwell is an accomplished artist. He creates both digitally enhanced photographs and original collages in the style of his friend and fellow artist, Wallace Berman. He is also a friend of musician Neil Young and designed the album cover art for "American Stars'n'Bars". His art is known under his full name, Robert Dean Stockwell. He first made art for exhibition in 2003. He had a show at the Gerald Peters Gallery in Dallas, Texas in May of 2006 and has also had shows in Santa Monica, New York and Taos. His works include intricate sculptures using ordinary dice. |
| 8 | The first person to win two Acting Awards at the Cannes Film Festival, but he had to share both of his awards with his co-stars. |
| 9 | Received a star on the Hollywood Walk of Fame on Saturday, February 29th, 1992. Fans of Quantum Leap (1989) organized this Leap Day ceremony. |
| 10 | He gave Neil Young the inspiration for the title of his 1970 album, "After The Gold Rush". |
| 11 | Son Austin (born November 5, 1983) and daughter Sophia (born August 5, 1985). |
| 12 | Son of Nina Olivette and Harry Stockwell. His mother was also known by the stage name "Betty Veronica". |
| 13 | Younger brother of Guy Stockwell. |
| 14 | Born at 9:42pm-PST. |

Trademarks
| # | Trademark |
| --- | --- |
| 1 | In most of his later work, there are many references to his past roles; these are often referred to by his fans as "kisses with (Dean's) history". |
| 2 | Unusually expressive eyes, which convey any emotion he wants with the slightest half wink. |
| 3 | Often seen smoking a cigar. |

Quotes
| # | Quote |
| --- | --- |
| 1 | [In a 1984 interview] Dick Widmark... I remember him with such fondness. He and Errol had something in common. They didn't have a condescending attitude. Being human and honest in a relationship seemed to mean more to them than anything else. It meant a great deal to me. I don't know if Widmark is aware of that. They were straight with me - like, I would imagine, a father would be to a son... if he loved and respected him. And I didn't have a father with me. |
| 2 | (In a 1984 interview) There were uglies and there were beauties. For me, Errol Flynn was the best. I didn't know anything about sex or what manhood was - and he opened that door for me. |
| 3 | I started at a very early age in this business and I'm sure most of you have read stories about people who have started as children and ended up in very difficult lives and bad consequences. It's not the easiest life in the world, but then no life is easy. |
| 4 | I hate to admit it, but you can't do a role unless it's somewhere in your psyche. People don't realize how vast the subconscious is. It's like infinity. |

Pictures
Won Awards
Won awards
Year
Award
Ceremony
Nomination
Movie
Award shared with
2008
Action on Film Award
Action on Film International Film Festival, USA
Best Supporting Actor - Short
Al's Beef (2008)
1992
Star on the Walk of Fame
Walk of Fame
Motion Picture
On 29 February 1992. At 7000 Hollywood Blvd.
1991
Q Award
Viewers for Quality Television Awards
Best Supporting Actor in a Quality Drama Series
Quantum Leap (1989)
1990
Golden Globe
Golden Globes, USA
Best Performance by an Actor in a Supporting Role in a Series, Miniseries or Motion Picture Made for Television
Quantum Leap (1989)
1989
BSFC Award
Boston Society of Film Critics Awards
Best Supporting Actor
Married to the Mob (1988)
1989
NSFC Award
National Society of Film Critics Awards, USA
Best Supporting Actor
Married to the Mob (1988)
1988
KCFCC Award
Kansas City Film Critics Circle Awards
Best Supporting Actor
Married to the Mob (1988)
1988
NYFCC Award
New York Film Critics Circle Awards
Best Supporting Actor
Married to the Mob (1988)
1962
Best Actor
Cannes Film Festival
Long Day's Journey Into Night (1962)
Jason Robards

Ralph Richardson
1959
Best Actor
Cannes Film Festival
Compulsion (1959)
Bradford Dillman

Orson Welles
1948
Special Award
Golden Globes, USA
Gentleman's Agreement (1947)
Nominated Awards
Nominated awards
| Year | Award | Ceremony | Nomination | Movie | Award shared with |
| --- | --- | --- | --- | --- | --- |
| 1993 | Golden Globe | Golden Globes, USA | Best Performance by an Actor in a Supporting Role in a Series, Miniseries or Motion Picture Made for Television | Quantum Leap (1989) | |
| 1993 | Primetime Emmy | Primetime Emmy Awards | Outstanding Supporting Actor in a Drama Series | Quantum Leap (1989) | |
| 1993 | American Television Award | American Television Awards | Best Supporting Actor in a Dramatic Series | Quantum Leap (1989) | |
| 1993 | Q Award | Viewers for Quality Television Awards | Best Supporting Actor in a Quality Drama Series | Quantum Leap (1989) | |
| 1992 | Golden Globe | Golden Globes, USA | Best Performance by an Actor in a Supporting Role in a Series, Miniseries or Motion Picture Made for Television | Quantum Leap (1989) | |
| 1992 | Primetime Emmy | Primetime Emmy Awards | Outstanding Supporting Actor in a Drama Series | Quantum Leap (1989) | |
| 1991 | Golden Globe | Golden Globes, USA | Best Performance by an Actor in a Supporting Role in a Series, Miniseries or Motion Picture Made for Television | Quantum Leap (1989) | |
| 1991 | Primetime Emmy | Primetime Emmy Awards | Outstanding Supporting Actor in a Drama Series | Quantum Leap (1989) | |
| 1990 | Primetime Emmy | Primetime Emmy Awards | Outstanding Supporting Actor in a Drama Series | Quantum Leap (1989) | |
| 1989 | Oscar | Academy Awards, USA | Best Actor in a Supporting Role | Married to the Mob (1988) | |
| 1989 | CFCA Award | Chicago Film Critics Association Awards | Best Supporting Actor | Married to the Mob (1988) | |
| 1961 | Golden Globe | Golden Globes, USA | Best Actor - Drama | Sons and Lovers (1960) | |

Filmography
Actor
| Title | Year | Status | Character |
| --- | --- | --- | --- |
| Rites of Passage | 1999 | | Del Farraday |
| The Drew Carey Show | 1999 | TV Series | Hal |
| The Venice Project | 1999 | | Sen. Campbell |
| Water Damage | 1999 | | Det. Frank Skoufaris |
| Restraining Order | 1999 | | Charlie Mason |
| What Katy Did | 1999 | TV Movie | Tramp |
| The Tony Danza Show | 1997-1998 | TV Series | Frank DiMeo |
| Sinbad: The Battle of the Dark Knights | 1998 | | Bophisto |
| It's True! | 1998 | TV Series | Mac Murphy |
| Popular Science | 1997 | TV Series | Host |
| The Rainmaker | 1997 | | Judge Harvey Hale |
| The Shadow Men | 1997 | | Stan Mills |
| Air Force One | 1997 | | Defense Secretary Walter Dean |
| Living in Peril | 1997 | | William |
| Ink | 1997 | TV Series | Cy Tannon |
| Midnight Blue | 1997 | | Katz-Feeney |
| McHale's Navy | 1997 | | Capt. Wallace B. Binghampton |
| Close to Danger | 1997 | TV Movie | Dr. Ames |
| Last Resort | 1996 | | Grey Wolf |
| Unabomber: The True Story | 1996 | TV Movie | Ben Jeffries |
| Twilight Man | 1996 | TV Movie | Hollis Deitz |
| Naked Souls | 1996 | | Duncan |
| Can't Hurry Love | 1996 | TV Series | |
| Mr. Wrong | 1996 | | Jack Tramonte |
| The Commish | 1995 | TV Series | Robert Allardyce |
| Nowhere Man | 1995 | TV Series | Gus Shepard |
| Snowy River: The McGregor Saga | 1995 | TV Series | Professor Julius Waugh |
| Street Gear | 1995 | TV Series | John Stern |
| Chicago Hope | 1995 | TV Series | Robert St. Clair |
| The Langoliers | 1995 | TV Mini-Series | Bob Jenkins |
| Deadline for Murder: From the Files of Edna Buchanan | 1995 | TV Movie | Aaron Bliss |
| Madonna: Innocence Lost | 1994 | TV Movie | Tony Ciccone |
| The Innocent | 1994 | TV Movie | Capt. Jason Flaboe |
| Justice in a Small Town | 1994 | TV Movie | Commissioner Sam Caldwell |
| Vanishing Son II | 1994 | TV Movie | Mickey Jo |
| Chasers | 1994 | | Salesman Stig |
| Lois & Clark: The New Adventures of Superman | 1994 | TV Series | Preston Carpenter |
| Burke's Law | 1994 | TV Series | |
| In the Line of Duty: The Price of Vengeance | 1994 | TV Movie | Jack Lowe |
| Caught in the Act | 1993/II | TV Movie | Host |
| Bonanza: The Return | 1993 | TV Movie | Augustus Brandenburg |
| Quantum Leap | 1989-1993 | TV Series | Admiral Al Calavicci |
| Fatal Memories | 1992 | TV Movie | Det. Robert Morse |
| Friends and Enemies | 1992 | | Freddie |
| Captain Planet and the Planeteers | 1990-1992 | TV Series | Duke Nukem |
| Picket Fences | 1992 | TV Series | Phil Banks |
| Shame | 1992 | TV Movie | Tim Curtis |
| The Player | 1992 | | Andy Civella |
| Morning Star | 1991 | TV Mini-Series | Gen. Philip Sheridan |
| Sandino | 1990 | | Capitain Hatfield |
| Catchfire | 1990 | | John Luponi |
| Citizen Soldier | 1990 | Video | Dannes |
| Limit Up | 1989 | | Peter Oak |
| Buying Time | 1989 | | Detective Novak |
| The Twilight Zone | 1989 | TV Series | Martin Decker |
| The Long Haul | 1988 | | Mario |
| Smokescreen | 1988 | | Michael Dattalico |
| Tucker: The Man and His Dream | 1988 | | Howard Hughes |
| Married to the Mob | 1988 | | Tony 'The Tiger' Russo |
| Murder, She Wrote | 1988 | TV Series | Eliot Easterbrook |
| The Blue Iguana | 1988 | | Detective Carl Strick |
| Banzai Runner | 1987 | | Billy Baxter |
| To Kill a Stranger | 1987 | | John Carver |
| The Time Guardian | 1987 | | Boss |
| Kenny Rogers as The Gambler, Part III: The Legend Continues | 1987 | TV Movie | James McLaughlin |
| Beverly Hills Cop II | 1987 | | Chip Cain |
| Gardens of Stone | 1987 | | Homer Thomas |
| Hunter | 1987 | TV Series | Brother Harold Hobarts |
| Blue Velvet | 1986 | | Ben |
| Papa Was a Preacher | 1985 | | John |
| Miami Vice | 1985 | TV Series | Jack Gretsky |
| Once Bitten | 1985 | | Valet Attendant (uncredited) |
| To Live and Die in L.A. | 1985 | | Bob Grimes |
| The Legend of Billie Jean | 1985 | | Muldaur |
| Dune | 1984 | | Doctor Wellington Yueh |
| Fox Mystery Theater | 1984 | TV Series | Greg Denver |
| Paris, Texas | 1984 | | Walt Henderson |
| Simon & Simon | 1983 | TV Series | Dr. Griss |
| The A-Team | 1983 | TV Series | Police Officer Collins |
| Hart to Hart | 1982 | TV Series | James Francis |
| Human Highway | 1982 | | Otto Quartz |
| Wrong Is Right | 1982 | | Hacker |
| Alsino and the Condor | 1982 | | Frank |
| Born to Be Sold | 1981 | TV Movie | Marty Helick |
| She Came to the Valley | 1979 | | Pat Westall |
| Greatest Heroes of the Bible | 1978 | TV Series | Hissar |
| A Killing Affair | 1977 | TV Movie | Kenneth Switzer |
| Tales of the Unexpected | 1977 | TV Mini-Series | Richard Ayres |
| Tracks | 1977 | | Mark |
| One Away | 1976 | | Pete Bass |
| McCloud | 1976 | TV Series | Pete Lancaster |
| Won Ton Ton: The Dog Who Saved Hollywood | 1976 | | Paul Lavell |
| Police Story | 1973-1976 | TV Series | Bennett / Callan / Detective Giacino / ... |
| Ellery Queen | 1975 | TV Series | Cliff Waddell |
| Cannon | 1975 | TV Series | Tom Longman |
| Three for the Road | 1975 | TV Series | Ethan Crawford |
| Cop on the Beat | 1975 | TV Movie | Det. Callan |
| Joe Forrester | 1975 | TV Series | Detective Callan |
| Columbo | 1972-1975 | TV Series | Lloyd Harrington / Eric Wagner |
| The Streets of San Francisco | 1973-1975 | TV Series | Charlie Blake / Paul Thomas / Paul Cullen |
| Win, Place or Steal | 1974 | | Billy |
| The Pacific Connection | 1974 | | Miguel |
| Police Surgeon | 1974 | TV Series | Counselor Paul Madden |
| Great Mysteries | 1973 | TV Series | Jerry |
| The Werewolf of Washington | 1973 | | Jack Whittier |
| Night Gallery | 1973 | TV Series | Charlie Evans |
| Mission: Impossible | 1973 | TV Series | Gunnar Malstrom |
| The F.B.I. | 1968-1972 | TV Series | Darryl Ryder / Michael Vincent Riley |
| The Loners | 1972 | | Stein |
| Adventures of Nick Carter | 1972 | TV Movie | Freddy Duncan |
| The Failing of Raymond | 1971 | TV Movie | Raymond |
| Paper Man | 1971 | TV Movie | Avery Jensen |
| Mannix | 1971 | TV Series | Chris Townsend |
| The Last Movie | 1971 | | Billy the Kid |
| The Dunwich Horror | 1970 | | Wilbur Whateley |
| Bonanza | 1969 | TV Series | Matthew Rush |
| Thirty-Minute Theatre | 1968 | TV Series | The Man |
| Psych-Out | 1968 | | Dave |
| The Danny Thomas Hour | 1968 | TV Series | Bruno |
| Dr. Kildare | 1965 | TV Series | Dr. Rudy Devereux Dr. Rudy Devereaux |
| Rapture | 1965 | | Joseph |
| Burke's Law | 1964 | TV Series | Jay Boy Calhoun |
| Kraft Suspense Theatre | 1964 | TV Series | Martin Rosetti |
| The Eleventh Hour | 1964 | TV Series | David Farnham |
| The Defenders | 1963 | TV Series | Arnold Foster |
| The Greatest Show on Earth | 1963 | TV Series | Harley Brydell |
| Combat! | 1963 | TV Series | Rob Lawson |
| The Dick Powell Theatre | 1961-1962 | TV Series | Gary Harper / Joe Geary |
| The Alfred Hitchcock Hour | 1962 | TV Series | David H. Kelsey / William Newmaster |
| Alcoa Premiere | 1962 | TV Series | Clay Bannon |
| Long Day's Journey Into Night | 1962 | | Edmund Tyrone |
| The Twilight Zone | 1961 | TV Series | Lt. Katell Lt. Yamuri |
| Bus Stop | 1961 | TV Series | Buzz Shelby |
| The Joke and the Valley | 1961 | TV Movie | Davis Tucker |
| Wagon Train | 1957-1961 | TV Series | Will Santee / Rodney Lawrence / Juan Ortega / ... |
| Alfred Hitchcock Presents | 1961 | TV Series | Billy Weaver |
| Outlaws | 1961 | TV Series | Billy Joe Minden |
| The DuPont Show with June Allyson | 1960 | TV Series | Johnny Perry |
| Checkmate | 1960 | TV Series | Roddy Stevenson |
| Sons and Lovers | 1960 | | Paul Morel |
| Buick-Electra Playhouse | 1959 | TV Series | Nick Adams |
| Johnny Staccato | 1959 | TV Series | Dave - the Slasher |
| Compulsion | 1959 | | Judd Steiner |
| Playhouse 90 | 1959 | TV Series | Roy Riverlee |
| General Electric Theater | 1958-1959 | TV Series | Clete / Private First Class John Townsend |
| Cimarron City | 1958 | TV Series | Bud Tatum |
| The Careless Years | 1957 | | Jerry Vernon |
| Climax! | 1957 | TV Series | Les Marshall |
| The United States Steel Hour | 1957 | TV Series | |
| Gun for a Coward | 1957 | | Hade Keough |
| Men of Annapolis | 1957 | TV Series | Midshipman |
| Schlitz Playhouse | 1956 | TV Series | |
| Matinee Theatre | 1956 | TV Series | |
| Front Row Center | 1956 | TV Series | David |
| Cattle Drive | 1951 | | Chester Graham, Jr. |
| Kim | 1950 | | Kim |
| The Happy Years | 1950 | | John Humperdink 'Dink' Stover |
| Stars in My Crown | 1950 | | John Kenyon |
| The Secret Garden | 1949 | | Colin Craven |
| Down to the Sea in Ships | 1949 | | Jed Joy |
| The Boy with Green Hair | 1948 | | 'The Boy' / Peter |
| Deep Waters | 1948 | | Donny Mitchell |
| Gentleman's Agreement | 1947 | | Tommy Green |
| Song of the Thin Man | 1947 | | Nick Charles Jr. |
| The Romance of Rosy Ridge | 1947 | | Andrew MacBean |
| The Arnelo Affair | 1947 | | Ricky Parkson |
| A Really Important Person | 1947 | Short | Billy Reilly |
| The Mighty McGurk | 1947 | | Nipper |
| Home, Sweet Homicide | 1946 | | Archie Carstairs |
| The Green Years | 1946 | | Robert Shannon as a Child |
| Bud Abbott and Lou Costello in Hollywood | 1945 | | Dean (uncredited) |
| Anchors Aweigh | 1945 | | Donald Martin |
| The Valley of Decision | 1945 | | Paulie |
| Entertainment | 2015 | | The Celebrity's Henchman |
| NCIS: New Orleans | 2014 | TV Series | Tom Hamilton |
| Rusty Steel | 2014 | Video | Hunts |
| Persecuted | 2014/I | | Dave Wilson |
| Deep in the Darkness | 2014 | | Phil Deighton |
| Enlisted | 2014 | TV Series | Dan |
| Max Rose | 2013 | | Ben Tracey |
| C.O.G. | 2013 | | Hobbs |
| The Dunwich Horror | 2009 | TV Movie | Dr. Henry Armitage |
| Battlestar Galactica: The Plan | 2009 | Video | Brother Cavil |
| Battlestar Galactica | 2006-2009 | TV Series | John Cavil |
| Crash | 2008 | TV Series | Frankie Navajo |
| The Nanny Express | 2008 | TV Movie | Jerry Hewitt |
| Al's Beef | 2008 | Short | The Sheriff |
| The Deal | 2007/II | | Agent Tremayne |
| American Black Beauty | 2005 | TV Movie | Tim Lane |
| JAG | 2002-2004 | TV Series | SecNav Edward Sheffield Senator Edward Sheffield |
| The Manchurian Candidate | 2004 | | Mark Whiting |
| Stargate SG-1 | 2002 | TV Series | Doctor Kieran |
| Star Trek: Enterprise | 2002 | TV Series | Colonel Grat |
| First Monday | 2002 | TV Series | Senator Edward Sheffield |
| Inferno | 2002/I | | Mayor Bill Klinger |
| Buffalo Soldiers | 2001 | | General Lancaster |
| The Quickie | 2001 | | Michael |
| CQ | 2001 | | Dr. Ballard |
| Italian Ties | 2001 | | Jimmy |
| The Flunky | 2000 | | Micky |
| Batman Beyond: Return of the Joker | 2000 | Video | Tim Drake (voice) |
| In Pursuit | 2000 | Video | Charles Welz |
| They Nest | 2000 | TV Movie | Sheriff Hobbs |
Soundtrack
| Title | Year | Status | Character |
| --- | --- | --- | --- |
| Quantum Leap | | TV Series 1 episode, 1989 performer - 7 episodes, 1989 - 1991 | |
| Anchors Aweigh | 1945 | performer: "Anchors Aweigh Reprise" 1906, "Anchors Aweigh Reprise #2" 1906 - uncredited | |
Director
| Title | Year | Status | Character |
| --- | --- | --- | --- |
| Human Highway | 1982 | | |
Writer
| Title | Year | Status | Character |
| --- | --- | --- | --- |
| Human Highway | 1982 | screenplay | |
Producer
| Title | Year | Status | Character |
| --- | --- | --- | --- |
| Rites of Passage | 1999 | associate producer | |
Thanks
| Title | Year | Status | Character |
| --- | --- | --- | --- |
| Dieter & Andreas | 1989 | Short grateful acknowledgment | |
Self
| Title | Year | Status | Character |
| --- | --- | --- | --- |
| The Jack Richard Smith Documentary: A Portrait of an Artist | 2016 | Documentary filming | Himself |
| Star Ancestors | 2016 | TV Series documentary | Himself - Narrator |
| The After After Party with Steven Michael Quezada | 2012 | TV Series | Himself - Guest |
| Robot Astronomy Talk Show | 2009 | TV Series short | Himself |
| Battlestar Galactica: The Last Frakkin' Special | 2009 | TV Movie documentary | Himself |
| Battlestar Galactica: Cylons - The Twelve | 2009 | Video documentary short | John Cavil |
| Independent Lens | 2008 | TV Series documentary | Himself |
| The Cool School | 2008 | Documentary | Himself |
| A Kiss with History: Remembering 'Quantum Leap' | 2004 | Video documentary short | Himself |
| Split Screen | 1999 | TV Series | Himself |
| Phenomenon: The Lost Archives | 1998-1999 | TV Series documentary | Himself - Host |
| Pretty as a Picture: The Art of David Lynch | 1997 | TV Movie documentary | Himself |
| Gallup Extreme Magic | 1996 | TV Movie | Himself |
| The 45th Annual Primetime Emmy Awards | 1993 | TV Special | Himself - Nominee: Outstanding Supporting Actor in a Drama Series |
| Jeopardy! | 1992 | TV Series | Himself - Contestant |
| The 44th Annual Primetime Emmy Awards | 1992 | TV Special | Himself - Nominee: Outstanding Supporting Actor in a Drama Series & Presenter: Best Supporting Actor in a Miniseries or a Special |
| Crazy About the Movies: Dennis Hopper | 1991 | TV Movie documentary | Himself |
| One on One with John Tesh | 1991 | TV Series | Himself |
| The 43rd Annual Primetime Emmy Awards | 1991 | TV Special | Himself - Nominated: Outstanding Supporting Actor in a Drama Series |
| The 48th Annual Golden Globe Awards | 1991 | TV Special | Himself - Nominee: Best Actor in a Supporting Role in a Series, Mini-Series or Motion Picture Made for TV |
| The 42nd Annual Primetime Emmy Awards | 1990 | TV Special | Himself - Nominee: Outstanding Supporting Actor in a Drama Series / Presenter: Outstanding Supporting Actorin a Miniseries or a Special & Outstanding Writing in a Miniseries or a Special |
| CBS This Morning | 1990 | TV Series | Himself |
| The 47th Annual Golden Globe Awards | 1990 | TV Special | Himself - Winner: Best Actor in a Supporting Role in a Series, Mini-Series or Motion Picture Made for TV |
| When We Were Young...: Growing Up on the Silver Screen | 1989 | TV Movie documentary | Himself |
| The 61st Annual Academy Awards | 1989 | TV Special | Himself - Audience Member |
| The Arsenio Hall Show | 1989 | TV Series | Himself |
| AFI Life Achievement Award: A Tribute to Gregory Peck | 1989 | TV Special | Himself |
| Late Night with David Letterman | 1988 | TV Series | Himself |
| Les rendez-vous du dimanche | 1976 | TV Series | Himself |
| Eadweard Muybridge, Zoopraxographer | 1975 | Documentary | Narrator (voice) |
| Here's Hollywood | 1961 | TV Series | Himself |
Archive Footage
| Title | Year | Status | Character |
| --- | --- | --- | --- |
| Extra | 2014 | TV Series | Himself |
| Edición Especial Coleccionista | 2014 | TV Series | Doctor Wellington Yueh |
| Breakthrough Energy Movement Conference 2012 | 2012 | TV Series | Himself - Phenomenon Host |
| Strictly Courtroom | 2008 | TV Movie documentary | Judd Steiner (uncredited) |
| Francis Ford Coppola Directs 'John Grisham's The Rainmaker' | 2007 | Video documentary short | Himself |
| 8th Annual Screen Actors Guild Awards | 2002 | TV Special | Himself |
| Beverly Hills Cop II: The Phenomenon Continues | 2002 | Video documentary short | Chip Cain (uncredited) |
| Biography | 1999 | TV Series documentary | Aaron Bliss |
| 20th Century-Fox: The First 50 Years | 1997 | TV Movie documentary | Actor 'Compulsion' (uncredited) |
| American Masters | 1995 | TV Series documentary | |
| The Dick Cavett Show | 1971 | TV Series | Himself |
| Some of the Best: Twenty-Five Years of Motion Picture Leadership | 1949 | Documentary short | Himself (uncredited) |